Scott Crawford profiles 2017 NHL Draft eligibles from the OHL expected to go in the middle rounds. Alex Formenton of the London Knights projects as a mid-second rounder with some work to do.
A note on the 20-80 scale used below. We look at five attributes (skating, shooting, puck skills, hockey IQ and physicality) for skaters and six for goalies (athleticism/quickness, compete/temperament, vision/play reading, technique/style, rebound control and puck handling). Each individual attribute is graded along the 20-80 scales, which includes half-grades. The idea is that a projection of 50 in a given attribute meant that our observer believed that the player could get to roughly NHL average at that attribute at maturity.
| Alex Formenton | 2017 Draft Eligible |
| --- | --- |
| Position: C, Shoots L | H/W: 6-2", 165 lbs |
| Stats to date (GP-G-A-PTS-PIMS) | London Knights, OHL (65-16-18-34-50) |
Skating: Skating is Formenton's calling card. Whenever a dump and chase play is set he is usually the go-to player to forecheck because of his speed. His forward stride is what helps him take off from the start and move down the ice. He has both short and long strides to help him in close corners or move up the ice. His C cuts help him turn around better when his team has the puck. Being a winger, he skates up faster in the neutral zone and opens himself up better to receive a pass in the middle or along the side walls in the neutral zone when his teammates launches a first pass to him from the defensive zone. Grade: 60
Shot: Features a habit of being inconsistent with his shot ratio during games. In one game, he will manage to release 2-3 shots on goal, while in another game he will disappear. When he does shoot he usually uses a wrist shot that he lets off from the deep slot area. He will also shoot from the hash marks and has a decent release from his wrist shot. He depends on his teammates to pass him the puck and he des not move around too much when he shoots. Grade: 50
Skills: An average puck handler at best, Formenton does not possess the fast hands to move the puck around the ice or even up the middle. There were times where he could move around players with the puck, but he generally relied on his body to protect the puck and move around in the offensive zone. There are times when he can retrieve the puck in the corners and get back to the point or move around the net and make a play behind the net. He needs to work more on his backhand to forehand movement if he is hoping to build his offensive output for next year.  He has shown he has the potential to be creative with the puck, but he needs to show that more in all three zones. Grade: 50
Smarts: His hockey smarts are evident in one game and then disappear in the next. He is smart in his own end in the sense that away from the puck he knows where to be in front of the net when two defenders double team one of his teammates who the puck, thereby providing his teammate with a good outlet. He knows how to make the little plays work such as being in a scrum, getting the puck and shooting it up the boards for a pass to an open teammate. The drawback to his hockey IQ is he overthinks plays in the defensive zone, such as missing hits along the side boards, letting skilled defenseman into his area after he bites on a fake shot, and not winning the 50/50 battles. These seem to be rookie mistakes that can be corrected with additional experience. Grade: 50
Physicality: Formenton is a pest that a lot of players hate playing against. He will play an annoying physical game like Ryan Kesler (although not as big) and get away with it. He may have a small frame, but he knows how to use it to his advantage. There are times when he makes mistakes such as not anticipating hits on time and drawing a boarding call as a result. Grade: 50
Summary: Alex Formenton projects as a 2nd round draft pick, but at the end of the season and during the playoffs those predictions were put into question. He has shown to be a capable skater at the OHL level and it is his best skill. He is less of an offensive threat because he does not have the puck handling skills to go against sizeable opponents. While his tall frame helps him move the puck, when he faces bigger and stronger defenders he is too easy to knock off the puck. If he can improve his puck skills and focus on his nutrition and weight training to build his body, he will be able to improve his possession game. His hockey IQ needs improvement as he showed inconsistency throughout the season. He was a raw rookie in the OHL and showed signs of improvement throughout the year, but failing to score no goals in 14 playoff games this year is a sign that he has a lot of work to do before he can be considered a as a potential future offensive producer at the highest levels.
| Markus Phillips | 2017 Draft Eligible |
| --- | --- |
| Position: D, Shoots L | H/W: 6-2", 200 lbs |
| Stats to date (GP-G-A-PTS-PIMS) | Owen Sound Attack, OHL (66-13-30-43-44) |
Skating: Another defenseman that has phenomenal skating ability while playing a 200-foot game, Phillips also has the capability of playing a North-South style as well. He is fast to get back into transition thanks to a quick cross over to back pedaling and he is still able to challenge forwards coming his way. If a player tries to cross over Phillips he will simply follow with them until they run out of room to skate. Grade: 60
Shot: Phillips has a wicked wrist shot that he can shoot from the blue line. He makes his mark because of the velocity at which he releases the puck. There were times when goaltenders would be caught off guard with how fast the puck was moving. Phillips can shoot while moving with the puck, which works to his benefit when he moves the puck up ice on an offensive rush or moves it around the offensive zone to create an open shot opportunity. Grade: 55
Skills: Phillips' puck moving skills during the regular season were highly consistent and he was more mobile with the puck at that time than he was in the playoffs. With the additional neutral zone traps in the postseason, Philips was inefficient with his puck movement when entering the offensive zone. Players would give him less space and he was incapable of moving forward without skating into traffic. In the offensive zone, he faced the same struggle when he was cycling the puck, as defenders would be in his face and he was unable to deal with the pressure. Grade: 55
Smarts: Phillips has questionable hockey IQ at times. Most often he can identify smart scenarios in which he can apply his skills, such as drawing forwards away from the open lanes with his stick and moving them to the boards with his body when they are entering his zone. He is a remarkably sound defenseman against a rush. Other times he looks like he is lost such as when he is protecting his own net, as he will sometimes move away and leave an open spot in front of the net for an opponent to use. He is usually a player to rely on for creating offensive chances, but in the playoffs, he struggled to use his teammates in the offensive zone. He is a marvelous player with good character and his teammates rely on his confidence to get through tough times. He was the captain of the Canadian entry to Ivan Hlinka Memorial tournament and was leaned on for his two-way game to help contribute to the Team Canada's style of play. Grade: 50
Physicality: A physically overbearing player that only stands at 6-0", but weighs in at over 200 pounds. He uses that frame in the defensive zone to battle for loose pucks and tends to comes out on top. He will throw good body checks along the boards with good positioning causing the puck to come loose while the puck possessor is either trapped along the boards or flat on the ice. Grade: 55
Summary: Markus Phillips is an intriguing player entering the draft. He has played in almost every major junior event to showcase his skill set including both the CHL Top Prospects game and the Ivan Hlinka Memorial tournament. He was not a standout, but he showed that he can play a simple game without causing too many mistakes in high pressure situations. This past season he showed up offensively to become a true two-way defenseman at the OHL level, proving that he was more than just a defensive player. He relies on his fast skating and good puck moving skills to help create offensive chances, but in the playoffs, they were neutralized under a neutral zone trap and tight one-on-one man coverage in the offensive zone.  His hockey IQ is decent, but he showed that he still needs to work on recognizing his surroundings and where the puck is being played in the defensive zone. Once he has a better understanding of his playing style and how to adjust to different playing styles on the ice, he has a chance to be a dynamic two player at the highest level.
| Ivan Lodnia | 2017 Draft Eligible |
| --- | --- |
| Position: RW, Shoots R | H/W: 5-10", 180 lbs |
| Stats to date (GP-G-A-PTS-PIMS) | Erie Otters, OHL (66-24-33-57-24) |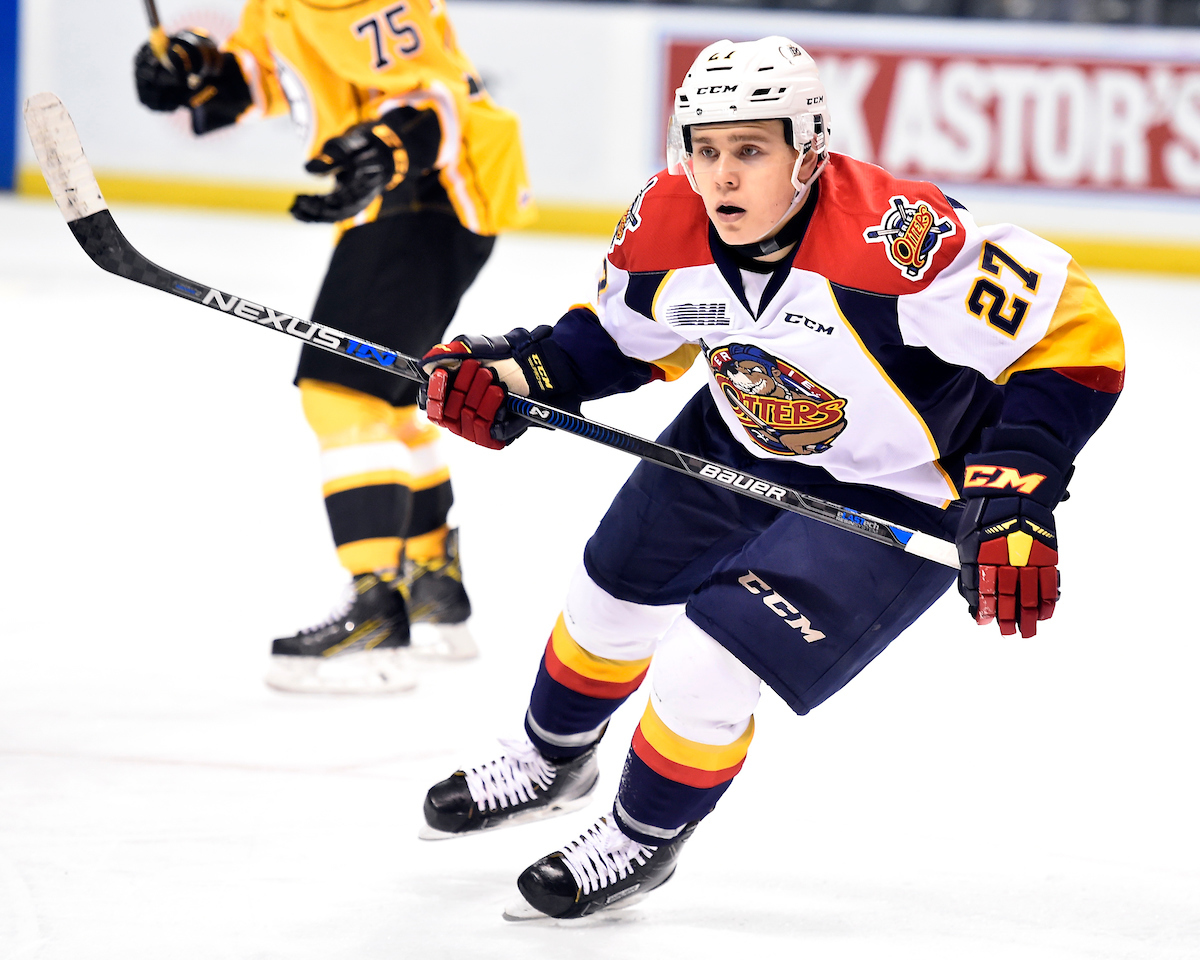 Skating: Lodnia is a legitimate skating threat wherever he is on the ice. He can pick up speed from the boards and up the walls, adjust his speed entering the offensive zone, and even make mini strides to the boards to challenge for the puck. He has adapted his foot work by putting extra effort to the little things in his skating and it has helped him play better with his teammates. His mohawk turns can be a threat on the powerplay as he can skate anywhere even while being chased. His agility gives opponents extra worry when he is planning an offensive attack. Grade: 60
Shot: Shooting is not a problem for Lodnia as he tends to focus a lot of time to his aim. When he receives the puck, he spends about 3-5 seconds preparing his shot, unfortunately giving his defender more time to get in position to block a shot. He uses a wrist shot with a fast release that on many occasions can beat goaltenders from the bottom of the circles. He is patient with his shot selection though his shots fail to get through traffic all too often.  In the playoffs that was a huge factor as he was limited to two goals during the Erie Otters' long playoff run. Grade: 50
Skills: A patient and skilled puck mover, Lodnia does not hesitate to move the puck up ice and does not often turn the puck over when he is entering the offensive zone. His quick decision making helps him be creative whether it is cross-ice passes, behind the net plays, or even making drop passes after he enters the offensive zone. What makes him a reliable puck possessor is his ability to move his stick with the puck when he is faced with pressure from behind or in front of him. He can move the puck closer to him or use his back hand to fend opponents away or better yet draw a penalty. Grade: 60
Smarts: Lodnia is an incredibly smart player that knows how play well without the puck. His IQ is noticeable on the ice when he is preventing opponents from moving around in his own zone or using his stick properly to stick check opponents to the corners instead of shooting when they are on a rush. He knows how to be in the right spot at the right time. He plays with passion, and is one of those players that coaches can rely on to make an impact play in his own zone. One thing he needs to improve on is his ability to take hits along the boards as he had a tendency to lose the puck along the boards because he was not in proper position to guard it. Grade: 55
Physicality: Despite his lack of preparation when facing hits and his undersized frame, Lodnia brings fire to his game when he is playing in the dirty areas. One area that he does not back down from is 50/50 battles as he does a good job of positioning his body against his opponents to protect the puck and wait for his skate to kick the puck away or for a teammate to snatch the puck away from the battle. Grade: 50
Summary: Ivan Lodnia is an extremely talented and underrated player in this year's draft. He possesses a good array of talent and hockey IQ to possibly break out into the NHL within a few years. His skating is the best part about his game as he can play a 200-foot game without jeopardizing any of his team's plays. He is one of the smarter players on the ice and is very dangerous with the puck on his stick. His shot selection needs improvement as he only possesses a good wrist shot and he needs to be faster on his release. He is one of the more visibly passionate players available in this year's draft class. When he gets more minutes of playing time next year he will be an offensive force to be reckon with. He is smart enough to already see the opportunities in front of him.