With rare exception, playing time in Sweden's top league is in scarce supply for draft eligible prospects.
Kempe made the most of his opportunity by spending the majority of his season with MODO of the SHL. Like most young players, he didn't play much, but left an impression with his speed, skating and offensive potential.
When Kempe has played against his peers, he's been one of the better players on the ice.
Kempe will likely be taken much higher than the fifth round, 122nd overall selection of his brother, Mario, who spent his draft eligible season playing for the now defunct St. John's Fog Devils of the QMJHL.
Adrian Kempe (2014), C/LW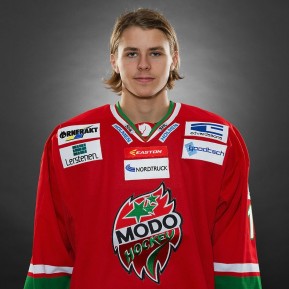 Played 45 games in the SHL with MODO this season, the most of all NHL draft eligible prospects - yet was buried on the fourth line and saw more than 10 minutes of ice time in just 17 of those games .. powerful and explosive skater - generates dynamic speed crossing over with a galloping bow-legged style that is not the most economical in terms of efficiency and style .. very aggressive shooter and likes to challenge defenders one-on-one and force feed his shot .. stick-handling abilities are adequate but he needs work on his play-making skills .. did a much better job this season addressing his defensive play .. still incorporates wide, looping circles - especially in the neutral zone – but comes back deep to support his defence and uses his reach better .. would benefit from playing the body more intuitively in the defensive zone .. played well against his own age group as he captured a gold medal at the World U17 Challenge in 2013 and was a point-a-game player most recently at the 2014 World U18 Championships (7-1-6-7) .. Kempe has a good physical disposition but concerns about his true finishing touch will lower his status as a pro.