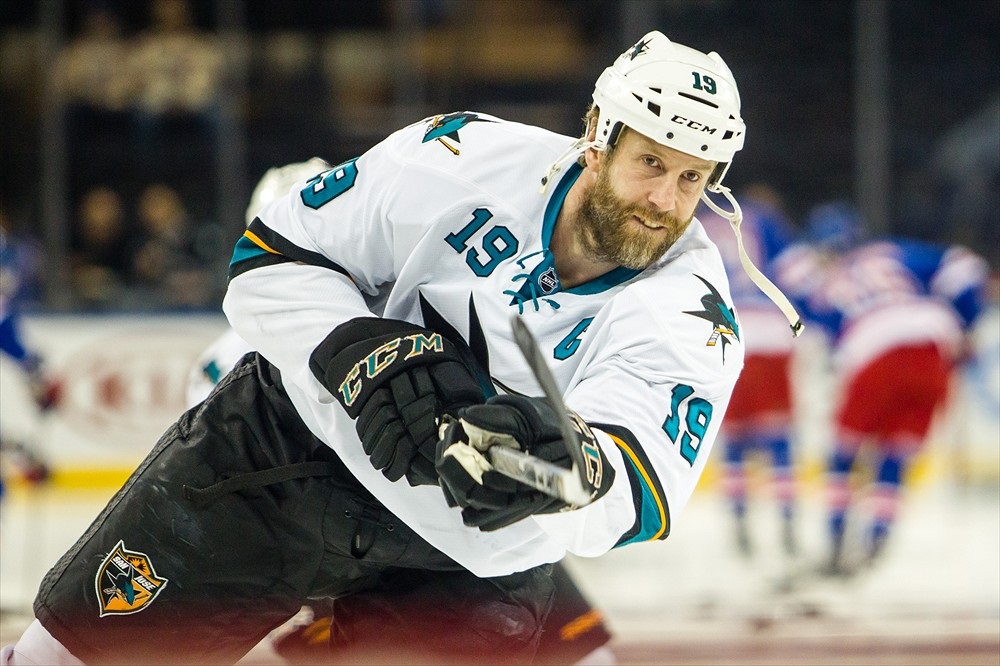 I've wanted to write about Joe Thornton for a while now. To dig deeper into how this latest playoff loss fits with the rest of his career and what it all means for his legacy.
In a journalistic sense it would have probably been best to post this article four hours after San Jose lost five to one against Los Angeles in game seven. The anguish of defeat fresh in the minds of fans and #Thornton#Collapse trending on twitter. There was outrage in the air and outrage, almost always, leads to page views.
But when it comes to Big Joe it's about more than a headline and capitalizing on public anger. It's a Hall of Fame, superstar player, trying to figure out where he fits in the annals of hockey history. He's 34 year's old now (turning 35 in July). An age where we can no longer chalk up playoff losses to the old adage that "ah, he'll get em' next year." Next year, the future, is closing in on Thornton in a way it never did when he was 27 or 28.
I can remember the negative press that used to follow Peyton Manning around in Indianapolis. After every playoff exit there was disappointment, as you would expect in any city, but there was also a sly smile beneath it all. Deep down fans knew, knew that eventually, if they waited long enough, stayed the course, Peyton would win the big game. And that he did, capturing the Vince Lombardi trophy and football supremacy in 2006. With it came relief from a lifetime of expectations and a chance to build upon his legacy, instead of being a prisoner to it.
With Thornton there may be no such relief. He's signed for three more years in San Jose at a cap hit of $6.75 million.  The Sharks still have a strong core that should surround Thornton for the duration of that deal. Couture is only 25 years old and has given Joe a legitimate star level centerman to help spread out their attack. Pavelski, the Swiss army knife of top six forwards, showed last season that he can be an elite scorer, posting 41 goals, third most in the league.
Then there is his running mate, his long-time partner, the Sundance Kid to his Butch Cassidy, or perhaps better put, his cell-mate – Patrick Marleau. Who is also under contract until the end of 2016-17.  Marleau has long suffered the same criticisms as Thornton – unable to win the big game, lacking that innate, superhuman will to overcome all odds, fading when it matters post – pick your cliché.
Lately, though, the focus seems to have shifted further away from Marleau. Due in part to Thornton being named captain in 2010 (taking over the mantle from Marleau who wore the "C" between 2004 and 2009), a designation that the hockey world uses as either a mark of honor, or target for unending condemnation.
The captain is expected to be a supreme leader. A man that his never known fear or failure. The type of player who loses three teeth from a high stick and doesn't miss a shift. Captains carry this sort of mythical status that elevates them above all others (they're the guy that must always yell "LET'S GO BOYS! on the bench). It also brings with it a world of expectations. And since 29 of 30 captains will, by definition, fail every single season, it may not be a designation you seek out willingly.  
There's also the issue (or perceived issue) with Thornton's personality. He has been referred to as a sort of "surfer dude" in the past. Which underscores his easy going personality and fun loving nature (it's interesting to note that when a team is winning these traits are considered pivotal, to keep the guys "loose". When losing, this is the mark of a flawed man who doesn't take the game seriously. Quite the juxtaposition). An offhand comment about a certain part of his anatomy didn't help matters much and provided a 48 hour news cycle showcasing Thornton's lighter side.
Our perception of that lighter, more human side, seems to change once a ring has been bestowed upon an athlete's finger. Take Manning, for example. No one in the sporting world would dare challenge his commitment to football. His weekly preparations have become legendary, depicting a man who is totally and completely obsessed with winning. And yet, we've seen a comedic side of his personality on many occasions over the years. Whether it was on Saturday Night Live throwing footballs at the back of kids' heads, or producing rap a video/commercial with his brother, it's clear he doesn't take himself too seriously. And that's ok, and we allow it, we're comfortable with it, because he has a ring. He's a winner.
Would we ever afford that kind of leeway to Thornton? Is he allowed to enjoy life? Crack a joke in the dressing room? Or should he be locked in a film room deep beneath the earth's surface, studying game tape of Jonathan Quick while hammering out endless push ups for all eternity?
Can you imagine growing up as a child playing road hockey with your friends, Saturday nights at the local rink, thinking of one day, maybe, ending up in the NHL. Take it one step further, imagine that you ACTUALLY make it, fulfilling a lifetime dream and you're there, the big show. Not only do land on an NHL team, you're one of the top five players of your ENTIRE GENERATION. Wouldn't that be something. Or would it? 
Thornton currently sits 25th all time for assists, with 852. He's second among all active players, trailing only Jagr, who is 8th. You have to scroll all the way down to number 48, Daniel Alfredsson (713), to find the next active player that's even close to Joe. He's among the top 50 all-time for total points, despite playing a portion of his career in the dead puck era. 
The list of accomplishments goes far beyond just assists. He has been an all-star six times, won both the Art Ross and Hart Trophy in 2006, and has an Olympic Gold Medal sitting at home (2010). When we look at advanced stats he's still, even in what should be his declining years, an absolute force. This past year his Corsi for percentage sat at 58.3%, tops among San Jose players and 13th in the entire NHL.
But he's not a winner.
John Torterella has a famous clip claiming that Thornton "could go down as… being one of the better players in our league never to win anything. So what he should do is just shut up." Again, the key message here is that only playoff success matters. That, and only that, can vindicate you as a star player and secure your place in hockey history. Without it, you're a punch line. 
Thomas Drance recently mentioned at Dobber Hockey that perhaps the NHL (and you could extend this to all major North American pro sports) don't place enough emphasis on regular season accomplishments. It was an intriguing thought that really struck me. Thornton has made the playoffs in 14 of his 16 NHL seasons. In a league where barely half of the teams enjoy any post season games he has been a mark of consistently. He's won Division Championship after Division Championship, a President's Trophy in 2009.
It doesn't matter. Without a Stanley Cup ring these are all footnotes in the career of a superstar that never quite reached his potential.
Is it right? As we learn more and more about statistical analysis we know that NHL games are fraught with statistical noise. The variability in shooting percentage, penalties, and puck luck (PDO) from game to game makes it difficult to predict results with any certainty. The only reliable way we can really discern the good teams from the bad ones is over significant sample sizes. During a 15 year period Thornton has reliably driven the play and produced points in a way few others have. He has proven to be a "winner" on countless occasions. Yet he'll be judged on the outcome a handful of games in spring. 
It's not fair. And I know that one article in early June with the summer looming isn't going to change anything in a meaningful way. Perceptions of Thornton have been forged in our collective psyche over years and years. No matter how the next three years play out, outside of winning a cup, his legacy is likely written for many.
There isn't really a right answer to all of this. If he somehow manages to win a cup it will seem as though he finally "broke through," validating a career that otherwise lacked meaning. In reality, he's always been something great and should be remembered as such regardless of what the next three years bring. 
On behalf of all of us Joe, I'm sorry. You deserve better than what we've given you.