You only really get one strike in the first round of your draft. If you take a big, all-out swing on a fastball up in the zone and fail to connect – well, it's over.
A fantasy team lacking a first round superstar will be forced to play catch-up all year long. At a disadvantage every single week, trying to patch together multiple players to cancel out opponents' Malkin, Stamkos, Crosby, or Ovechkin. There are times in a draft to take risks. Maybe you push Vrbata up a couple of rounds because of the Sedin-factor, or you slide Niemi fives spots down because you're worried Stalock will start 30 or more games. You can take those gambles in the mid-rounds, there's risk, but there's also reward. No such reward exists in the first. It's sink or swim.
Which brings us to Jamie Benn.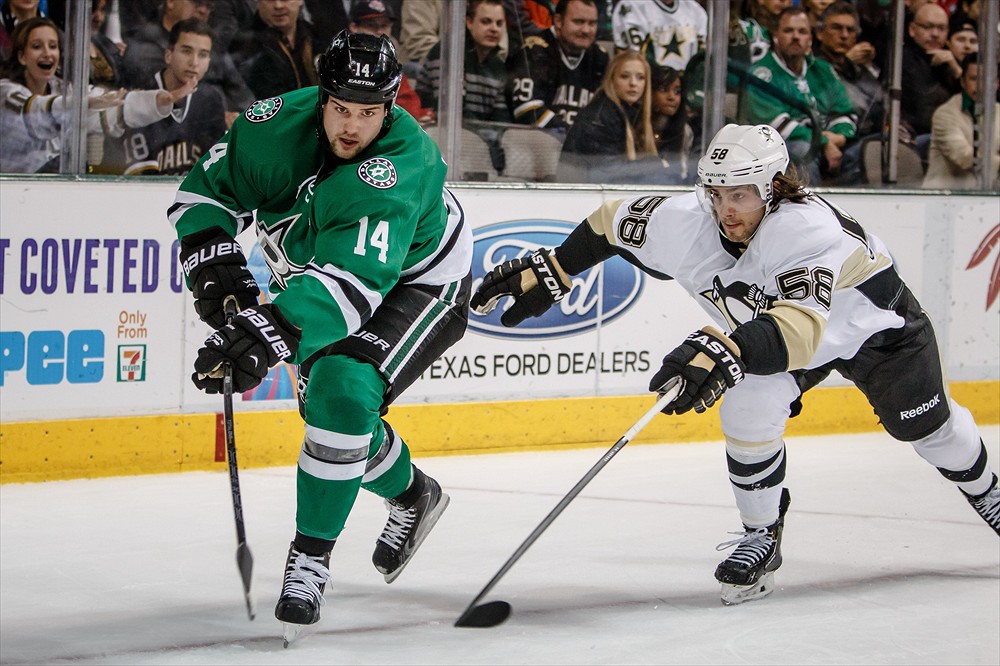 By most objective standards he is a superstar; 25 years old, coming off of a season in which he posted 34 goals, 79 points, and 279 shots. His goal, point, and shot totals all had him among the top ten in the NHL. Even those pesky peripheral numbers were strong – plus 21, 64 penalty minutes, 19 powerplay points. It was the type of season he had been hinting at for two years, but hadn't quite put together yet. And he did it all with a 12.2% shooting percentage that exactly matched his career average.
Sure, there may have been a bit of underlying puck luck, his 1021 PDO was the highest in Dallas. But even if we account for a bit of statistical regression, his numbers are still terrific and worthy of consideration in the first round.
So why am I worried about Jamie Benn?
Well, the issue is, surprisingly, Tyler Seguin. He has helped transform the Stars' future. That first line, featuring Benn and Seguin has become one of the most respected in the NHL. They're capable of scoring goals in bunches and taking over games. Benn's stats have never been nearly as good as they were last year, when defenses had to divide their attention between the both of them.
It's a situation that's eerily similar to the one James Neal found himself in when moving to Pittsburgh. He had two good, but not quite great years in Dallas between 2009 and 2011, finishing with a combined 92 points in 137 games. His shot totals were hovering in the 2.7 per game range. He was the definition of a mid-round fantasy pick, doing a few things well, but noting at an elite level.
Then came the trade to Pittsburgh and a chance to play regularly with Evgeni Malkin. Predictably, Neal's numbered ballooned. Suddenly he was a point-per-game player in 2011-12 (81 in 80 games) and finished second in the league for shots (329). It was amazing to watch his game transform.
There are two opposing viewpoints on what exactly happened in Pittsburgh. Was Neal's game already nearing a crescendo as he approached his prime years, and it simply coincided with the trade? Or was he a Chris Kunitz-like benefactor of playing with one of the three best players of his generation? I tend to think it's a combination of both. Thankfully, Neal's move this offseason should help dispel the myth – either way – and serve as a nice case study for how much of an impact Malkin truly had.
With Benn, there is no real risk of trade. He's signed through the end of 2016-17, and was named team captain. All expectations are that he'll be a long-term piece of their core. But even if he's not likely to be dealt, there is no guarantee that he and Seguin skate together the entire season.
Take these two scenarios for instance. What if the team gets off to a poor start and after 20 games they're near the bottom of the hyper-competitive Western Conference? It's not inconceivable that Ruff, looking to make a change, switches up his lines, moving Benn to the second line to spread out their offence. Or, perhaps Spezza (the guy with a long history of back injuries) goes down for a significant period of time. Does Ruff re-jig his depth chart to help fill in the hole? There are no concrete answers to these questions, but they are things you have to consider.
When using your first round pick on a player, who have to think about EVERYTHING, no matter how small.
Which is why I won't be using my initial pick on Jamie Benn in any pools this year. With guys like Malkin, Ovechkin, Crosby, Stamkos, Hall, Stamkos, Seguin, Tavares, you know almost exactly what you're getting, irrespective of linemates. They are offensive forces unto themselves. Sure, you'd prefer to see a Stamkos with Martin St.Louis or a Hall with Ryan Nugent Hoptkins, but you can still project them reasonably accurately no matter who they're skating beside.
In Benn's case, he is an elite asset. Someone I would gladly take in the early second round and gloat to all of my friends around the draft table. But in the first, where you only get one shot to land your cornerstone, franchise piece – there are too many scenarios that I can't predict. And uncertainty in the early rounds is something you need to try desperately to avoid.    
Darren Kennedy is a writer for McKeen's and Dobber Hockey. You can find him on twitter @fantasyhockeydk