We spend a lot of time (some may say too much) talking about the San Jose Sharks. In a perfect world it would be great to investigate the intricacies of every team equitably. But in hockey pools not all franchises are created equal. Few, if any, have provided the kind of fantasy production that the Sharks have the past 10 years.
2014-15 figures to be more of the same. A long list of elite forwards (Thornton, Couture, Marleau, Pavelski), a group of unique defencemen on the back-end (Demers, Burns, and Vlasic), and a four goal-a-game prospect (well, sometimes) in Tomas Hertl. They'll all no doubt be speckled across the early and mid-rounds of your draft come September.
Where things start to get interesting, or dangerous, depending on how you view it, is in net with Stalock and Niemi.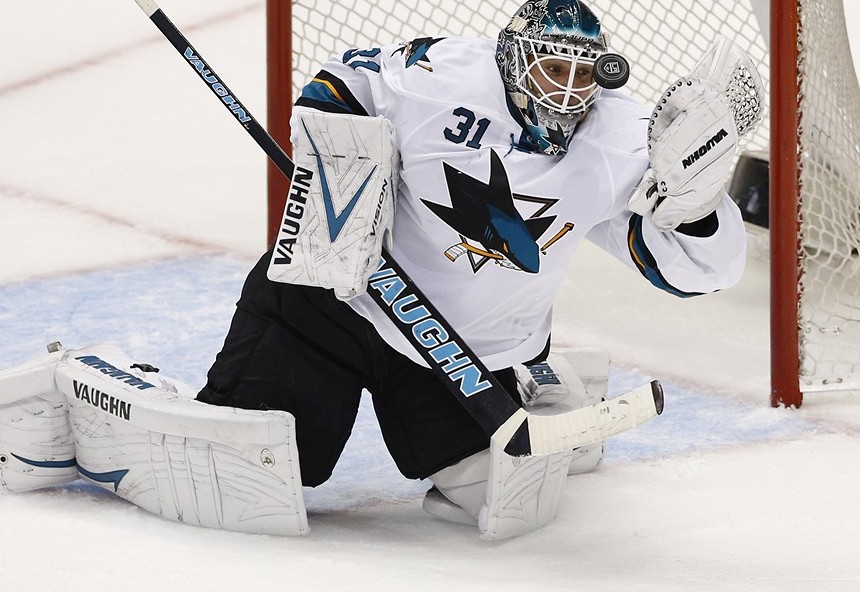 Conventional hockey wisdom says this shouldn't really be much of a discussion. Niemi has been the team's full-time starter the past four years, never playing in less than 60 games (if you pro-rate the lockout), boasts career numbers of 2.35 and .916, and has won a Stanley Cup (if you're into that sort of thing).
Saying all of that, the mindset of general managers has shifted from 15 years ago. Capturing a Stanley Cup is no longer considered an automatic omen of future success. During his time in Chicago and now San Jose, both teams have been among the five best in hockey. He's been a part of their success, surely, but just how significant of a part is difficult to discern.
There's the additional wrinkle of his looming unrestricted free agency. Niemi is currently making $3.8 million dollars a year. That ranks him 21st among goalies in terms of cap hit. Behind such notables as Ondrej Pavelec and Cam Ward. It's an understatement to say that he's one of the better bargains around the league.
That all changes come this summer, when he'll be looking for a significant contract extension. If we're looking for a comparable tender, names like Corey Crawford and Kari Lehtonen spring to mind. Both are making around $6 million a year on long-term deals. We can assume that Niemi will be looking for at least that number (if not more), given how the cap has been rising the past few seasons.
And then we have back-up Alex Stalock. The 27-year-old American goalie who has played in a grand total of 27 games in the NHL. Now, his play has been remarkably good over that time – 1.86 and .931. It's a small sample size, but he certainly hasn't disappointed. His cap hit comes in a lowly $1.6 million for this year and next – the NHL equivalent of the sale rack at your local department store.
Doug Wilson has a number of factors to weigh: just how good is Niemi? How much of his goalies' success is due to their innate ability versus the team in front of him? At nearly 31 years old will a long-term deal to Niemi leave the team in a lurch as time wears on? Is Stalock ready for 40 or 50 starts per year given his relative level of unprovenness? (if that's a word).
Niemi had an even strength save percentage of .920 last season, ranking him 22nd among goalies that played 41 or more games. It's a somewhat worrisome statistic, and it's not limited simply to last season - in 2012-13 he finished 11th. If we assume the truth lies somewhere in the middle then he's probably around the 15th best tender at even strength (or thereabouts, the stat isn't perfect)
Are the Sharks prepared to offer a big money, long-term contract to a goalie that is entering what should be his declining years, and has proven to be slightly above average over the past two seasons?
It's a question that that's surely plaguing management, but is also sitting on the minds of poolies this fall. If he's starting 60 or more games, on that team, then Niemi can be counted on as one of the top seven or eight guys at the position. If he's in some sort of time split scenario where his future is uncertain… well who knows at that point.
Jonas Hiller went through a similar situation in Anaheim the last few years. He was pushed internally by a variety of other tenders, each of whom posted decent numbers on a talented Ducks' team. He went to free agency and is now stuck on the deserted island of fantasy relevance that is Calgary (sorry, Giordano).
It's not time to officially press the panic button if you're targeting Niemi this season or beyond. He could sign a five year extension in November and remove any and all doubt from our collective psyche. But, at the very least, I'd start scribbing your 'plan B' on a napkin, just to be safe.
Darren Kennedy (@fantasyhockeydk) is a contributor for McKeen's and Dobber Hockey. He'll talk about anything and everything… except Kovalchuk. Never, ever, Kovalchuk.