One the great joys of fantasy hockey is identifying burgeoning elite assets before your friends in the pool do. Then proceeding to send endless streams of tweets, bbms, facebook messages, and texts, extolling your ever expanding greatness in the field of prognostication.
What are friends for if not to brag about fantasy hockey to?
The social media age has made it more difficult to find hidden talent than ever before. Now, everyone has access to every news story and statistic anytime they want it. Looking for zone start percentages – check behindthenet. Trying to determine how a players goals per game numbers are tending – review hockey reference. Information is, quite literally, everywhere.
The key to gaining a measurable edge is less about locating the actual facts – that's easy – and more about knowing what trends to look for. With my draft coming up in a few weeks I've started to comb through spreadsheets looking for anything that might point to a breakout year. And while Jakub Voracek is far from an unknown quantity, he might be even better than we know.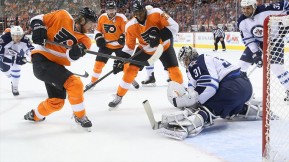 When looking through his numbers last year a few things jumped off the page, especially when considering Philadelphia as a whole.
You'll remember that the Flyers got off to a horrendous start in 2013-14. There were calls to remove everyone in the front office, trade Giroux, and convince Lindros to come out of retirement for one last hurrah. Ok, I'm exaggerating – slightly. But Giroux did manage only six points through his first 14 games, including ZERO goals. It was a terrible stretch. In fairness to him, he may have been dealing with some lingering discomfort in his wrist from offseason surgery. Or, it could have simply been bad luck. Sometimes, for no reason at all, the puck doesn't make its way to the back of the net.
With Giroux being Voracek's centerman, it came as no surprise to see the winger also struggle to produce over that stretch. He posted only four points through his first 15 games. As a result, many poolies soured on him early on, even relegating him to the waiver wire. Which is generally a place reserved for enforcers, back-up goalies, and Drew Stafford (for some odd reason Stafford has been forced to live on the waiver wire for all eternity).
The incredible part of Voracek's poor numbers to start the year is how he performed thereafter – 58 points through only 67 games. Which pro-rates to 71 over a full slate of games. And unlike 2012-13 where his totals where supported by an unreasonably high shooting percentage of 17.0%, this time around he was actually BELOW his career norm – sitting at 9.8%.
Another area that has been steadily on the rise is his shot totals. Since entering the league in 2009-10 with Columbus, Voracek's shots per game have increased every single season; 1.26, 1.90, 2.29, 2.44, 2.69, and most recently to 2.87. At 25 years of age, there is a real chance his shot rate has plateaued. Even if it has, shooting near 240 times per year puts him inside the top 30 for that category.
So what kind of numbers can we expect from him moving forward? Assuming he's scoring on 10 percent of his shots, we're looking at 25 goals most years. His assist totals have settled into the 0.49 per game range, meaning anywhere between 38 and 42 is to be expected. Putting it all together he's a strong bet for 65 points and 235 shots.
65 points doesn't FEEL that enticing. Afterall that puts him around 35th in the league. But what's important to remember is that this is his floor. Based on what we've seen the last two years it's hard to imagine his production dipping much below where it is today. In a season where his shooting percentage trends upwards, or Giroux pushes 90 points, there's no reason Voracek can't finish among the top 20.
Even though his shots appear to have landed in the 235 range – we don't know for sure. Maybe he's maturing a bit later then some, and will continue to develop over the next few seasons.
For those in dynasty league's his age brings added value as well. Having only turned 25 a few weeks ago, he can reasonably be counted on for another four or five years of peak performance before slipping into his decline years. It's the kind of stability you can look to when building your core pieces and devising a long-term strategy.
I don't think he warrants consideration in the first four rounds. With the number of elite forwards available, plus a sprinkling of top end defencemen and goaltenders, the early rounds are full of prime assets. But once your draft gets into the mid rounds Voracek could represent real value. He seems to be viewed as one of the top 50 or 60 assets, when in reality he's probably closer to 35 or 40 in most formats. It's a small distinction, to be sure, but in fantasy it's the small wins that make a real difference later on.
And don't forget to text your buddy to remind him how good Voracek is – that's the most important part.   
Darren Kennedy (@fantasyhockeydk) is a writer for McKeen's and Dobber Hockey. When he's not writing about hockey, he's perusing Netflix hoping that somehow they find a way to bring back Friday Night Lights for another season.