Those of you still contending for your league championship are left to make crucial roster decisions every week.  Starting or benching a player could be the determining factor between winning or losing in the playoffs.
You all know who your studs are, but now that most fantasy rosters are set for the championship drive, let's look at those bubble players; the ones you should ride as weekly starters and those who should be shelved for the rest of the year.
RIDE 'EM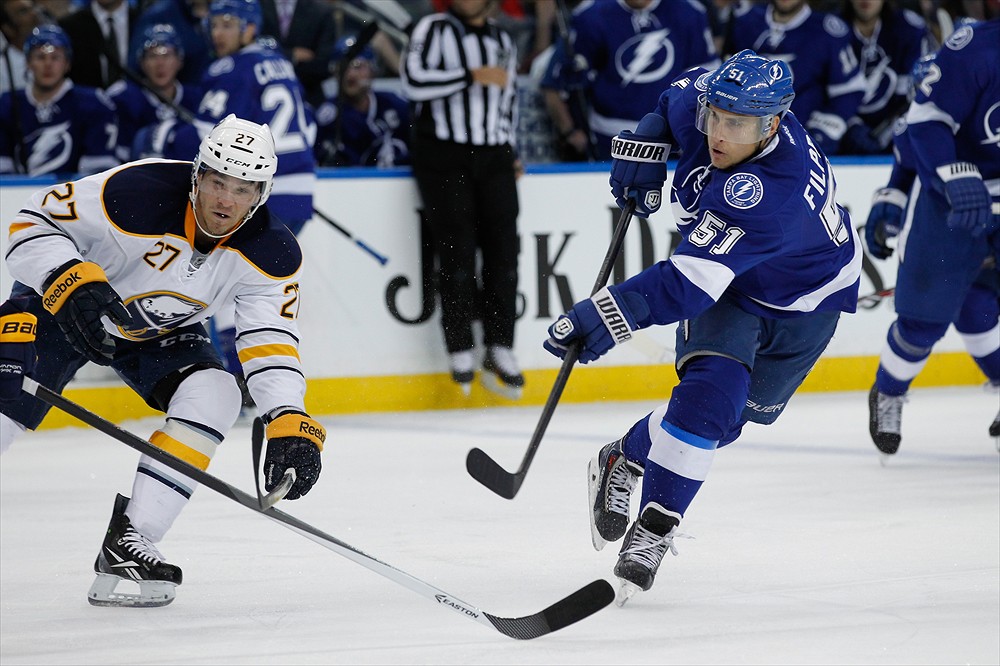 Valteri Filppula (C) – TBL: As good a first half as everyone thought he had, Filppula is authoring an even better second.  Currently riding an 8-game point streak (4-8-12, +4), the Finn pivot also benefits from manning the point on Tampa's first PP unit which also features red hot Steven Stamkos.  Classic case of a late-bloomer, with a career-best season at the age of 30.
Ondrej Palat (LW) – TBL: The 22 y/o Czech rookie has always found a way to produce offense at every level.  His line, center by Filppula and completed by Ryan Callahan on RW, is one of the hottest in the NHL.  Consequently, Palat has been promoted to the PP's top unit, where he benefits from the new-found chemistry with his regular linemates.  His numbers are no fluke; very smart playmaker.
Gustav Nyquist (RW-LW) – DET: Simply one of the best goal scorers in the league at the moment: 12G, 9A for 21 pts (+9) in 17 GP since Feb. 2nd.  What's even more impressive is that Nyquist is doing this without that much help from his regular linemates (Riley Sheahan and Tomas Tatar aren't exactly tearing it up).  This should be enough to convince his owners to pencil him in from here on out.
Steve Mason (G) – PHI: The Flyers have definitely figured it out since Craig Berube took over behind the bench.  First they took care of their horrible defensive warts, than they worked through the offensive issues that haunted them in the first half.  Now they're firing on all cylinders and Steve Mason's owners are reaping the benefits: 11-3-1 record since Feb 1st, with a .923 SP and 2 SO.  As safe a bet as there is in the crease outside of Tukka Rask at the moment.
Wayne Simmonds (RW) – PHI: A point-a-game producer since Feb 1st (15-7-9-16), Simmonds is establishing himself as one of the best young power forwards in the NHL.  His line isn't quite lighting it up (centered by Braden Schenn, with Vincent Lecavalier on LW), but Simmonds has scored 13 of his 24 goals on a red hot first PP unit keyed by center Claude Giroux's all-world playmaking abilities.
T.J. Brodie (D) – CAL: Has taken full advantage of Dennis Wideman's injury, producing at a career-best pace (6-0-6-6, +10).  Although you shouldn't expect a point-a-game pace, Brodie is a solid option as a no.5 or 6 D in most fantasy leagues for the rest of the year.
BENCH 'EM
Mike Ribeiro (C) – PHO: After a stellar season in Washington, Ribeiro is in the midst of one of the worst slumps in his career.  The playmaking wiz strives on ice-time and creativity.  However his blatant lack of discipline and lackadaisical play lately has earned him a benching following a misconduct on Feb 28th.  Since then things have yet to improve (12-1-3-4, -5).  He has been demoted to third or fourth line duty and to the second PP unit.  Monitor his play and icetime.  Both must sharply pick up before you can start him again.
Jay Bouwmeester (D) – STL: After a hot offensive first half, Bouwmeester has come back down to earth since his return from the Olympics: 13-0-2-2, with both points coming in the same game.  I never viewed Bouwmeester as a reliable source of offense from the back end.  Don't expect anything more than his career average of 0.41 PPG the rest of the way.  If you have a better option, he should be benched; if not, good luck!
Brent Seabrook (D) – CHI: Yes he still is Duncan Keith's partner, but he is far from his equal.  Seabrook has only one assist in his last 8 games and mans the point on a second PP unit of the Hawks that has been very cold.  Chicago has been extremely top-heavy in its offensive production lately, which hurts Seabrook's likelihood of producing points.
Dan Boyle (D) – SJS: It seems time has finally caught up to this once elite offensive defenseman.  He has suffered through long point droughts this season, including one of ten straight games between Jan 20th and Feb 7th.  Currently mired in a 5-gamer, Boyle can simply no longer be considered an automatic starter.
Bobby Ryan (RW) – OTT: The Sens' first half success was keyed by a hot second line, centered by emerging center Kyle Turris.  Not so coincidentally, their second half debacle can be partly explained by the complete collapse of that same line.  Bobby Ryan is on that line and there is no relief in sight: 16-3-3-6 (-7) since Feb 1st.  Now comes word that he has suffered an upper-body injury.