After going nearly wire-to-wire as the top Canadian Hockey League team in the weekly rankings, the Oshawa Generals rightfully returned to their perch capturing the illustrious CHL Memorial Cup. In a thrilling back-and-forth game that needed extra time, it was draft eligible forward Anthony Cirelli who chipped in the heroic goal just over a minute into the opening frame. Undrafted and signed as a free agent out of the Oshawa Generals camp, 17-year-old rookie Cirelli capped off a memorable season scoring his second goal of the contest giving the Gens the right to hoist the Memorial Cup in the 97th tournament. In the final hockey game that would be played at the historic Pepsi Colisée, the Generals claimed their fifth MasterCard Memorial Cup title in franchise history and first since 1990.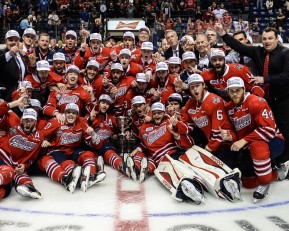 Despite putting up a great fight and dominating the Generals at times, Kelowna wasn't able to save Oshawa puckstopper Ken Appleby who turned in a 37-save performance, comprised of several game-saving stops. Oilers' prospect Leon Draisaitl was named the 2015 CHL Memorial Cup MVP after leading ths tournament in scoring with four goals and seven points through five games. Michael McCarron (Montreal Canadiens), Michael Dal Colle (New York Islanders), Ken Appleby, Ryan Graves (New York Rangers) and Madison Bowey (Washington Capitals) joined Draisaitl as tournament all-stars at their respective positions. Rimouski forward Alexis Loiseau took home the George Parsons Trophy as the tournament's most sportsmanlike player.
With plenty of standout performances, let's take a quick look at who impressed during their time in beautiful Quebec City.
OSHAWA GENERALS
Ken Appleby, G, 2015 NHL Draft – Stepped into the crease and delivered several outstanding performances, keeping his Generals afloat during times they stepped off the gas peddle. Without his will to win and ability to make key saves in crunch time, Oshawa could've been sent packing earlier. Althought Draisaitl won the tournament MVP honours, there was a strong case for Appleby for the award as well. He will enter into the draft for his final time and is expected to be worthy of a selection. If not, Appleby will certainly be offered several NHL camp invites.
Dakota Mermis, D, free agent – The overage captain who was acquired from London to bolster the Gens blueline did exactly that…and some. Having the opportunity to cap off a successful junior hockey career by winning the Memorial Cup in his third and final chance is something he will always cherish. Look for Mermis to find himself on some camp invite lists as well because he does have potential as a depth all-around defender.
Tobias Lindberg, F, Ottawa Senators - As expected, Tobias Lindberg was clutch for the Oshawa Generals scoring several timely goals and sharing the team scoring lead with five points (along with Dal Colle). He's not the swiftest of skaters out of the gate and can be a bit inconsistent but at top speed he's quite powerful and his scoring touch is a skill that can't be taught.
Michael Dal Colle, F, New York Islanders - Likely played his final junior game, Dal Colle put in a solid tournament and although he wasn't dominant like his skill, might sometimes suggest, he was a valuable commodity that most teams don't have. The big question with Dal Colle is whether he can ramp up his competitiveness and show that hunger to win every second of the shift that star players possess. He's always around the play but I'd like him to take a team on his back and will his way to goals.
Cole Cassels, F – The ultimate competitor. Cassels plays with such fire and passion (the same kind that I'd like MDC have more of) that he's always going to make an impact. He's a three-zone player who excels defensively but his ability to chip in offensively is a bonus. Cassels is reminiscent of a former Generals fan favourite in Boone Jenner and he is certainly on a path destined for success.
Michael McCarron, F, Montreal Canadiens – The most improved player in the Canadian Hockey League, McCarron was again a valuable contributor chipping in three points. More importantly, his power game and presence on the ice kept opposing teams in check. Since shifting to the middle this season, it's hard to imagine him playing any other position because he's been so strong at centre.There's still some refinement needed in his skating and puck handling but he's now shown the flashes that the Montreal Canadiens hoped he would when they used a first round pick on him.
Anthony Cirelli, F, 2015 NHL Draft – The draft eligible forward scored the two biggest goals of his career, including the overtime championship winning tally in the world's top junior circuit. That's something every kid dreams of and no one can ever take that away from him. Cirelli is a good support player looking at a mid-late round selection in the upcoming draft. He's not a pure skill guy but his willingness to get dirty and take the puck to the net is one of his many admirable high-character traits.
KELOWNA ROCKETS
Leon Draisaitl, F, Edmonton Oilers – The big German forward came as advertised and it's very easy to see why he was such a high draft pick. Draisaitl' overall "presence" on the ice is very impressive. Using his long reach, powerful stride and quick hands, Draisaitl is an advanced puck protection player who could end up playing a similar style as Rick Nash. His playmaking ability was particularly strong in the Memorial Cup and despite leading the championship in scoring, there were a handful of missed tap-ins off passes from Draisaitl. He should step into the Oilers lineup and find his role quickly next year. If you're looking for production, you may be waiting a few years for that.
Nick Merkley, F, 2015 NHL Draft – As impressive as Big Leon was, Nick Merkley was better in my opinion. An outstanding in-your-face attacker that jets in and out of traffic with little care, Merkley is always around the puck, creating high scoring opportunities. He's clearly not very big but his stocky frame and competitive drive should settle any concerns that scouts has for his size. He's not a dangler but his alleviate any concerns about his size. It's safe to say that Merkley improved his draft stock as much as anyone possibly could in a short tournament. He should be off the board by the mid-point of the opening round.
Madison Bowey, D, Washington Capitals – Dating back to his 2013 draft year, Madison Bowey has been ranked high in my books (31st to be precise) and he's starting to look more and more like he should've went in the opening round and not 53rd overall. An outstanding skater with game-breaking offensive abilities from the point, Bowey can make teams pay either with his feet or a very effective howitzer from the point. He's particularly strong at getting shots through traffic and on net. Washington has a player in Bowey who could eventually replace Mike Green's minutes.
Rourke Chartier, F, San Jose Sharks – It was clear to me that Rourke Chartier was playing injured as he looked out of sorts through most of the tournament. He was bounced around quite a bit but kept getting up over and over. For a natural finisher,Chartier struggled to find the net and was handcuffed on some fairly easy tap-ins. Simply put, Chartier wasn't at the top of his game but you still have to admire his efforts.
Justin Kirkland, F, Nashville Predators – The Nashville Predators product had a good showing peaking during is semi-final two-goal effort to help Kelowna advance to the Memorial Cup final. Kirkland is a player who understands who he is and plays to his strengths – that being, a rangy reach that he uses in possession. It'll take some time for him to reach Nashville but when he does, he should make a valuable complementary player.
Gage Quinney, F, 2015 NHL Draft – Guinney was an unfamiliar player heading into the MemCup but I was pleasantly surprised by his performance in Quebec City. He showed strong vision and playmaking abilities and while he may not have the ideal size or skilled game, he was impactful enough to be considered a potential future minor league pro.
Tyson Baille, F, 2015 NHL Draft – The undrafted Tyson Baille was one of four players to finish tied for 2nd in scoring with six points. He was one of the surprise undrafted players from the 2014 class and I am still perplexed how he didn't warrant a late round selection. He's a "Johnny-on-the-spot" type of player who puts himself in good positions to contribute offensively and that was evident this past week. He should be worthy of a mid-to-late round selection in the June draft.
Josh Morrissey, D, Winnipeg Jets – To be quite honest, I didn't notice Jets' prospect Josh Morrissey too much. Capable of leading the rush with his mobility, Morrissey played a refined and patient game in Quebec and that's not a bad thing. He's clearly rounded into form defensively and that has to be pleasing for the Jets' organization. Morrissey still chipped in five points in his five games. This kid has a VERY bright future.
QUEBEC REMPARTS
Adam Erne, F, Tampa Bay Lightning– Inconsistent best describes Adam Erne's tournament. He was still able to produce with three goals and six points but he Erne went long stretches were he was virtually invisible. For a team that relied on the Lightning prospect all season, Erne didn't play at the same level that he did all season. In saying that, players like Erne are fun to watch simply because they can strike at any moment of the game.
Ryan Graves, D, New York Rangers – Easily Quebec's best skater, Ryan Graves has developed nicely into a two-way defenseman. With a pair of goals off his pro-calibre point shot, Graves was arguably their most dangerous player…especially on the powerplay. I will be very interested to see the next steps that Graves takes because his development over the past year was substantial.
Zach Fucale, G, Montreal Canadiens – Without Zach Fucale between the pipes, the hosts would've been eliminated from contention much quicker. Fucale had a strong tournament but he could only take a low-scoring Remparts team so far. He added several highlite saves to his YouTube career and looked ready for the next challenge in his path to the NHL.
Marc-Olivier Roy, F, Edmonton Oilers – Hard working and fairly impactful, Roy was one of the few Quebec forwards who took the ice with energy every shift. I am not certain what type of player he will be at the NHL level (if he makes it) but as a junior player, he was solid in the tournament. He'll likely top out as a complementary third liner. Will his decent showing (five points) at the Memorial Cup earn him an entry-level contract with the Oilers? .
Dmytro Timashov, F, 2015 NHL Draft – There were bright moments for the dynamic Ukrainian Swede and then there were some meh moments as well but that was to be expected. There's no denying his ability to create but his decisions with the puck were questionable at times. He is going to have to break his habit of trying to always make the Highlight of the Night play. After his Memorial Cup performance, I'm guessing he'll slide into the latter half of the draft.
Vlad Tkachev, F, 2015 NHL Draft – Let me preface these comments by stating that I've always been a Tkachev fan. Now, it's safe to conclude that Tkachev had some of the worst showings for me at the Memorial Cup. Not only was his defensive awareness non-existent (with constant drive-bys and circling) but his offensive attacks left me scratching my head. Too many times Tkachev would attempt a cutesie drop pass or attempt forcing a feed through a near impossible seam only to have it lead to a scoring chance the other way. He's one of the most creative players in the draft but the Memorial Cup was a forgettable tournament for him.
Anthony Duclair, F, Arizona Coyotes – Snakebit to start the event, Duclair eventually broke through and was at his best through most of the Memorial Cup. His speed and ability to make plays in top gear affords him a lot of opportunities that most others wouldn't get. Expect him to become one of the more dangerous scorers from his draft class and a welcomed addition in Glendale.
Nikolas Brouillard, D, 2015 NHL Draft – After watching him navigate the ice and control the play, it's hard to fathom that Brouillard went undrafted. Poised and confident in possession with crafty flashes of creativeness, Brouillard is a tantalizing offensive defenseman prospect. I'd be shocked if he didn't don an NHL jersey in the draft this time around.
RIMOUSKI OCEANIC
Michael Joly, F, 2015 NHL Draft – It was a coming out party for the undrafted creative forward from Rimouski…well, at least for those unfamiliar with the Q. Quick off the hop and very creative in his net drives, Joly is the type of player who can make opposing defensemen look foolish. His 1.50 points-per-game production at the Memorial Cup outpaced every other skater and gives good reason to be drafted as a re-entry at the draft.
Frederik Gauthier, F, Toronto Maple Leafs – Toronto understands that Gauthier may never reach 50-points at the NHL level and they're fine with that. With more and more viewings of the Maple Leafs' 2013 1st round selection, it's easier to appreciate his overall skillset and reasons he went in the opening round. Gauthier is an absolute beast in the defensive zone and his faceoff effeciency is as good as any prospect in the CHL. Chipping in a goal and four points was a nice added touch for the intelligent pivot. Look for Gauthier to join the Marlies next season and take on the challenge of shutting down more talented and bigger attackers.
Alexis Loiseau, F, Bakersfield Condors/AHL – One of the many undrafted prospects to perform well in Quebec City, Alexis Loiseau (Rimouski's regular season leading scorer) turned his two-goal, four-point performance into a professional gig with the Oilers' AHL affiliate Bakersfield Condors, signing upon the tournament's completion. His hard energy tenacious attack takes on a bluecollar style but it certainly opens up time and space for his linemates.
Jan Kostalek, D, Winnipeg Jets – Kostalek is just another example of the superb scouting staff in Winnipeg. The big Czech defender eats up tough minutes all while contributing to both ends of the rink – showcasing an average puck moving game and a stiffling defensive side. He didn't win it but being nominated for the CHL Defenseman of the Year speaks wonders to how good of value Winnipeg got from the 114th overall pick (he landed in the 54th spot that year in my ranking). Unfortunately, Kostalek's Oceanic were the first team eliminated from Memorial Cup contentions but he has to be happy for his potential Jets defensive partner after Josh Morrissey captured the title, right?
Congratulations to the Oshawa Generals and the entire organization on their storybook season winning both the Ontario Hockey League and CHL Mastercard Memorial Cup!
Follow Youngblood Hockey on Twitter @RossyYoungblood for all things prospects. Did we miss a prospect? Don't hesitate to ask for more #MCMemorialCup banter.