WESTERN CONFERENCE FINAL
| | | | | | | | | | | | | | | |
| --- | --- | --- | --- | --- | --- | --- | --- | --- | --- | --- | --- | --- | --- | --- |
| Date | Team | Dec | HR | Opp | GF | GA | PPG | PPOpp | PPGA | TS | SF | SA | FenClo CHI | FenClo LAK |
| 1/19/2013 | CHI | W | R | LAK | 5 | 2 | 1 | 5 | 0 | 5 | 22 | 21 | -- | -- |
| 2/17/2013 | CHI | W | H | LAK | 3 | 2 | 1 | 5 | 2 | 4 | 37 | 27 | -- | -- |
| 3/25/2013 | CHI | L | H | LAK | 4 | 5 | 0 | 4 | 0 | 2 | 25 | 36 | 53.9 | 57.56 |
The transformation of the Kings from road warriors last spring to infallible home watch-dogs in these playoffs (a perfect 7-0 home record) is puzzling to say the least.  What Darryl Sutter does know is that he basically has the same group of resilient soldiers to work with that breezed through a historically easy Stanley Cup run in 2012.  This tightly knit squad now has a 6-0 playoff series record.
Joel Quenneville's BlackHawks are coming off quite the scare.  Even if they did manage an impressive comeback against a crafty bunch in the Detroit Red Wings, key flaws were exposed early on in the series.
Sutter is a master at adapting his team's approach according to advanced scouting reports.  He knows that playing a relentless, physically punishing style is a must to counter the speed and skill of the Hossa-Kane-Toews triple threat and to create havoc in the Hawks' end of the ice by leaning on the left side of their unbalanced defense.  Look for L.A. to utilize soft dump-ins in the right wing corner and punish the Hawks' weaker D-men (Nick Leddy and Johnny Oduya).
The playoff stats tell us that the Kings' top players have been better at even strength than the Hawks' key elements, but Chicago's special teams (notably their 97.6% PK) have been lights-out good.  L.A. has shown the capacity to play a very disciplined game in the clutch. Our guess is that Sutter will talk about penalty avoidance in every single one of his pre-game speeches during this series.
The Kings have the look of a Champion once again and their collective consistent and structured play through two rounds only adds to the ironclad confidence built from recent post-season invincibility.  They have perfected the art of preying on opponents' vulnerabilities and the Hawks unfortunately tipped their hand in the Detroit series.  Jonathan Quick is in 'the zone' and has no glaring weakness.
Prediction: Look for L.A. to steal one this week-end in Chicago and edge the BlackHawks in a low-scoring 7 game series.
Eastern Conference Final Preview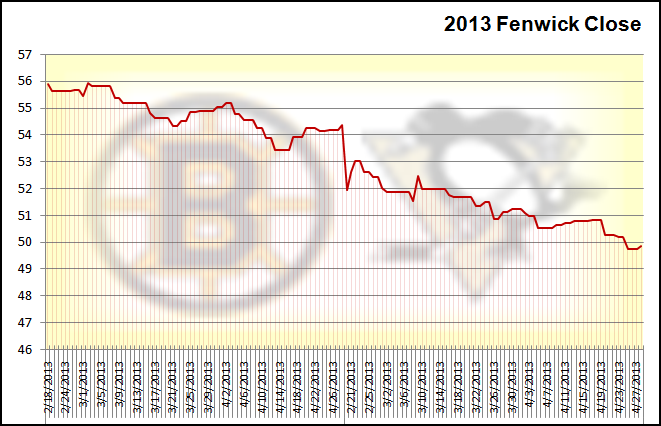 | | | | | | | | | | | | | | | |
| --- | --- | --- | --- | --- | --- | --- | --- | --- | --- | --- | --- | --- | --- | --- |
| Date | Team | Dec | HR | Opp | GF | GA | PPG | PPOpp | PPGA | TS | SF | SA | FenClo PIT | FenClo Ott |
| 3/12/2013 | BOS | L | R | PIT | 2 | 3 | 1 | 2 | 0 | 4 | 16 | 34 | 51.97 | 55.2 |
| 3/17/2013 | BOS | L | R | PIT | 1 | 2 | 0 | 2 | 0 | 1 | 32 | 18 | 51.69 | 54.61 |
| 4/20/2013 | BOS | L | H | PIT | 2 | 3 | 1 | 4 | 2 | 6 | 40 | 24 | 50.28 | 54.27 |
It seems like each year the phrase once you are in the playoffs anything can happen rings true as an underdog team finds a way to make a run all the way to the Stanley Cup.
Not this time.
The final four teams in the conference finals are the previous four Stanley Cup winners and in the East that is the Pittsburgh Penguins and the Boston Bruins.
This series is one that most had predicted as the favorites to be meeting in the third round and perhaps most had hoped to see as there are several story lines that will be intriguing to follow as the games unfold. Here are four that I am really looking forward to
The Jagr factor. The Penguins have several first ballot Hall of Fames players who are their alumni, and playing in this series. Jagr is one for sure even though he will be playing for Bruins black and Gold rather than Pittsburgh.  Will he be booed in Pittsburgh? Imagine he score the series winning goal there, would that destroy his legacy in that city, or has his playing last season with State rivals in Philadelphia already done that.
The Matt Cooke and Marc Savard history is a story line that has already had some air time on talk shows and some players have even commented on it. I believe that Cooke has changed his ways and he is a reformed person. I also think that there is too much at stake for Boston to worry about extracting a pound of flesh for the end of Savard's career. After all, the best revenge is to eliminate Cooke and the Penguins.
Crosby vs. Bergeron could be the story line which has the greatest influence on the outcome of the series. These two are good friends ever since dominating together on team Canada at the World Juniors. Crosby is the best offensive player and Bergeron is arguably the best defensive player and no doubt they will go head-to-head in this series. I also expect to see Bruins Coach Claude Julien attempt to match up Zdeno Chara against Evgeni Malkin whenever possible.
The most obvious and intriguing story line will of course be Jarome Iginla. At the trade deadline Flames GM Jay Feaster had worked out deals with both Boston and Pittsburgh. Most of us went to bed after hearing the breaking news that Iginla had been traded to Boston, only to wake the next day to learn Iginla had chosen Pittsburgh over Boston. No doubt the Bruins organization and fans feel snubbed and would love nothing more than to say "you choose wrong" after eliminating him at the end of the series.
The Iginla story line draws some similarities to Marian Hossa a few years ago. Hossa while a member of the Penguins lost in the Cup finals to the Detroit Red Wings. That off season he signed a one year deal with the Wings citing he wanted to win the Cup as his reason. As a member of the Wings he made it to the Cup finals the next season, only to lose again, ironically to his former team the Pittsburgh Penguins. Hossa eventually won the Cup with the Chicago Blackhawks.
The Bruins have an interesting story line to follow as well with the emergence of two surprising prospects in Tory Krug and Matt Bartkowski who have filled in for injuries and played extremely well. So good in fact that even if Andrew Ferrence is cleared to play it will be difficult to take either out of the lineup. Bartkowski was even one of the players involved in the vetoed Iginla trade and he is a Pittsburgh born and bred player. Krug was a free agent signee out of college and was a Hobey Baker finalist.  Krug had a slow start to the season in the AHL and had an injury, but after the injury call up in the second round versus Boston he has been deadly scoring four goals in five games, playing 15:52 minutes a game. It is unlikely he can continue his point per game pace but he is worth watching, and remember him for your fantasy drafts and waiver wire this summer once roster freezes are over.
I expect the Bruins to try and play this series similar to how they handled the Canucks in the Cup final, by dragging it into the gutter. I expect the Penguins to rely on their power play, which has been lethal (Just ask the Ottawa Senators!).
Both teams have exceptional depth at forward and complete confidence in rolling four lines. Pittsburgh clearly has the bigger guns and star power and the advantage in the top six, but give the Bruins fourth line the edge over the Penguins.  With Crosby, Malkin, Iginla, Neal, Kunitz etc. how can Pittsburgh not have the overall edge here.
If Krug and Bartkowski can continue their impressive performance the Bruins defense gets the edge anchored by Chara and Sidenberg.  Kris Letang is the Penguins leader and a Norris Trophy calibre player, but has to remain healthy, not an easy task for Letang. Paul Martin has enjoyed a nice comeback season and Orpik and Doug Murray are solid, but if the Penguins have vulnerability, it could be defense.
Goaltending may be a difference maker. Vokun has relieved Fleury of the starting position, but is only one bad game from giving it back and thus shattering the Penguins confidence. Boston relied heavily on Tim Thomas in their Cup win and now turn to Rask. Rask has had ups and downs this post season. Rask held the Bruins in during their historic comeback when he stopped Matt Frattin on a late breakaway, but what happened on the Carl Hagelin goal in game four that allowed the Rangers to mount a comeback? Every goalie has bad goals but Rask was there when they needed him and I expect he will be the better goalie in this series, edge Bruins.
Both teams had a stern wakeup call in the first round and have since been firing on all cylinders.  Both teams are recent Champions and both teams Championship rosters are largely intact with plenty of playoff experience and Cup rings on either side. There are plenty of storylines for this series between two teams who have not met in the playoffs for decades. This series will have plenty of goals if the Penguins have their way, and it will have plenty of hits if the Bruins get their way. My take on it is it comes down to discipline. If Boston can punish the Penguins without taking penalties they can win. If Pittsburgh is allowed to carry the puck, skate with and pass the puck without getting hammered they should win. If Pittsburgh is allowed powerplay opportunities they will win.