DALLAS, Texas -- The Stars franchise moved to the state of Texas in 1993 after low attendance in Bloomington, Minnesota forced club ownership to send the club to the Lone Star State. In their 25 seasons in Dallas, they have lifted the Stanley Cup once, won the Western Conference twice, and have been blessed with Hockey Hall of Fame players like Mike Modano, Brett Hull, and Ed Belfour to send fans in green and black into elation regularly.
Dallas is not received as a traditional hockey market. Outside of the fanfare for the Dallas Cowboys, the Dallas-Fort Worth metropolitan area has never been the most potent and passionate sports town, so how does hockey work in a city where the average daily temperature is 97 degrees Fahrenheit in July?
Don't answer. The only correct response to that question is to absorb what happened last weekend in the ninth-biggest city in the United States, as the 2018 National Hockey League Draft roared through American Airlines Center in Dallas's West End.
You see, Dallas has never had the honor of representing the game of hockey on its biggest stage. Close to every team staff thanked Stars general manager Jim Nill, the city, and the team for the hospitality over the Draft weekend, and it felt like something new -- because to many of us, it was.
AAC played host to NHL All-Star Weekend in 2007, but the game was on a Wednesday and Dallas had just two players selected to the West All-Star squad. One was Marty Turco, famous for holding the single-season goals against average record for a goalie with a starter's numbers (55 games, 1.72 GAA), but the other was Philippe Boucher -- unless you're Philippe himself or a long-time Stars fan, you have likely not thought of him in ages, if you have heard of him at all.
Dallas has never hosted an outdoor game. Dallas had never received the Entry Draft until 2018. In conclusion, to have the hockey world revolve around one city is normal, but in Dallas, it is a completely new experience. The future of the sport and some of its top young talents hinging on the city's impressively growing hockey fanbase, and a chance to show the rest of the league -- and the rest of North America's 30 NHL cities and surrounding markets -- that we belong.
Dallas made no mistake. That place was loud.
6:00am, Thursday, June 21st. I had rolled out of bed just about 10 minutes prior to the top of the hour, finishing the packing of bags begun the night before. I won't see my Austin area residence for three days as I travel to a one-of-a-kind experience up north.
I make my customary stops up Interstate 35 along the path -- by the way, for those that aren't familiar, Austin is about three and a half hours out of Dallas -- Buc-ee's in Temple, Czech Stop in West, QuikTrip in Duncanville. This is a familiar trip, having attended Dallas Stars games close to my entire life, but with a certain intriguing uniqueness to it.
Traveling up north to Plano, a Dallas sister city, I encounter a major problem. US Route 75 going northbound is closed in all four lanes, with a fuel truck having tipped over during the overnight hours, leaving the freeway derelict. That's cool, I'll take a detour, it's close enough to Dallas that there are a variety of smaller, slower side streets to get where you're headed.
To one side of me on Greenville Avenue is Columbus Blue Jackets defenseman Seth Jones, a Plano native and emerging Norris Trophy contender. To the other, NHL.com's Dan Rosen, a longtime Draft aficionado in town. That's… not normal, and this particular surreal quality to it all made it weirder. These are people I look up to in numerous ways and for numerous reasons, just driving alongside me, like typical dudes with typical lives.
That is a feeling we embraced over the weekend, but Thursday was a big beginning, a coming-out party so to speak. These big name presences weren't in town for nothing.
Going downtown from my hotel, littered with hockey jerseys of all kinds was the DART light rail train. Generally on game days, you'll look at a sea of victory green, the Stars' home colors. On Thursday, fans and representatives from all over filled public transit providing local fans with a hint on what the weekend might be like. But, it was Dallas fans that stole the show.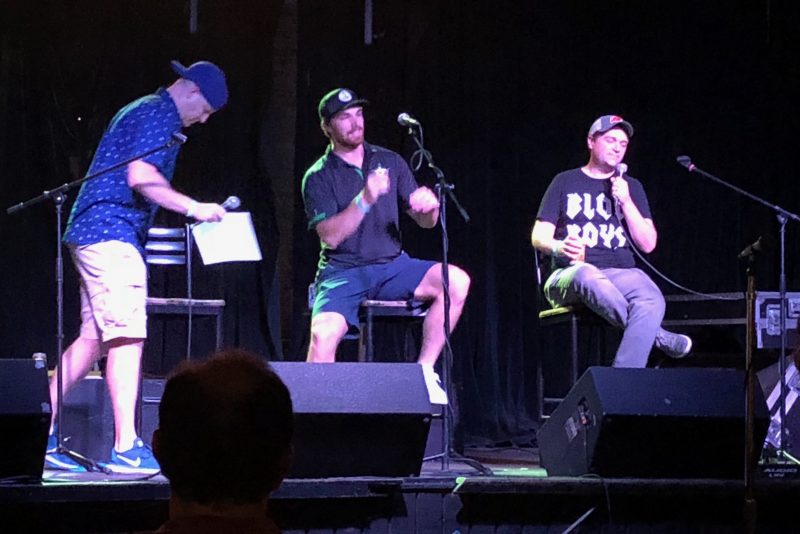 When I write "stole the show," I am being literal. Puck Soup, a podcast hosted by ESPN's Greg Wyshynski and Dave Lozo of VICE Sports, with special guest Stephen Johns had to change buildings last minute for a live show in downtown Dallas. Stars fans were loading the original venue up to a point where a larger facility was needed.
A town not seen as a strong hockey market forced two national hockey writers to change their podcast's venue at the last minute because fans wanted to hear three guys talk about pucks and sticks. Puck Soup is a whole lot more than that, but it's a hockey show for true hockey fans -- a demographic of which Dallas, Texas evidently has a lot.
Friday, June 23rd, 3:30pm. The fan fest on the AAC plaza began at noon, and a line of sweaty, suffering fans swarm the entry gate anyway. The Stanley Cup is there, Jamie Benn and crew are signing autographs, there are fun games to play around the building, that kind of thing.
It's about 3:30pm with the doors for the arena opening in a half hour. A line hundreds of feet long has already formed and is only getting lengthier, with an estimated 1,100 people (a very rough estimate taken from a friend working with the promotions staff) gathering around the arena for the pre-Draft festivities. Dallas has gone into full NHL Draft superfan mode.
With that comes booing the absolute hell out of Gary Bettman. I couldn't even hear the commissioner speak over the boos filling the arena from terrace level to draft floor. Bettman thrives off of it, but Stars fans get the last laugh -- after all, Bettman deprived Dallas of another year of the Modano/Jere Lehtinen/Sergei Zubov Stars, and he deserves this.
But even then, the situation required a step back. Gary Bettman was standing on a stage in our arena, being berated by a victory green wave of rabid fans of our team, smirking at the podium against the noise in our city. We had seen it on television, and some of us in this massive state have traveled elsewhere to be a paid part of it, but never before has this happened this way.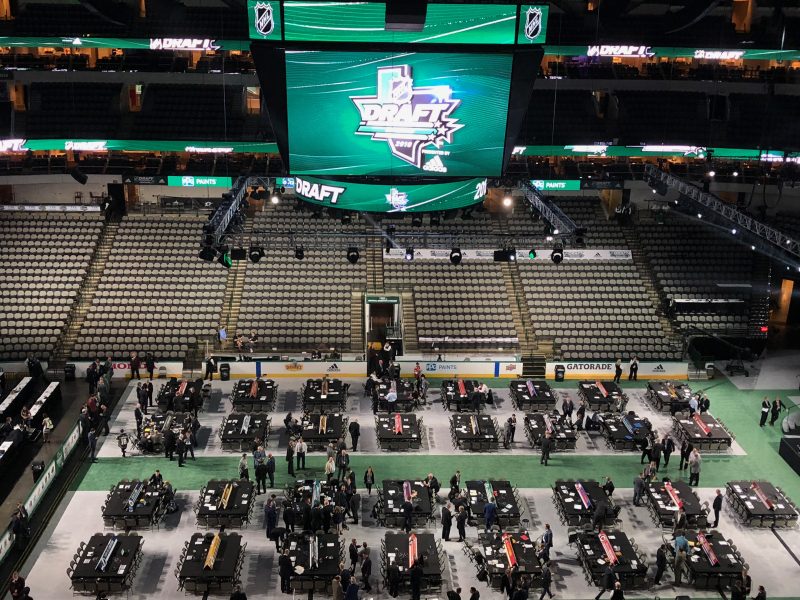 Those boos became cheers, applause, and appreciation rather quickly, as Stars owner Tom Gaglardi, who saved the franchise from bankruptcy, stepped up. Let's back up a bit so we can get a sense of the full impact of Gaglardi and the love affair for the Canadian businessman.
The Stars were once the highest-grossing team in the NHL, having won two straight Western Conference titles and selling out 238 games in a row in the late 1990s and early 2000s. Then owner Tom Hicks - a private equity investor from Texas who took over the team in 1995 from the Norm Green-led crew that moved them from Minnesota to Big D - was estimated to be worth over $1 billion.
2010 came. In April 2010, Hicks' company defaulted on $525 million in bank loans backed by the Stars. Attendance had cratered with the losses of Modano, Zubov, and others, and Hicks was bleeding money. The franchise once considered to be the best example of why the Southern relocation and expansion efforts of the 90s were good ideas was the worst-run club in the sport.
17 months later, lenders voted to agree to have the Stars file for bankruptcy and auctioned off to the highest bidder, and just eight weeks after, Tom Gaglardi's bid was approved. Gaglardi is a lifelong hockey diehard who made his coin in hotels and bars, wanting so bad to be a part of the NHL that he proposed purchasing the Vancouver Canucks, Atlanta Thrashers, and actually did buy a part of the WHL's Kamloops Blazers.
Gaglardi brought in former, and now current team president Jim Lites as his first move as owner, ushered in a new era in the team's identity by introducing new, more modern jerseys, and hired the aforementioned GM Jim Nill, the man responsible for the acquisitions of fan-favorites Tyler Seguin, Jason Spezza, and Ben Bishop as well as savvy signings like Alexander Radulov. Any positive thing this team can be viewed as, Gaglardi has been at the helm for.
He got the standing ovation he deserved with the entire league watching. The man who saved the franchise embracing the Dallas faithful on, literally, the biggest stage. Goosebumps.
Defenseman Rasmus Dahlin went number-one overall to Buffalo. Andrei Svechnikov, Jesperi Kotkaniemi, Brady Tkachuk, and Barrett Hayton followed, with Filip Zadina, Quinn Hughes, Adam Boqvist, Vitali Kravtsov, and Evan Bouchard coming shortly after. The New York Islanders have the next two picks at #11 and #12, but a tense anticipation is growing for the hometown Stars are #13.
Oliver Wahlstrom and Noah Dobson, the top two players remaining on the McKeen's rankings, became Islanders. Dallas was on the clock.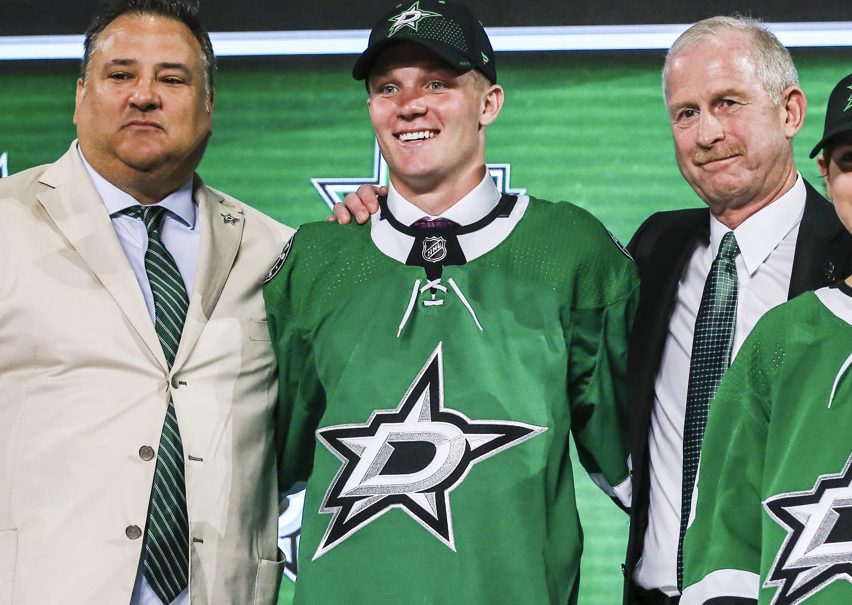 Jamie Benn and Mike Modano walk to the podium. The year 2018 superstar of the current Stars teams alongside the Hockey Hall of Famer and former number-one overall pick. It was a 25-year run in the DFW Metroplex coming to some sort of climax, the culmination of years past and present joining forces to introduce the future. The Stars nabbed center Ty Dellandrea from the OHL's Flint Firebirds in what many describe as an off the board pick, one that Benn, an Art Ross Trophy winner and Hart finalist, announced.
(This article isn't about Dellandrea, but Radek Faksa was also considered to be a stretch of a pick. Have faith).
For a market with one postseason series win in ten years, we need interesting. And fans in Dallas made Dellandrea the talk of the town. Riding the light rail back to my hotel, I heard "Ty Dellandrea" here and "Ty Dellandrea" there.
Whether fans liked the pick or not, it was enough to exude a variety of emotions from the city's faithful. When Modano was drafted by the North Stars in 1988, he probably never imagined he would send fans in Texas into equal parts elation, confusion, and dismay by helping announce a draft pick. But that pure flash of endorphins over a guy saying a name and a player slipping a jersey on is priceless, and more or less proves that we, as a state of hockey fans, belong here
Saturday, June 23rd, 7:15 am. With round one in the books and as many as 250 teenagers in town hoping to hear their names be called, Dallas played host to an early morning treat on Saturday for rounds two through seven.
I awoke at 6:30am, headed directly to the arena, and got there at 7:15am. Rounds two through seven begin at 10:00am, with doors not even opening until 8:00am. I figured I would be the first one there.
I wasn't even close. The fanfest outside was already packed, despite the 92 degree (F) heat (before the clock reached 8:00am) that caused the chewing gum in my pocket to melt. Though not as special and unique as Friday's affair, the fans in Dallas showed up in force for day two.
The Stars don't make their second selection of the Draft until 13th in the second round, or 44th overall. The wait would be further delayed, but rightfully so, as the entire league pays their respects to longtime NHL executive and Central Scouting stalwart Jim Gregory, an 82-year-old director in the league's hockey ops department conducting his final NHL Draft.
A lot of good names remain on the "best available" board. Mattias Samuelsson goes first, with Jonathan Berggren, Serron Noel, and Jesse Ylonen following. The Detroit Red Wings would snatch Jared McIssac, while Jett Woo, Alexander Romanov, Olof Lindbom, Ryan McLeod, Bode Wilde, Jack Drury, and Ruslan Iskhakov went elsewhere.
Gregory said, slowly, almost to fire up the hometown fans: "Next in the order of selection, Dallas." Albin Eriksson was the 44th overall pick, and though he wasn't present for the Draft, he will forever be linked to the event in North Texas.
In the third round, the Montreal Canadiens picked center Cameron Hillis, of Guelph Storm fame. Why is this noteworthy? Well, I got to experience something that would have eluded me entirely had I not been there -- and even being present for this pick is a testament to how great of a hockey market Dallas has become.
I sat three seats away from Hillis in section 116 of American Airlines Center when the Habs called him down. He scooted past me on his way down the aisle to the draft floor, and slipped on a Montreal jersey downstairs. Arena personnel took his suit jacket and climbed back up, seeking to return it to his family, and instead gave it to me.
I stood there for a few seconds, confused, imagining what the clerk thought. To her, was I Cameron Hillis' brother or something? We look nothing alike. Was I his OHL teammate, perhaps? I gave it his mother, too pumped and giddy to even know what I was handing her, and explained, "this is his jacket."
A round later, Dallas area native Ryan O'Reilly, from Southlake, Texas to be exact, was drafted at 98th overall by the Red Wings. He isn't the first Texan to be drafted, but a lifelong Stars fan being picked in the arena he spent much of his childhood watching his hockey heroes play, induced goosebumps. For all young hockey lovers from the area, you can see yourself in O'Reilly.
Another area star, this one from Pennsylvania but playing for the NAHL's Lone Star Brahmas — located in nearby North Richland Hills — was scooped up by the Washington Capitals at #124th. That young man is Mitchell Gibson, a goaltender with a 26-7-4 record, a goals against average of 1.59, and a save percentage of .935 in the 2017-18 junior season. To say he's impressive would be an understatement to both Gibson and the hockey world of Dallas.
After nearly seven rounds and 216 picks, Eric Florchuk was the 217th and final selection of the NHL Draft. The lights glare, the applause rains from a crowd still strong after 217 picks, and Gregory signs off. The end.
Saturday, June 23rd, 2:30pm. It's over. The NHL Entry Draft will be in Vancouver, British Columbia in June of 2019. We don't know which team will pick at number-one overall, we don't know which team the 30 others will congratulate at the podium for their Stanley Cup run. What we do know, however, is that it won't be the same as Dallas's weekend.
Vancouver has hosted the Stanley Cup Final this decade, has recently had the NHL Heritage Classic, and saw the 1998 All-Star game -- which was played on a Sunday and held an added sense of importance with the Nagano winter Olympics upcoming. Long story short, Vancouver has been in the league's, and the hockey world's, eye before. Dallas really had not until this Draft.
It will be a blast in Vancouver, but in Dallas, it was special. It was just as we imagined it would be, but Norm Green, Mike Modano, Jim Lites, Gary Bettman, Roger Staubach (no, seriously, Pro Football Hall of Famer Roger Staubach) and anyone who had anything to do with bringing hockey to Dallas could have never envisioned this.
Lites stood at the podium on Friday night and provided some numbers on the transformation of Dallas from afterthought to NHL mecca. He said Dallas had two full-sized ice rinks when the Stars relocated here, and just a few hockey players registered with USA Hockey. Now, the Metroplex has over 7,000 registered hockey players and more registered figure skaters than any major metropolitan area in North America.
On top of that, this NHL Draft was maybe the most diverse ever. Jermaine Loewen, a Jamaican-born player, along with guys like Liam Kirk from England and African-American first-rounder K'Andre Miller, made history in getting drafted where and when they did. In the case of Loewen and Kirk, they were their native country's very first Draft selection. Dallas, the fourth-most racially diverse city in the U.S., embodies that diverse culture in its own soul.
217 Draft picks have a bright future ahead of them, 31 NHL clubs have core players around whom to build, and over 15,000 people in attendance over the weekend had a new, wonderful experience under their belt. It couldn't have happened this way elsewhere.