National junior head coach Karel Mlejnek named the Czech Republic's preliminary 45-man roster for the 2021 IIHF World Junior Championship at a press conference on Wednesday (Dec. 2, 2020). As expected, the list includes 10 returnees from last season's team and nine players who have been drafted by NHL teams.
In a group that includes Russia, Sweden, the USA and Austria, the Czechs are projected to finish fourth and advance to the quarter-finals. Whatever they achieve beyond that would be a pleasant surprise.
With the unusual circumstances that have affected all teams in the tournament to varying degrees, the Czech Republic was hit hard by a second wave of COVID-19 in the autumn, resulting in a shutdown of all organized sports for much of October and November. Furthermore, many teams have been forced to quarantine for additional time due to localized positive tests. While all of the team's CHL-based players have returned home, some have been limited to only a handful of games.
While the Czech national junior team hasn't played this season, save for a three-game series with Slovakia back in July, 10 junior-aged players were named to the Czech senior men's team that competed at the Karjala Cup in Finland in November.
The last two years, the Czechs were led by Anaheim Ducks prospect Lukas Dostal in goal, but he's too old this year. Last season, Dostal missed a couple of games due to injury, which gave Lukas Parik and Nick Malik an opportunity to get into some game action. The three goalies on the roster this time will be Parik, Malik and Jan Bednar, but the starting job is wide open.
Last year's young defence corps will be this year's gain, with four returning defencemen – Martin Has, Karel Klikora, Simon Kubicek, and Radek Kucerik. But the most interesting names on defence from a scouting perspective are 17-year-olds Stanislav Svozil and David Jiricek. Both were born in 2003 but their birthdays mean Svozil will be eligible to be drafted in 2021 and Jiricek in 2022. Additionally, both played at the Karjala Cup and Mlejnek indicated they both have a good shot at making the team.
"Based to their play so far, their chances are very high," Mlejnek said at the press conference. "I don't think they seemed out of place at all at the Karjala by being so young. They adjusted to the opportunities they were given and played with confidence. We believe that they will continue to prove that throughout December."
Up front, the consensus top two lines based on Mlejnek's lines in July and at the Karjala Cup in November consist of Jan Mysak centering Pavel Novak and Adam Raska and Jaromir Pytlik between Michal Teply and Filip Koffer. Novak – a 2002-born Minnesota Wild prospect – and Koffer will be playing in their first WJC while the other four all return from last year. After the top six, the talent up front drops off significantly. Marcel Barinka, who spent the past two seasons with the Halifax Mooseheads, had a solid shot at being the third-line center but declined the invitation to camp, having just signed with German club Kolner Haie and wanting to have a good camp there in anticipation of a December 17 opening to the DEL season.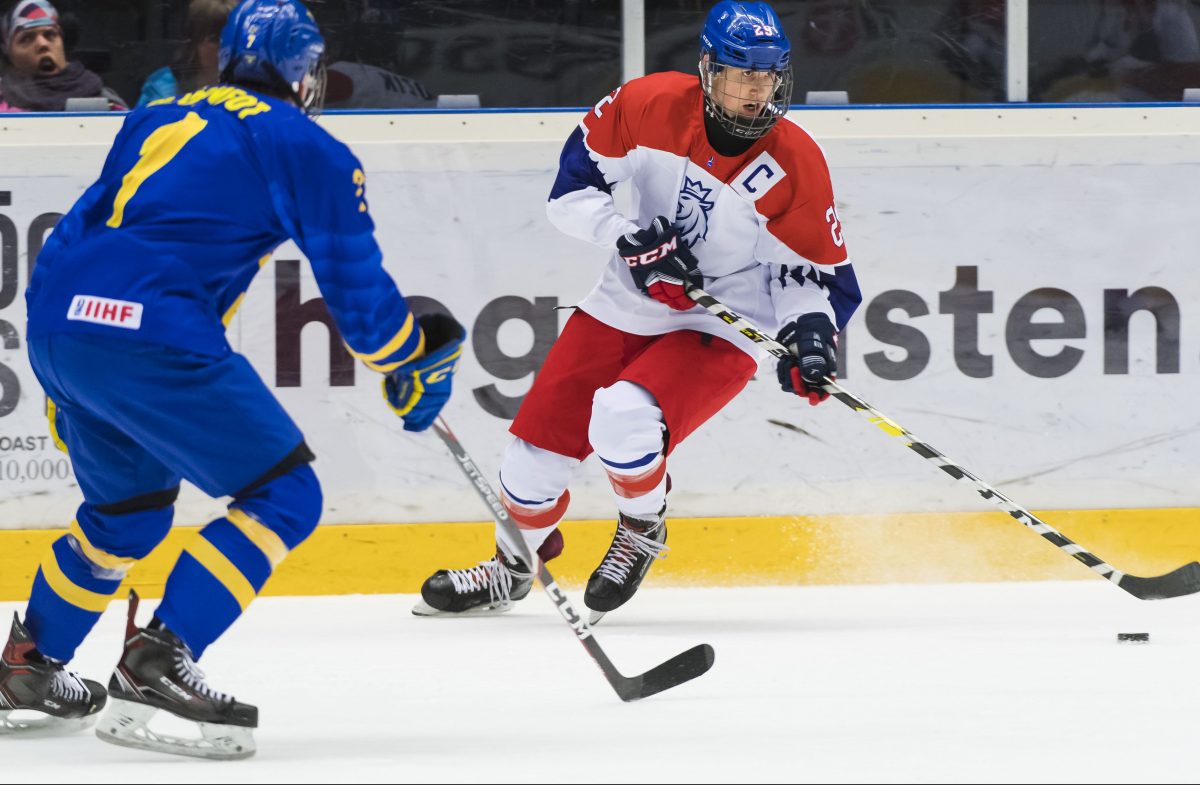 Lukas Parik, G
While it's not totally clear who the Czechs' starting goalie will be, national team general manager Filip Pesan may have tipped his hand when he named Parik to the Karjala Cup roster. He played in one game there and stopped 27 of 30 shots against a Russian team that consisted exclusively of junior-aged players and will largely be the same squad that the Czechs will face in Group B in Edmonton. The other two goalies in contention are Nick Malik and Jan Bednar, who are both a year younger. At 6-4", Parik is a big goalie who relies on his size and positioning to stop pucks, in contrast to the equally big but more acrobatic Bednar.
Martin Has, D
Has has only played in a couple games this season for second-division HC Benatky nad Jizerou, making this the first time he has played for a club in his home country since he was 16. The Washington Capitals' draft pick has spent two seasons with Tappara Tampere's junior squad in Finland, where his mobility and hockey sense were occasional issues. Has played last season in the OHL with the Guelph Storm. The right-shot defenseman is an intriguing blueliner with a promising tool set, but he looks very raw at the moment. At his first WJC he had a solid tournament with three points in six games, and will be heavily relied upon this time around.
Simon Kubicek, D
Kubicek is a very well-rounded two-way defender who plays physical and is tough to compete against in the defensive zone, although it has been noted that his speed needs to improve if he wants to make it to the next level, which may be why he was passed over in the 2020 Draft. The late-born 2001 has been a standout the last two years for Seattle and played well at the World Juniors for the Czechs, and they will count on him to be even better this season. So far he has spent this season with HC Stadion Litomerice in the Czech second division, where he has played on the team's top defensive pair.
Stanislav Svozil, D
A potential first-round pick for the 2021 NHL Entry Draft, Svozil debuted in the Extraliga last season as a 16-year-old and didn't look out of place in the pros, tallying five points in 41 games. This year, he has become a regular on the Kometa Brno defense and made his senior national team debut at the Karjala Cup, although that hasn't translated into offensive production. While not particularly big for a defenseman at 6-1" and 172lbs, he is known for his speed, allowing him to contribute offensively without sacrificing anything on the back end. Being 10 months older than fellow 17-year-old Jiricek, Svozil probably has a slightly better chance of making the team.
Jan Mysak, C
A second-round pick of the Montreal Canadiens in this year's NHL Draft, 2002-born Mysak will be expected to carry the offensive load for the Czechs in his second World Junior Championship. After scoring at better than a point-per-game clip last season for Hamilton in the OHL, he is back home in Litvinov this season but has been held pointless in his first nine games of the season, averaging about 14 minutes per game on the Extraliga's lowest-scoring team. Internationally he has shown a scoring touch, with four points in three games for the U20 national team back in July, and an assist in two games for the senior men's team in November. In these games, he has mostly been centering a line with speedy, undersized wingers Pavel Novak and Adam Raska.
Michal Teply, LW
Teply is another player who has seen limited action back home in the Czech Republic after playing last season in the CHL, coming from the Winnipeg Ice to Mlada Boleslav and Litomerice, where he has played only a handful of games so far. He is a skilled and instinctive offensive-minded player whose passing skills and vision are his biggest strengths. He makes the right choices with the puck and his overall skill level is very high. He has a good, accurate wrist shot and the potential to be a good goal-scorer at the pro level. At 6-3" and 192lbs, he is one of the biggest forwards on this Czech team. In pre-tournament games, Teply has been playing the left side with Jaromir Pytlik and Filip Koffer.
Jaromir Pytlik, C
A member of the Soo Greyhounds now playing for HC Litomerice in the Czech second division, Pytlik is another returning player and top-six forward on this team. Last season, he began the tournament on a line with Jan Jenik but that lasted all of 15 seconds before the team's star forward went down with a knee injury. After that, the Czech forward lines were a mess and Pytlik played a depth role. He is a mature two-way forward who plays a very heavy, pro-ready game. The versatile New Jersey Devils prospect excels playing through traffic, prolonging possession along the wall, and finishing off plays tight to the crease. He competes hard at both ends and shows high-end anticipation as a defensive forward and penalty killer.
Adam Raska, RW
After spending last season with the Rimouski Oceanic, tallying 21 points and 37 penalty minutes in just 35 games and then getting drafted by the San Jose Sharks, Raska has returned to the club that developed him, split this season so far between Trinec in the Extraliga and second-league affiliate Frydek-Mistek. Raska was a depth forward at last year's WJC but will be a top-six forward this year, lining up on Mysak's right side, where he should get a chance to display his goal-scoring touch. While somewhat undersized at 5-10" and 168lbs, he plays bigger than his size, not shying away from the physical play, which should only improve as he bulks up.
Goaltenders:
Lukáš Pařík (Benátky nad Jizerou), Jan Bednář (Karlovy Vary), Nick Malík, Tomáš Suchánek (both Frýdek-Místek), Šimon Zajíček (Litvínov).
Defencemen:
Karel Klikorka (Mladá Boleslav), Martin Hugo Haš (Benátky nad Jizerou), Michal Hrádek (Pardubice), Stanislav Svozil (Kometa Brno), Adam Rutar (Olomouc), David Jiříček, Vladimír Kremláček (both Plzeň), Ondřej Baláž, Michael Krutil, Šimon Kubíček, Jan Mlčák, Daniel Poizl (all Litoměřice), Radek Kučeřík (Přerov), Jiří Suhrada (Zlín).
Forwards:
Adam Najman, Jakub Rychlovský (both Liberec), Michal Gut (Sokolov), Martin Beránek (České Budějovice), Jonáš Peterek, Adam Raška (both Frýdek-Místek), Jakub Brabenec (Kometa Brno), Sebastián Malát (Plzeň), David Vitouch (Sparta Praha), David Jindra, Filip Koffer, Martin Lang, Pavel Novák, Filip Přikryl, Jaromír Pytlík, Michal Teplý, Matěj Toman (all Litoměřice), Jan Myšák (Litvínov), Ivan Ivan (Vítkovice), Martin Ryšavý (Přerov), Radek Mužík (Lulea, Sweden), Theodor Pištěk (Örebro, S), Ondřej Pšenička (Waterloo, USHL).