Logan Cooley demonstrates some parallels to fellow American centre Matthew Beniers, and like Beniers did last year, Cooley could potentially go as high as second overall in the 2022 NHL Draft. Playing a game defined by his intelligence, pace, and playmaking, Cooley demonstrates many of the traits that teams seek in a centreman. After entering the season as one of several talented NTDP forwards, Cooley has distanced himself as the clear top offensive option on the U18s as well as the top draft eligible prospect on the roster.
Cooley was less prevalent offensively for the U17s in the 2020-21 season, tallying a strong 32 points in 28 games but was overshadowed by Isaac Howard and Frank Nazar, who each managed comfortably over a point per game. He thrived in an important, but quieter role as a "connector" type of player: Cooley was always present in support for his wingers and was often responsible for the maintenance and extension of offensive possessions for his line. He wasn't always the player directly setting up the shot or taking it himself, but without his support, the puck probably would have been in the NTDP's end of the ice instead. Subsequently, he drove offence in a way that was even greater than his already strong scoresheet contributions. Cooley has taken a clear step forward this season, holding onto that valuable "connector" portfolio but stacking a more in-your-face offensive danger on top of it. His skating is significantly improved and Cooley is able to threaten with speed on zone entries in a way that he couldn't before. Furthermore, Cooley has extended his puck skills and refined his intelligence to benefit him in more areas of the offensive zone, becoming a highly versatile and dangerous offensive threat– now the very best the NTDP has to offer.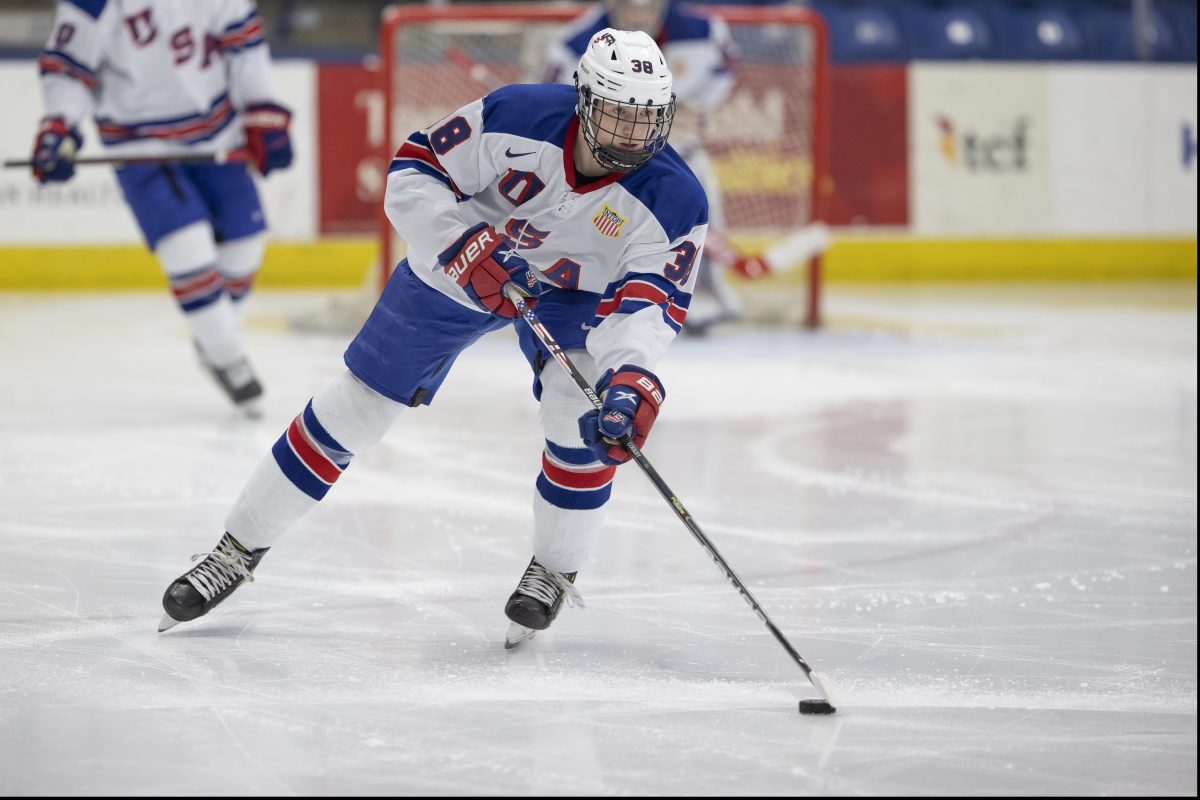 | Logan Cooley | Date of Birth: 2004-05-04 |
| --- | --- |
| Position: C, Shoots: L | H/W: 5'10", 174lbs |
| Stats to Date: (GP-G-A-PTS-PIMS) | NTDP U18, (29-15-26-41-29) |
Skating
It can be a little difficult to evaluate the skating of NTDP players because there are times where they will look extremely mobile in contrast to lower-calibre USHL and NCAA opponents. There are times where Cooley will mercilessly blow right past a defender who has poorly managed his gap. He is better contained against stronger competition, but is still able to create space and opportunities with his skating in a lesser way. Cooley is a high-level but not exceptional skater. He can be very dangerous in situations where he has a speed differential, such as a powerplay entry where a teammate drops the puck back to him after already pushing the defence back and killing their backwards momentum as they group up around the defensive blueline. On the rush, even against high-calibre D1 college opponents, Cooley is quick enough to be a consistent threat to beat defenders and can create moderate advantages for himself.
Beyond simple quickness, Cooley is an agile and smooth skater who controls his body effectively and can navigate through traffic using a variety of moves. He can stop, turn, and cut with precision and makes himself difficult to contain when he is moving side-to-side.
Cooley is already a good skater and still has room to improve: there's still an occasional choppiness to his stride that could yield some uncovered speed once smoothed out, and additional leg strength should translate into improved explosiveness and quickness.
Grade: 55
Shot
Cooley's shot isn't a particularly potent weapon. He's already considerably more geared towards distribution than scoring, and the goals that he does score can generally be categorized as more of the finesse variety. He is, however, a proficient finisher from the slot and has shown the ability to beat goaltenders from around the circles with one-timers or wristers. Even then, his success is more geared towards accuracy than shot power. On his one-timers, he places the puck well to consistently take advantage of the shifting goaltender. On wristers, Cooley needs a fair amount of space to load up and generate proficient power, and still is more reliant on his accuracy than anything else in order to score.
Regardless of how his power improves with strength, I would still believe in Cooley's prospects as an NHL scorer because of his puck skills. You don't need more than an average shot to convert from the slot and Cooley is a player who should generate plenty of those opportunities.
Grade: 50
Skills
Cooley is an exceptional puckhandler. Having placed himself on the radar last season with his ability to make quick, intelligent plays in traffic that were already quite demanding of high-level puck skills, Cooley has since taken his puck skills even further. He is a constant threat to attack the slot, able to navigate through several defenders to do so. When attacking with speed, he is often able to throw a quick fake upon a defender and find space towards the middle of the ice, despite the defence's desire to force him outside. Layered below his flashy puckhandling, Cooley's quick in-traffic ability that he relied upon as a draft-minus-one remains an important foundation piece of his game. He can receive a pass, quickly move the puck to an offensive position, and then make a pass himself– often all while flanked by one or more defensive players. His traffic skills are among the best in the draft class.
Here's Cooley making a sweet move to the inside on a two-on-one.
And here he is dancing through a number of defensive players, ultimately drawing a penalty after fighting his way right to the net.
And a sweet breakaway finish:
The extent to which his skills have improved in a year's time is incredibly impressive. His growth prompts the question: how much is left to come? The NCAA is an excellent environment for skill development and Cooley is headed to the University of Minnesota next season. It will be fascinating to see just how quickly he becomes an impactful college forward; we've been seeing top NTDP guys make the transition look seamless lately.
Grade: 60
Smarts
Another factor driving Cooley's ability to handle in traffic is his excellent awareness: he is very aware of his space and options, able to quickly repackage a puck to a new teammate soon after receiving it himself, or hold onto it for as long as he has space to maneuvre. He has the poise and confidence to attack a defender, or even multiple defenders, but then get the puck moving to a new location as soon as his own prospects expire. He possesses the pass-first mentality that is characteristic of intelligent centres. He doesn't lock in on the net as soon as he enters a shooting area; instead, he maintains a wide field of view and is content to pass up a shooting opportunity if he sees a player spotting up around the backdoor or another dangerous area.
This clip is an excellent example of Cooley's poise, awareness, and general understanding of the defence. A confident move gets Cooley to the middle of the ice, where he recognizes that he has shifted the defence rightwards and throws the puck against the grain to a teammate.
And another display of terrific poise: Cooley has the puck loaded up for a shot from a great location, but his decision to drop the puck back instead removes two defenders from the play and creates a three-on-one for his team right in front of the net.
Defensively, his intelligence is displayed through strong awareness, positioning, and an active stick. I love how Cooley squares up the puck carrier, goes stick on puck to dislodge the puck into the attacker's feet, then picks his head up and sends the puck right to his teammate's stick with the next touch. It's terrific composure and heads-up play.
This is excellent team forechecking from the U18s (they are a well coached team), but Cooley's defensive poise makes this play. The natural tendency of a passer when approached by two forecheckers like this is to hit the gap between them, but Cooley hangs around in that lane rather than shadowing Michigan #11 to the boards, and ends up receiving a gift pass from the defenceman who now has no easy options.
Grade: 65
Physicality/Compete
Cooley is a strong defensive forward, effectively supporting his defencemen and maintaining a generally clean defensive record despite all his offensive contributions. He's a hard worker that at least attempts to throw his weight around, albeit with middling results. The reality is that Cooley just isn't a very big forward and he doesn't have the stocky build that usually enables shorter players to play bigger than they are. Nonetheless, a player that attempts to play physically can often be comparably impactful to a player with actual physical prowess. Opponents have to brace for a hit from anyone, whether they are 6'4" or 5'7", and so a poor hit can still be disruptive. More successfully, Cooley uses a quick stick to record steals on the forecheck and in his defensive end. A responsible, positionally-sound centre with a good stick has a large amount of defensive utility, even a small one, and Cooley's play reflects that.
Cooley's quick stick disrupts this breakout, and then he turns the tables on the player attempting to hit him.
And here's Cooley in support of his defencemen below the goal line, removing the nearest forechecker with a play that is technically interference but will rarely actually get called so his teammates can break the puck out.
This is a well-fought puck battle from Cooley, who absolutely hounds the poor puck carrier. He isn't overpowering, but he's relentless, and the opposing forward eventually surrenders the puck.
When Cooley does get caught out of position, he works hard to fix it: he comes all the way from the offensive blueline to arrive just in time to disrupt this play on the backcheck.
Grade: 55
OFP: 57.75