OVERVIEW
It is a roster with players from a few different leagues this year, something that is not as common when it comes to Sweden's usual set up. Coach Tomas Montén has opted for a team built along a strong first and second unit and then role players to fill out the squad. The notable omission is Rögle's (and Calgary Flames prospect) William Wallinder, who has ended up in more or less the same position as Victor Söderström and Helge Grans have previously.
Most of the Swedish players have professional experience after having played in SHL, HockeyAllsvenskan, Liiga and of course the NHL and AHL. Oscar Olausson, Fabian Lysell and Jeper Vikman are all in the North American junior hockey systems with previous experience from the professional ranks. This could benefit the Swedish team during the tournament; being used to the physicality of seasoned veterans and a higher tempo of play can come in handy in the North American rinks. The Swedish team is also a veteran team, none of the players are draft eligible and many of them are a known commodity, including strengths and weaknesses. As mentioned earlier, the most noticeable absentee is William Wallinder while the rest of the squad is more of the usual suspects than an unknown factor.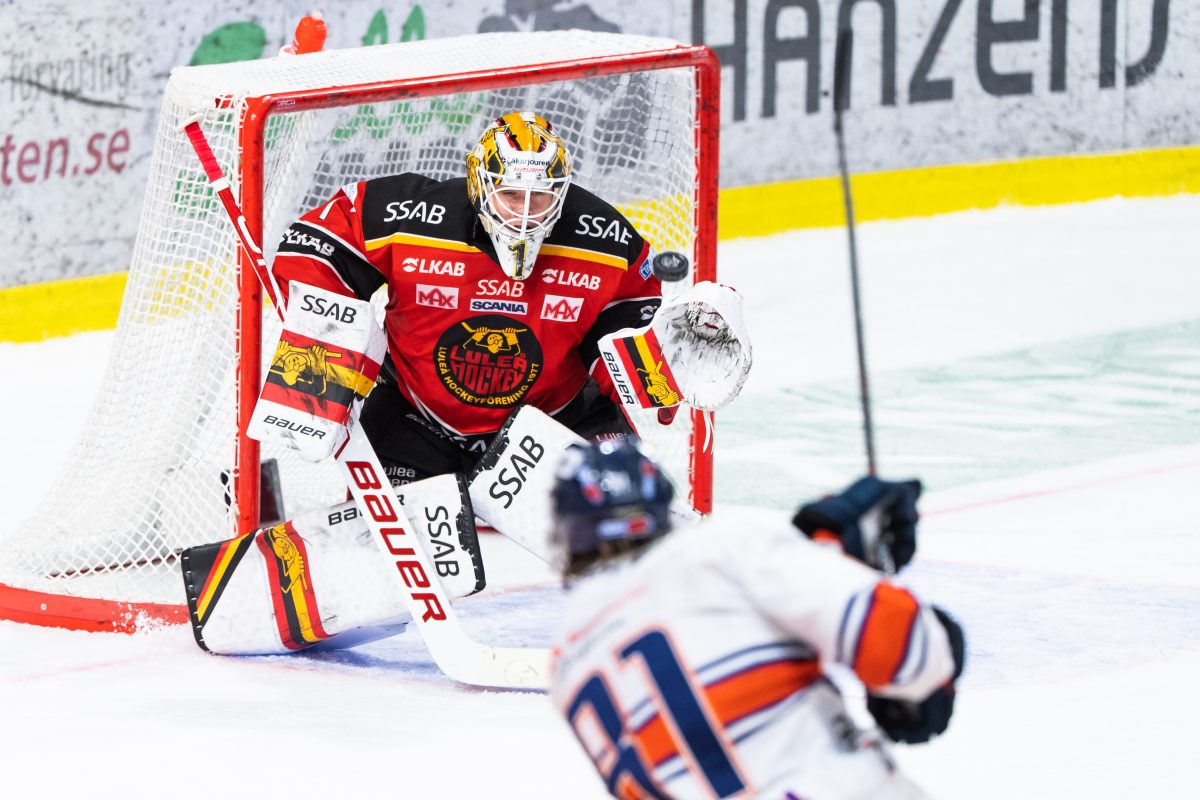 G Jesper Wallstedt, (Luleå HF-Minnesota Wild, 20th overall, 2021)
Wallstedt is one of the SHL's top goalies this winter and has been a rock for Luleå to lean on, with a 1.82 GAA and .923 SVS% with eight wins to his name in 17 games. The big goalie will be the cornerstone for Sweden's progress in the tournament if Wallstedt is good, then Sweden will go far, if not, or if he gets injured, Sweden will likely crash out in the quarterfinals.
Wallstedt lives off his cold calculating brain, he reads the game well and he can handle every situation that will come up in play; be it a crowded crease, a tap from an opponent or any other thing that might cause a goalie to lose focus. This mental ability is also great in helping him to stay cool under pressure once he has let in a goal. He doesn't dwell on it, but rather maintains focus and soldiers on. In addition to his steel focus, he reads the game well, and always position himself with his big frame towards the puck, something that means he soaks up shots and leave less, or next to no rebounds.
His weakness is his athleticism, which means that he saves everything he should, but he doesn't make the same number of crazy/desperate saves like someone named Askarov.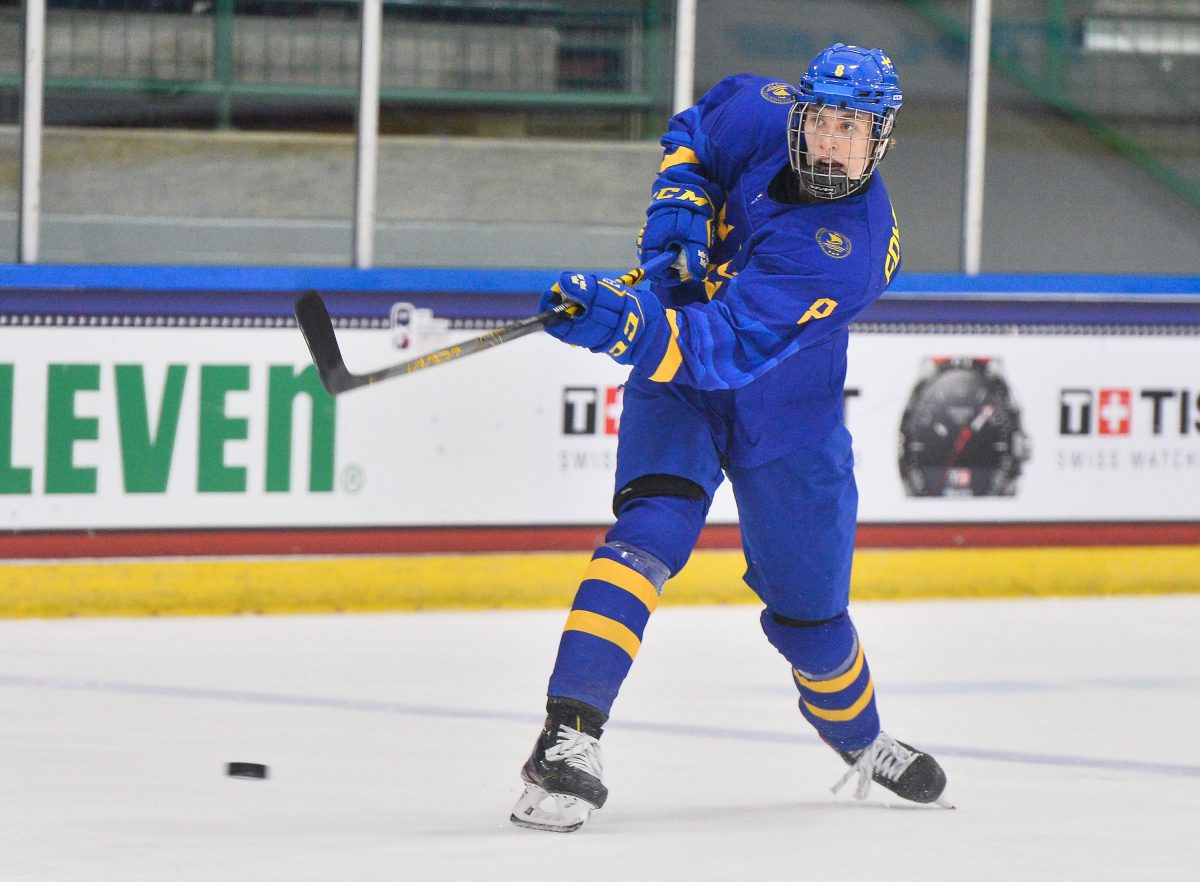 D Simon Edvinsson, (Frölunda HC - Detroit Redwings, 7th overall, 2021)
There are not enough superlatives to describe this big smart defender, because he possesses all of them. He plays on Frölunda's top pairing with former NHLer Christian Folin, and it has been Edvinsson that has stood out in the games this fall. HIs vision is second to none, add a fantastic hockey sense to that vision and sprinkle it with hands that can deliver pucks across the ice with a sniper's precision and he would be a fantastic player. Now add his physical attributes to this; size, height, balance and willingness to play a physical game onto of what has already been said and you have Edvinsson.
He can do it all, and he will have to do it all as well because no other defender comes close to his skill on this team. He has played over 20 minutes game in the SHL, and he might top out over 25 in the WJC, he has 12 points (1+11) and he will be a Detroit Red Wing for life.
D Helge Grans, (Ontario Reign - Los Angeles Kings, 35th overall, 2020)
Grans is an offensive minded defender, he has good to great skating and also possesses solid awareness around the ice, especially when on the blue line, where he can shoot or pass the puck with ease. His shot is stronger than it gets credit for, and it will create some havoc for opposing goalies when he releases it. However, it is in the defensive zone in which he struggles. The last time I saw him in Sweden he had problems with gap control, and he wanted to do too much when it came to breakouts. As a 17-year-old he also struggled with the more physical part of the game. He has spent time on the North American surface and should have built up a better understanding of the game. It will be the defense that is his weakness, and it makes sense that he has been paired with Edvinsson who should be able to have a calming influence on Grans.
D Emil Andrae (HV71 - Philadelphia Flyers, 54th overall, 2020)
Andrae is a solid defender who has had a good year in Sweden's second division HockeyAllsvenskan with 16 (2+14) points in 21 games. He has also been playing well in the U20 tournaments held in Europe before the World Junior Championships. He uses his refined technique on his skates to open up both passing and shooting lanes while in the offensive zone; while using the same technique to work hard to retrieve the puck, player, or both in the defensive zone. He doesn't own the same kind of tool kit as Edvinsson but relies on many of the same things; skating, vision, intelligence and I would expect Andrae to be part of one of the power play units to really use his passing and vision in the offensive zone.
D Leo Lööf (Ilves - St Louis Blues, 88th overall, 2020, traded to Seattle in November 2021)
Lööf is interesting as he has left Sweden at a young age to develop in Ilves, Finland. Even though he was a force in his age group for Swedish powerhouse Färjestad, when the senior team brought in experienced players there was no longer room for the defender, and he left. His transition to Liiga has been smooth, and he has played all games for Ilves this season and scored three goals and three assists in the 26 games he has played.
The defender is tough as a boar and hits hard, something that will be on display in Alberta. His physical presence will bring something that many of the Swedish defenders do but don't excel at. 
While his defensive game has the most upside, Lööf is a two-way defender. He can hold on to the puck in the offensive zone, while creating lanes for himself and his teammates. With his balance and strength, it is tough to grab the puck off him. His first tw goals in Liiga were created largely by himself thanks to those previous mentioned qualities. I think his shot is average, but he knows when to use it and therefore it becomes more dangerous.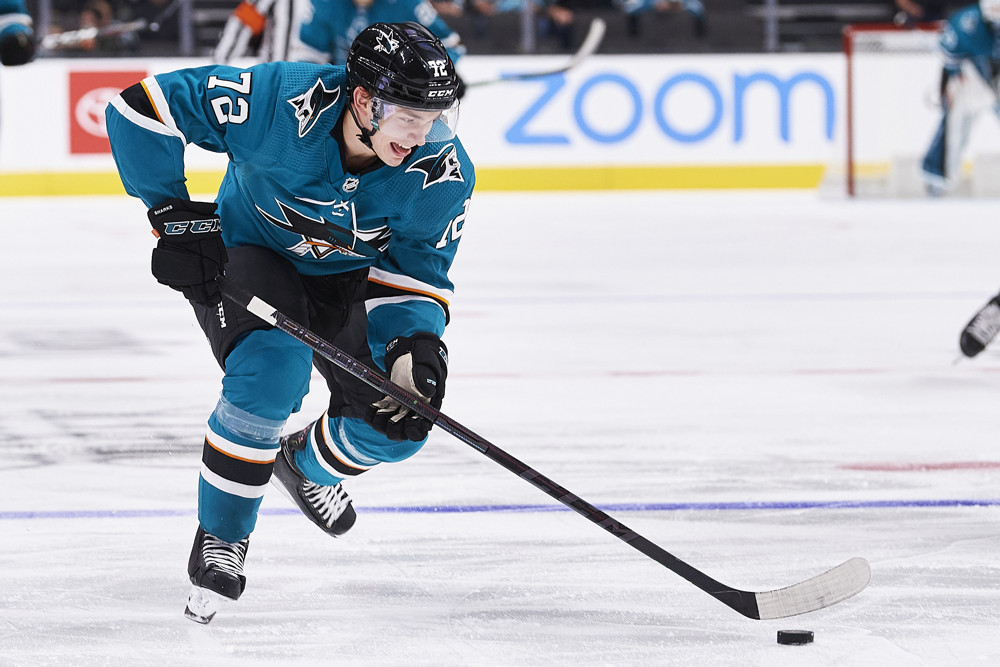 C William Eklund (Djurgården IF - San José Sharks, 7th overall, 2021)
The disappointment of being sent back to Sweden for development, after having played nine games with the Sharks in NHL, will have to be turned into a revenge tour for the World Junior tournament. Eklund has all the qualities to have stayed in North America, he will now get the chance to showcase what he learned and lead a Swedish team into the tournament.
Eklund is a hard-working skilled centre that can play at all ends of the ice, he is also a very smart player. Hi intelligence leads him to scan the ice and find open teammates, and he does this while the game goes on at full speed around him. It is not like he slows the game down, it's more like he can process the game faster than many others.
I think his passing game is stronger than his shooting game, but Eklund can shoot when he needs to, and he should be a force to be reckoned with at this level. He will find passing lanes that others can't see, and it will cause a headache for defenders on all teams. Eklund has proven to be a great passer at all levels, and he should be the leading player for Sweden. He will want the puck on his stick, and he will want it a lot of time. This could mean that if you take him out of the game, Sweden will be a lot easier to deal with. His skill should be able to handle that, but it is something to look out for.
His work ethic is really strong, and he will be the engine that the Swedish team will run on. A lot will rest on the connection he has with his former teammate Alexander Holtz, but Eklund will be the first line centre Sweden needs, the question is if it will be enough.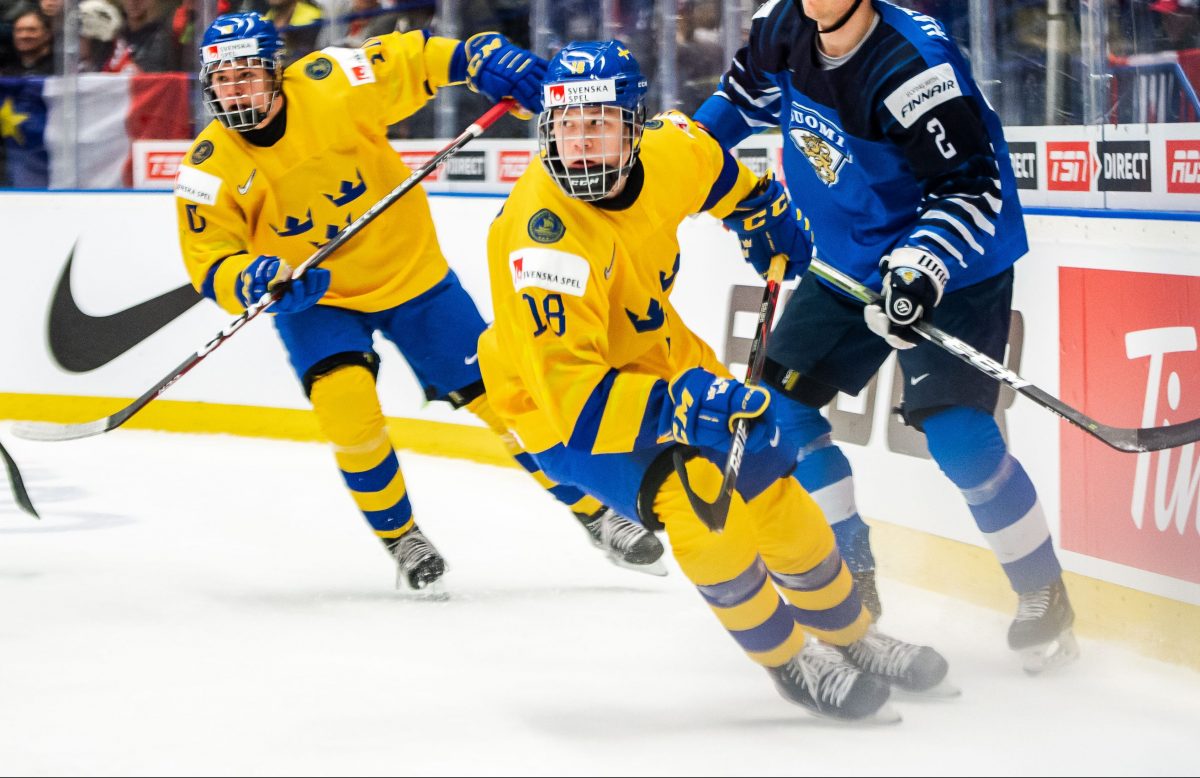 F Alexander Holtz (Utica Comets - New Jersey Devils, 7th overall, 2020)
The wrists of Alexander Holtz probably looks like a lumberjack, the release that Holtz possesses is fantastic; and he can change direction at the last second to really fool the goalkeeper. He can find the net from anywhere in the offensive zone, which will come in handy on the power play where he undoubtedly will be one of the shooting options for Sweden.
His strength is in the offensive zone, and he doesn't need to have the puck on his stick for long to decide a game. Holtz is there to score, anything else is a bonus. His wide array of shots means that he will usually succeed. He can use his instincts, and I say instincts instead of hockey IQ, to find that area of the ice where the puck will arrive before hammering it home. There are instances where he uses the same instincts to pass the puck to a player in an even better position to score, but those are rare and far between.
Holtz has hockey IQ, but it is on the offensive side of the puck. He struggled a bit in SHL when it came to the defensive side of the ice, however the competition is limited in this tournament, and I think he will do a better job in the defensive zone than we have seen. If Sweden goes far, Holtz might very well come away with the top goal scorer award.
F Zion Nybeck (HV71 - Carolina Hurricanes, 115th overall, 2020)
Nybeck is a small kid, 5'8'' and 183lbs, but he can find holes in a defense like no-one else. He is calmer than a cucumber and he will hold on to the puck for what many people will think is too long and drawing players in before he releases the puck either to a teammate or into the net. He can deke with the best of them, and with the added puck control, which is usually close to his skates, means that he draws power play opportunities. 
His wrists are also strong, and he can release a wrist shot with skill and precision, and especially smart in the way that he can look to create a rebound instead of going for goal, thereby creating a higher scoring chance than for himself or for a teammate than the one he previously had. Nybeck can be a special team's kind of player for Sweden, there are still cuts to be made. If he makes the team, he would most likely be a role-player on the third or fourth line, and being used on the power play.
F Fabian Lysell (Vancouver Giants - Boston Bruins, 21st overall, 2021)
Lysell fell in the draft because he moved teams' midseason, and he didn't get to play as much on the new team as he had hoped. There is a lot to like about the player though; he skates extremely well, he keeps his head high, he can accelerate fast, he uses his edges to create speed and change direction, and he reads the game well at that speed.
He can both shoot and pass which makes him a dual threat in something that is lacking a bit on the Swedish team.
His small stature gives him a bit of a disadvantage along the boards and especially in the defensive zone, Lysell's quick mind and stickhandling is his own way of countering that weakness. His hard work and big engine lets him use his fantastic skating if there is a turnover, and he will turn on the afterburners and go for the opposing net no matter how long of a shift he has had.
F Isak Rosén (Leksands IF - Buffalo Sabres, 14th overall, 2021)
The elite puck handling, along with strong skating and a good shot made Rosen into a target in the 2021 draft. He hasn't really lived up to that billing in SHL this season, albeit Leksand added in the offseason and didn't really get the chance on the top lines that he maybe needed. Still, he has played well in a two-way role. He reads the game extremely well and you can usually find him in the right place before the puck gets there. He is a player that should excel in a competition against his peers, where he can use his skills to the fullest. Rosén has been competing for a spot on the third line in camp, and his upside is there, but the question that coach Montén is asking is if he can be used in a lower line role and still get the best out of his game.
Sleeper - F Daniel Torgersson (Frölunda HC - Winnipeg Jets, 40th overall, 2020)
Torgersson's career has been spoiled by injuries to date. He has made a comeback from them over and over again and when he got back into shape this season, he was loaned out from Frölunda in the SHL to AIK in HockeyAllsvenskan. Torgersson's physique is outstanding, as complicated as it can be due to the injuries, but he has built up his body extremely well and it means that he is tough to take the puck away from because of his upper body strength and his balance. His game is tactically astute, and he finds passing and shooting lanes to create a double edge sword. 
He is also defensively secure, and it is between him and Rosén that I think the battle will be for one of the last centre positions on the team. If Torgersson makes it, quite a few will be surprised he fell as far as he did in the draft.
EXPECTATIONS
The Swedish line up has an axel of Wallstedt-Edvinsson-Eklund-Holtz. How far Sweden will go will depend on those four players. I don't rate this Swedish team as strong as some of the other teams in previous years. They should emerge from their group, but I don't expect them to win it, which will mean that they will face a tougher opponent in the quarterfinal, and that would mean that there is a chance of Sweden going out earlier than expected. If they make it through to the medal rounds, I would still be shocked to see them win a medal.
Predicted Depth Chart:
Goaltender
Jesper Wallstedt
Calle Klang
Jesper Vikman
Wallstedt is number one but Klang is a good number two, Klang should get a game or two and he will do his job with ease in those games. It Vikman is involved then Sweden is already out or has some injury problems.
Defense
Edvinsson–Grans
Lööf-Nyström
Andrae-Ohlsson
Forsfjäll-Sjöholm
The first three pairings are solid WJC pairings, but a lot will rest on Edvinsson's shoulders. Not only will he be relied upon to create offense but also to hold up and cover Grans weaknesses. The most interesting player on defense is probably Lööf, who not many people will know about, but his strong overall play will mean that you can pair him with any other player on the roster. Grans is a player that I still see more as an offensive minded defender much in the Swedish school of hockey, but I am not sold on his usage. I am not sure on whom coach Montén will cut, but it will be between Forsfjäll-Sjöholm.
Forwards
Olausson–Eklund–Holtz
Stakkestad–Ljungman–Lysell
Torgersson–Niederbach–Rosén–Sjöberg
Magnusson–Ekmark–Nybeck–Stenman
With cuts still having to be made these are the practice lines, it is the four centres in the last two lines that still have to be decided. The first line is most likely set, and that is the line that needs to produce, the other three lines are more complementary lines. Montén has a preference to play players who know each other and that would point to Torgersson-Neiderbach getting the nod, the question then becomes what to do with Rosén? I can see him being used on the fourth line but with Montén's other preference being players that are happy in their roles I can also see Rosén being cut, along with a player like Nybeck.