First Round Favourite: Riley Heidt, C, Prince George Cougars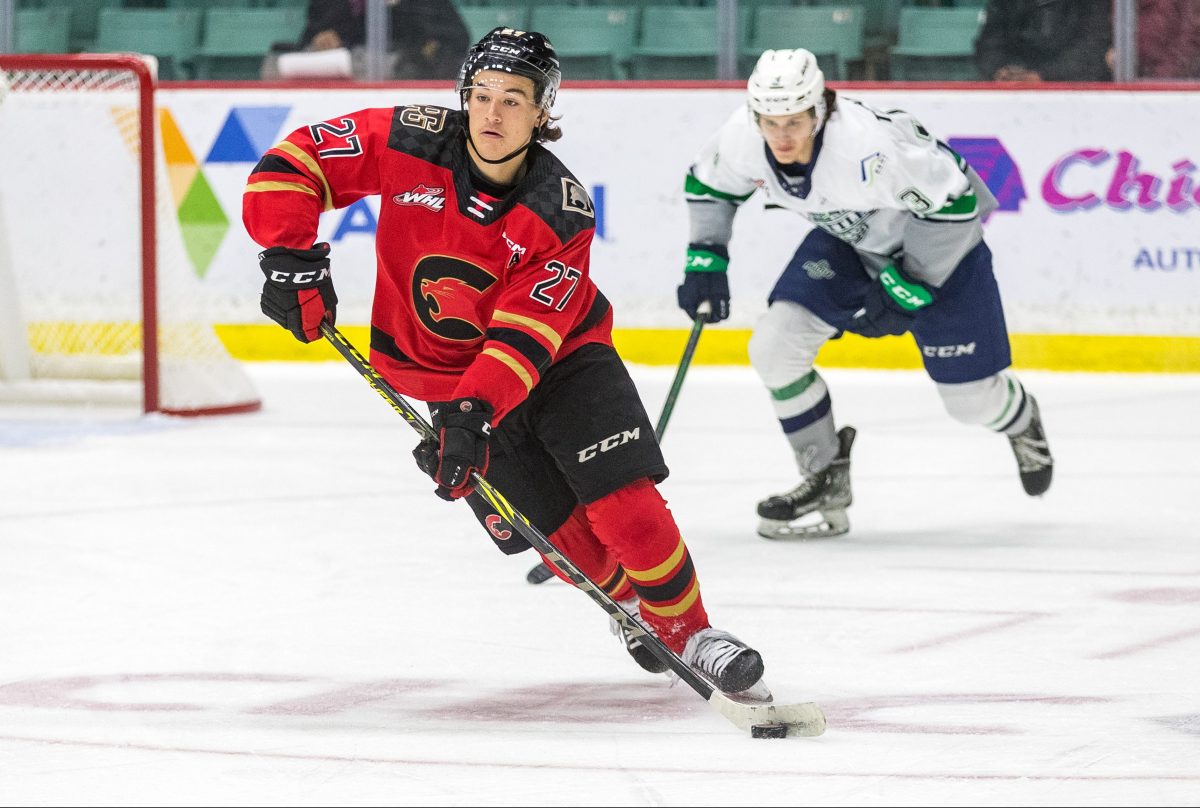 Riley Heidt was asked to be Prince George's "do everything" Centre as a 16-year-old last season. He responded with 58 points in 65 games, leading the team in scoring while helping get the Cougars back into the playoffs. His strong season and work in the summer resulted in being selected for Team Canada in this year's Hlinka Gretzky Cup, where he had a strong showing including two assists in the Gold Medal game win over Sweden.
Heidt used the Hlinka Gretzky tournament as a springboard to this season in the WHL. His improved passing and goal scoring have pushed him into the upper echelon of scoring in the league. The defensive aspects of his play have improved as well. I expect that Heidt's game will continue to grow, and he should hear his name called in the first round of next summer's NHL Entry Draft.
I like this clip as it shows many of the things that Heidt (27 in white) is good at in one play. As the trailer, he gets to see the play developing and knows where the puck is going to be. From there, he takes the puck away from the opposition, draws four Giants to him, and makes a backdoor pass to Koehn Ziemmer for an easy tap-in goal. His hockey sense, along with strong hand-eye coordination, are what make this play happen. The pass, one of Heidt's hallmark traits, is icing on the cake.
This passing sequence is from Canada's first game of this past summer's Hlinka Gretzky Cup tournament. Heidt is set up in the left faceoff circle on the power play, a spot he tends to occupy with the Cougars as well. His vision and ability to conduct and execute the power play at a high level are displayed by the reception and quick pass to a wide open Ethan Gauthier for an easy goal. Heidt has the ability to make the players around him better with his excellent passing, and this is a good example of that.
This clip shows that Heidt is no one trick pony. While his passing is a calling card, Heidt can score as well. This play gets set up with Heidt forcing the defender into an area where a turnover is likely, and that's exactly what happens. He uses good pace to close in on the defender quickly, eliminating passing options with his positioning. As the puck gets turned over, Heidt then puts himself in a good offensive position and creates a passing option for the puck carrier. The puck isn't on Heidt's stick for long, but he loads up his wrist shot quickly. The result is a strong and accurate shot for a goal.
This last clip shows that Heidt has more tools in his toolbox than just offensive ones. His play in his own end has improved from last year, and he possesses strong counter-attack skills. On this play you can see Heidt (27 in red) reading the play and sees the defender pinching in to keep the puck in the zone. He closes in on the puck carrier quickly and uses a good stick to take the puck away. From there it's a matter of corralling the puck and exiting the zone with possession.
Pushing for the Top 50: Kaden Hammell, D, Kamloops Blazers
Kaden Hammell is in his second full season in the WHL playing for the Kamloops Blazers, and his first year of eligibility for the NHL Draft. He was part of Team Canada's selection camp for this year's Hlinka Gretzky Cup, but ultimately did not make the team. His game has continued to improve and despite being the second youngest defenceman on the Blazers, he's counted on by the team in a variety of ways. Playing behind Kyle Masters, the 2021 4th round selection of the Minnesota Wild, Hammell has started to break through with increased time on both special teams and at even strength.
In some respects, Hammell's profile is starting to look like that of a modern-day two-way defenceman. He is strong in his own end, but his skating isn't a liability. He has increased his penalty kill time to over two minutes a game, showing that he's not only one of the mainstays on that unit but that he isn't prone to taking a lot of penalties himself. But there are some questions about his offensive ability. While his counting stats don't jump off the page, he has already eclipsed his total number of goals from last year in half the number of games. That sounds good but unfortunately his points per game haven't made a jump this year and he's projected to score less than 20 points for the season. If he can start to find more offence in his game, I could see Hammell make a push into the top 50 in next summer's NHL Entry Draft.
I like this play as it shows Hammell (7 in blue) displaying good defensive prowess even though he's initially beaten by the puck carrier. By adjusting his path back to the net and skating around to the puck carrier's forehand side, he's able to lift his opponent's stick and create a turnover without taking a penalty. If he remains on the side of the puck carrier he was on at first, there's a good chance he ends up taking a hooking or holding penalty while still letting the forward get a shot on net.
This play shows Hammell's (7 in white) defensive awareness and desire to jump into the play to be more of a contributor. Hammell's gap play backing through the neutral zone forces the puck carrier to make a pass out of the middle of the ice. With the numbers advantage defensively, Hammell sees that he doesn't need to move to the new puck carrier and can scan for where the puck is going to go next. Showing good hockey sense, he steps up and intercepts the pass. He creates a zone exit with a pass of his own, and at the end of the clip you can see Hammell accelerating into the neutral zone to jump up in the offensive rush.
In this clip you can see Hammell starting to create more offensive chances for his team. Upon receiving the puck from his partner in the defensive zone, Hammell uses the space and time he's given to skate the puck out of the zone. With opposition closing in, he fires a long, cross-ice pass to the wide open forward for an offensive zone entry with possession. I like this play instead of the shorter pass to the forward on his side of the ice, which likely results in a tip deep into the zone and a 50/50 battle for possession. This longer pass shows that he's working on trying to improve the offensive part of his game.
This play shows that while his desire to create offence is there, his execution is still a work in progress. Taking fourth man's ice in the high slot, Hammell receives the pass cleanly but can't stickhandle into a shot. While this looks like it will result in a turnover with the opposing forward skating away with the puck, Hammell is quick to use his defensive stick skills to tie up the forward long enough to recover the puck himself. This is an example of an area that Hammell needs to continue to improve upon to help push his way into a top 50-100 draft spot next summer.
Notable Mid Round Candidate: Ty Halaburda, C/W, Vancouver Giants
Also playing in his second year in the WHL, Ty Halaburda is a two-way dynamo for the Vancouver Giants. One of the youngest skaters on the Giants last year, he was a middle of the pack forward in his first year on the team. But with two lines worth of forwards moving on after the season, Halaburda is trying to make the most of the opportunity to prove that he's worthy of more ice time and responsibility this year.
Halaburda started this season off hot, scoring 8 points in his first 10 games. But with Zack Ostapchuk's return to the team (he was with the Ottawa Senators through the NHL preseason) and Samuel Honzek's improving play, Halaburda found himself sliding off the top line into more of a secondary role. Despite receiving solid even strength minutes, being deployed on both the power play and the penalty kill units, Halaburda went into a scoring slump, posting only 2 points in the month of November.
Despite the scoring drought, Halaburda has still been very noticeable. He is not only one of Vancouver's fastest skaters, but also one of its hardest workers, and his motor never stops. Always around the puck, he is a pest for opposing puck carriers, often forcing turnovers with his speed and tenacity. In the offensive zone he has a nose for the slot, working his way into the tough area of the ice with and without the puck. The area of concern for Halaburda is his shooting and offensive consistency. This part of his game needs to round out for him to take the next step as a player and start to become a star for the Giants, and garner consideration for a mid-round selection in the NHL Entry Draft next summer.
Halaburda's (7 in red) best asset is his speed, and he uses it on this play to be the driving force on a goal for the Giants. Not only does he have excellent foot speed, but his acceleration is high level as well. In this play, his acceleration allows him to skate past the defenceman, who is not in position to deal with Halaburda's speed. This forces the remaining defenceman to go into a slide to try and break up a 2 on 1. Halaburda uses his edges to slow down just enough to let the defenceman slide past him and makes a nice pass to Ostapchuk for the goal.
This is another example of Halaburda using his speed to his advantage and forcing a turnover in the offensive zone. He and Honzek try to initiate some passing with each other, but Halaburda doesn't make the best decision with the puck in trying to get it back to Honzek right away. Even though Halaburda loses the puck to the defenceman, he outworks him and gets the puck back. Two takeaways in a matter of seconds using his speed, strong stick work, and determination are good to see from a player who's offence isn't setting him apart from his peers.
In this clip, Halaburda displays good hockey sense in conjunction with great hand-eye coordination to create a turnover and scoring chance. Seeing the other Vancouver forechecker closing in on the defender, Halaburda disrupts the passing lane and uses good stick positioning to knock the puck down. With excellent acceleration, he's able to get to the puck quickly and turn sharply while maintaining as much speed as possible. This allows him to get a wrist shot off before opposing players have time to converge. This play also shows one of the weaker spots of his game, as you would like to see a stronger, more accurate shot from this position in the slot.
This last clip was taken from one of the games during his slump. Even though he wasn't showing up on the scoring summary, Halaburda kept working hard each and every game. You can see at the start of this clip that he's battling with a defenceman at the blue line to get in on the forecheck. His speed allows him to be the first forechecker to the puck, forcing the puck carrier to make a decision earlier than he would like. Once the Giants take possession of the puck, he puts himself in position to be a passing option, receives the puck, and skates over to a less congested area of the ice to initiate offence. Once he passes the puck, he turns and heads for the slot to try and screen the goalie and look for a tip in goal.