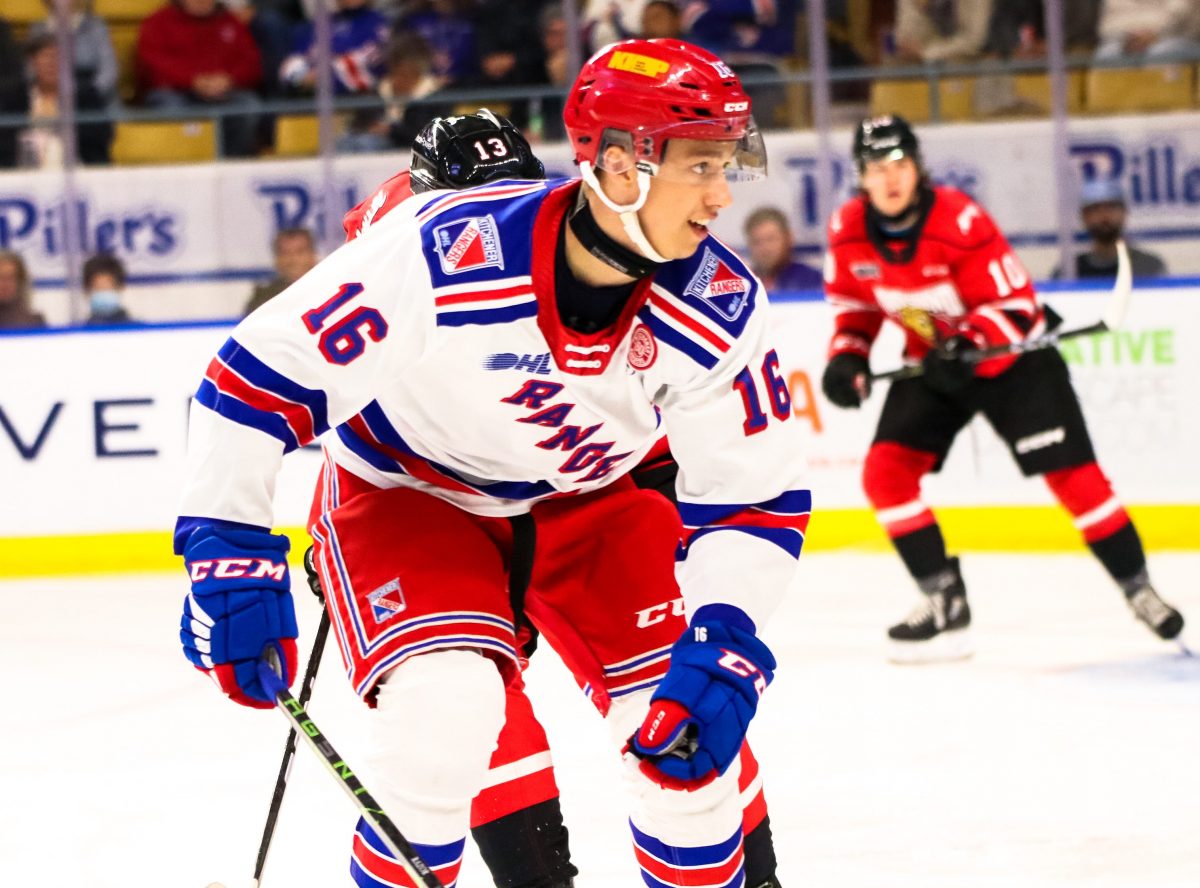 Carson Rehkopf
2023 NHL Draft Eligible
Position: C/LW, Shoots: L
H/W: 6'1", 194lbs
Date of Birth: 2005-01-07
Stats to Date: 
An intriguing blend of size and skill, NHL scouts are faced with quite the dilemma when it comes to assessing Kitchener Rangers' forward Carson Rehkopf. On one hand, he has a lot of qualities that would project extremely well to the NHL level, such as his high level shot, explosive skating ability, and positional versatility. On the other hand, his off puck play and physical engagement level have been widely inconsistent this year. Who is the real Rehkopf? The one who excelled in a checking line role for Canada at the summer's Hlinka/Gretzky Cup and who was instrumental in helping Kitchener upset the Windsor Spitfires in round one of the OHL playoffs, by using his size and strength to dominate down low and in all three zones? Or the one who disappeared for stretches during the regular season thanks to a lack of physical engagement?
The reality is that NHL teams love forwards like Rehkopf and have been focusing on trying to draft and develop forwards with his combination of size and athleticism for the last decade. Sometimes it works out. Sometimes it doesn't. The same could be said for any drafted player. If you believe that Rehkopf will eventually become a more consistent power forward type, he is a player that you jump on early. The key is whether he can find a way to be motivated to play a more physically intense brand of hockey as that is when he is at his best.
Beyond the intriguing athletic package, Rehkopf brings great value with his high end scoring potential. He has one of the most explosive wrist shots in the draft. Combining his quickness, size, and finishing ability, Rehkopf could be a consistent 30 goal scorer at the NHL level. He also offers positional versatility, with the current ability to play center and the wing. Given his length, range, and physical potential, there would likely be a desire to keep him as a pivot in hopes that he can be an elite two-way center. However, even if his playmaking ability, decision making, and physical intensity continue to lack consistency, he could easily slide over to the wing to become a complementary goal scorer and powerplay option. There are a lot of paths to the NHL for a prospect like Rehkopf. Again, NHL teams are drafting players like him earlier and earlier, as they search for upside from players with athletic builds who can be sculpted by the team's development leaders.
If Rehkopf does not succeed in becoming an NHL regular, it will be because he never develops that killer instinct or physical intensity, similar to the likes of Michael Dal Colle or Brendan Perlini. Personally, I've seen enough of Rehkopf to believe that he can be a more consistent player and he would be someone I'd be advocating heavily for inside the top 50.
Skating
Rehkopf skates quite well for a bigger, potential power forward type. His first step quickness is very good and in a lot of ways, is one of the keys to his success. He takes only a few strides to build to top speed and then will glide to ensure that he maintains puck control. He is especially quick coming out of turns and pivots, making him dangerous on the counter attack. As his defensive game becomes more consistent, this could make him one of the better quick strike players in the OHL. Rehkopf also has excellent balance and strength, making him difficult to knock off stride as he plays through contact. He'll absorb hits driving wide through the neutral zone and into the offensive zone, maintaining possession and speed. Where there is room for Rehkopf to improve is in the sustainability of his top speed. He can lose speed after building it, allowing defenders to catch up to him. Additionally, his edgework and confidence in playing East/West needs work. He builds linear crossovers into his attacks to layer in deception, but he is most effective attacking in a straight line and, as such, can get bottled up without high end creativity. In a lot of ways, Rehkopf resembles Colby Barlow as a mover, with both projecting as potential above average movers at the next level with the right development.
A snapshot of Rehkopf's quick strike ability thanks to his explosive first few strides. Here he explodes out of a turn, challenges three Windsor defenders who are caught flat footed, and draws a penalty.
This is a nice example of Rehkopf's play creation ability off the rush because of his ability to build speed quickly. His stride is effortless and he is able to glide once he builds speed.
Where to put this clip…I think it shows a bunch of different things. Firstly, Rehkopf seals off the point, forcing the pass into the middle that gets intercepted. Then he showcases his great acceleration to earn the breakaway. However, a slight bobble at the end means that he doesn't get much on his shot and it's an easy save. Rarely do you see Rehkopf attempt a deke to finish on odd man rushes. It's almost always a shot attempt.
Rehkopf can excel as a penalty killer because of his length and quickness. Look at how quickly he closes on the point, gets his stick on a puck and then wins the race to get a shot off. One thing I do also think that this clip shows is a need for Rehkopf to improve his top end speed and ability to sustain speed.
Rehkopf retrieves the puck and then it's off to the races as he flies up the wing to get a scoring chance.
Grade: 55
Shot
One of the draft's top goal scoring talents, Rehkopf has one of the heaviest shots available this year. His two primary methods of scoring are a quick snapshot and a heavy one timed slapshot. He uses the snapshot when attacking in transition or when cutting into the slot. He has a quick release and generates significant velocity, even on a single touch, which helps him to get pucks on net under heavy defensive pressure. He uses the one timer on the powerplay, where he sets up near the half wall on the right side. Again, this slapper is heavy and is already one of the harder shots in the OHL as a U18 player. Currently, the one thing holding Rehkopf back is that he does not always catch pucks cleanly when loading for a shot. He has a tendency to fan on shots, even when not under pressure. This is a skill based component of his game that will need work if he wants to get the best out of his shot and scoring potential at the next level. However, Rehkopf's size and shot combination give him great upside as a potential 30 goal scorer at the NHL level.
How about this shot and release? It takes him a second to corral the pass, eliminating the one timer as an option, but he settles it down quickly and absolutely roofs it on the Hamilton netminder. Rehkopf generates such significant velocity without significant loading time. The snapshot is often his weapon of choice.
This time Rehkopf is able to one touch this one, quickly snapping it to the top corner.
Here, Rehkopf shows off the booming one timer from the half wall, a spot that he loves to occupy on the powerplay.
As DJ Khaled would say, "another one."
These are the types of goals that translate to the NHL level. Battling through traffic, Rehkopf quickly gets this shot off under pressure on a single touch.
Another look at that quick snapshot that Rehkopf likes to use. This was a great goal from the CHL Top Prospect's Game, where Rehkopf was the MVP.
Grade: 60
Skills
As a skilled playmaker, Rehkopf's game is very much still a work in progress. As mentioned, he can have trouble cleanly catching pucks or corralling passes when loading to shoot and this has a negative impact on his goal scoring capabilities despite possessing an elite level shot. Rehkopf can also struggle to drive the middle of the ice at times because he can extend the puck too far out, leaving it susceptible to stick checks from defenders. He will occasionally flash the ability to keep the puck on a string and pull it closer to his body, but this often requires him to slow his pace to a crawl. When he attempts moves at full speed, he can lose control. Rehkopf is at his best, currently, when driving wide where he can underhandle, build speed, and look to beat defenders back to the middle to earn a scoring chance. An area of Rehkopf's game that is currently undervalued is his skill as a passer. He has good scanning habits and can thread the needle from anywhere on the ice. A true dual threat as a passer and scorer, Rehkopf is likely to develop into one of the higher scoring players in the OHL by the time he graduates. The key for him moving forward is to improve his small area skill so that he can consistently create his own scoring chances. Additionally, being able to attack the middle of the ice with greater pace, instead of having to slow to a crawl, would really help him become one of the better playmakers available.
Strong move by Rehkopf that is initiated by a skilled play to take the pass between his legs before gaining the zone. Then he turns two Niagara defenders into swiss cheese before finishing.
These are the kinds of goals that we need to see more often from Rehkopf. He can take up position near the crease on the powerplay and be a disruptive force. However, at five on five, he can be more often seen floating in the slot to get himself shooting looks from more of a distance. This is what separates a player like Colby Barlow from Rehkopf. They both have huge shots, but Barlow consistently finds himself near the crease and those kinds of greasy goals are the most common at the NHL level.
For a player with a terrific shot, Rehkopf can have a tendency to fan on shot attempts too often. This is a critical next step for him, to work on those hands in traffic to catch pucks cleaner or maintain possession through traffic.
Exhibit B. Glorious chance from the slot, by Rehkopf just can't get a handle on it quick enough, allowing the Finnish netminder time to take away space.
Exhibit C.
At times, Rehkopf just doesn't protect the puck well enough when trying to push through the middle of the ice and he is easily neutralized. Currently, he's more effective taking the puck wide where he can underhandle and beat defenders with speed. I believe that this points to a lack of creativity and skill, or at least limitations in this regard. Would a move to the wing at the pro level be better for Rehkopf's development?
Here's an example of what I'm talking about. Rehkopf drives wide, slides the puck into his hip pocket, then uses his length to sweep a pass out into the slot for the goal. He loves to push that puck out wide to use his reach, a strategy that works best on the outside, not when driving the middle.
Here we see Rehkopf make a nice move to break into the zone at the Top Prospect's Game, but he just can't maintain possession while trying to rebuild speed.
Grade: 50
Smarts
I believe this to be a really underappreciated and misunderstood part of Rehkopf's game. Originally, I actually wondered how well he processed the game and I've seen and heard that criticism from others. However, the more that I have watched Rehkopf over the course of the year, the more I have come to believe that a lot of his issues stem from sustained intensity and small area skill limitations and not from an IQ deficiency.
As a distributor, I think Rehkopf has good vision in the offensive end, especially when he is working the half wall area. He'll come out of the cycle and has his head up, surveying his options. His anticipation and patience as a passer are stand out qualities, as he will delay until a teammate makes a cut or in order to draw a defender to him. The same could be said with how he operates as the primary puck carrier in transition. Driving wide, there are times where he will look to attack to use his size and speed, taking on defenders one on one. There are others when he will delay and alter his pace to allow teammates to catch up. It is often in these scenarios when his vision and passing precision is most on display.
As a goal scorer, I think Rehkopf shows good anticipation and understanding of spacing; he gets himself a lot of looks within that home plate scoring area. I do wish that he drove the net more without the puck to score the greasy, Colby Barlow'esque goals, but that's part of that increased intensity that I already mentioned. Defensively, again, the IQ is sound. You can find clips of a ton of great defensive reads and plays made by Rehkopf this year. Almost all of them rely on sound positioning, and not physical over empowerment. As that intensity increases, Rehkopf has the potential to be a very good two-way player.
Everyone in the OHL knows that Rehkopf has a heavy shot…and that he likes to shoot. But as the season has gone on, he has learned to use this to his advantage as a playmaker, such as in this instance. He freezes the defender with the shot fake then slides the puck over to a teammate for the goal.
Well executed give and go between Rehkopf and Filip Mesar. Rehkopf glides into the offensive zone at a crawl and takes the puck to the middle. Then he uses a couple quick linear crossovers to push back to the outside line, opening himself up for the pass back. This is a smart read by Rehkopf.
Great vision and pass precision by Rehkopf here. He digs the puck out of his feet, has his head up and finds a teammate through two Flint sticks to set up the goal.
Another really nice pass by Rehkopf. He holds long enough to draw the strong side defender to him, then fires a pass to Arcuri, right on the blade to help set up the goal. While Rehkopf's shot and scoring potential draw the most attention, he's a quality passer and playmaker.
Yet another strong passing read by Rehkopf. Great decision by him to slow his pace to allow his teammates to catch up, then he identifies an open Matthew Sop driving wide on the delay, as his teammate takes the middle lane, and the defender with him. For a player who can beat defenders one on one to the outside with his size and quickness, Rehkopf will often incorporate delays into his attack, allowing him to survey the ice. Many power forward types who possess Rehkopf's skill set at a young age develop tunnel vision and just want to plow through to the middle.
Tired of these clips that show Rehkopf's strong vision of the puck? Well here's another one. He baits the Windsor defenders into thinking he's going to put it back to the point and that hold allows a teammate to get open in the slot, where Rehkopf finds him.
How about strong off puck awareness in the offensive end then? This is an underrated component of Rehkopf's game. While I'd love to see him get to the net more often, he does have excellent anticipation as a goal scorer. He glides into the slot hoping to get a pass, but then fades, anticipating a potential rebound being kicked out to the slot. Easy goal.
How about strong off puck awareness as a defensive player? From the CHL Top Prospect's Game, Rehkopf gets himself in great position to cut off a passing lane and then jumps on the counter attack.
Grade: 55
Physicality/Compete
That brings us to Rehkopf's physicality and compete, the most hotly contested attributes of his game. It really depends on how you view the attribute in the first place. Is this an area of the game that can truly be improved from a consistency perspective, or is this a mindset that some players have, and some players don't? Earlier I mentioned Michael Dal Colle as someone who lacked that killer instinct and physicality, and it held him back from being a better player than he could have been otherwise. It was a concern in his draft year, and it was still a concern five years later as he was reaching the end of his ELC with the Islanders. With Rehkopf, I do believe that he can consistently become the player that we saw at last summer's Hlinka/Gretzky Cup, which is a two-way power forward. He shows flashes of it.
For many young power forward types, consistency is the last thing to come because it requires great conditioning and a high level of confidence. Those flashes are enough for me to overlook those times where he leaves the defensive zone early, where he casually attempts to tie up his check, and where he fails to engage physically to get to the net inside the offensive end. Right now, this grade would probably be a 47.5. However, I do think that he eventually becomes a better than average physical player. Not a Tom Wilson type. But someone who can use his body to his advantage at both ends to be a complete player.
Good persistent forecheck by Rehkopf leads to a nice defensive play to secure the turnover. Then he enters the offensive zone and rips one past the Guelph netminder.
Another good forecheck here. Rehkopf's reach and speed can be a problem for defenders.
Rehkopf makes a really good defensive read here, but disengages, leaving the slot wide open. This nearly results in a Saginaw goal. These are the types of plays that can happen too often. Rehkopf has the defensive IQ, but the motor is not always running.
Another example of disengagement. He gets a great look from the flank, but gives up on the play, then he makes a weak attempt to re-engage, allowing Erie to clear the zone.
Stick discipline has been an issue for Rehkopf this year and this is an example of that. He gets beaten to the puck by Matt Maggio and then is forced to hook him up. Many of Rehkopf's penalties this year look the exact same. He has the reach and skating ability to stay with players defensively. There's no need to take as many lazy stick infractions as he does.
Rehkopf loses the draw and then loses his man (Kressler) as he drives the net, eventually putting home the goal.
This shift from the Hlinka/Gretzky Cup against Sweden is an example of how scouts want Rehkopf to play consistently. A couple of great defensive plays where he uses his size advantage to tie up his man and a couple of hits to be disruptive. When he's on, he can be a difference maker physically.
A big hit by Rehkopf on the forecheck. I would just love to see this become more commonplace.
Grade: 52.5
OFP: 54.125
A note on the 20-80 scale used above. We look at five attributes (skating, shooting, puck skills, hockey IQ and physicality) for skaters and six for goalies (athleticism/quickness, compete/temperament, vision/play reading, technique/style, rebound control and puck handling). Each individual attribute is graded along the 20-80 scales, which includes half-grades. The idea is that a projection of 50 in a given attribute meant that our observer believed that the player could get to roughly NHL average at that attribute at maturity.