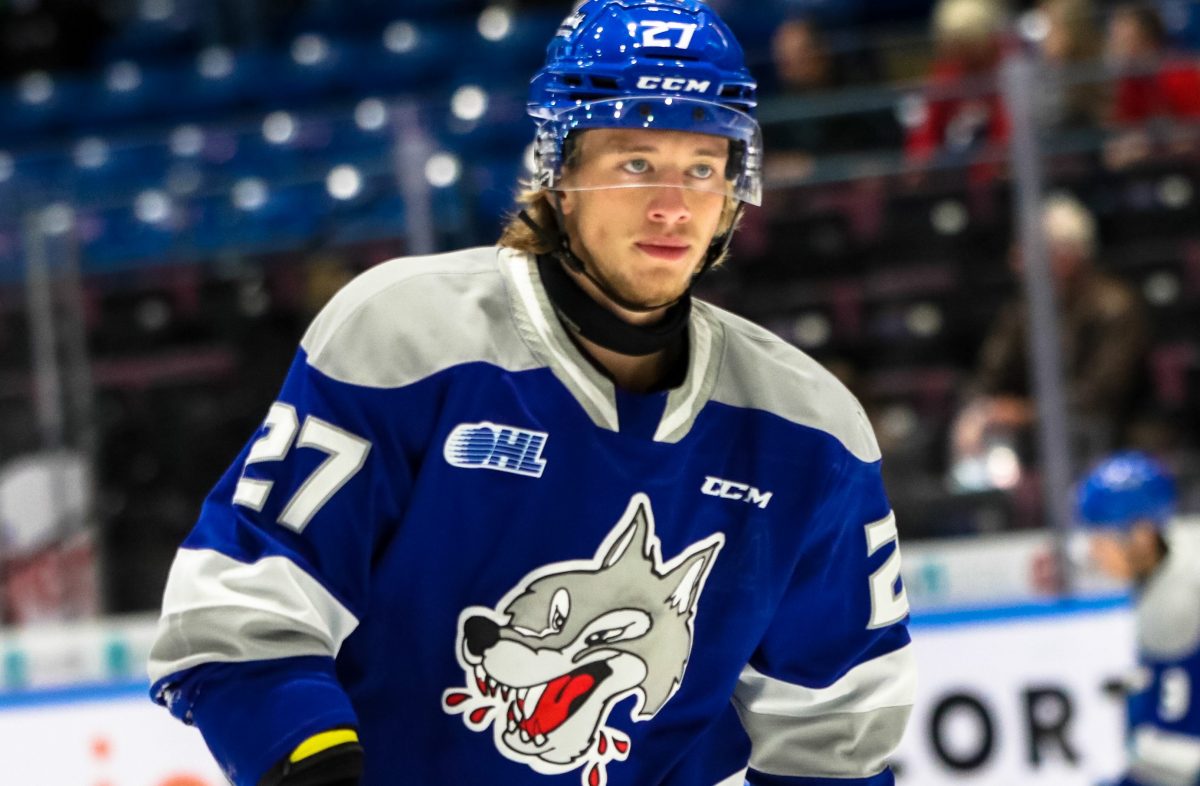 Quentin Musty
2023 NHL Draft Eligible
Position: LW, Shoots: L
H/W: 6'2", 197lbs
Date of Birth: 2005-07-06
The former first overall selection in the 2021 OHL Priority Selection, Musty has grown to become one of the most divisive and polarizing prospects eligible for the 2023 NHL Draft. There is absolutely no denying his high-end skill level and significant NHL upside. However, concerns over the consistency of his off puck play and overall engagement level have led him to be ranked inconsistently by scouting organizations. In a lot of ways, Musty's draft profile is starting to resemble that of former Hamilton Bulldog and current Los Angeles Kings' forward Arthur Kaliyev.
When talking about Musty, it is important to note a drastic shift in his play following a coaching change in Sudbury. The Wolves made the switch to former NHL'er Derek MacKenzie in mid-November, and this has had a profoundly positive impact on the play of Musty and the rest of his teammates. Prior to that (under Craig Duncanson), Musty's off puck engagement level was a major concern and his production was very inconsistent. Since (under MacKenzie), Musty has been using his size to play between the hash marks more consistently, has been more physically assertive in puck pursuit, and has been way more productive offensively. There are still holes in his game that muddy his projection and the likelihood of him reaching his upside. However, it would be unfair to omit the fact that his play has taken a step forward in the last few months, thus his rise into our first round at McKeen's for our midseason draft rankings.
Looking more specifically at Musty's projection and upside, he unquestionably has the skill set to play a top six, scoring line role at the NHL level in the future. From a purely offensive perspective, Musty's upside is likely the highest of any OHL based draft eligible player this year. His skill, creativity, shot, and vision all grade out as above average and it helps to explain why he currently finds himself in the top ten of point per game scoring in the OHL. Yet, there is significant room for improvement in the consistency of his physical engagement level, his effort and awareness as a three-zone player, and with his explosiveness as a skater. Whatever NHL team selects him will need to be patient with Musty, likely allowing him to finish out four years in the OHL before he moves on to the pro level. But what power forward drafted outside of the top ten doesn't require that kind of development time?
Skating
As a skater, Musty is best described as…below average. It is definitely an area of his game that could be improved upon, and if it were to be improved upon, it would likely lead to some significant growth in his consistency. Musty's linear speed can be a weapon for him, but he needs a long runway to build up that speed. Additionally, he has trouble sustaining said speed.
and can often be caught up to. He has worked hard to elongate his stride this year, but the consistency of said length wavers and he can revert back to shorter, choppy strides. With a wide base, he can be strong and balanced on his skates, making him difficult to separate from the puck as he looks to cut into the middle of the ice. His ability to work on his edges is probably the area that has shown the most growth from last year. Where Musty can really struggle is building speed quickly. He needs to add further power to his pushes to improve his explosiveness. This is true from a linear perspective and when trying to explode out of cuts/pivots. This lack of explosiveness prevents him from being quicker to loose pucks and quicker to gaps in coverage, helping to explain his lack of consistency as a goal scorer. Additionally, while Musty's confidence on his edges has improved, allowing him to have better agility and puck control, there is room for improvement in this area too.
This clip does a great job of showing where Musty's skating inefficiencies come from. There's very little dig or push off in his stride. It's almost as if he's running on skates as he tries to build speed to help Sudbury gain the line on the powerplay.
Here we see Musty come up with the nice steal in the defensive zone, but he's just not able to sustain enough speed to get full clearance from the Flint backcheckers.
Here we see Musty pick up the puck in the neutral zone and attempt to build speed to successfully gain the offensive blueline. However, as he tries to pivot, he loses balance and is easily separated from the puck, leading to a scoring chance and a penalty against the other way.
Tough play for Musty here as he has to build up speed coming out of a cut in the neutral zone. With a few long pushes, he does gain enough clearance and gets himself a good look that he puts off the bar. On one hand, this clip does show that Musty has worked to lengthen his stride (compared to consistent short, choppier strides last year). On the other hand, it does point to a rigidity in his skating approach.
I thought that this clip was really interesting because it's from the same game as the clip above. Only this time, we see Musty revert back to those short, choppy strides that prevent him from generating any sort of power. At the junior level, he's able to gain the line there for Sudbury, but at the NHL level, that play likely gets easily broken up in the neutral zone.
I included this clip from last year because I do think that it shows some growth in his overall mobility. For one, there's no push off at all as he tries to build speed into the offensive zone; average stride length might be a few inches. Secondly, he gets zero power trying to push to the outside on his edges in an attempt to beat the Mississauga defender one on one and he is easily neutralized. Watching Musty this year, there are instances where he's able to get some form of clearance on similar plays and it is clear that improving his skating has been a focal point of his development.
Grade: 45
Shot
Quentin Musty's shot and scoring ability…yet another area of his game that is mystifying scouts. On one hand, Musty has a great shot. He has a really heavy wrist and snapshot. He generates significant velocity with little room to operate and it can beat goaltenders clean from a distance. On the other hand, Musty has not found a way to be a consistent goal scorer this year despite this gift. Why is that? Is it indecisiveness? Is it a lack of confidence or a preference to pass out of shooting situations? Is it a lack of compete to get to those scoring areas by playing through defenders near the crease? This is a player who is one of the most gifted offensive players in the age group in the OHL and he does not have a single goal on the powerplay this year (as of writing this). I think one of the main issues regarding Musty and the utilization of his shot is a lack of deception. Without high end skating ability, he's not creating clearance for himself to get open looks in possession of the puck. And the one timer is not really in his arsenal at this time; he's much more of a catch and shoot type of player. Will all of this change moving forward? I certainly believe it can. He's too talented to not find a way to score more consistently.
We could have probably put this clip in a variety of different spots as a negative. But I think it best exemplifies Musty's indecisiveness as a shooter. That puck needs to be off his stick sooner and he needs to identify that Czech defender closing in. This is especially true considering the circumstance. With a man advantage and the net empty, you simply can't take the chance that puck gets easily poked off your stick there.
This is a much better play from Musty. He takes a pass and heads right to the net. Then he uses a quick, yet deceptive snapshot to beat the Kitchener goalie clean. If he can be more middle of the ice focused and get pucks off quicker…like this…Musty is going to score consistently both in the OHL and at the NHL level. This is very much a pro style goal.
This is the Musty goal that has probably been shown the most on social media and in various scouting reports. He absolutely rips a wrist shot at the Hlinka/Gretzky. Notice how balanced Musty is here, allowing him to put all of his weight behind this wrist shot.
I tried to go through a lot of Musty's scoring chances on the powerplay this year to try to figure out where the disconnect is. Sudbury is employing him in a variety of roles, using him on the flank, in the bumper, and as a net front presence. Yet, he's got a goose egg. Why? One of the main reasons that I can see is that he's just not getting himself ready and balanced to shoot quickly. This is an example of that. If Musty one times that, it's in the back of the net. If Musty can catch and release that quickly, it might be in the back of the net. Instead, he catches the puck on the heel of his blade and never truly settles it down. Then he's off balance and can't get enough behind his shot to elevate it quickly through the shot blocker. Then he fires the rebound straight into the goaltender's chest.
Another high end powerplay scoring chance for Musty. I like how he goes wide and cuts back in to create both a better shooting angle and to pull the goaltender out of position. Problem is that by the time he shoots, he's so off balance that he ends up losing control of it and firing it up and over (perhaps glancing off the Niagara netminder's glove). With greater body control, he can keep that shot lower, just over the pads where the netminder is going to have a very difficult time making a save.
Grade: 55
Skills
As an individually skilled player, Musty is one of the most creative on puck players in the Ontario Hockey League, regardless of age or draft status. He routinely beats the first layer of pressure and consistently beats defenders one on one because of his silky mitts and ability to protect the puck. He has that uncanny ability to miss sticks, sliding the puck between tiny gaps, helping to prolong possession so that he can create scoring chances for himself or linemates. He blends skill and linear movement well together well too, making him a difficult cover in transition despite not being the most dynamic skater. He can make moves at his full speed, using his wide base to maintain balance as he plays through or around poke check attempts with quick hands and dekes. As his agility and confidence on his edges improve, Musty will become an unstoppable force with the puck at the OHL level. Few combine his length, size, and skill. Musty is also an exceptionally skilled passer. He routinely feathers, saucers, and rifles passes through the tiniest of gaps in coverage, almost always on the mark. He can truly thread the needle.
This pass by Musty is a thing of beauty. This is especially true considering that he didn't do a great job of selling the shot before dishing off. He telegraphed the pass, yet it was such a perfect saucer right on to the tape that neither the Barrie defender nor goaltender could do anything about it.
Another fantastic pass by Musty. He threads the needle through three Niagara defenders…again directly on the tape.
Highly skilled play by Musty from the Hlinka/Gretzky that showcases his ability to keep plays alive. He makes a few players miss and eventually draws a penalty.
This play from last year is probably Musty's most impressive as an OHL player. Turns the defender inside out and makes a great pass to Alex Pharand for the goal.
Grade: 65
Smarts
This is the area of Musty's game that many scouts are having a difficult time assessing and it is what makes him truly polarizing. On one hand, Musty's vision and playmaking ability are greatly underappreciated. He routinely makes great passes and reads with the puck to help set up significant scoring chances. He understands, situationally, when to be patient with the puck, rather than throw a low percentage shot on net. He also uses the threat of his shot as a decoy well, drawing in defenders and drawing attention before passing off. This deception is heavily built into his game.
Last year, offensive zone turnovers piled up for him as he tried to force his way through defenders, playing a very individualistic game. However, this year, especially under MacKenzie, Musty has evolved as a playmaker and is making generally better decisions with the puck on his stick. It is his reads and understanding of space away from the puck that has some questioning how well he truly processes the game. As mentioned earlier, Musty's shot is a major weapon.
Additionally, he has the size and skill to be difficult to separate from the puck. Yet, his goal scoring totals remain low because he's not getting himself in a good scoring position, nor earning the kind of easy looks he should be afforded given his potential to work inside the hash marks. It always seems like he is a fraction late to hitting gaps in coverage, meaning that his shots are being contented. Interestingly enough, he does not have a single power play goal this year, which is truly bizarre given how good his shot is.
So where is the disconnect here? Is it possible that Musty can be smart on the puck but lacking in IQ off of it? Or are his issues in finding clean looks for his shot related to his lack of quickness and intensity? That is the million-dollar question scouts will have to find an answer to leading up to this year's draft.
Love this play by Musty. Yes, the finish by Goyette is equally impressive, but Musty's poise and patience sets it up. He sells shot until the very end, which helps Goyette pull the Barrie netminder way out of position.
Another deceptive play by Musty in transition that helps set up Goyette for the goal. Again, he sells the shot to get the defender to drop to block it, then dishes off.
This is a very underrated play by Musty that leads to an easy goal for the Wolves. Musty takes a wide approach to draw the attention of the Petes' defender, then he holds on to the puck just long enough to draw attention before passing back.
A beautiful feed by Musty from behind the goal line. On plays like this, there is often doubt as to whether the passer actually saw the teammate streaking to the net or whether they just fired a blind pass into the slot. In this case, Musty makes so many great reads that it's conceivable that he saw Evan Konyen.
One thing that Musty has really improved this year is his decision making with the puck. Last year, plays like this were common. Now, they are more rare. However, this play is from this season, proving that he still has work to do to eliminate them completely.
Grade: 55
Physicality/Compete
How you assess Musty's physicality and compete likely depends on what night you catch him on. Even though his physicality and engagement level has improved greatly under new coach Derek MacKenzie, it remains the area of his game that requires the most growth. When he is physically dialed in, Musty can be a real load to handle for OHL defenders. He battles down low for possession. He engages physically in pursuit to secure retrievals. He drives the net, with or without the puck, and jockeys for position near the crease. There are definitely power forward tendencies to his game. He even fought Cal Ritchie recently, an event that led to the hand injury that kept him out of the CHL Top Prospect's Game.
Inside the offensive zone, he is growing into his game. It is his effort in the neutral zone and in the defensive end that truly is lacking. He can leave the zone early and float around the blueline, neglecting his defensive responsibilities. He is often the last forward back to the defensive zone. He gives up on plays in the neutral zone and is content to let the play be dictated to him. With his combination of size and skill, you really wish that he had greater internal drive to want the puck back on his stick. I've had some scouts suggest to me that this could be a conditioning issue and that would certainly make sense. As his conditioning improves and as he becomes quicker, will we see him apply a power forward game across all three zones consistently? He doesn't have to be Tom Wilson to be a more effective all-around player. He likely just has to be better than someone like Arthur Kaliyev, although admittedly, Musty is already ahead of where Kaliyev was as a draft eligible player in that regard.
First, let's start off with a nice defensive play made by Musty. Musty senses danger as the Wolves defender turns the puck over and he quickly pushes to tie up the Spitfires forward near the crease to prevent a likely goal.
Now the opposite end of the spectrum. Where is Musty here? The play is in the Sudbury end for a good ten seconds before we even see Musty. Then it's his mark that ends up wide open at the faceoff circle for the wide-open shot that leads to a rebound goal.
I decided to include this clip in this section because I do believe it points to a lack of compete. Yes, it also showcases his lack of explosiveness, but even still Musty had enough clearance to try to take that puck closer to the net to try to finish in tight. He had both Oshawa players beat. Yet, he slows up and settles for a lower percentage perimeter shot. Until he consistently develops that killer instinct to take the puck hard to the net, truly utilizing his size and puck protection ability, he will not reach his high-end potential.
Musty's compete level has definitely been better since Derek MacKenzie took over behind the bench and this is a great example of that. Musty applies pressure on the forecheck and forces a turnover which leads to a goal by David Goyette. Musty has been much more noticeable in puck pursuit in the last few months (save for the time off because of his hand injury).
Another strong play away from the puck by Musty post MacKenzie. He battles down low, inserts himself into the play physically and then gets to the net front to block a shot. These plays are thankfully becoming more common.
Grade: 50
OFP: 53.75
A note on the 20-80 scale used above. We look at five attributes (skating, shooting, puck skills, hockey IQ and physicality) for skaters and six for goalies (athleticism/quickness, compete/temperament, vision/play reading, technique/style, rebound control and puck handling). Each individual attribute is graded along the 20-80 scales, which includes half-grades. The idea is that a projection of 50 in a given attribute meant that our observer believed that the player could get to roughly NHL average at that attribute at maturity