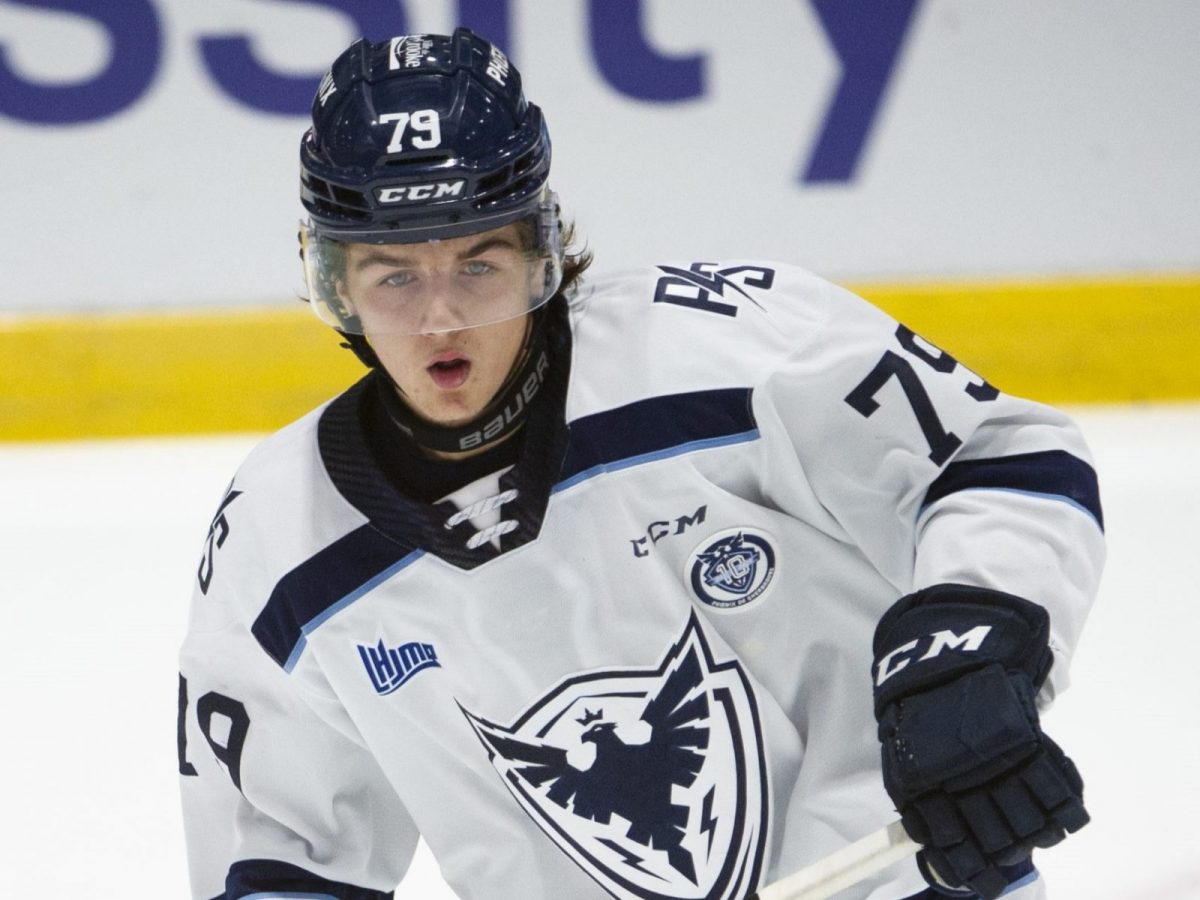 First Round Favorite: Ethan Gauthier, RW, Sherbrooke Phoenix.
Ethan Gauthier has been a steady offensive producer for the Sherbrooke Phoenix this season, averaging slightly more than a point per game (45GP – 17G – 22A – 49PTS). His point total makes him the fourth best point producer of his team, behind Joshua Roy, Jacob Melanson and Justin Gill, three players in the top 10 for points per game in the QMJHL. That being said, Gauthier plays on average a minute less than Melanson, two less than Gill and four less than Roy. To add to that nice statistical resume, Gauthier was excellent during the Hlinka-Gretzky cup for Canada this summer, leading the entire tournament in goals with six in five games. Not only does he produce like a first rounder, but he also plays like one.
Ethan Gauthier's offensive game revolves massively around his quick release. When he is on the ice for offensive faceoffs, he will position himself right behind his center for a set play to quickly release the puck. When the puck is on the right side of the offensive zone on the powerplay and even at five on five, Gauthier will look to position himself in the very middle of the O zone to be a shooting option. Even if this is generally a crowded area, his super quick release usually allows him to successfully turn this play into a high scoring chance. That being said, I really think that Gauthier needs to be able to change his shooting lanes if he wants to take his dominant shot to the next levels. He will need to identify when a shooting lane is clogged, and what move to do to find a new lane in a short period of time.
Here are three quick examples where Gauthier positions himself in the slot when the puck is on the right side of the ice to make use of his quick release.
Gauthier is definitely a good skater, there is no doubt in my mind about this. His crossovers generate a decent amount of power, he extends his legs far enough to reach a higher top speed, and he's very solid on his skates. He's not an amazing skater but it's definitely not a weakness of his. He has no trouble following the play. I think if Gauthier could use his skating skills to play at a higher pace, he would definitely benefit a lot from doing so. Improving his agility for sharper turns and for more deception could be great, although he can be quite deceptive with his hands and body language already.
Here is a clip of how Gauthier can activate quickly and can be deceptive with changes of pace, with his body language and with his hands. He even manages to keep the possession of the puck.
Gauthier' transition play varies from one game to another, or even sometimes from period to period. I find it quite inconsistent; there are huge stretches where he is almost completely uninvolved from the offensive transition game, and there are times where he's supporting the puck carrier by being a solid passing option. He's not very often the player that will bring the puck from a blue line to another. I believe that his lack of consistency in his transition game is due to a lack of pace in his overall game. He definitely has the skating skills to play at a higher pace, but it seems like he is not very often playing a high pace game, which limits his transition skills. He also has a bit of trouble controlling the puck at higher speeds. That being said, I am not overly worried about this as I am confident that in the next couple of years his involvement rate and his success rate in transition will go up. He is just a bit behind right now compared to most first rounders in this year's draft.
Here is an example of what Gauthier could be in transition if he is more involved in the play and if he plays at a higher pace.
Gauthier uses the physical aspect of the game to his advantage quite well. As a forechecker, Gauthier loves to finish his checks without being a dirty player. He is actually second in hits for the Sherbrooke Phoenix, only behind his brother Kaylen. With the puck, Gauthier is excellent at using his body as a shield to keep control of the puck. He does it not only when playing slow and against the boards, but also when he's beating a defender from the outside with speed. On the powerplay, he likes to play low and around the goal, as he's able to fight through adversity physically. The physical edge he brings to the game is a really projectable trait of his, and although in today's game you can totally be a great player that is not physical at all, it is still a nice bonus.
Here is an example of Gauthier using his body to physically outmatch his opponent, which leads him to gaining and keeping the puck.
Here is an example of Gauthier using his body but this time to create a prime scoring opportunity.
If Gauthier pans out at the NHL level, he will likely be this middle-six power forward that has a great shot, but that will also work hard to get scoring opportunities with his physicality. I fully expect him to be in the slot as soon as his team controls the puck in the offensive zone, so that he can use his quick release to catch goaltenders off-guard. The minor details in Gauthier's game are what will likely allow him to bring his game to the next level. I expect him to take a while before being a regular player at the NHL level, as he definitely needs to be a better skater and be a better puck carrier in transition. The hands and puck control at speed are absolutely there, and so is the vision, which makes me confident that he will put it all together and at least be an impactful middle six player in the NHL.
Pushing for the Top 50: Mathieu Cataford, RW, Halifax Mooseheads
Mathieu Cataford has been one of the best prospects from the QMJHL for the 2023 NHL draft this year. Statistically speaking, he leads all draft year QMJHL players in points (53) and in goals (22). Obviously, his amazing stats are partly due to him playing with very good offensive players in Halifax, like Zachary L'Heureux or the leading point scorer of the QMJHL Jordan Dumais, but he is still a legitimately good offensive player who plays an important role in his team's offense. Also, to note that only 26% of his total points come from the powerplay, which is not super high.
Cataford's playstyle is exactly what fits in an NHL's bottom-six lines. His main quality is his sneaky net front presence. If Cataford becomes an NHL player, he will be a forward that will be stapled around the front of the net. Getting physical is not a problem for him either, as he often needs to when protecting the puck, when playing along the boards or when forechecking. Cataford is so net-front oriented, that even when he goes to pick up the puck along the boards in the offensive zone, his go-to move is to pass the puck right in front of the net for his teammates.
Here's an example of him capitalizing on being left alone right in front of the net, something that happens every game.
To add to his sneakiness, Cataford has become a fairly quick skater. He's a north-south type of skater; he doesn't really bring deception in his play and doesn't play laterally as much as he probably should. However, if he becomes a forechecking, physical, and energetic type of bottom-six NHL forward, it will be based around his North/South play. His skating definitely needs some more improvement, he should look to improve his strides to make them less short and choppy, but the skating basics are there. Also, it would be great to see him play at a higher pace more often.
Here is an example of him using his speed to blow pass a defender and get back the puck he previously dumped. His speed is not lights out, but it is definitely good.
Here is another example of him blowing right past a defenceman for a breakaway opportunity.
Cataford's play when his team does not possess the puck is also a strength of his. He's not only a consistently effective forechecker and backchecker, but is also great at pressuring the opposing defenseman when they have the puck at his blue line. He's the kind of guy that will wear down defencemen by finishing his checks and by not letting them have great breakout options due to shortage of time. Thanks to his good north-south speed, he is an efficient backchecker and often looks to break the incoming rush before the puck even enters the defensive zone.
Here is an example of Cataford's great forechecking skills.
Another strength that Cataford possesses is his board battle skills. You can count on Cataford to win board battles that seem impossible to win. He can certainly be physical, but he doesn't solely rely on this to win his battles. This makes this trait quite projectable, since NHL players are much stronger than junior players, and Cataford is not really a huge player either, standing at only 5'11. His hands in tight situations do wonders on a consistent basis. When he appears to be pinned down along the boards, the puck suddenly escapes and lands on one of Cataford's teammates' sticks. That is again an important aspect of his game that fits the potential role he would have in an NHL line-up.
Here is an example of him winning a puck battle near the boards in which he played well. Good forechecking to create the turnover, good usage of his body to separate his opponent from the puck, and good passing decision after taking control of the puck that leads to a high danger scoring chance.
Unfortunately, Cataford definitely has some limitations. His execution skills can be quite questionable. He sometimes seems unable to execute medium to high difficulty plays that he has in mind, especially with speed. He fumbles the puck, misjudges his opponent's reach, doesn't make the correct decision with the puck, forgets to locate his teammates on the ice and passes the puck to no one, etc. Cataford will likely not be the player on his line that will perform controlled zone-entries because of this. That being said, he has shown that he can make flashy plays with his stickhandling, but he just needs to put it all together more frequently.
Here is an example of what I mean by "questionable execution skills". The two best options in this situation are to either dump the puck to the right of the defenceman, or to attack the middle of the ice since it is completely open. Cataford stays along the boards and tries to attack the defenceman's triangle and fails. This happens often with him as he struggles to attack a defenceman in 1 on 1 scenarios.
Cataford is a player whose future NHL role is already quite apparent. I see him becoming a good third- or fourth-line winger that you staple in front of the net in the offensive zone (which also may suggest some powerplay potential in a specific role) and that will annoy the opponents with his off puck grindy type of game. I would also like to add that Cataford is a surprisingly good passer. I have seen him find teammates in various creative ways as his passes seem to always be strong and accurate, and he is fully able to perform difficult passes, such as long breakout passes or passes in crowded areas.
Notable Mid-Round Candidate: Tyler Peddle, C, Drummondville Voltigeurs
Tyler Peddle has maybe not fully lived up to the lofty expectations of being drafted second overall in the 2021 QMJHL draft, but he has certainly shown enough to be considered as a good middle round prospect for the upcoming 2023 NHL draft. The 6'1 forward has a total of 31 points in 45 games for the Drummondville Voltigeurs this year and is second in goals in his team with 18. Although his statistical performance might look a bit underwhelming, his team is in the lower half of the league, and in terms of goals for, his team is 17th out of 18th. Peddle does not have as much help as guys like Cataford or Gauthier have.
Tyler Peddle is a very physical player, in many ways. When he has the puck and is aware that an opposing player is charging towards him, he will reverse-hit him in a spectacular way and will continue with the puck. He does those reverse-hits so often that it has become his signature move. He finishes his checks, he's not scared of anyone, he is great at pinning down his opponents, and he is also aware of when he will get hit, to minimize the impact.
Here is an example of Tyler Peddle reverse-hitting an opponent.
Tyler Peddle's skating skills are good in certain scenarios, but also weak in others. He can move his feet extremely quickly and can explode in no time in a situation where he needs to carry the puck in a straight line. This also allows him to be such a quick forechecker that barely allows any time for the opponent to make a pass. However, he can also play with an underwhelming pace without the puck, and I find his balance and sharp turns subpar. He will need to round up his skating in the next few years, but I would still consider his overall skating as good, as some aspects really make up for some others.
Here's an example of how quick Peddle can move his feet in a straight-line scenario, which leads him to a dominant offensive shift and a great scoring chance.
A nice aspect of Peddle's game is his aggressive way of protecting the puck. When Peddle carries the puck and is pressured by an opponent, he doesn't just put opponents on his back, limiting his options. He has an aggressive approach that catches the opponent off guard, which allows him to gain some space. The way he does it is by using his free hand or his shoulder to push back his opponent. If he continues to train his body to have stronger balance and a stronger upper core, he should also be able to do this in the NHL. Along the boards, he uses his quick feet to shake off the defender and backs into him to create space.
Here is an example of his puck protection skills along the boards.
Peddle's awareness of the game is pretty impressive. To begin with, he is very aware defensively, even when he plays as a winger. He is often there to cover for a defenceman that decides to activate offensively, and he always watches the play carefully to make sure he is able to defend if his team commits a turnover. Defensively, he is extremely aware of when a player is left open and is always there to protect him, even when he doesn't play as a center. Peddle seems to always know the perfect timing to explode and force the opposing defenseman to make a turnover. To add to Peddle's awareness, he has a great sense for open ice, notably in transition, where it seems like he is always a great passing option to the puck carrier.
Here is an example of Peddle's awareness defensively, spotting a guy in front of the net left open because of a bad coverage from his defenceman, and he manages to cover him enough to prevent a good scoring chance.
We know that Peddle has good awareness without the puck, but he's also able to make smart and diversified plays with the puck. It is certain that his solid stick handling skills help him accomplish the plays he has in mind, but he doesn't get bailed out by his hands from bad decision making. Although there are times where he does try to overhandle the puck, Peddle will most of the time execute his plays very efficiently and accurately. He's aware of the time and space he has to make a play and will rarely be caught being unaware of his surroundings. On the powerplay, when he plays the half wall, his shoot to pass ratio when he has space is very balanced, and we never really know which option he will choose.
Here is an example of how he hides decision making on the powerplay.
Tyler Peddle is not a guaranteed NHLer but has desirable enough upside to be taken seriously. The pure skill is undeniable. His stickhandling skills can be simply ridiculous, especially in tight, his motor is amazing, and his physicality makes him a feared opponent. His skating does have some flaws, more specifically his balance and agility and his involvement rate is lower than I would want it to be, but nothing there is overly concerning. I would expect him to be drafted in the second or third round of this year's draft.