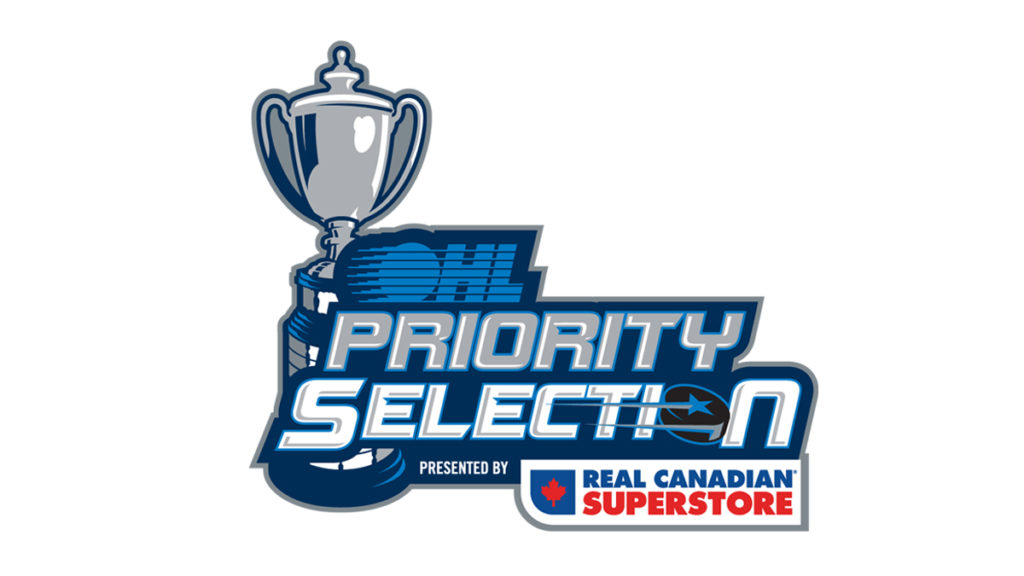 With the OHL Priority Selection beginning on Friday April 21st, scouts Chase Rochon & Joely Stockl worked together to rank the first round (including two compensatory picks). Both scouts were in attendance for the OHL Cup, as well as countless viewings throughout the regular season. The OHL Cup had a huge impact on some player's draft stock, which is evident with a lot of these picks. It is important to preface that this is an OHL Draft ranking, not a mock draft. Players are ranked purely by the player's skillset and performance, rather than projecting which team is going to take which player. This ranking was done by alternating picks, Chase Rochon made pick #1, Joely Stockl made pick #2…and so on.
Note: This list excludes American born players.
#1 Brady Martin - Center (Waterloo Wolves U16 AAA / ALLIANCE)
Height - 6'0"
Weight - 176 lbs       
36 GP - 43G - 44A - 87PTS (Regular season + Playoffs + OHLCup)
Won Gold for Team Ontario
Brady Martin played with the 2006 draft class last season and turned some heads at the 2022 OHL Cup with his relentless tenacity to complement his raw skill. This made Brady one of the favourites entering this season's draft class, along with the other underagers last season, Ryan Roobroeck, William Moore, Ethan Weir, Cayden Taylor, Owen Griffen and, of course, the exceptional status sensation Michael Misa. Brady being a hardworking Mennonite farm boy he chose to play his draft year for his hometown Waterloo Wolves rather than join the London Jr. Knights or make his way to GTHL to maximize his exposure on a top team in the province. This did not stop Brady from having a dominant year in ALLIANCE, where he put up 56 points in 23 games carrying his team to a 24-7 record. During this time, he was invited and selected to represent Team Ontario at the Canada Winter Games, producing six goals and two helpers and Won Gold for Team Ontario.
Once he returned, his focus shifted to the biggest tournament of his life at the OHL Cup. Martin got better every game at the tournament and was steamrolling the competition finishing every check and riffling every puck. He single-handedly defeated the tournament favourite Toronto Marlboros 3-2 with a hat trick. Unfortunately, they could not defeat the loaded JRC roster, which went on to win it all. Brady finished the tournament with eight goals(1st) and four assists for 12 points(3rd).
Now, what makes Martin so special? The better question is, what doesn't? When you are the strongest player in the draft class and have the hardest work ethic, you are bound to be a good athlete no matter your sport. This means that Brady does every hit, pass, shot, and block at the best of his ability, and wow, is that ability elite. He is skilled in all categories a hockey player can possess, specifically his lethal shot. Martin's perfect combination of accuracy and power is a nightmare for goaltenders. Picking all his shots inside the post makes it very difficult for goaltenders to stop. His shot is also very diverse, wrist shots, snapshots and, most importantly, slapshots. When Brady winds that stick back, it is best to get out of the way because that puck will find a way to the back of the net.
Most importantly, Brady is a very intelligent player. He always knows when to make the safe play and when to take it on his own, constantly scanning options and processing to make great decisions. This benefits Brady and all his teammates as he makes the game simple. He takes ice when given and knows how to maintain possession when space is lost. With his tenacity, he is always hard on the back check and right to hunting the puck down to get back down the ice to create offence. Brady may not be the fastest skater on the ice, but he has great edges and mechanics that will only benefit him once he gets bigger and stronger. He is far from slow, but his top-end speed will only increase once he can grow even more. To add, everything from his skating, physicality, smarts, shot, playmaking and puck skills, he is a complete player, making him the safest bet of any player who can transition to the OHL the smoothest and make an impact right away. There are many descriptive words to describe Brady Martin, but the best is Rockstar.
#2 Matthew Schaefer - Defense (Halton Hurricanes U16 AAA / SCTA)
Height - 6'1"
Weight - 161 lbs
34GP - 19G - 31A - 50PTS (Regular Season + Playoffs + OHL Cup)
Won Gold for Team Ontario
With the recent decline of previously projected 1st overall pick Ryan Roobroeck, Matthew Schaefer has emerged as a top two pick. The two-way defender plays loads of minutes on a talented Halton team. Between his incredibly smooth skating, puck moving ability, and high hockey smarts, Schaefer is a weapon from the back end. Once the puck is on his stick, it is incredibly difficult to peel it off of him. He seems to dodge oncoming pressure with ease and is super confident carrying the puck through the neutral zone. All aspects of his skating stride are elite, which immediately puts him ahead of a lot of players in this draft class. With a quick stride and lateral mobility while utilizing his edges, he will translate into an excellent transition player at the next level. When his team is moving up the ice to attack on offense, Schaefer is almost always the one facilitating an entry into the zone. His transition game is extremely quick, and he is able to create momentum up-ice for his team.
Schaefer is average on defense, not an extremely "lockdown" defender, but his work in the defensive zone is enough to eliminate chances and begin to move the puck back up the ice. As he gets stronger and begins to fill out his frame, he will hopefully be able to develop his physical and net front game. His hockey IQ is mainly what makes him successful at the offensive end. He is able to find his teammates through traffic in quiet areas of the ice and shoot the puck himself when he is able to find a clean lane.
Schaefer was arguably the best player for Team Ontario at the 2023 Canada Winter Games, helping his team win gold. This performance boosted his stock tremendously, along with his performances when it mattered most, at the OMHA Championships and the OHL Cup. Even though his team didn't perform as well as expected, Schaefer was consistently effective at both ends of the ice. In the OHL, Schaefer projects as one of the better skating defenders in the league who can carry his team in transition and quarterback the power play. He has the ability to eat lots of minutes and play in a variety of situations. Whichever team is able to pick up Schaefer is getting a player who is going to make an immediate impact.
#3 Ryan Roobroeck - Forward (London Jr. Knights U16 AAA / ALLIANCE)
Height - 6'2"
Weight - 185 lbs       
43GP - 66G - 36A - 102PTS (Regular season + Playoffs + OHLCup)
Won Gold for Team Ontario
Ryan Roobroeck entered the 2022-23 season as the favourite for first overall after an impressive 63 points in 27 games as an underager and was the biggest player for his age. This made him a quality candidate for exceptional status, but he was denied by the league. This didn't stop Ryan from putting on a clinic this season with 51 goals and 28 helpers for 79 points in 30 games. He also had the opportunity to represent Ontario at the Canada winter games and lead his team with 7 goals and 11 points, and a gold medal. Ryan then shifted focus to the OHLCup with a loaded Jr. Knights team, where they were eliminated in the quarters by JRC, who went on to win the tournament. Ryan put up 7 points in 5 games, leading to much chatter about Roobroeck falling in the draft. A small sample size like this after a year of dominant hockey is not enough to change any OHL team's rankings. Ryan easily has the ability to become the best player out of this draft class and should make an immediate impact in the OHL next season based on his size alone.
Still, size isn't the only reason Ryan is the dominant player he is. He had outgrown his time in U16AAA this season as it got to a point where he could do what he wanted with the puck and wasn't having much fun leading to a lack of drive in his game. Ryans's ability to protect the puck, combined with his top-end skating, makes it near impossible for defenders to poke it off his stick. When contact is the last resort of defence, he is untouchable, and defenders bounce right off him.
Regarding being an offensive threat, Ryan has all the tools necessary from his lethal shot, quick hands, deep strides, and hard, accurate passes that can seriously impact the OHL. Ryan is playing at such a high level against some low-level teams you can understand and see the motor decrease in his game, but when it is on, he loves to hunt down pucks and take away the time and space of the attackers in his zone. He has shown the ability to play center and wing and should be able to step into the league next season and make an immediate impact.
#4 William Moore - Centre (Toronto Marlboros U16 AAA / GTHL)
Height - 6'3"
Weight - 165 lbs
Now that it has been confirmed that William Moore has committed to the U.S National Team Development Program (USNTDP), it is unlikely that he is a lottery pick, but his skill set certainly projects him as one in any other scenario. There isn't much that Moore can't do, he's an explosive skater with a loaded shot, he can make plays, he is competitive along the wall, and he's dangerous in transition. A lot of Moore's goals come on odd man rushes and breakaways. His explosiveness propels him past defenders and his big frame is difficult for defenders to hold back. Moore is always looking to breakaway up the ice in transition. He is so dominant when he has the puck.
Interestingly, Moore is usually the play generator from the point on the man advantage. His quick decision making allows him to move it around the zone and then quickly attack the net with a shot of his own. Moore's release isn't necessarily the quickest, but it is calculated, and it is heavy. He shoots often from far out, so he is ensuring that he has the lane clear before he unloads the puck. Moore creates lanes for himself when he skates, he doesn't move around the attack, he forces himself through it.
Moore was a huge part of a very talented Marlboros team that won the U16 GTHL Championships by beating the Toronto Jr. Canadiens this season. The OHL Cup didn't go exactly to plan, as the Marlboros lost to Brady Martin and the Waterloo Wolves in the quarter finals. Nonetheless, it was a season where the Marlboros dominated quite often, and William Moore was the centre of attention. Unfortunately for the OHL, Moore committed to the USNTDP. That being said, if the right team picks him up, there is nothing holding Moore back from coming back over to Ontario down the road.
#5 Tyler Hopkins (Halton Hurricanes U16 AAA / SCTA)
Height - 6'0"
Weight - 159 lbs
40GP - 45G - 42A - 87PTS (Regular season + Playoffs + OHLCup)
Won Gold for Team Ontario
Tyler Hopkins was the engine of the best team in SCTA, the Halton Hurricanes. With a large sample size of viewings, Tyler brought his A-game every night, and this elite consistency was super impressive. He is an excellent skater and can change various speeds at a high level, making it near impossible for his competitors to match. He plays at such a higher speed game than everyone else that sometimes it can be hysterical to watch how effortlessly he can break a team down and create space. He uses his deceptive release on his shot when he gets this space, often finding the net. This space often leads to breakaways where he shows off his puck skills and makes goaltenders look lost.
Mentally, Hopkins thinks the game very well, scanning for options and often choosing the best one, using a good mixture of attacks and knowing when to make the safe play or take it on his own. It is very difficult to find flaws in his game as he is well-rounded and excels in all areas. Hopkins possesses great shooting, puck skills, IQ, physicality and skating, but I think for him to excel in the OHL, he will have to find his specialty skills and hone in on them to become truly elite. Hopkins has what it takes to be a dominant center and a lethal powerplay flank. With the correct development and opportunity, Hopkins can immediately make an impact and look toward the 2025 NHL Draft.
#6 Owen Griffin - Centre (York-Simcoe Express U16 AAA / ETA)
Height - 5'9"
Weight - 150 lbs
47GP - 72G - 55A - 127 (Regular season + Playoffs + OHLCup)
Owen Griffin has been the heart and soul for the York-Simcoe Express all season long, and he was able to help carry his team to the OHL Cup. Griffin is a playmaking centreman with high level acceleration and a knack for scoring goals. He sees the ice incredibly well and is able to elevate the performance of his linemates. Griffin is a very unselfish player and has high awareness for passing lanes through traffic and through the seam in the offensive zone. With how unselfish he is, it is astounding to see how many goals he scored throughout the course of the year (72). He is very dangerous in transition with his quick first step and acceleration, he always seems to be looking to turn and go with the puck as quickly as possible. In the offensive zone, you can often find Griffin hanging around the net and below the goal line. He does a lot of work low in the zone and this is how he is able to feed teammates out front through lots of sticks and bodies. A lot of his goals come from right around the net too, he has great vision to find lanes and create space for himself around the slot. His vision is what ultimately separates Griffin from others in this draft class, he seems to be able to find lanes on the ice that no one else is able to see.
He is a natural centre and I think he will continue to play centre at the next level. On the slighter side, Griffin is 5'9'' and 150 lbs. His size doesn't affect his game too much right now, but I do have concerns about him getting taken advantage of with his net front presence and tendency to get into those high traffic areas. His feet are incredibly quick so this does help him evade pressure, he will just need to be more aware at the next level. Griffin projects as an incredibly smart playmaking centre at the next level. I think he will be a play driver as soon as he enters the OHL and a dangerous one at that. He just makes the players around him better and his hockey mind is very advanced. The team that is able to select him in this draft is getting a player that will jump in and make an impact individually but will also be able to elevate his team's overall offensive ability.
#7 Quinn Beauchesne (Nepean Raiders U18 AAA / HEO)
Height - 5'11"
Weight - 159 lbs
31GP - 10G - 29A - 39PTS (Regular season + Playoffs)
Won Gold for Team Ontario
Quinn Beauchesne played during the Canada Winter Games for Team Ontario, and I was thoroughly impressed. As a defenseman from the HEO, Beauchesne is a force to be reckoned with when driving play from the blue line. His offensive prowess is undeniable, and his squad has heavily relied on him to push the game's pace. One thing that sets Beauchesne apart from his peers is his incredible skating ability. He is undoubtedly one of the most mobile skating defenders in this year's draft, thanks to his great usage of his edges and momentum to pivot, twist, and turn. This makes him an excellent defender against rushes and speedy puck carriers alike.
On the offensive end of the ice, he can lead the rush, jump in as a trailing man if needed, and even finish off plays here and there. His mentality from the backend sets him apart from most defenders, as he wants to drive play, have the puck, and create things through transition using his stick and decision-making. Of course, no player is without their flaws. Occasionally, Beauchesne can make a mistake or two with the puck as he transitions up ice. However, the good far outweighs the bad. Quinn Beauchesne is a valuable asset to any team looking for a skilled, offensive-minded defenseman. With his impressive skating ability, strong defensive play, and willingness to take risks, he could be a real game-changer for any team lucky enough to draft him.
#8 Caden Taylor - Forward (Mississauga Senators U16 AAA / GTHL)
Height - 6'2"
Weight - 174 lbs
39GP - 37G - 21A - 58PTS (Regular Season + Playoffs + OHL Cup)
One word for Caden Taylor; Release. Taylor's release is one of the best in the draft class. He is able to get it off tremendously quick and with power. A large majority of his goals come from his off wing, where he is able to find open space up high. He will find a way to put the puck in the net, even if there is just a few inches of space. His shot is heavy, and it is precise. Taylor's elite shot immediately makes him dangerous and projectable to the next level. When he is not shooting the puck, he is able to handle it with tremendous dominance and it is difficult to strip it off of him. He stretches out the ice very wide in his tendency to play more of an east/west game. With this mindset, he is able to find wide open space very often and has tons of time to get his shot off.
Taylor was one of the leading scorers at the OHL Cup despite his team not making it past the round robin. He definitely made his mark as one of the best players in that tournament, and one of the best goal scorers in the class. There are some questions about Taylor's off-puck disengagement and lack of quickness, but he has the most valuable tool that a forward can have; he can score goals, and he does it well. Taylor will be incredibly appealing for teams given his size and of course, his shot.
#9 Luca Romano (Toronto Jr. Canadiens U16 AAA / GTHL)
Height - 5'11"
Weight - 168 lbs
63GP - 31G - 47A - 78PTS (Regular season + Playoffs + OHLCup)
Among the Junior Canadiens players, Romano stands out as a player with remarkable skills and talent. Although not the team's most physically imposing or high-scoring player, Romano's contribution to the game goes beyond stats. His skating abilities are exceptional, with effortless strides and impressive acceleration that make him a formidable force on the ice. Romano's vision on the ice is unmatched, and he has gained a reputation as one of the best in his age group regarding puck distribution, but his exceptional hockey sense and IQ truly set Romano apart from his peers. He is the type of player that can be counted on in all situations. His ability to safely get the puck out of the zone, combined with his poise, is remarkable. When he has the puck, he can control the pace of play, making him an exciting player and a joy to play with. Romano's style of play often makes those around him better. With such skills and leadership qualities, any team that selects him will surely be pleased with their pick for years to come.
#10 Nico Addy - Forward (Toronto Jr. Canadiens U16 AAA / GTHL)
Height - 6'4"
Weight - 205 lbs
Nico Addy was an entertaining player to watch for the OHL Cup winning Toronto Jr. Canadiens this season. Between his finesse, his release, and his size, Addy is a very appealing prospect in this draft class. For a player that is 6'4" and is potentially still growing, Addy has phenomenal hands. He is able to manipulate defenders at a high level and make them look silly in the process. Addy always seems to be able to find tiny open pockets in the ice behind the defense where his teammates can find him. He is incredibly difficult for defenders to handle, often trailing the play and waiting behind the defense before he pounces into the slot. Addy's awareness for open space and lanes to the net is elite. At times, Addy is able to pull moves out of his back pocket that you wouldn't think he had at his size.
With his tremendous size, Addy definitely doesn't shy away from the physical game either. He does tend to be undisciplined with his hits, and sometimes hitting takes him out of the play and he takes a couple cheap shots afterwards. But players seem to bounce off of him when he is charging down the ice and he is a force to be reckoned with when battling for position against him in any situation. Partially due to his size, Addy isn't the most effective in transition with his lack of a quick first step. It can take him a second to fully get his legs going in the opposite direction, and it makes him not a great outlet option on the breakout. Opponents seem to be able to jump on him before he is able to get going the other way. That being said, between his strength/size and his impact and awareness at the offensive end, Addy is going to be a very dynamic winger in the OHL. He is a player that I can see making an impact in the bottom six next season before jumping up into the top lines. His versatility and mix of an offensive/physical game make him utilizable in a variety of situations.
#11 Aiden Young (London Jr. Knights U16 AAA / ALLIANCE)
Height - 5'11"
Weight - 163 lbs
54GP - 38G - 37A - 75PTS (Regular season + Playoffs + OHLCup)
Aiden Young has been making waves in his local Jr. Knights team. With his exceptional skating skills and high IQ, Young possesses the two most essential traits that are highly transferable for succeeding at the OHL level. In addition, his skills should make for a smooth transition as he develops into an OHL star. Although Aiden is a strong player in his own right, he also works very well with an elite company. He can create space and generate offence independently, which would be a perfect fit for playing with high-end talent. He would be a valuable asset to any OHL team with top-level players. With great coaching and management, Aiden's game can be rounded out to turn him into a star player. This would involve refining his skills and developing his strengths while working on his weaknesses. Aiden could be well on his way to achieving great success in the OHL with a bright future ahead of him. With his skills and proper support, he could become one of the top OHL players and beyond players. It will be exciting to watch his career unfold in the coming years.
#12 Parker Snelgrove - Centre (London Jr. Knights U16 AAA / ALLIANCE)
Height - 6'0"
Weight 170 lbs
47GP - 19G - 43A - 62PTS (Regular Season + Playoffs + OHL Cup)
The London Jr. Knights best player in the OHL Cup was probably hard working centreman, Parker Snelgrove. Snelgrove finished the tournament with 6 points in 5 games after losing to the Jr. Canadiens in the quarter finals. What stands out most about Snelgrove's game is his compete level. He is absolutely relentless on the attack, whether he has the puck or not. He pressures pucks that appear too far out of reach, but his speed makes opposing player's panic. He plays at a very high pace with loads of tenacity and energy in his game. Snelgrove's speed is a difference maker. Just when you think the defender has him beat, he is able to swoop in and gain body position in the blink of an eye. His explosiveness is what makes his game effective. He finishes off every single check and makes sure the opponents know that he is not giving them a second of space.
Snelgrove is the go-getter on his line between Aidan Young & Ryan Roobroeck. He fills this role well, especially playing with two players that are as offensively inclined as they are. He is able to pressure the defense, cause a turnover and let his wingers do the rest. At the same time, Snelgrove's skill should not be undermined. His shot is average, but his hands allow him to get into tight quarters on the ice. He possesses great puck control on the fly and hands in transition which allow him to generate plenty of chances on the rush. He is a shoo-in to beat a goaltender one on one and he seems to be able to take it to the front of the net very often. Snelgrove translates as a high energy player that can play just about anywhere in the lineup and complement highly-talented players around him.
#13 Jake O'Brien (Toronto Jr. Canadiens U16 AAA / GTHL)
Height - 6'0"
Weight - 150 lbs
63GP - 34G - 45A - 79PTS (Regular season + Playoffs + OHLCup)
Jake O'Brien's ability to impact the game is undeniable whenever he takes to the ice. This is due to his high hockey IQ, which allows him to understand where to position himself in all three zones of the rink. Specifically in the offensive zone, O'Brien has a knack for finding the puck and creating offensive opportunities for himself and his teammates. What sets O'Brien apart from other skilled players is the combination of his high-level hockey IQ and exceptional puck skills. This makes him a scoring threat every time he touches the puck. Whether stickhandling through traffic or decking around defenders, O'Brien's ability to control the puck is second to none. O'Brien's intelligence on the ice and impressive skill set make him a formidable opponent and an invaluable asset to any team. In addition, his dedication to improving his game and tireless work ethic have made him a true leader on and off the ice.
#14 Luke Dragusica - Defense (Toronto Marlboros U16 AAA / GTHL)
Height - 6'1"
Weight - 164 lbs
36GP - 2G - 14A - 16PTS (Regular season + Playoffs + OHLCup)
Leading the crop on defense for the GTHL Champion Toronto Marlboros was Hamilton Ontario native, Luke Dragusica. Dragusica has a safer projection to the OHL with his style of play, he is not enjoyable to play against. He is always looking to take advantage physically with his heavy-weighted skating style. Battling against Dragusica in the corners is a nightmare for any opponent, and he isn't afraid to take the body before going after the puck. He's always looking to take advantage of forwards rushing the puck with their head down, and he absolutely has the ability to "lower the boom".
Outside of his physical game, Dragusica is a long-strided defender that takes his time when making plays. He isn't going to rush up the ice at full speed, but he is very calm, collected, and patient when he has the puck on his stick. He wants to play a north/south game with his lengthy passes out of the defensive zone. Looking to send his teammates into the attacking zone with stride, Dragusica has the ability to seek lanes through to the other side of the neutral zone. Defensively, he is a force in front of his own net, but his long reach allows him to eliminate chances near the top of the zone before the offense is able to set up. He may only measure up at 6'1", which is a good size for this age anyway, but Dragusica plays a 6'4" style of game.
Dragusica isn't going to win any offensive defenseman awards, but he is a defender that can eat huge minutes and be a force to be reckoned with. He is the type of player that brings team's success in the playoffs with his aggressive style. The team that gets Dragusica is adopting a very mature player that understands his role and plays to his strengths. He doesn't try to do things he is not capable of on the offensive end, he emphasizes his physical and passing games which he does very well. Dragusica is a player to be aware of at all times when on the ice against him. As he continues to develop physically and learns to use his body against competition with higher speed, he is going to round out as a very reliable defender in the OHL.
#15 Ethan Czata - Forward (Mississauga Rebels U16 AAA / GTHL)
Height - 5'10"
Weight - 141lbs
53GP - 36G - 27A - 63PTS (Regular season + Playoffs + OHLCup)
Throughout the regular season, playoffs, and OHL Cup, Czata played a pivotal role on the Mississauga Rebels team. The Rebels consistently turned to Czata during some of the team's most significant moments, relying on his exceptional two-way play and situational awareness. As a centreman, Czata's positioning in all three zones was impressive. He consistently found himself in the right place at the right time, disrupting opposing offences and creating scoring opportunities for his team. What truly sets Czata apart, however, is his hockey IQ. Off the puck, he can anticipate the game's flow and find open space on the ice. Late in games, Czata proved himself a reliable and invaluable asset to the Rebels. Overall, Czata's exceptional play and dedication to his team have made him a standout player on the Rebels roster and a force to be reckoned with on the ice.
#16 Jack Ivankovic - Goalie (Mississauga Senators U16 AAA / GTHL)
Height - 6'0"
Weight - 154 lbs
The highest regarded goaltender in several years, Jack Ivankovic is projected to be a first-round lock. The OHL hasn't had a top goalie prospect from the GTHL in recent memory, but Ivankovic is going to be the next. Ivankovic moves incredibly smoothly in the net, there aren't any flaws in his physical positioning. He is very active in the net and slides from left to right quickly. He tracks pucks at a high level, and he never seems to overestimate shots or allow himself to get drawn out of position. This is the type of goaltender that can steal games for his team, and he has done this countless times for the Mississauga Sens this season.
Though his team didn't make it very far, Ivankovic proved his case once again at the OHL Cup, performing steadily in each game. Ivankovic covers a lot of net, and his frame gives him room to fill out physically. Whichever team is able to pick up Ivankovic in this draft will get a game-changing goaltender. Goaltending prospects seem to be harder and harder to find in the OHL, but it is safe to say that Ivankovic will be talked about as one of the best goaltenders in the league over the next 3-4 seasons.
#17 Luka Graziano (Toronto Jr. Canadiens U16 AAA / GTHL)
Height - N/A
Weight - N/A
63GP - 20G - 32A - 52PTS (Regular season + Playoffs + OHLCup)
With his impressive performance at the OHL Cup, Graziano led all defensemen in both goals and points, with 4 goals and 8 points. This earned him a spot on the OHLCup all-star team, and he was also named player of the game in the finals, where he helped his team to victory. However, there are other times Graziano has made a mark this season. He has been dominating the game all season long, with 16 goals and 44 points in 56 regular season games as a defenseman in the GTHL. This is truly an impressive feat.
One of Graziano's biggest strengths is his skating ability. He has excellent edges and elite mobility, which make him very shifty and challenging for opponents to defend against. He uses his skating to his advantage to gain space and open up shooting lanes, particularly on the blue line. In addition, Graziano has a quick release and can easily beat far-away goaltenders. There is no doubt that Graziano is one of the most offensively gifted defensemen in this draft. However, he must work on his strength and conditioning to become a more effective two-way player at the next level. This will help him be more effective physically on the defensive side of the game.
#18 William McFadden - Forward (Peterborough Petes U16 AAA / ETA)
Height - 5'7"
Weight - 146 lbs
50GP - 56G - 53A - 109PTS (Regular season + Playoffs + OHLCup)
Will McFadden is a winger that oozes pure offensive skill. His wicked release and ability to make plays in tight makes him a difference maker in the offensive zone. McFadden helped lead his team to the OHL Cup semi-finals and to the U16 OMHA championship title. The Peterborough Petes were a dominant team that showed up when it mattered most, and that is exactly what McFadden does. He is the player that you want on the ice to help score a winning goal at the end of the game, anytime he is in the offensive zone, he is a viable threat.
McFadden has layers to his game. He plays with an emotionally competitive edge that makes him even more fun to watch. He doesn't shy away from charging into the corners with players that are bigger than him, and his low centre of gravity makes him difficult to knock over. When rushing the puck in transition, McFadden is always driving the puck at full speed and with maximum effort. As a coach, you can feel confident knowing that McFadden is going to leave everything he has, out on the ice.
Averaging over 2 points per game in the regular season displays how much offensive success McFadden has had this season. He is able to score on a large majority of his high danger chances, but he moves the puck around a lot as well. His quick hands in tight around the net allow him to create space and seek out shooting lanes. The main concern with McFadden; his size. Levelling out at just 5'7", there are going to need to be some adjustments made with his game when playing at the next level. Putting bigger players around him and continuing to build his own strength will be crucial to making a smooth transition. I am confident that McFadden's offensive tools will translate well to the next level, the concern lies where he projects in an OHL lineup and if he can jump into a role where all he has to do is produce offensively.
#19 Kieran Riley
Height - 6'0"
Weight - 176lbs
21GP - 3G - 5A - 8PTS (Regular season + Playoffs + OHLCup)
Kieran Riley performed exceptionally at the 2023 OHL Cup tournament, representing the underdog wildcard Toronto Nationals. Despite his limited scoring, with only two goals, he made a significant impact in the games, as both were game winners, including a single-handed effort overtime winner. Riley's production this season might not be impressive, with only five points in 16 games and, unfortunately, missing a significant chunk of the season due to an injury. Therefore, he may fall in the draft day rankings. However, at the beginning of the 2022-23 season, he was regarded as one of the favourites to become the top defenseman in his class, and rightfully so.
Riley is very deceptive and hard to read, which makes him an exceptional evader of forecheckers, thanks to his quick fakes and remarkable footwork. His large frame makes him a formidable shut-down defenseman, making life hard for opposing offensive attacks. He has a long reach that makes it difficult for the opposing team to enter the zone. If they manage to do so, they face a challenge dealing with his strength and size, making it almost impossible to get past him with the puck.
Assuming he is healthy, Riley could be one of the most OHL-ready players in his class, capable of making an immediate impact in his rookie season. His size, skillset, and work ethic make him a valuable asset for any team that puts him in a position to succeed. In conclusion, Kieran Riley's performance at the 2023 OHL Cup tournament showcased his potential to become a significant force in the OHL and possibly the NHL.
#20 Rylan Singh - Defense (York-Simcoe Express U16 AAA / ETA)
Height - 5'9"
Weight - 145 lbs
48GP - 16G - 49A - 65PTS (Regular season + Playoffs + OHLCup)
Being the leader from the back end on a successful York-Simcoe team, Rylan Singh has emerged as one of the top puck moving defenders in the draft class. Singh is always prioritizing moving the puck up ice and is able to produce entry after entry for his team. His vision is what makes Singh special. He is able to find passing lanes, long and short, through loads of traffic and still send his teammate into the attacking zone. Not only is he able to find his teammates in tough spots, but he is able to deliver it into high danger spaces of the ice. He is continuously trying to get pucks to the net, and he does so with great awareness and patience. Singh doesn't force any plays, he is confident enough to remain patient and seek out the right lane. If he does get pressured, Singh is very evasive, and he can use his hands and feet to get himself out of tough situations. It will be fascinating to see how Singh can develop his game as he gets bigger and stronger, as he is sitting at just 5'9" currently. He is a perfect fit to quarterback a power play because of how much he loves to push the play and how he is able to find passing lanes.
#21 Dryden Allen (Southern Tier Admirals U16 AAA / SCTA U16)
Height - 5'11"
Weight - 161 lbs
45GP - 2G - 24A - 26PTS (Regular season + Playoffs + OHLCup)
Won Gold for Team Ontario
The Southern Tier Admirals have a standout player in Dryden Allen. He is a great pick, not only for his exceptional skills on the ice but also for his safe play style. With his expertise in headmaning the puck and driving play, Allen has the potential to be a valuable asset to any team. Additionally, he is still growing and maturing, which means he has even more potential to develop into a top-tier player. Once he fills out and gains more strength, he can utilize his slender frame to his advantage.
One of Allen's most notable strengths is his outstanding skating ability. He moves with grace and agility, making him a true force on the ice. His high IQ and excellent decision-making skills are impressive, allowing him to read and create plays easily. Allen's performance on the Southern Tier Admirals has demonstrated his capability to succeed at the next level. He has all the necessary tools and skills to become a future top-tier player.
Allen has dedicated countless hours of hard work and dedication to his craft. His abilities have not gone unnoticed by his coaches and teammates, who speak highly of him on and off the ice. Allen is a team player who is always willing to go the extra mile to support his team and help them achieve their goals. His skills, work ethic, and commitment to the game make him a standout player destined for success.
#22 Nolan Jackson - Defense (Barrie Jr. Colts U16 AAA / ETA)
Height - 6'1"
Weight - 170 lbs
50GP - 11G - 25A (U16/U18 Regular season + U16/U18 Playoffs + OHLCup)
Watching Nolan Jackson skate in transition is truly something to behold. His confidence driving the play and elite skating ability has made him a viable threat from the backend. The Barrie Jr. Colts likely would not have had much of the success that they have had without defender Nolan Jackson. The majority of offense seems to go through Jackson's hands, and though his defensive game tends to be chaotic, his offensive upside is something worth taking a chance on.
In the offensive zone, Jackson seems to find shooting lane after shooting lane and generate chances for himself. He almost acts as a 4th forward up in the attacking zone. He is able to beat attackers using his quickness, but sometimes relies on winning foot races too much to generate offense. Jackson plays a high-risk game, that is just the reality. He is often forcing plays through the middle of the ice, but his puck control and handling tools allow him to be successful. Jackson loves having the puck on his stick, sometimes so much that he doesn't move the puck enough. He has a super creative mind and is able to create opportunities that don't seem to be there at times. At the next level, he will have to pick and choose when he makes a risky play. If Jackson can learn risk management, he has a very high upside in the OHL and beyond.
Yes, there is a lot of chaos in Jackson's game, similar to Sudbury Wolves defender Matthew Mania. The tools are all there for Jackson to be successful, including a glaring confidence every time he touches the puck. If an OHL team is able to give him a long leash, Jackson has the potential to be one of the higher producing defenders in a couple seasons. He is a player that won't likely succeed if forced into a defense-minded role. The team that takes a chance on Jackson has the potential to get a severely skilled and smooth skating defender who is going to make a difference at the offensive end.