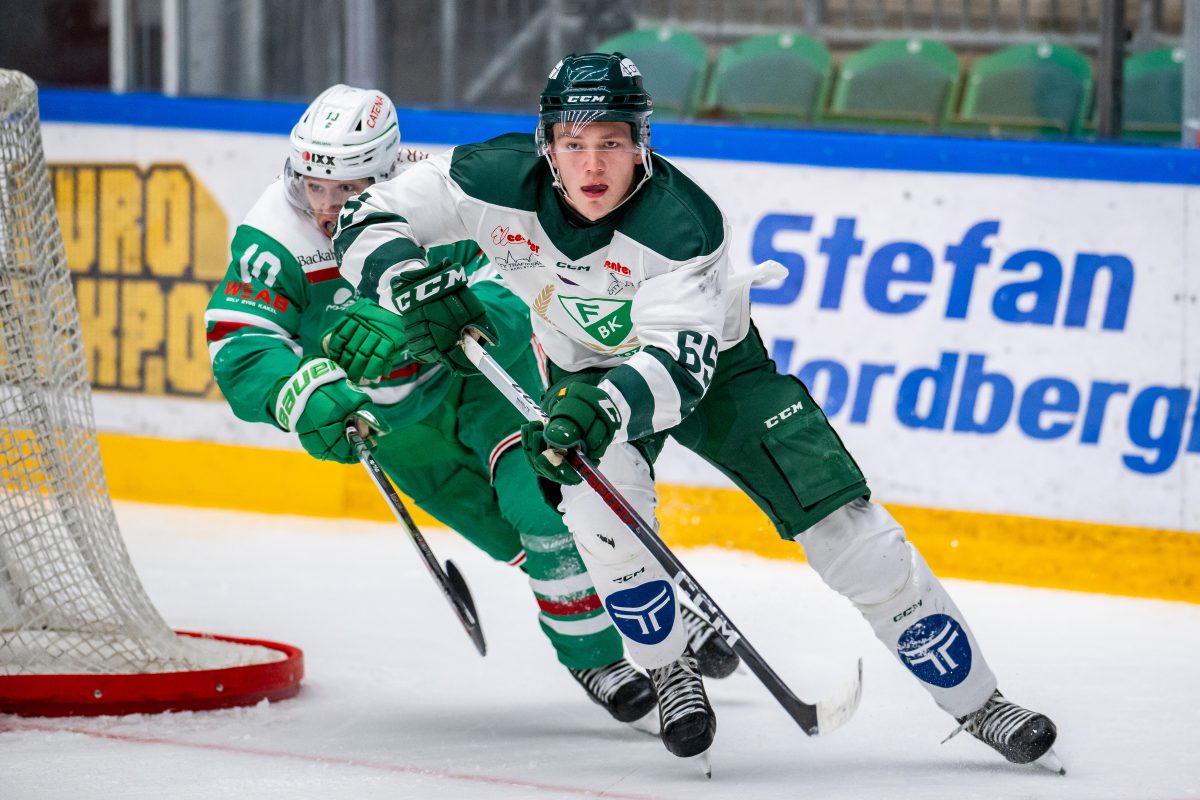 Time for another series at McKeen's from our scouting staff. The 2024 NHL Draft season is well under way and our scouts have been busy soaking in the action around the globe. Analyzing early season play can be difficult; perhaps even a bit of a ruse. Hot starts aren't always sustainable and cold starts are not always indicative. However, players can still catch our attention in positive ways and that's what this series intends to highlight.
Felix Robbins - Swedish Regional Scout
Michael Brandsegg Nygård - RW - Mora IK
6'1, 194 lbs - 5/10/2005
Michael Brandsegg Nygård was named to the starting senior squad right out of camp - to the surprise of absolutely no one. Just one year after a very strong first season with the Mora IK program, where he dominated both the J18 & J20 levels and earned a few call ups to the senior team, he is now a mainstay in the HockeyAllsvenskan. Despite not finding the scoresheet in 12 games this year, both the advanced stats and the eye test will tell you that he is as advertised - a modern power forward and a top prospect for the upcoming NHL draft.
The name of the game for Brandsegg Nygård is "get that puck". He is a relentless forechecker, using his great north-south speed and solid agility to pressure puck carriers as well as a great probing stick to cut off escape options. He utilizes his great physical strength to engage in battles along the boards and attempts to outmuscle opponents where he can, and to be frank I haven't seen him look outmatched yet. He's got a strong motor - his head and his feet are almost always moving, and if the play comes towards him he *will* get involved. That being said, he picks his battles smartly. Brandsegg Nygård has a keen eye for when to get to the dirty areas and when to position himself in support of teammates already engaged along the wall. There is always a plan in place - he doesn't just crash and bang, he does so with the intent of getting the puck to an open teammate or getting it towards the net.
MBN pushes the pace both with and without the puck. He takes efficient off-puck routes and attacks open ice, doing what's best for the team and putting himself in position to support breakouts and rush attacks. With the puck on his stick, he is inside driven, and adept at exploiting whatever space he is offered. Naturally, he attracts a lot of attention from defenders by doing so, which opens up space for his teammates and affords him many playmaking options.
Something very apparent when you watch Brandsegg Nygård is that he is absolutely locked in whenever he is on the ice. He's laser focused, playing with his head up and on a swivel. He is constantly scanning and mapping the ice so he can follow the play and be ready for opportunities to get an edge in battles for positioning, to keep the play alive in the O zone, or to counterattack off a forced turnover. He gives 110%, he's got that dawg in him, all of those cliches. To this day, I have never seen him take a shift off and never seen him give up on a play.
Like the modern power forward, Brandsegg Nygård is a capable playmaker and has a sizable amount of fine skill to his game. When the opportunity presents itself and he delves into his bag of tricks, Brandsegg Nygård shows positively elite upside. However, those moments are far and few in between. While his hands aren't lightning fast, he displays smart, deceptive stickhandling to create separation between himself and defenders. He is able to combine this with head and body fakes, drawing in multiple defenders before pulling the string on them and cutting towards the space they left for him. He is agile enough to where he is able to pull these moves with speed and in tight. His exceptional spatial awareness and hockey sense lets him gauge when he has time for such moves and when he doesn't - he understands that he's playing against professionals, and mistakes get punished hard. As a result, he is very conservative about flashing his high end skill, opting for the quick and simple play more often than not.
Personally, I think the level of play is what is impacting his relatively conservative play. He's still just a kid, he's still adapting to the pace of play and level of competition - he only recently got bumped up to the 2nd line after spending most of the season on the 4th line. Once he *really* gets the hang of what he can and cannot do, we'll see him put the moves on more. Still - the refinement of that fine skill and the incorporation of it into his repertoire on a more consistent basis will be what pushes his ceiling from mid-1st round pick to a potential top 10 pick or more.
No matter how you slice it, Michael Brandsegg Nygård is a prospect that should command your attention this year. His floor is already that of an NHLer thanks to his mature physical game and relentless forechecking, but he has the potential upside of a top 6 power winger. Despite not scoring points yet (which he will, give it time), he drives fantastic possession results as a teenager in the second highest tier of Swedish men's hockey. He's already slated to be a top 20 pick in the upcoming 2024 NHL draft, but if he can find a way to further incorporate the fine skill he flashes into his game, he could force teams to put him higher on their boards - like he already is on mine.
Here come the videos!
Here we see Brandsegg Nygård's great breakout support, hard work, and strength of body and will. He starts a breakout attempt by poking a puck for his teammate, who then pokes it right back to him. Despite having a guy all over him, Brandsegg-Nygård makes a nifty play to get it past his defender and regain control of the puck. He enters the offensive blueline, curls back and calmly hits a trailing teammate who sends it towards another teammate for a scoring chance. Plays like that typically die in the neutral zone, but not for MBN!
This is a pretty good example of Brandsegg Nygård's processing speed and of him creating offense from the boards. He receives the puck at the point and quickly runs out of room with 2 defenders closing in on him. He makes a quick bank pass ahead for himself and skates past the defenders into the corner. All in one motion, he retrieves the puck and centers it to an open teammate who fires a shot on goal.
Brandsegg Nygård has the puck taken away from him behind the opposing goal and the play goes the other way. He skates back hard, harassing the puck carrier with his stick and eventually wrests the puck free in the neutral zone. He and his team immediately counter-attack, resulting in a scoring chance. Sometimes, with his forechecking prowess and motor, I think he is Gegenpress in human form - the best time to get the puck back is right after you lose it.
This is a prime example of that high-end fine skill that, if we see more of, will push Brandsegg Nygård's ceiling to the heavens. The clip really speaks for itself - just look at the moves! This is get-out-your-seat exciting stuff, and he's pulling it off against men. Hopefully, in a year or two, he'll be doing this in the NHL.
Noel Fransén - Defence - Färjestad BK J20
6'0, 179 lbs - 7/12/2005
One of the biggest surprises of the season so far, Noel Fransén entered his draft year as a prospect that probably not too many people had high up on their watchlist. He's got a small-to-average frame for a defenceman and played just 7 games (14 total, counting playoffs) at the J20 level before this year. However, after a torrid start to the season with 13 goals and 22 points in 19 games, he's turned more than a few heads (mine included). Whether or not the heater that he is on is sustainable, Fransén has played himself into the spotlight and definitely deserves the attention he is getting.
Fransén falls into the category of offensive-minded defenceman with the ability to transport the puck. He displays confidence with the puck on his stick, identifies open lanes to exploit in transition, and uses his quick feet to execute zone entries and get his team set up on offense. I've seen him take the puck coast-to-coast for a high danger scoring chance on more than a few occasions. If no skating lanes are available for him, no problem. He has a great first pass - can hit both the short, simple option or the long outlet to a cherry-picking forward. He supports breakouts just fine, but he really shines when supporting the rush; he jumps up on the play like a 4th forward.
Fransén has shown instinctual puck distribution ability and that he is a lethal scoring threat, both at even strength and on the powerplay. He keeps defenders on their toes along the blue line; they don't know if he's going to pass, shoot, or fake one of the afformented options and activate into the play. He displays a ton of deception with the puck on his stick, and defenders have to close him out - especially when he's shown time and time again that he knows how to score. Frasen can effectively quarterback a powerplay as well, moving the puck well and attacking open ice both on and off puck. He does lack a high-end stickhandling ability, and he isn't as explosive as what you'd normally associate with a triple-treat offensive defenceman. However, I think Fransen can still create space for himself well enough and is well above average in every other offensive category you can think of.
As I mentioned before, Fransén is a very offensive-minded defenseman. This label comes with rather negative connotations defensively, though he is no slouch. Fransén plays a subtle physical game, despite his average frame and lacklustre physical strength. He doesn't throw a ton of hits, but he definitely mixes it up in the corner. His boardplay habits are solid, and the way he positions his frame when closing out attackers is constrictive enough to cut off passing, shooting, and skating lanes. His in-zone defense has been effective enough to earn him reps on the penalty kill as well.
While his in-zone defense is quite good, Fransén's rush defense is a bit all over the place. Gap control has been an issue, as Fransén lacks a bit of mobility on his edges and unfortunately gets turnstiled a bit. His reads and decisions are often a little hit or miss, and he takes rather direct routes to pucks which can often take him out of position. He also has a tendency to seemingly give up on the play once he's beaten, which is incredibly frustrating to watch. There are positives, as he finds some success probing with his stick, but ultimately he's got to get better at controlling the rush and improving his physical game further.
Fransén's lack of physical strength extends to his puck protection and control as well. While he is elusive and shifty with the puck on his stick, the times he does get checked by a stick or body loosens the puck more often than not and kills the play. He's young, so I don't doubt that his strength will come as he develops. However, right now, it does limit a few aspects of his game. Fransén is a raw talent, and he's going to need time to step into the player he can become.
Despite being a raw talent, the upside with Fransén is very promising. He could be a bonafide triple threat on offense if it all comes together. While there are a few "ifs" clouding his ultimate projection, I think he has the potential to become a top 4 offensive defenceman who can shoot, pass, and move the puck with efficiency. He could end up anywhere between an Erik Brannstrom to a Morgan Reilly. If I have the chance to gamble on a potential Morgan Reilly in the 3rd or 4th round, I'm taking that risk all day. I'm keeping a close watch on Fransén this year. It'll be interesting to see if his bushels of points earns him a call up to the Farjestad senior team and I'm looking forward to seeing how he fares there.
Here come the videos!
Fransén with some nice edgework and crossovers along the blueline, losing a defender and creating a shooting lane for himself. He's able to unleash that beauty of a shot.
In this sequence, Fransén battles through a contested breakout and hands off the puck to a teammate before joining the rush like a forward. He's rewarded with a goal for his efforts.
Here we see the good part of Fransén's defensive game as well as his ability to take advantage of the ice afforded to him. He disrupts a zone entry with a well timed stickcheck and takes the puck for a coast-to-coast skate. He makes a nice move on his man, drives to the net and sets up his teammate for a high danger scoring chance, which they capitalize on. Not many D men who can do that!
Here we see a bit of that mental rawness I mentioned earlier. Fransén is late getting back off a turnover, gets beat the other way and then starts slowly skating towards the play. He didn't turn it over or do anything too egregious, but I'm highlighting this because of how he just kinda gives up when the skater is past him. Coaches (and anyone watching) hate that kind of stuff - skate back hard no matter what.
Alfons Freij - Defence - Vaxjo Lakers J20
6'1, 192 lbs - 12/2/2006
I first saw Freij at the 2023 Hlinka Gretzky, where he was one of the few bright spots on a rather disappointing Swedish team - easily one of their most reliable passers. When I was meant to be watching his Vaxjo defensive partner Leo Sahlin Wallenius, I couldn't take my eyes off number 86. He's just that captivating. Freij is dynamic, exciting and a little bit chaotic. Freij goes out there and wants to make a difference every shift. He wants to push the pace, he wants to make something happen and, more often than not, he does. Let me break down what I love about Alfons Freij, who is probably my favourite defenceman of the Swedish region so far.
Freij plays on the right side, but shoots left. He's an explosive skater, and easily one of the most mobile of any player in my viewings so far. He oozes confidence with the puck on his stick. I've seen him take the puck from behind his own net and skate it all the way into the offensive faceoff circle so many times that I find myself wondering how it can be so easy for him. Freij's skating prowess attracts a lot of attention from defenders, which opens up space for teammates and allows him to find passing options a lot easier. His vision and creativity lets him pull off passes and plays that other guys just can't fathom - they don't always work, but the ideas are there. When he is able to pull off what he's concocted in his mind, it's awesome. The simple stuff is solid, too. Breakouts are almost never an issue. He can hit the short first pass or the long bomb across the ice. There aren't too many guys in the draft who can move the puck like Freij can, and I would assert that it (along with his skating) is his most projectable attribute.
The fun doesn't stop there: Freij is a constant offensive threat in the offensive zone, both on and off the puck. He uses his skating to create a bit of separation from himself and his mark, though he doesn't need a ton of space to make a play. He receives passes with his head up and his feet moving, already processing all the ways the play can go. Freij has got a head full of ideas and a big bag of tricks. He is a gifted puck distributor, and his ability to distribute pucks is made that much easier by his ability to activate into the play and attack space. Sometimes he gets multiple defenders to bite, which opens passing and shooting lanes for his teammates. He's got a hell of a shot as well - defenders have no choice but to respect Freij's ability, especially due to his deceptive and unpredictable playstyle. As one might assume, he's a lethal weapon on the powerplay, too.
Not every play is perfect with Freij. He likes to take risks, and they don't always pay off. A shift where he skillfully walks the blueline, attracting 2 defenders before pivoting and exploding past them for a scoring chance can just as easily be followed up with one of him skating into triple coverage and letting 'er rip, leading to a turnover. These decisions, while unsafe and suboptimal, are not indicative of a lack of hockey I.Q., but rather a sense of experimentation. I see it as Freij testing out what he can and cannot get away with at the J20 level. When he fails, he learns. I see his bravery and creativity as a positive - so long as the good decisions keep outweighing the bad ones.
Like most offensively gifted puck movers, the less good part of Freij's game is in his own end. While he can close out attackers well thanks to his speed and he can harass puck carriers thanks to an active stick, his positional awareness when defending in-zone can really be an adventure. He can sometimes bite too hard on one-versus-one situations in man coverage, sometimes ending up as far as the blueline. Typically that ends up in a mismatch down low, leaving a 5'8 forward to fill in for him along the post. This may be a bit of an overreliance on his skating ability and/or that understanding of risk-reward I mentioned earlier - hopefully he'll grow out of that as he matures. He isn't very good at clearing the crease, either. He's got decent size, so putting on a bit of lean muscle should help with that eventually, but he'll never be a bruiser. Despite these shortcomings, he still sees time on Vaxjo's PK.
While his in-zone defence is a work in progress, Freij's two-way game really shines defending the rush. He's got an active, probing stick, he matches oncoming attackers forward skating with his back skate and knows the exact right moment to turn his body. His gap control is quite good, as he is able to separate the puck from the carrier with well-timed stick checks and powerful-enough body checks. So while Freij's two-way game needs some work, I think it is more refined than most offensive-minded defenseman in the draft class - certainly far from a glaring hole in his game.
Alfons Freij is a rockstar. He's exciting, explosive, and a little bit chaotic. He's dialed in every shift and works his butt off to make something happen. He skates like the wind, he oozes confidence and fine skill, he's a constant offensive threat, and he plays perfectly adequate defence for an offensively gifted defenceman. His ability to move the puck from the D zone to the O zone is, from what I've seen, among the best in the draft class. I think Freij's game will play at higher levels once he develops physically and matures a bit on the decision-making front. If everything goes right, I can easily see him playing a top 4 puck moving offensive defenceman who can QB a powerplay and chip in on the PK. With the way he's playing so far this season, I could see Freij entering the 1st rounder conversation - hopefully he gets a well earned call up and we can see what he does at the next level.
Here come the videos!
In this clip, we see Freij's ability to activate into the play with ease. He sets up a give and go play with his teammate, draws attention towards himself with deceptive skating and puck handling before exhibiting some great vision on a cross seam pass.
Here we see some more creativity and excellent vision. Attempting to break the puck out, Freij lures a forechecker into overcommitting before using the net as a sort of "pick" and skating away from him. With a bit more open ice to work with, Freij fires a long pass from blueline to blueline and his team is able to get set up for some sustained offensive pressure.
I love this sequence. Here we see some great scanning habits and playmaking chops. Freij shoulder-checks twice before receiving the puck - once before the pass is in motion and once before the pass hits his stick. With the information he's collected, he crosses the blueline with his body turned toward the ice, lures in two defenders and makes a gorgeous lead pass to the slot. His teammate buries it and it's a fantastic apple off a very creative play from Freij.
So, here's some of that questionable decision-making with the puck I mentioned. There is a ton of traffic clogging up the middle of the ice. Upon receiving the puck at the point from a pinching D partner down low, Freij proceeds to build speed and skate into five or six guys and fire an off-balance low danger shot. He had a teammate wide open to his left and, with a bit more patience, could have made a better play there. Instead, he basically gives away possession of the puck.
Adam Hesselvall - RW - Sodertalje J20
6'0, 176 lbs - 10/4/2006
Adam Hesselvall was impressive to start the year with Sodertalje's J20 club, tallying 10 points in 10 games in the month of September and absolutely peppering the net with shots. He is one of his team's most reliable shooters, and 2nd behind teammate William Samuelsson in points for draft eligible players. His scoring cooled down considerably and his play was a bit all over the place in October which saw him splitting time between the j20 club and the j18 club. However, he still peppered the net with shots and showed the same good qualities that led to the success he had only a month ago. Allow me to break down why I liked Adam Hesselvall's game and why there is still hope for him to turn it around.
Adam Hesselvall is a very different sort of player that I am usually optimistic about. He's more of a cerebral, floater type of player than a high-motor guy. This doesn't mean he is uninvolved in play. Instead, Hesselvall sits back and waits for the most opportune moment to engage in play. It should be noted that Hesselvall's physical attributes are more suited to this style of play as well. He isn't the fastest or the most agile skater, nor is he the strongest guy out there. That doesn't mean he can't build speed and turn on the jets for a rush opportunity or go to the net and battle for position - it is more to say that his game is driven by his excellent hockey sense and timing.
A staple of Adam Hesselvall's game is his shot. He has a quick, accurate release, and is used as a triggerman on the Sodertalje J20 PP1. To complement this aspect of his game, Hesselvall is extremely adept at finding soft ice and putting himself in positions to get a shot off. He typically sneaks behind unassuming defenders in transition and makes a break for the net once the puck hits the offensive blue line, or punishes poor defensive positioning by floating down low undetected. This has been the recipe for his success early on - identifying soft ice, getting open, exploiting the opportunities he's been given.
Since Hesselvall's shot is such a prominent aspect of his offensive game, defenders have to respect it. Once Hesselvall establishes his shot, he looks to pass or fake and get closer to the net. He has a very mature puck-handling game, choosing the right move to beat his man rather than overhandle. He has shown great poise with the puck and is typically a patient playmaker, but rather inconsistently so. He can get a bit too trigger happy at times, which has only been amplified since he's been in his slump. Still, from what I've seen, he's got some silky mitts when an opportunity to use them presents itself.
The main concern with Hesselvall is going to be how he adapts when his tried-and-true playing style doesn't work. He can get forced to the perimeter due to his lack of physical strength, which lessens the lethality of his shot. When his shot isn't finding the back of the net, which it hasn't been for the past few games, Hesselvall has a tendency to fade into the background. I know that sounds rather grim for his outlook as a potential draftee, but I beg to differ. Even in his slump, the awareness and anticipation on both sides of the puck are still very good. His ability to support the rush and to attack open ice is still there. However, when the puck gets to him in the offensive zone, his hands tighten like a vice on his stick and he stops thinking. Hesselvall is an intelligent player, but he needs to learn a way to get himself going when the shot isn't working. If he can really dial it in, and (paradoxically) loosen up a bit more, I think we'll see more of the Adam Hesselvall that I was so excited about in september.
Here come the videos!
Here we see Hesselvall's ability to support the rush by sneaking in behind the opposing team and controlling his speed in time with the puck carrier. Then, once the puck hits the blueline, he activates and receives a lead pass in front of the net for a dangerous scoring chance. Not one defender knew he was there until it was too late.
Hesselvall has ice in his veins, and this clip proves it. He avoids contact from 2 defenders and skates the puck behind the opposing net. Slowly, he brings it around front, puck handling all the way. He waits, waits, waaaaaits and then, just when you think he's gonna shoot, he waits some more before finally shooting. It doesn't go in, but he got absolutely everyone on the ice to bite. Great deception and skill from Hesselvall.
Here we see Hesselvall lose that aforementioned ice in his veins. Mid-slump, he gets a partial-breakaway opportunity thanks to some fine defensive work by his teammates. He gets to the hash marks before he starts to feel the pressure from the defender behind him and, instead of just driving to the net through pressure or waiting/creating for a better play, he fires a muffin into the glove of the goalie. You can tell by his body language that he isn't happy with himself after that one. Once he learns to trust his stuff and not rely on his shot, plays like that will disappear.
Another great play, this time leading to a goal. His team is on the powerplay and Hesselvall receives the pass along the half wall. With his head up, he collapses slowly towards the net looking for an opening. He finds one and wires it home through the 5-hole. A well placed shot - the staple of Hesselvall's offensive game. Hopefully he finds that touch again soon!