Welcome to the first in what should be a set of recurring AHL divisional updates that we will be publishing throughout the year. Approximately once per month for each AHL division, we will be bringing you, our faithful and amazing readers the latest and greatest about the prospects who are one injury away from the NHL.
Throughout the month of October, the American Hockey League's Central Division welcomed two big divisional shakeups. One was the introduction of the Texas Stars and San Antonio Rampage, previously from the Pacific Division ranks, to the Central.
The next was much bigger: instead of sharing affiliates with other teams, the expansion of the AHL to 31 teams gave the Vegas Golden Knights and St. Louis Blues their own farm clubs. The Blues assumed full control of the Rampage from its previously shared state, while the Knights and the Chicago Wolves -- who had select Blues prospects and various loaners on the roster last season -- fully embraced their partnership.
This has had an impact on the development of star pupils from each of the organizations, as has the aforementioned move of Texas and San Antonio to the Central Division. In the first edition of a new season-wide, monthly chronicle, we will be "emptying the notebook" on prospects and team analysis from the AHL's Central Division in this article.
Similar to our Yearbook work, the notebook will have info on prospects in the AHL from a scouting perspective.
Milwaukee
Exciting forward prospect Eeli Tolvanen, whom Nashville grabbed late in the 2017 first round, has shown that he is worth the buzz so far. With six assists compared to one goal early on (as of this writing in the first week of November), he is exhibiting his willingness to improve as a facilitator despite having perhaps the best wrist shot in the Nashville prospect system. One thing that helps: he is extremely poised for a 19-year-old and looks more mature than some of the vets on the team.
Emil Pettersson (13th in Predators prospect rankings), the older brother of Calder Trophy frontrunner Elias Pettersson, hasn't been too shabby either. Emil (4-5-9) is playing with more assertiveness and speed on the puck compared to last season, and maintaining the smarts that made him valuable to begin with. Recently, Pettersson began playing on the Admirals' top power play unit.
Chicago
Part of the Vegas Golden Knights' first ever draft, Erik Brannstrom (3rd) was one of the most exciting defensemen in the European leagues last season and has continued to light his competition on fire in the AHL. Brannstrom has nine points in as many games, leading a Chicago blueline with former first-rounder Griffin Reinhart (16th) and fellow 2017 pick Nic Hague (4th).
Brannstrom's game is built around his speed and fearlessness offensively, and he has effectively carried those traits into his pro career. He has maintained responsibility in his own zone as well.
Iowa
Wild "goaltender of the future" Kaapo Kahkonen was impressive in his first month of North American pro hockey. Kahkonen, the seventh-ranked prospect in the Minnesota system coming into the season, has made two starts and has allowed just four goals on 58 shots against for a 1.96 GAA thus far. Kahkonen uses his glove hand well -- always keeping it high and ready, has tremendous footwork and overall athleticism, and looks composed at all times despite occasional defensive lapses. At just 22 years old, he is well above his AHL rookie peers.
Mason Shaw, a 19-year-old rookie winger, has produced eight points in nine games by virtue of his sublime skating and sensational puck-moving/facilitating skills. The WHL product has definitely not looked like a player who tore his ACL last year.
Forward prospect Luke Kunin (third-ranked Wild prospect) exhibited his high-energy, skillful game, but had done a lot of promising physical stuff in October as well. After tearing his ACL and ending his first pro season too early last year, the former World Junior Classic gold medalist has started his season with a bang (3-4-7 in six games). Kunin is also becoming more physically assertive and using his body to win pucks; a good sign for his health.
The undersized Sam Anas (18th-ranked Wild prospect) has shown his worth as a 25-year-old former free-agent signing, using his quick, whippy wrist shot release to generate the fourth-most shots on the team thus far. The scrappy right-winger is playing top-line minutes for the Wild.
Manitoba
Mason Appleton (3rd) has picked right back up on his incredible scoring efforts from last season (22-44-66 in 76 games) with a team-high 11 points (six goals, five assists) in 11 games. The second-year pro transformed into an offensive catalyst coming out of Michigan State, as he continues to improve on his otherwise flawed skating abilities. Appleton's finishing touch and his shot-generation are noticeably improved this season also.
Top-ranked prospect Kristian Vesalainen has been a welcome presence in the lineup with four assists in four games after being assigned from Winnipeg in the middle of October. He has been a beast low in the zone, using his 6-4" frame to beat the AHL's beefy defensemen in the cycle game. His future NHL top-six potential has been on full display.
Rockford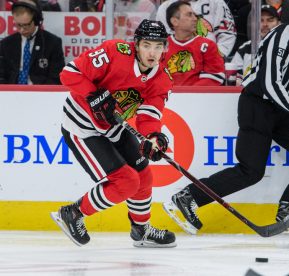 Dylan Sikura should undoubtedly be in the NHL. He has top-flight skill, speed, and hand-quickness, and is mature enough as a 23-year-old former NCAA player to hold his own in the middle or top-six with the Blackhawks. But I'm not complaining about getting to watch him play in the AHL.
The third-ranked Blackhawks' prospect has led the team in scoring so far (4-6-10 in 12 games), throwing 44 shots on goal with a sense of urgency with the puck. He is shooting more than ever early on, and on account of that, he could be the necessary depth-scoring option in the Hawks' lineup.
Intriguing forward prospect Victor Ejdsell (7th) has been noticeable so far. He is not the best skater, but he has great size, positioning, and shooting touch. Acquired by the Predators in the Ryan Hartman trade at the deadline last season, Chicago got a solid middle-six guy and a potential power play weapon, if his AHL results are any indicator.
How Rockford will adjust from Jeremy Colliton, their former head coach who jumped into the role of the Blackhawks' bench boss, to new interim coach Derek King, remains to be seen. They might run the exact same schemes and whatnot, but the locker room culture swap might change a lot in Illinois.
Texas
Rookie centerman Joel L'Esperance has stolen the show for the Stars early on into the season. After impressing the front office and earning an NHL contract last season, the formerly undrafted forward was one of the team's top scorers in October (5-3-8). A big-bodied forward capable of playing all three spots up front, L'Esperance is a pest on the puck and hard to shove off the rubber. He exerts full effort in the defensive zone and in backchecking, exhibiting his high-quality skating skills relative to players his size, and has some untapped skills and fancy stick-handling on which to build going forward.
Top-ten prospects like Colton Point (6th in our yearbook's Stars prospect rankings), Denis Gurianov (8th), and Adam Mascherin (10th) have seen a bounty of playing time, with varying results. Gurianov (6-4-10) is the top scorer on the Stars thus far as his assertiveness and all-around maturity have taken major strides this season.
Mascherin (3-2-5) is getting there, incorporating his booming shot and creativity into the offensive attack. His skating still lags, but the former OHL star has the raw talent part down. Point (1-2-1, 3.91 GAA, .851 SV%) struggled in his first month as a pro, as he adjusts from the chaotic crease of an undermanned Colgate squad to a team with a competent defense. Right now, his biggest problem is wanting to do too much, and his upbringing with a poor NCAA team is at fault for that.
Grand Rapids
Top prospect Filip Zadina -- the sixth-overall pick in June -- has had his ups and downs in his first pro month. With seven points in 11 games (four goals, three assists), his raw skill has been on full display at times, as his near-elite shooting and high-grade skating have helped him produce exceptionally well considering that he is 18 years old and is playing in the world's second-best league. Other times, the heralded winger has looked lost, both on offense and on defense. During games, he has gone through long stretches of complete obscurity, unnoticeable for dozens of shifts in a row. As he acclimates to the pace of pro hockey, he should be fine.
A relatively off-the-radar defenseman who has been impressive thus far in 2018-19 is Vili Saarijarvi. Heralded as an offensively-creative d-man early into his pro career, the 2015 third-rounder was anything but last season. However, he is using his legs more to create space for teammates and handling the puck up the ice more than ever. Saarijarvi was unranked in our preseason rankings.
San Antonio
The Rampage are terrible. After a month of play, they sit at 3-10-0-0 (six points) and at the bottom of the Central Division, so it is hard to buy into top St. Louis Blues prospects with underwhelming offensive numbers. Klim Kostin (2nd) has just five points (two goals, three assists), but he has been fine, incorporating his speed, playmaking, and physical gifts to his advantages.
Goaltending pupil Ville Husso (7th) has been getting his reps in behind a struggling team, but has recorded a 1-7-0-0 record, 3.17 GAA, and .890 SV%. Husso, 23, is so late into his development that a poor team might actually help him; he has the physical and mental aspects of goaltending down, but a squad like the Rampage can teach him how to stay calm, composed, and ready to fight.