As the shortened NHL season draws to an end and the trade deadline is behind us, many a fantasy GM's are watching the standings to see if they prevail as either league champion, or lottery contender may think their fantasy season is over. Well for you die hard fantasy hockey enthusiasts out there like me, it's never over! Now is the time to examine your off season strategies.
For those of you in keeper leagues with a salary cap there are major decisions ahead. The NHL salary cap is dropping to $64.3 million from just over $70 million, almost $6 million. Many leagues attempt to mirror the NHL as close as possible and this probably means you will need to shed some cap.
Where to begin?
The first thing you need to do is determine what your league cap is and go from there. Next is to determine what your team cap is for next season. The simplest way to do this is write out your team and use capgeek.com to project your cap player-by-player for next season and beyond. This is a great way to understand your cap situation. Making trades in a keeper and capped league without understanding the cap implications can have devastating consequences. You have to know what players are heading to free agency, and how much term a player has on the balance of his deal. Once you have a handle on your teams cap, you will either be a buyer, or a seller.
Selling strategies
If you are over, it is time to look at individual contracts on your roster and start shopping them for rookies, prospects, or picks. You should not expect to get good value for overpriced veteran players such as Shawn Horcoff, Ryan Malone, and Jay Bouwmeester etc. Just purging these players should be considered a winning deal regardless of what you get back in return.  Your best chance to get a good return is with players who have contract extensions kicking in next year. If there is a GM in your league who does not stay as well abreast of the news in hockey they may not be aware that Jordan Eberles contract jumps by $4.847 million in 2013. This will allow you to make a deal that saves you some precious cap while still providing top end return.
While you may not be interested in moving stars of that caliber, if you need assets in return, these guys can fetch that. Other players with rising contracts include Brad Marchand and Milan Lucic + $2 million, Kyle Turris +$2.1, Wayne Simmonds +$2.225, and Alex Burrows + $2.5 to name a few.
If you can swap a high cap player for draft picks do so, this is a very good draft year. The projected NHL level talent of this summer's draft class is one of the best in recent years. Mid first round picks through early second round picks are all potentially high quality NHL future players. If you stock up on draft picks, be sure to do your research by using the McKeens 2013 NHL Draft Guide
Buy Outs
The NHL amnesty buyouts will be key factor in your off season. Whether or not your league has offered you a get out of jail free buyout or not, players in the NHL who are bought out may be enough to save your bacon. Expect some albatross contracts such as Tomas Kaberle, and Rick DiPietro to be bought out.  Having these players dropped from your roster like a bad habit will help. Some players may be bought out, and then resign for steals similar to what happened with Scott Gomez and Wade Redden prior to the start of the season. Potential players include Ilya Bryzgalov, Brad Richards, Danny Briere, Dany Heatley etc. These players have an anchor for a contract, but still have good hockey and fantasy value in them. If you own them, I would wait until the decision to buy them out has been made by their NHL GM. They could end up being great value on a new contract with a new team.
Buying Strategies
 If you have cap room, then you are in the enviable position of exploring teams that are over and will be forced to part with players earning good money to keep their roster legal. This is your opportunity to really put it to your counterpart and take advantage of his dilemma and trade rape them. This is exactly what every NHL GM is doing to the Vancouver Canucks with Roberto Luongo. Luongo has to go. He wants out, and the Canucks must move him for cap reasons. Their problem is, everyone in the hockey world knows this and is patiently waiting for Mike Gillis to be forced into a trade rape situation where he parts with Luongo for next to nothing.
Look for teams who are over the cap, and may even have players who have raises kicking in or a free agent or two who will be in line for a big raise.  Do not make the mistake of solving some other GM's problem by taking a brutal, massive contract with long term remaining. I'm talking about guys like Vinny Lecavalier, Brad Richards, and Roberto Luongo etc. I would even be very weary to take on player who are good now, but have mega term such as Zack Parise, Ryan Suter, Shea Weber, or  Ilya Kovalchuk because as their production begins, and continues to decline, their cap hit stays the same.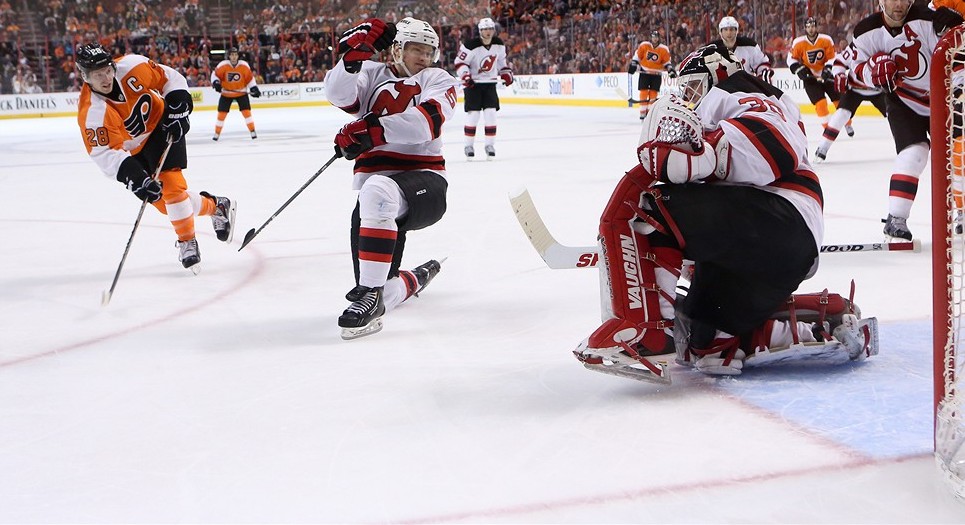 Target players with mid-range contracts and who are producing, even if they have term. Ideal candidates include Jeff carter ($5.272), Matt Duchene ($3.5) Kris Letang ($3.5) Logan Couture ($2.875) Phil Kessel ($5.4), Joffrey Lupul ($5.25), and my favorite contract, Claude Giroux at only $3.75! Any of these players and their contracts are the kind of match you can use to build a juggernaut of a fantasy team around. Their high production and low cap allow you to surround them with other expensive players who are producing, and balance your roster out with some cheap cap bargain rookies.
The Plan
Plan your work, and work the plan. A cheesy cliché I learned in training many years ago but it is sound advice and is applicable to many situations in life including fantasy hockey. Even though there is a roster freeze in effect in most leagues this is a good time to examine your off season strategy  and develop a plan. Buyer or seller, you will need to identify players and assets you need to move out, or may want to acquire. Acquiring draft picks is only useful if you are prepared at the draft and have a list of players you have scouted. Having done your homework in advance of the off season will allow you to work the trade phones and rock the draft. When the next season comes along and your team is at the top of the standings you can sit back and smile with a cigar and say "I love it when a plan comes together"