For most, trying to predict fantasy goalies is a little like trying to predict where lightning is going to strike. If you are like me, you need all the help you can get. One thing you can do to help better prepare for your fantasy draft is to rank goalies by tiers. Depending on your leagues size, format, and scoring mechanism you can have all different kinds of values associated to players. With goalies, there are a few constants which apply to most leagues and situations that you need to take into consideration.
Skill level of the goalie
Situation: is he the sure-fire staring goalie looking at 50 – 60 starts
Strength of the team: Lousy teams usually equals lousy goalie stats
Below I will rank the top 50 goalies and categorize them into groups. Heading into your draft, you should have an idea of how much value you want to place on a goalie. How soon do you draft one, do you want an elite goalie, are you happy with two good goalies. You can put all your eggs in one basket and use a first round pick on a player like Carey Price. You may think that the league elite goalies fluctuates so much each year, and you would be correct, and therefore you wait until mid-draft and pick a goalie who may have a monster year. Once you have an idea of how your draft strategy, you need to look at ranking the goalies into a tier system. I suggest looking at some of the better fantasy hockey predictors such as the McKeens yearbook, and Dobber hockey and then create your own draft tier list like the one I created below.
Tier I: The Elite
These are the best of the best; they play on Stanley Cup contenders and are the undisputed starter, and are Vezina calibre.
1. Carey Price, Montreal Canadiens – He won it all last year, Vezina, Hart, Lindsay, and Jennings.
2. Henrik Lundqvist, New York Rangers – King Henrik is arguably the best goalie on the planet.
3. Jonathan Quick, LA Kings – No contest who is the starter with the two time Cup Champion.
4. Braden Holtby, Washington Capitals – New addition to the top five after a breakout year.
5. Ben Bishop, Tampa Bay Lightning – Big Ben needs to stay healthy, if so he is elite.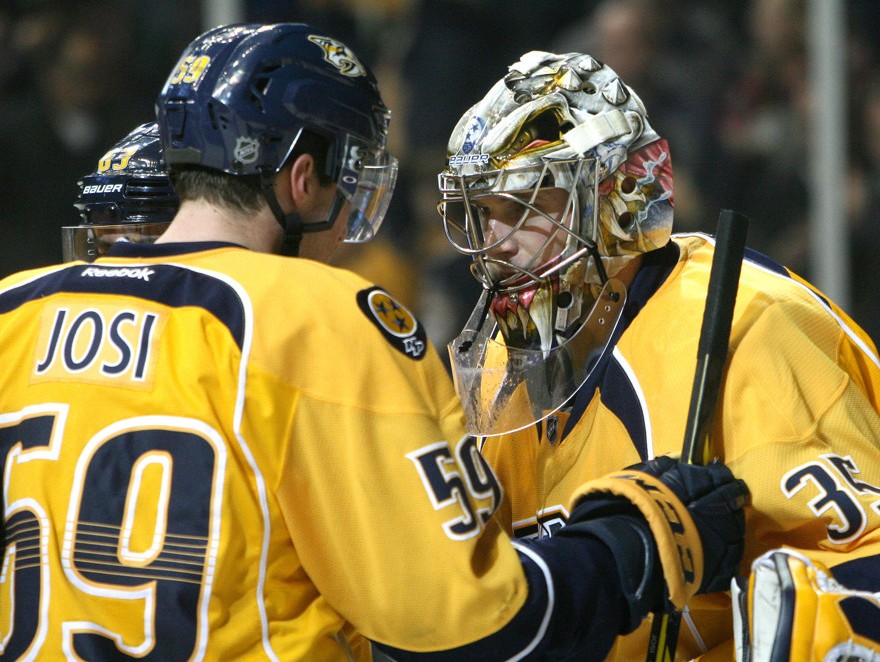 Tier II: The very good
Nothing wrong with this group, they are all capable of being elite but have some question.
6. Pekka Rinne, Nashville Predators – Re-established himself after an injury lost season.
7. M.A. Fleury, Pittsburgh Penguins – Always has strong regular season stats and the Pens have beefed up.
8. Tuukka Rask, Boston Bruins – Rask is solid, but what direction are the Bruins headed?
9. Corey Crawford, Chicago Blackhawks – Crawford struggled at times and temporarily lost the crease in playoffs to Scott Darling. A hiccup or a warning sign?
10. Jaroslav Halak, New York Islanders - Was unable to get job done in St. Louis but has looked good on the Island. The Islanders are a team on the rise, can he do for them what he couldn't do in St. Louis?
Tier III: Good goalies in bad situations
11. Semyon Varlamov, Colorado Avalanche – The Avs had a huge regression but Varly remained solid.
12. Sergei Bobrovsky, Columbus – Injuries killed the season last year but Columbus are a team on the rise
13. Roberto Luongo, Florida Panthers – Roberto is getting older, will the Panthers improve while he can still make a difference?
14. Corey Schneider, New Jersey Devils – Entering his prime but desperately needs some run support.
15. Steve Mason, Philadelphia Flyers – Flyers may have finally found their starting goalie
16. Devan Dubnyk, Minnesota Wild – This time last year he was a fantasy after thought, then went on to play in over 40 straight games earning a Vezina nomination. Would the real Dubnyk please stand up?
Tier IV: Should be the starting goalie on a good team…should be!
17. Jonas Hiller, Calgary Flames – Rebound season, Flames projected to regress, contract year, a lot of questions with this player.
18. Frederik Andersen, Anaheim Ducks – With the addition of Khudobin and Gibson pushing, Andersen could lose some starts at the first sign of trouble.
19. Craig Anderson, Ottawa Senators – Has elite type stats, but can't stay healthy. Had the crease burgled late in the season.
20. Ryan Miller, Vancouver Canucks – Jacob Markstrom will push Miller who struggled at times last year.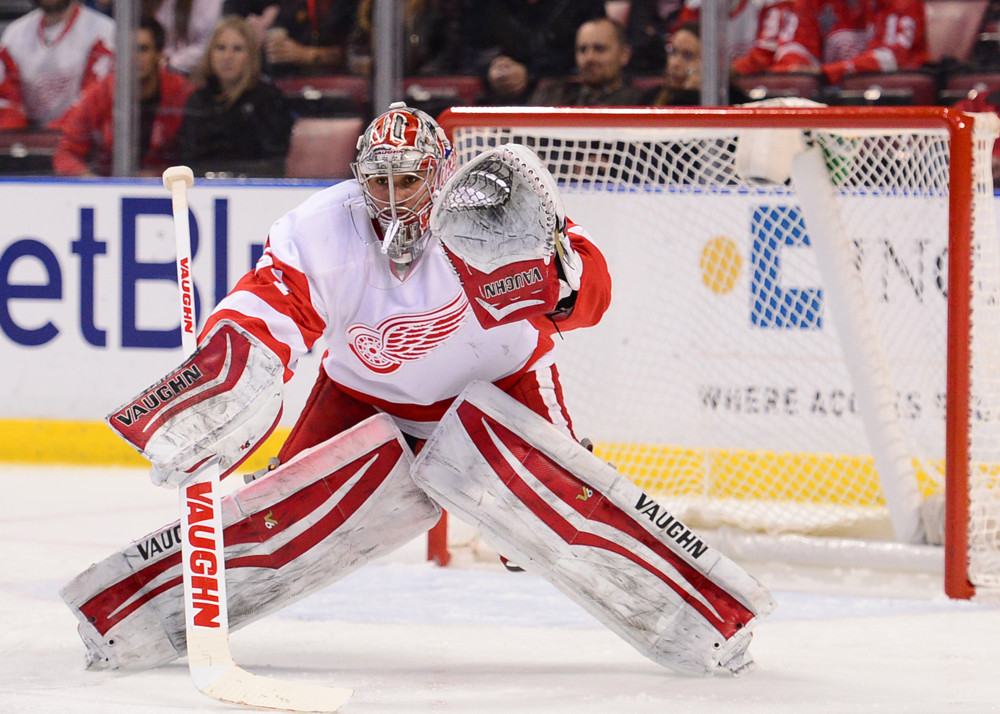 Tier V: Split starters on good teams
Tandem situations where the team will ride two goalies, ideal for handcuff situations
21. Jimmy Howard, Detroit Red Wings – Lost the starting job in playoffs, but contract says he is the starter
22. Petr Mrazek, Detroit Red Wings – Is younger and arguably better than Howard.
23. Brian Elliott, St. Louis Blues – Like Howard, lost the starting job in the playoffs.
24. Jake Allen, St. Louis Blues – Is the gaolie of the future, which could begin immediately.
25. Kari Lehtonen, Dallas Stars – Brutal season, may flourish with less pressure.
26. Antti Niemi, Dallas Stars – Couldn't cut it as a starter in San Jose, may work well in tandem.
Tier VI: The Unknown
Potentially great goalies, potentially getting their first crack as a number one.
27. Martin Jones, San Jose Sharks – Sharks could have a good season and Jones could see the lions share of the starts.
28. Robin Lehner, Buffalo Sabres – Tim Murray believes in Lehner, he drafted him in Ottawa, gave up a first to bring him to Buffalo, but has injury history.
29. Cam Talbot, Edmonton Oilers – Talbot was excellent spelling Henrik Lundqvist when he was injured behind a strong New York Rangers defence.
Tier VII: Split starters on bad teams
30. Jonathan Bernier, Toronto Maple Leafs – The Leafs badly want him to be the answer in goal.
31. James Reimer, Toronto Maple Leafs – Clean slate in Toronto with new management, it's now or never for Optimus Reim.
32. Ondrej Pavelec, Winnipeg Jets – The Jets are not a bad team, but Pavelec has proven to be very inconsistent
33. Michael Hutchinson, Winnipeg Jets – Again, Jets are a good team, but Hutchinson struggled later in the season
34. Cam Ward, Carolina Hurricanes – Ward has been in steady decline, but is in a UFA contract year.
35. Eddie Lack, Carolina Hurricanes – Lack is a player on the rise. In a better situation he would rank higher. His time may come next year, or as soon as now.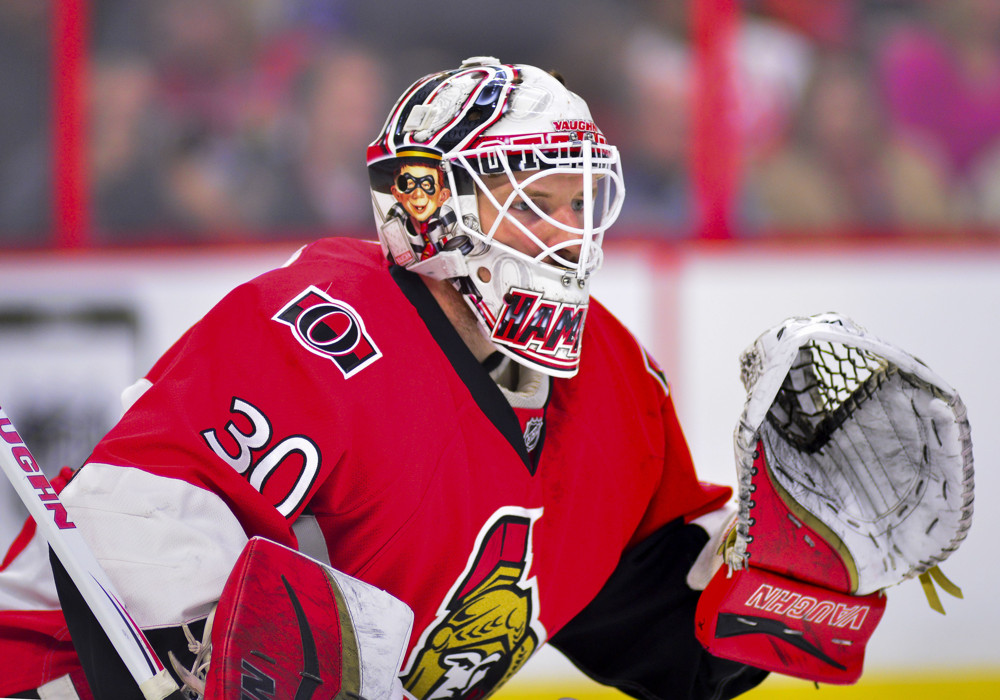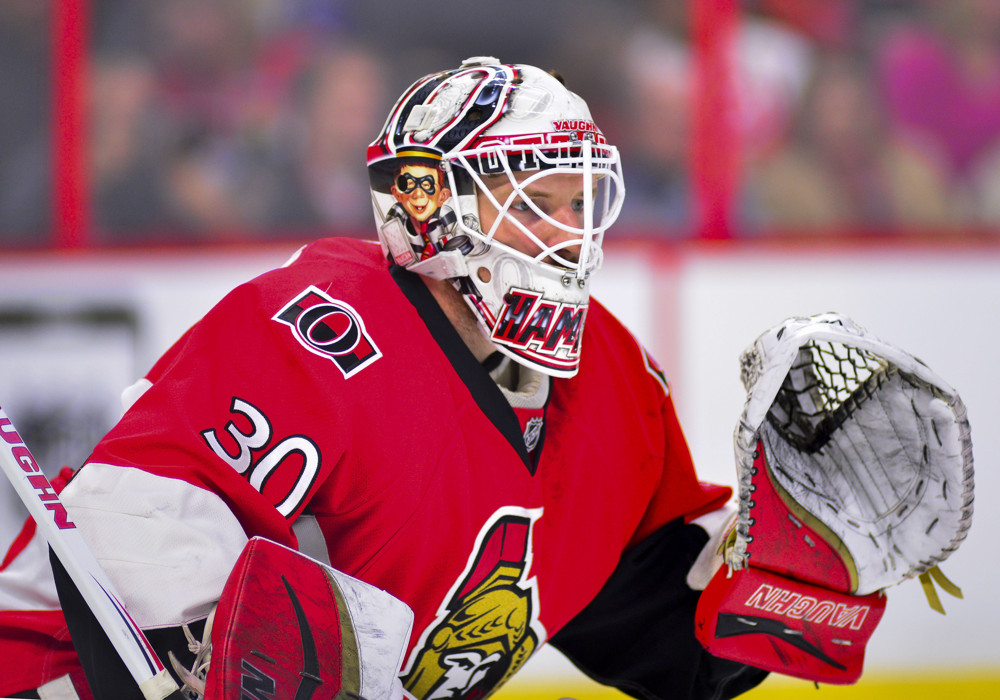 Tier VIII: Boom or Bust
These players need a break to reach their full potential, but I'm saying there is a chance.
36. John Gibson, Anaheim Ducks – If he were not injured last year, he could have been ranked in the top three tiers
37. Andrew Hammond, Ottawa Senators – Count on Anderson being injured, and when that happens, the Sens will look to Hammond. Was his miraculous run an aberration, or is he the next Tim Thomas?
38. Connor Hellebuyck, Winnipeg Jets – As mentioned above, the Jets are a good team and Pavelec and Hutchinson have underwhelmed. Hellebuyck impressed at the World Championship and could steal the show
39. Scott Darling, Chicago Blackhawks – Darling temporarily won the starting job away from Crawford last year and has a slight chance of doing so again and not letting go.
Tier IX: Rookies
These rookies have lots of potential and should be starters one day, maybe not this year…but maybe.
40. Andrei Vasilevskiy, Tampa Bay Lightning – A blood clot will keep him out for the first few months otherwise he could push the split with Bishop.
41. Matt Murray, Pittsburgh Penguins – The AHL's best goalie will be the backup to Fleury this year, all it takes is an injury and Murray will be the starter.
42. Malcolm Subban, Boston Bruins – Was shelled and pulled in his first NHL game last year but is the future starter for the Bruins and could be the backup to Rask this year.
43. Anders Nilsson, Edmonton Oilers – Was dominant in the KHL last year and returns to the NHL after 23 games with the Islanders.
Tier X: The long shots
If you are drafting these guys, they better be your third goalie or you only score one and you have a Tier one goalie.
44. Karri Ramo, Calgary Flames
45. Michael Neuvirth, Philadelphia Flyers
46. Alex Stalock, San Jose Sharks
47. Jacob Markstrom, Vancouver Canucks
48. Ben Scrivens, Edmonton Oilers
49. Thomas Greiss, New York Islanders
50. Jhonas Enroth, LA Kings