Anaheim Ducks' fans are among the biggest beneficiaries of the AHL's decision to open up a Pacific division to house the affiliates of the West Coast-based NHL teams. Perhaps not as fortunate as Sharks' fans, whose up-and-comers get to play in the same arena, nevertheless the Ducks' affiliate, based in San Diego, is only 90 minutes away in ideal traffic conditions. Maybe three hours in regular Southern California traffic.
Beyond proximity, the new Gulls' franchise has also seen many of the most highly touted Ducks' prospects suit up for their fans this season, among them former first rounders' Nick Ritchie and Shea Theodore, as well as others of intrigue such as Nicolas Kerdiles, Stefan Noesen and Brandon Montour.
With help from Hockey Prospectus author Jason Lewis (@SirJDL on twitter), we will review here a few of the more impressive Gulls this season as well as a few more who might be Gulls in the year or two to come.
The highest profile prospect to suit up for the AHL affiliate was winger Nick Ritchie. A former 10th overall choice in 2014, Ritchie sticks out for his size and stickhandling abilities. Listed at a burly 6-2", 232, he utilizes every pound on his frame on the ice. He relishes playing in the difficult areas of the ice and knows how to use his strength to his advantage to win board battles for the puck. He fits the Western Conference profile of a forward who can play dirty, play down low and score. While his initial NHL experience has been trying, with only one goal and one assist in his first 26 games, he fared much better in the AHL, with 28 points in 33 games, excellent numbers for a first year pro who only turned 20 two months into the season. Ritchie is a mule on the puck, very hard to dispossess him when he has it along the boards or down low and has a quick shot release, which will help him score with regularity from scrums near the crease going forward. His skating is still a work in progress, as he is not slow, but lacks much wow factor in terms of acceleration.
Considering the limited minutes he has received in the AHL, averaging under 12 minutes TOI per game, his development would have been better served with more time away from the spotlight in San Diego. On the other hand, in spite of his lack of offensive production, his possession figures have been strong in protected shifts and he has been a willing crasher and banger. Further, with the Ducks strong second half play, Ritchie has gained valuable experience – and will gain even more in the postseason – that will come in handy as he works his way up the depth chart in the coming year or two. The premature NHL time may delay his ascent to a top six role, but that is still his expected destination in the near future.
Just as high end as Ritchie on the Gulls roster this year has been two way blueliner Shea Theodore, also a first year pro. Theodore spent more of his with San Diego, getting only 13 NHL games as of this writing. Ironically, he produced three times as many points as his aforementioned teammate in half the games. His possession numbers were also stellar, without the benefit of protection. Whereas Ritchie excels in the power game, Theodore's skill set lends itself far more to finesse and smoothness. For a team that is already stacked at the NHL level with young and mobile defenders along the caliber of Cam Fowler, Hampus Lindhold and Sami Vatanen, having Theodore waiting in the wings is almost unfair. The former Seattle Thunderbird is a fantastic skater in either direction and is a veritable weapon from the point, equally comfortable winding up for the slap shot, releasing a quicker wrister or passing to a better positioned teammate.
He sees the ice well and does a good job carrying the mail up the ice, or distributing the puck when more appropriate. While not known for his defensive game, he does not lack in that area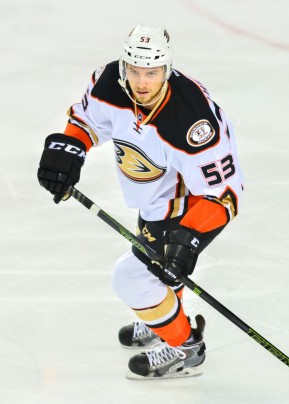 either. He will never be a pure shut down defender, but his positional sense, willingness to sell out to prevent an opposition play and general ability to clear the zone should be sufficient to see him as part of a second unit, if not paired up with a more traditional defensive-minded partner on the first pairing. The biggest hurdle left for Theodore to climb is the presence of his aforementioned teammates. There were rumors earlier this year that the Ducks may be shopping one or both of Vatanen and Fowler. Without trading at least one of those – most likely Vatanen, a pending RFA – there will be no role for Theodore to take. The British Columbia native will be ready for a full time position in the NHL to start next season. While a few more months in the AHL would not hurt him, he is not far from being in a position of extracting diminishing returns with additional seasoning.
Theodore's equal as an offensive blueliner is his current Gulls teammate Brandon Montour. A former second round pick, Montour went from scoring a point per game in the USHL to nearly matching that feat in the AHL in the space of two years. Put simply, he is an offensive dynamo. He is a well above average skater with great hands. He will always support the rush and more often than not, will actively participate in it as well. He has an excellent point shot and uses it judiciously, as he knows how to get it through traffic without being blocked.
As good as Montour is when the Gulls have the puck, he is equally as dangerous without it. Very eager to get the puck back, he will make many, many poorly thought out risky decisions, leaving his team in an awkward situation as he recovers from losing position. As fast as he is, very few defenders can recover in time from the positions he finds himself in due to over exuberance. His physical game is also lacking, making him a net negative in his own end. Assuming the Gulls can recover the puck, he finds himself useful once more at orchestrating the outlet, but does not do enough to assist in the process of regaining possession. In spite of his awesome offensive production in the AHL in his first full season as a professional, there is a good reason for his not being given a call up this season. Even as the game evolves, and teams are more likely to choose skill over brawn, there is still little patience for risk, unless even when overwhelmed by reward. See the trials and tribulations faced by Norris winner PK Subban in Montreal for a prominent example. Not that Montour is another Subban, but rather he is much riskier from a defensive perspective, meaning he is less likely to earn the trust needed to get the ice time and prime power play opportunities that Subban does. Assuming he continues to work in his defensive play, Montour could emerge as a powerplay specialist type who is limited to a 4/5 role at even strength. If he doesn't, T.J. Brennan is the template. Another year in the AHL is a near inevitability.
While not as exciting as the three previously featured prospects, San Diego had a trio of other forwards of note suit up there this year with decent likelihoods of NHL careers ahead of them. Former second rounder Nicolas Kerdiles. Now in his second pro season, Kerdiles does not stand out in any one facet of his game, but neither does he have any glaring weaknesses. An intelligent and versatile forward who can play center or on the wing, he has moderate offensive ability to go along with shutdown center qualities. Frequently used to kill penalties, he has increased his offensive production in his second year in the AHL. It is hard to see a future wherein he scores much more than 30 points per season in the NHL, but that is solid work for a bottom six forward who contributes in his own end. Kerdiles should be ready for an extended NHL trial next season.
Also worth mentioning is Michael Sgarbossa, who came over from Colorado in a minor trade last March. Originally signed as an undrafted free agent out of the OHL's Saginaw program by San Jose, he has proven himself to be a strong AHL producer over four pro seasons. His puck skills are solid, but not good enough to be a carrying tool if that was all he could bring to the table. Thankfully, he also has a knack for finding seams in coverage, making strong passes and is responsible enough to be used to kill penalties as well. He may be a tweener, in the sense that his skill set is not clearly strong enough for a top nine NHL role, but can sometimes look like the best player on the ice in the AHL. Nevertheless, a pending RFA, he has earned a longer NHL look than the nine games across two seasons he has so far received.
The last player I was to discuss from the San Diego squad is Czech winger Ondrej Kase. The former seventh rounder is an exciting player with good wheels and solid puck skills, but this year is unfortunately a wash for him in his first season since coming over from Europe. Having returned in the past two weeks, he is already showing why he might soon be regarded as a draft steal. Nonetheless, the down time this season can only be seen as a major disappointment.
A talented player in a similar situation to Kase is NCAA forward Kevin Roy. Undersized at 5-9", the former fourth rounder has scored at over one point per game throughout his four year stay in the collegiate ranks. In looks last season, Roy showed himself to be a skilled playmaker who plays with a very high panic threshold, allowing him to take positional risks offensively than less brave players would not. Injuries greatly hampered his play this year, but he is now healthy and will look to try to lift a decent Northeastern squad into the NCAA tournament before considering a likely contract offer from the Ducks.
Another collegian who should be on the receiving end of a contract offer shortly is Minnesota-Duluth captain Andy Welinski. Not a standout in any part of the game, he has been a solid NCAA blueliner, proficient in his own zone with strong gap control and a good enough shot from the point that will not look out of place in the AHL. His offensive production was decent for UMD, but never really improved after a solid freshman season. The lack of progress may limit the Ducks offer to an AHL contract only, but the floor of his ability is high enough to warrant at least that, if not more.
Looking to Europe, I received a strong report from Hockey Prospectus contributor Miika Arponen on Finnish winger Miro Aaltonen who compared him to Jere Lehtinen in style. A complete player with a strong own zone game, there have been unconfirmed rumors that the former seventh rounder could make his way to North America in the offseason after three and a half good season in Liiga.
Finally, a few words about the Ducks 2015 first rounder, Swedish defenseman Jacob Larsson. In the midst of a strong rookie season in the SHL, Larsson took some time out to represent his country at the WJC. Another highly mobile defenseman in the Anaheim pipeline, Larsson can absolutely fly when he sees a lane through the zone. He has a high panic threshold and will not rush a shot or pass due to pressure. I would like to see his awareness improve, but playing a full season in a men's league at age 18 is impressive. His size is also a point in his favor and he has demonstrated that he can be tough to play against in the corners. There is still plenty of room for growth, but he is starting at a very good spot.