To say Adam Brooks warmed right up to his new role as captain of the Regina Pats would be an under statement.
The Winnipeg native has been on a scorching run since being awarded the captaincy in January on a temporary basis with overage captain Colby Williams sidelined by injury.
Brooks reached the Christmas break on a roll already, sitting third in WHL scoring with 48 points - 10 behind league leader Tyson Baillie of the Kelowna Rockets.
His play continued to elevate over the second half and reached epic proportions in February as he racked up 30 points in 13 games including a whopping 23 assists.
The February explosion was part of an 18-game consecutive points streak - the longest in the WHL this season - in which he recorded 38 points (8-30-38) and vaulted to the top of the scoring parade. He also recorded the league's third-longest points streak - with a 15-game run in December and January (12-20-32). He recorded 32 multiple-point games and at least a point in 42 of his final 48 regular-season games.
THE HUNT FOR HUNT
Over the final month, Brooks waged an entertaining battle for the WHL scoring title with former teammate and close friend Dryden Hunt of the Moose Jaw Warriors.
The pair went head to head with less than two weeks left in the season in a home-and-home series between Regina and Moose Jaw.
Fresh off signing a free agent NHL contract with the Florida Panthers, Hunt actually entered the back-to-back holding a one-point lead in the scoring derby.
Brooks recorded five points in the two-game set while Hunt was held to just one goal. The outcome proved to be the difference as Brooks went on to claim the Bob Clarke Trophy as scoring champ with 120 points; Hunt finishing four back with 116.
It was the first time in 33 years that a Regina Pat led the WHL in scoring - since Dale Derkatch in the 1982-83 season.
Though both players were passed over in the last two NHL drafts, Brooks is still eligible for the upcoming one given his 1996 birth date.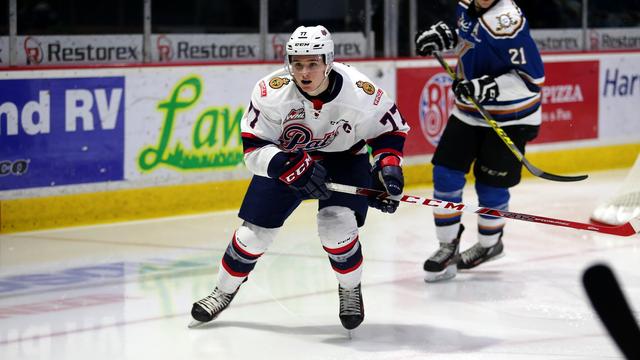 SCOUTING ADAM BROOKS
From struggling to stay in the lineup during his first two WHL campaigns, Brooks has since made enormous strides and matured into a central leadership role.
Every coach covets a reliable player whose effort and level of play usually falls within a predictable range - and Adam Brooks is that type of player.
'Quietly efficient' as opposed to flashy or dynamic, Brooks is a responsible two-way centre whose brain and feet are constantly involved in the game.
His high hockey IQ and overall consistency of play have stood out as prime attributes this season.
Used in all situations, he sustains a high work rate throughout shifts - and carries this on from shift to shift - and game to game.
He sees the ice and anticipates the game intuitively and has a knack of being in the right spot and coming upon loose pucks.
Skilled and efficient in possession, Brooks is talented at exploiting those tiny spaces in coverage and executing plays swiftly. He usually makes the right play at the right time.
Though undersized at 5-foot-10 and 175 pounds, he plays with grit and can give and take a hit. Generally speaking though, he strives to keep moving to open positions and not getting himself tied up in traffic jams.
Accumulating a league-leading 82 assists, his playmaking prowess speaks for itself, however Brooks also possesses some sharp in-close finishing moves.
The NHL has definitely taken notice of his rapid development over the past two seasons and it will be interesting to see how high he goes in this summer's draft.