Author's note – through the remainder of this series the focus will remain on players acquired prior to the recent NHL Entry Draft. As the idea behind the series has been about the players and their development during the season, bringing in newly minted NHL prospects would be unfair to those who have already taken steps under the auspices of their respective rights-holding organizations.
For all that the Flyers system has lacked in forward prospects of significance (Travis Konecny notwithstanding), they have more than made up for it with depth and talent between the pipes and along the blueline. It is not outlandish to suggest that Russian first rounder Ivan Provorov is the best prospect in the system and fellow WHLer and former first rounder Travis Sanheim as the number two. As this series has tried to avoid too much dwelling on CHL prospects, we will instead jump to the third best blueliner in the system now that the extremely exciting Shayne Gostisbehere has graduated, in Samuel Morin – yet another former first rounder. Unlike Provorov and Sanheim, Morin has already graduated from the CHL ranks and now has a full year of AHL experience under his ample belt. Listed on the AHL team website at 6-7", 227, Morin fits the prototype for big, stay-at-home defender. A bruiser in the Quebec league as an amateur, Morin kept up that style of play with Lehigh Valley as a rookie professional, racking up a team high 118 penalty minutes. Only a handful of true prospects in the AHL spent more time cooling their heels in the penalty box.
Beyond the toughness that is only partially attributable to his size, Morin is a plus skater who shows a good head for the game, as demonstrated by strong positioning and a pretty safe overall game. He can move the puck intelligently, but will never be a point producer. The 19 points he put up as an AHL rookie in 76 is around what the Flyers should be expecting from Morin at his peak. He owns a strong slap shot, but not the instincts for when to use it to his advantage. Guys his size will always get more chances than they deserve on skills and smarts alone, but thankfully, Morin has those. As a plus skater with good hockey IQ, he will earn penalty killing time in the NHL before too long as well as a bottom pairing role. While he could eventually elevate to the second pairing, his lack of puck skills (beyond that first pass) and offensive bent will prevent him from owning a top pairing job or much time on the power play. He could also use another season of professional growth in the AHL with Philadelphia likely to turn to Provorov and Sanheim for NHL time before making way for the big man. On the other hand, with the NHL contracts of Mark Striet, Michael Del Zotto and Nick Schultz all expiring after the 2016-17 season, Morin's chance to earn an NHL gig will not be too far off into the future.
Robert Hagg, D, Lehigh Valley (AHL) (41st overall, 2013)
Another defenseman of some renown in the Philadelphia is Hagg, a Swedish second rounder who made three appearances in his country's sweater for the WJC, twice walking away a Silver Medalist. Less physically imposing than Morin, Hagg nonetheless has a limited NHL upside owning primarily to an underwhelming offensive game. Also like Morin, Hagg puck skills extend to making a strong first pass but not much more than that. That said, his first pass is outstanding, one of the best in the AHL according to Hockey Prospectus writer Jason Lewis. While Hagg typically plays a smart, quiet game, he can be prone to the odd high profile gaffe, or other mental hiccup. Furthermore, although he does not lack for size at 6-2", 201, he plays smaller and can be physically imposed upon by more physical opponents. Hagg should expect a third full AHL season in the offing and likely slots behind Morin in the organizational depth chart. If he can eliminate the inconsistencies that have plagued him, he could be a solid number five at his best.
Mark Alt, D, Lehigh Valley (AHL) (53rd overall, 2010 – acquired in trade with Carolina)
Mark Alt, like Morin and Hagg profiled above, is a relatively safe blueline prospect without much in the way of upside. According to Jason Lewis, he is basically a solid all around defender who does everything well enough but nothing that will excite. He has great size at 6-4" and over 200 lbs and his father was a long-time offensive lineman in the NFL, but his physical game can underwhelm. More worrisome for Alt is his lack of traction over three AHL seasons. After putting up 26 points in 75 games in his first full AHL season, he has combined for only 29 points in 116 games over the past two seasons. There may yet be some untapped potential in Alt, and the Flyers did tender him a qualifying offer as a RFA a few weeks ago, giving him one more year under their care, but this may be his final chance to prove himself worthy of carrying for the Flyers. If he fails to recapture at least some of his rookie production, he may be looking for a new employer by this time next summer.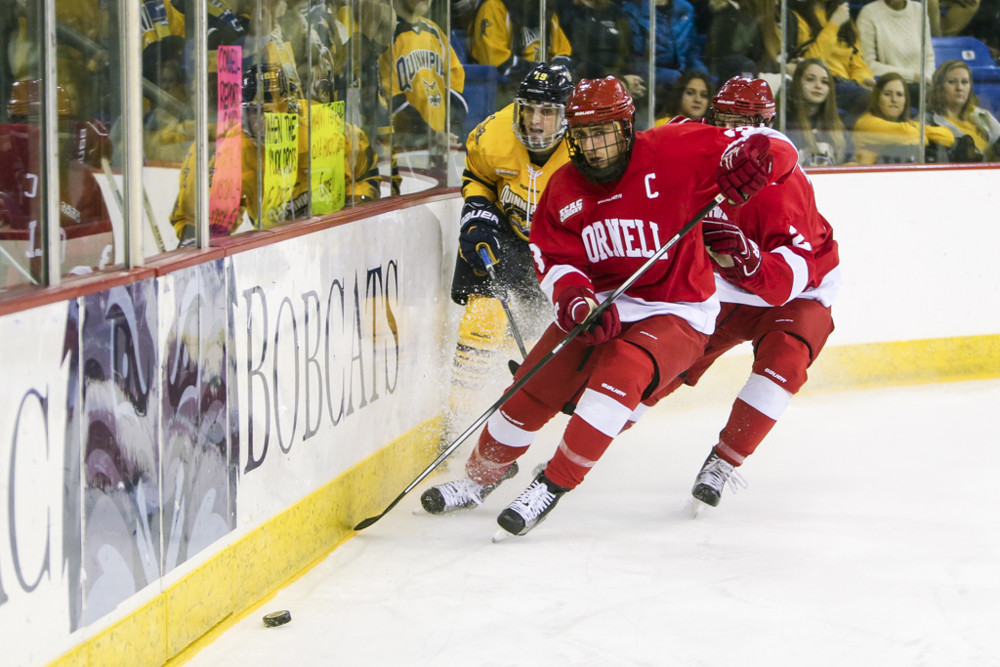 Reece Willcox, D, Cornell (ECAC) (141st overall, 2012)
If there is a deeper sleeper who could overtake Hagg and Alt on the Flyers blueline depth chart it is recent signee Reece Willcox, a Cornell graduate. Physically resembling Alt at 6-4" and a smidgen over 200 lbs, Willcox was not a big point producer with the Big Red, although some of that is due to Cornell not having much in the way of offensive talent on their roster. Willcox will engage in the offensive end and is a smart, surehanded puck carrier who demonstrates good presence of mind and a high panic threshold. He is not much of a shooter and his puck skills are more appropriate for own zone and neutral zone work, but his plus mobility and hockey smarts give him a legitimate chance. He is a strong skater who can keep a solid gap against very speedy rushers and knows how to use a sweeping stick to break up rushes that would otherwise pose danger to his team. He is not a punishing physical player, but is capable of using his plus size to establish his own position at the expense of his opponent's. Although Willcox put up three points in a late season six game cameo with Lehigh Valley, I would not expect that level of point production going forward. Between his polish and his skills, I expect Willcox to sneak up on a few observers this year.
Mark Friedman, D, Bowling Green State (WCHA) (86th overall, 2014)
Much further away from the NHL than any of the others profiled above, Friedman is rightfully an afterthought among Flyers' prospect watchers, although he deserves some mention as his game is much different from those already mentioned here. Simply put, the 20 year old Friedman is a point producer. He first attracted attention as an offensive defenseman with Waterloo of the USHL and has kept up his production in northwestern Ohio. Friedman is confident with the puck and has a strong first few steps that allow him to lead his team on quick breaks. Undersized, Friedman tends to avoid board battles, but has a physical edge to his game, one that emerges most often with the player in motion, using his speed to add force to his motion. He does need significant work in his own zone and with his decision making, however, and the former third rounder should be afforded two more full seasons at Bowling Green to work on those aspects of his game. His panic threshold can be too short, leading him to defer to less skilled teammates even though he has ample room to skate the puck out of potential harm. I would also like to see less caution when trying to create offensively. The puck skills are present, but he needs to commit to action when taking it. His game is not yet ready for the professional ranks, both in terms of the mental game and the physical game, but there are enough flashes of talent that he should be watched closely.
Anthony Stolarz, G, Lehigh Valley (AHL) (45th overall, 2012)
Before analyzing Stolarz, a few thoughts on the recent goalie fetish overtaking the Flyers' scouting department. Most teams have three or four interesting netminders under team control, including one or two in the AHL and a few others scattered about the planet. Since drafting Stolarz in the middle of the second round in 2012, the Flyers have drafted and/or signed six goalies who still qualify as prospects, including taking the first netminder to be selected this season and three drafted last year. Although I cannot state that this predilection is unprecedented, it is extremely odd and at least two of those six will find themselves unsigned before all is said and done, as the team only has so much ice time it can provide to netminders. While teams roll four forward lines (12 players) and three defensive pairings (six players), they only carry two netminders and only one plays at a time.
Stolarz got the lion's share of netminding work for Lehigh Valley last year, his second full season as a pro. He showed tremendous improvement in his return engagement with the Phantoms, chopping more than half a goal per game off his GAA and increasing his save percentage from a feeble .906 to a respectable .915, a figure topped only by Juuse Saros (Milwaukee), Matt Murray (Scranton/Wilkes-Barre) and Anton Forsberg (Lake Erie) among prospects who with regular roles in the circuit last year. Stolarz is also a massive young man, standing a fleshed out 6-6". He fills up the net rather well and shows plus anticipation, allowing him to get positioned to make the save before it becomes one of desperation. His lateral movement is strong enough for his size, although he can get caught on occasion as he seems to be assuming that his size is filling every hole, but a slight slump of his shoulder, or another body twist can leave open a gap that will be exploited by good shooters. He makes up for it with plus rebound control, as pucks that he cannot catch cleanly are more often than not either kept close by so as to be corralled quickly, or pushed to the corners and out of danger. The New Jersey native also adds value to his game through strong puck handling, as he is very comfortable pushing the puck up to his teammates to begin the transition.
The Flyers current goaltending pair of Steve Mason and Michal Neuvirth both have one more year under contract and there is a good chance that a spot will open up for one of the Flyers goalie prospects in 2016-17. Stolarz, by virtue of his greater experience and improving game, should be aiming to make himself favored to fill one of those roles after another season honing his game in Allentown.
Felix Sandstrom, G, Brynas IF (SHL) (70th overall, 2015)
Sandstrom, the first of three netminders drafted by the Flyers in 2015 had a shoddy showing at the WJC for Sweden and put up numbers that may seem underwhelming for Brynas in the SHL, but is more than worthy of a spotlight for actually seeing regular crease time in one of the top leagues in Europe. IN fact, he appeared in 25 of the 32 games played by under-20 goalies in the SHL and his numbers were more or less on par with Brynas' other goalie, veteran Austrian Bernard Starkbaum. According to Hockey Prospectus Swedish correspondent Jimmy Hamrin, Sandstrom is still inconsistent, but has looked very good thus far in his top flight career, exhibiting intermittent NHL potential. He will have one more chance to shine for the Tre Kronor at the next WJC and is favored to be the uncontested starter this time around as Linus Soderstrom will have aged out. He may have more competition in the Brynas net though, as Starkbaum has been replaced on the roster by David Rautio, whose SHL save percentages since the 2011-12 season have gone .929, .931, .922, .921, .916. Trending down to be sure, but after having started from fantastic heights.
Merrick Madsen, G, Harvard (ECAC) (162nd overall, 2013)
After being limited to a single appearance as a freshman at Harvard in 2014-15, Madsen claimed the starter's job for himself last year as a sophomore, putting up stellar numbers for the Crimson. His .931 save percentage ranked eighth in the nation (although the number two man, Alex Lyon, has since signed as an undrafted free agent with Philadelphia). Madsen has a number of strong aspects to his game, including great size (close, but not quite to Stolarz' level), the composure to withstand periods of heavy pressure, instincts and anticipation, and rebound control. He could use additional improvement in his lateral movement and puck handling, although his play last season suggests that he was a late round steal who will push for a good spot on the organizational depth chart within a few seasons.