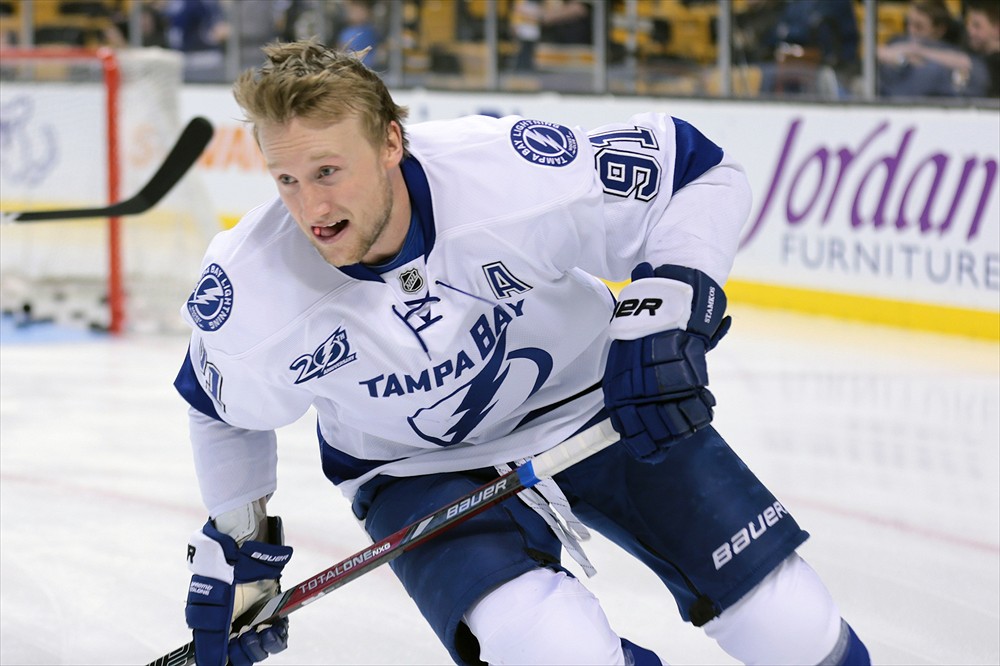 A little more than three years ago, Tampa Bay superstar Steven Stamkos slid skates-first into the post in Boston, shattering his leg. The Lightning at the time were fortunate to have a couple of highly touted scoring forwards down on the farm in Vladislav Namestnikov and Nikita Kucherov. They decided to call on Kucherov.
The young Russian put up 18 points in 52 games, which did not quite make up for the loss of the point-per game first line sniper. Then again, 20 year olds rarely change the world as NHL rookies. Namestnikov was allowed to remain in the AHL with Syracuse. Despite the loss of Stammer and the inadequacy of his direct replacement, the Lightning still made the playoffs, where they were dispatched in the first round.
Why is this relevant, you may be asking, even with the knowledge that Stamkos is injured again, felled by a torn lateral meniscus in his right knee, an injury that is expected to keep him out of action for around four months. This time around, there are no hot shot prospects waiting in the AHL for their chance to make the grade. Even if Kucherov did not light the league on fire immediately, he has steadily grown in prominence to become one of, if not the most important player on the Lightning roster. Maybe he would not yet be a superstar in his own right today if not for that stroke of misfortune.
Entering this season, the top prospect in the Tampa system was Brayden Point, an undersized offensive dynamo who scored at nearly two points per game last year with Moose Jaw in the WHL. Although Point has graduated from junior hockey, he actually made the team out of training camp. The early returns are promising. With 11 points in his first 27 games, he is achieving at a rate slightly higher than that of Kucherov when the Russian debuted, but even if he sees his ice time increase, there is still a roster spot to deal with.
So far, since Stamkos went down, the Lightning experimented with minor league journeyman Erik Condra and Swiss prospect Joel Vermin, who was ranked by Hockey Prospectus as the #26 prospect in the system this summer. Vermin is OK, but he hasn't produced heavily since his days playing in the Swiss junior ranks. He qualifies as good use of a seventh round draft pick (2013 draft), but the Lightning might be better served by giving a run to former undrafted free agent Yanni Gourde (Tampa Bay, UDFA, 2014 LW/C, Syracuse (AHL)). Already 24, and unlikely to grow beyond his diminutive 5-9", 168 pound frame, Gourde is what he is. A feisty little player who likes to be near the puck, whether carrying it or hounding an opposing puck carrier, the former leading scorer from the QMJHL (2011-12 – 124 points for Drummondville) plays at NHL pace. Equally comfortable setting up teammates as he is shooting from the rush, he brings excitement to his shifts when given the latitude to play creatively.
Even though he was ignored at the draft both for junior hockey and the NHL, he has scored at every level and we liked him enough to rank him 15th among Lightning prospects in the summer, a position that was depressed by his advanced age suggesting less room for continued development than among many of the younger prospects ahead of him in the depth charts and the hearts of the Tamp Bay top brass.
Michael Dal Colle (NY Islanders, 1/5, 2014, LW, Bridgeport (AHL))
Dal Colle was drafted fifth overall in 2014 due to high end offensive ability coupled with a body that scouts can dream on. Tall, broad and lean, if he had jam, he would be an almost unstoppable power forward. He would also already be drawing an NHL paycheck. Instead, Dal Colle is figuring things out in the AHL with Bridgeport. Through 22 games, he has a surprising and disappointing 11 points. Even though the Sound Tigers are a top ten offensive team in the AHL, averaging a hair over three goals per game, Dal Colle, on whom so many hopes are resting, is not helping to boost that number.
I want to be fair. Only four of his teammates are above him in the Bridgeport scoring race and he is tied for the team lead in shots, with 40, a rate of just under two per game. Seven goals on those 40 shots suggests that he is not suffering from adverse puck luck either. In all honesty, if Dal Colle was a fifth rounder, instead of a fifth overall pick, I would look at what he has accomplished and would marvel at it. But he was not a fifth rounder and I am underwhelmed.
This is a player who can be physically dominant, but displays a tangible lack of aggression on the ice. He shows flashes of his ability, but they just as quickly subside. On the other hand, he has shown some positives in his off puck play. He had been accused as a junior of not paying as much attention to his game away from the puck and I now see a player who fore-checks deep, and engages and shows commitment in his own zone. I am not writing Dal Colle off. He still has top line upside. He just needs to show it with more frequency. Use his natural gifts a bit more, well, naturally. Use the puck skills that helped him push the Oshawa Generals to both OHL and Memorial Cup titles in 2015 to set up his shot from more dangerous locations. I once compared Dal Colle to a bigger Phil Kessel. But Phil Kessel, hot dogs be damned, can play with a chip on his shoulder. I need Dal Colle to show that more.
Mitchell Mattson (Calgary, 5/126, 2016, C, Bloomington (USHL))
In his draft year, there were some who looked at Mattson as a potential first rounder. He had great size, at 6-4", and close to 200 pounds, was a plus skater and showed decent hockey smarts. His scoring numbers in an early season cameo with Bloomington of the USHL were not so hot, but when he returned to school in Minnesota (like eventual 2016 first rounder Riley Tufte did last year and like future 2017 first rounder Casey Mittelstadt chose to do this year), he was an offensive power, with 46 points in 25 games. Mind you, it is not too uncommon for the most dynamic high schoolers in Minnesota to pot three points per game and upwards, such as Tufte managed. Still, a big boy with a 200 foot game speaks.
Unfortunately, whatever excitement remained after his high school exploits dissipated quickly after he returned to Bloomington upon the conclusion of the varsity season. In his USHL bookends to his season, Mattson managed a mere two goals in 21 games. There were no assists to add to that luster. Not only did first round talk die down, he may have been lucky to be drafted at all, as the Flames picked him up in the fifth round.
Mattson is back with Bloomington this year and still struggling to score, although not quite to the same extent, as he has nine points through his first 21 games this year. He does have plus hockey IQ and is a good skater. He is reliable in all three zones, but not very effective in the offensive zone. His puck skills are fairly limited. He is set to attend the University of North Dakota starting next year, and would do well to carry a bottom six role there. To this observer, it might make sense to try him out on the blueline. The switch would play to his strength while minimizing his weaknesses. Just a thought.
Aapeli Rasanen (Edmonton, 6/153, 2016, C, Sioux City (USHL))
A member of the 2016 WU-18 champion Finnish squad, Rasanen spent his draft year playing ostly in the Finnish U20 ranks. He was solid there, but in tying for the Finnish team's scoring lead at the premium event ensured that Rasanen would not be forgotten on draft day. In fact, when he lasted until early in the sixth round on draft weekend, many were surprised. Like Mattson above, he was a solid skater with plus hockey IQ, but unlike the Bloomington center, Rasanen had proven offensive touch to his game.
After being selected by the Oilers, Rasanen had the choice of trying to crack Tappara's men's team, moving to Dynamo Riga of the KHL, who drafted him seventh overall in the KHL entry draft, or moving stateside with Sioux City, who took a flyer on him in the seventh round of the USHL draft. Wanting to get a college education, Rasanen joined the Musketeers. Six months after being selected by the Oilers, it looks like both Edmonton and Sioux City got themselves an intriguing young prospect.
Teamed up again with his linemate from the U18s, future first rounder Eeli Tolvanen, Rasanen is able to regularly demonstrate his plus vision and clever passing game. He measurements are roughly average, but his frame is wide and suggests more muscle to come. He protects the puck well and is strong on faceoffs. Opponents tend to bounce off him when they go in for a check. Rasanen has yet to choose which school to attend next year, but is adamant that the next step will be the NCAA.  Until then, you can get another good look at him suiting up in the national colors at next month's WJC.
Kirill Kaprizov (Minnesota, 5/135, 2015, LW, Salavat Yulaev Ufa (KHL))
Last year with Metallurg Novokuznetsk, Kaprizov was the leading 19-and-under scorer in the KHL with 27 points in 53 games. One year older, one year wiser, one year more dominant. With 30 points in his first 37 games with Ufa, his point total is more than double that of the runner up U-20 scorer in the top league in Russia.
Hockey Prospectus' Russian correspondent Roman Solovyev (@croulmane) has gone out of his way to commend Kaprizov's improvements in his shot, his hockey IQ and his physical game. The Russian teenager has seen his shooting percentage jump from a combined 9.6% over the previous two seasons to his current 16% snipe rate. He is somewhat undersized, and that will not change, but his willingness to play in the dirty areas has changed. He is a much tougher opponent. His understanding of positioning and the run of play has also taken steps forward, and Kaprizov is an integral part of his team's offensive attack, at both even strength and the power play. Kaprizov is a near lock to represent Russia at the upcoming WJC. His KHL contract runs for one more season after this one and the Wild should be eager to entice him to cross the pond.
Tanner Laczynski (Philadelphia, 6/169, 2016, C, Ohio State (Big 10)
A second year eligible playmaker drafted out of the USHL in the sixth round last June, Laczynski has almost single-handedly turned Ohio State from also-rans to contenders as a freshman, with more than one assist per game in his first few months of collegiate action. Perhaps the offensive output should have been expected – at least to an extent – as the Illinois native was fourth in USHL scoring last year, split between Chicago and Lincoln.
What held him back for scouts in the past was a lack of an extra gear on his feet. His skating was smooth enough, but he never could get to plus acceleration. His skating would be OK if he was 6-2", 215, but at 6-0", and closer to 180, it is still a strike against his chances of an NHL career. He has great puck sense, but is definitely a passer first, shooter second player. The collegiate route is perfect for him, as he could use the long weeks of practice to work on his foot speed and muscle mass. Laczynski could excel at any level as long as his linemates can disrupt with speed. He can find them and turn their threat into scoring chances. He is a fun player to watch and one the Flyers should be happy is on their side.