A few short days ago, the clock struck three and NHL General Managers across the continent put down their phones and dismissed their staffs to compiling lists for another day. Although NHL Trade Deadline Day was rightly excoriated for being slow and without excitement, 20 trades were finalized on this day to go along with the 11 other swaps consummated in the previous week.
As interesting as the ramifications of Kevin Shattenkirk moving to the American Capital are, you are not reading this space for that type of analysis. You are reading to find out about prospects. There were 19 prospects dealt in the run up to the deadline. For the purpose of this article, I will look at any player who was considered a prospect before the season began, that is, he is no older than 25 and has played no more than 25 games in the NHL. I will also ignore the waiver claim of former Anaheim Duck Joseph Cramarossa by Vancouver (meh) and the signing of former New York Ranger draft pick Ryan Mantha by Edmonton (nice). The profiles will be brief at first, and expand as we move from lower-likelihood NHLers to those with glowing profiles.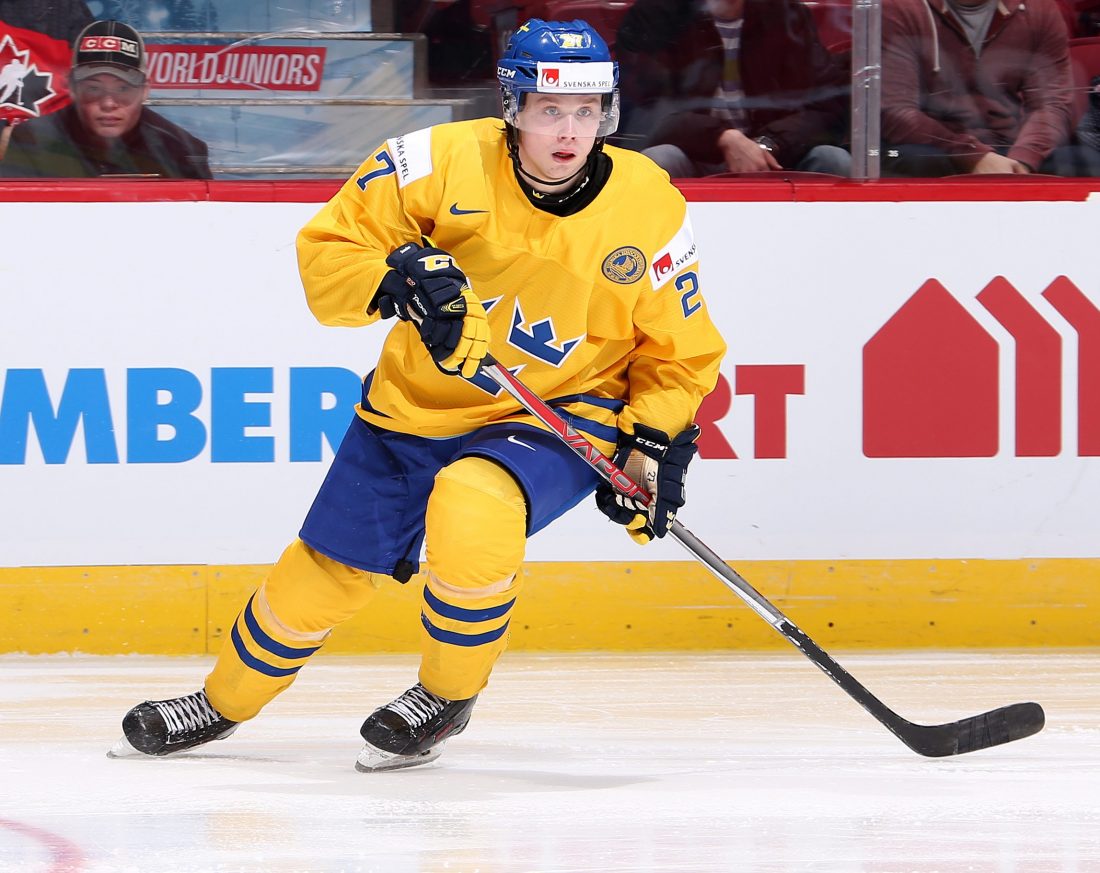 Let the rankings begin!
Daniel Catenacci (New York Rangers, 3/77, 2011 (drafted by Buffalo) – LW/C, Hartford (AHL))
Taken by Buffalo in the third round in 2011 as a scoring winger from Sault Ste. Marie, Catenacci never took another step forward over two more seasons in the OHL. Now in his fourth season in the AHL, he has taken another step back this year, with only 13 points in 50 games for the Rochester Americans. He is system depth.
Kenton Helgesen (Chicago Blackhawks, 7/187, 2012 (drafted by Anaheim) – LW/D, Utah (ECHL))
Helgesen is a big guy who can play both at forward and on the blueline. Now in his second year as a pro, he has yet to play above the ECHL. Putting him above Catenacci is not a statement that he is better any more than it is a reminder that he has yet to wash out, as Catenacci is in danger of doing.
Cody Corbett (Washington Capitals, UDFA, 2014 (signed by Colorado) – D, Hershey (AHL))
Corbett was a significant contributor to the Edmonton Oil Kings' Memorial Cup win in 2014, a sweet finish to a strong junior career. Now in his third pro season, he has flitted back and forth between the AHL and ECHL for the past two seasons. He has an offensive element to his game, but it is just as likely to hurt his tea as to help it.
Stefan Fournier (Tampa Bay Lightning, UDFA, 2013 (signed by Montreal) – RW, Syracuse (AHL))
Traded last year from Montreal to Arizona, February saw Fournier on the move again, this time to Tampa Bay, in exchange for AHL veteran Jeremy Morin. A pugnacious player with some decent offensive touch during his junior days in the QMJHL, Fournier has retained the pugnacity as a pro. With 11 goals in 139 AHL games, the offensive touch has withered away. He has enough puck skill and shooting prowess that a cameo in the NHL might one day be a possibility if the stars align, but I wouldn't put any money on it.
Brendan Ranford (Colorado Avalanche, 7/209, 2010 (drafted by Philadelphia, not signed, signed as UFA by Dallas) – LW/RW, San Antonio (AHL))
Ranford has had an odd career. Promising enough for Kamloops in 2010 for the Flyers to take a flyer on him, his increased offense over two more seasons with the Blazers were not enough to push them to offer him a contract. The Stars gave him an AHL contract and rewarded a promising rookie pro season with an ELC. His two subsequent years were stellar by AHL standards, with 110 points in 149 games combined. Earlier this year, the Stars dealt Ranford to Arizona and he went dry in the desert. The Coyotes flipped Ranford to Colorado for 5-6" journeyman Joe Whitney. If Ranford rediscovers his exploits from the last two years, he might earn himself some time up with the Avalanche.
Adam Wilcox (Florida Panthers, 6/178, 2011 (drafted by Tampa Bay) – G, Springfield (AHL))
The trade of Wilcox from Tampa Bay to Florida for journeyman AHLer Mike McKenna raised some eyebrows, as Wilcox is younger and has more upside. Theoretically. He is a fairly athletic netminder, who moves well between the pipes. Unfortunately, the former Minnesota Golden Gopher has some problems when it comes to stopping pucks. His current save percentage of .895 is a career best. There is some talent here, but it is a ways away from being realized.
Grayson Downing (Arizona Coyotes, UDFA (signed by Minnesota) – C, Tucson (AHL))
Part of Arizona's return in the big Martin Hanzal trade, Downing was in the midst of a let-down follow-up to a promising AHL rookie season last year. The former University of New Hampshire Wildcat has nice hands and good hockey sense, but is held back by very poor skating. He could carve out a nice minor-pro career or take his game to Europe, but his feet will prevent him from sustained success – or even too many full-fledged opportunities – in the NHL.
Sam Carrick (Anaheim Ducks, 5/144, 2010 (drafted by Toronto) – C, San Diego (AHL))
Carrick signed this past offseason with Chicago after he was not offered a contract to re-sign with the Maple Leafs. Carrick, whose younger brother Trevor is in the Carolina system, has a nice blend of skills, but no one element that allows him to stand up above the crowd. He has already had some NHL experience, having played 19 games over two seasons with Toronto, but was never going to get a real chance with Chicago. He was traded along with older AHLer Spencer Abbott to Anaheim for the aforementioned Kenton Helgesen and a 2019 seventh rounder.
Keegan Lowe (Montreal Canadiens, 3/73, 2011 (Drafted by Carolina) – D, St. John's (AHL))
Keegan Lowe, son of longtime Oiler Kevin Lowe, is not the player his father was. The younger Lowe has a good body for the back line, but plays a very physical game. He is not a pure defensive defenseman, although his work is much stronger in his own end. Lowe is a solid skater and he has cleaned up his game over the four seasons he has now spent in the AHL, lowering his penalty minutes substantially over that time. Unfortunately, his offensive production has stayed pretty stable throughout, as he has scored between 11-14 points in each season.
Reece Scarlett (Florida Panthers, 6/159, 2011 (Drafted by New Jersey) – D, Springfield (AHL)
Scarlett is essentially the inverse of Lowe. This blueliner, moved from New Jersey to Florida for another minor leaguer who is too old for this list (Shane Harper), Scarlett has always put up respectable offensive totals in the AHL, but can be taken advantage of in his own end. He is mobile and is smart with the puck on his stick, a capable minor league power play point man. He will join a crowded blueline in Springfield.
Dillon Heatherington (Dallas Stars, 2/50, 2013 (Drafted by Columbus) – D, Texas (AHL))
The highest drafted player (so far) on this list, Heatherington is a big, broad stay at home blueliner. The former WU-18, WJC, and AHL champion is a decent skater, but loses a step if he has to turn around. His offensive game is minimal. I am not one to buy into the notion of a player having a "winning gene", but I am happy to state that Heatherington's game is fairly safe. He will not lead a team to victory, but can pay a role in staving off defeat. If he makes it up to a full time roll in the NHL, expect him to play heavy minutes on the penalty kill.
Philip Samuelsson (Carolina Hurricanes, 2/61, 2009 (Drafted by Pittsburgh) – D, Charlotte (AHL))
Now in his fourth organization, Ulf Samuelsson's son (and brother of Henrik Samuelsson) started his career in the Penguins' system, and passed through Arizona and Montreal before moving to Charlotte where his father is currently serving as head coach. Philip is a solid two-way defender for the AHL level, strong at beginning the transition from defense to offense, and should be able to hold down a sixth defender role in the NHL for a mediocre to average team. In spite of very poor numbers this year with St. John's before the trade, Samuelsson is as good as he is going to be. If he does not add to his total of 13 career NHL games soon, he may never do so. He was traded straight up for Keegan Low, profiled above.
Pheonix Copley (Washington Capitals, UDFA (signed by Washington) – G, Hershey (AHL))
Copley was actually signed to his first pro contract by the Washington Capitals, a free agent after his sophomore season with Michigan Tech. He was traded to St. Louis just over one year later, as part of the return to the Blues along with Troy Brouwer, for T.J. Oshie. Copley has been above average at the AHL level through his pro career, and his current .920 save percentage has him in the top 15 leaguewide. His two NHL cameos with the Blues were forgettable, surrendering a total of six goals in under one and a half games. He has good legs, is calm in the crease and does a nice job in cutting down shooting angles when possible. At 25, he is still young for a goaltender and has the makings of a solid backup at the NHL level down the road.
Zach Sanford (St. Louis Blues, 2/61, 2013 (Drafted by Washington) - LW/C, St. Louis (NHL)
Part of the return to St. Louis in the deadline period's biggest deal (Kevin Shattenkirk joined the aforementioned Pheonix Copley in going the other way), Sanford has already played enough in the NHL in his first pro season that he will no longer qualify as a prospect in the offseason. Sanford was a strong collegiate player at Boston College, playing with good net drive and showing flashes of plus puck play. He is the type of player who has less to gain by a lengthy AHL apprenticeship. His game is well suited to a bottom six role in the NHL, playing with energy, decent puck handling and the ability play in all three zones. If he does not stick with the Blues from here on out, it will be more because they prefer other players to any feeling that Sanford needs to develop further with the Chicago Wolves in the AHL.
Viktor Loov (New Jersey Devils, 7/209, 2012 (Drafted by Toronto) – D, Albany (AHL))
Traded from Toronto to New Jersey almost two weeks before the deadline, Loov has had a rough season, hampered by injury. That said, I am still a big fan of one of the best open ice checkers in the AHL. His offensive game has promise as well, with a booming point shot. To paraphrase Bono,
Don't believe in fighting
Can knock you down with hip
He could cut and crack you open
Did you hear what I said?
Don't believe in when they tell me
His skating's not pure
He needs to stay healthy
But his game's unmoored
I, I believe in Loov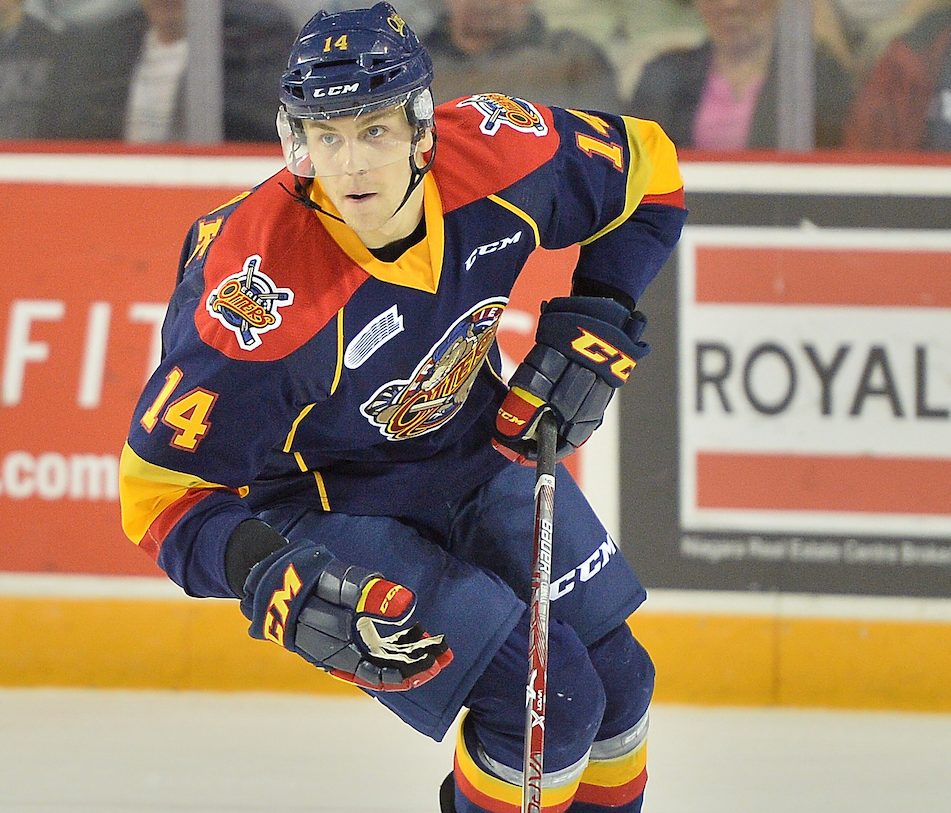 4. Erik Cernak (Tampa Bay Lightning, 2/43, 2015 (Drafted by Los Angeles) D,Erie (OHL))
Cernak, a key part of the return to Tamp Bay from the trade of Ben Bishop to LA, is the only prospect traded this month to still be in junior hockey. Although he has spent the past two seasons with the highflying Erie Otters, Cernak is not an offensive player. As of this writing, he has played 41 games in both of his last two seasons (prior to that he played in Slovakia). His scoring has increased this year from 15 points….to 17 points. Likewise, in four WJC tournaments for his native country, he has a mere three points in 20 combined games. He does show flashes of offensive aptitude, but tends to mind his own end first and foremost. He is a good penalty killer and uses his long reach effectively. He will make his AHL debut next season, and knowing the Lightning, will be given the benefit of time to maximize his development.
Mark McNeill (Dallas Stars, 1/18, 2011 (Drafted by Chicago) – RW/C, Texas (AHL))
Finally, we have a former first rounder on the move. McNeill is a strange case. He has put up solid, if not spectacular, numbers in the AHL year over year, although he slumped somewhat this year. He plays a strong two-way game and demonstrates impressive hockey IQ in all three zones. He is a trusted penalty killer and has plus instincts in the offensive end. He can stickhandle, has a very hard shot from the slot area and will be physical on occasion as well. But he never received a chance with the Blackhawks, receiving only one game in the NHL across four professional seasons. I was surprised when he passed successfully through waivers before the season started, but the Blackhawks were able to use that to their advantage, packaging McNeill with a conditional 2018 fourth rounder to Dallas to re-acquire Johnny Oduya. The Stars would be wise to give him an NHL chance before this year is done.
Nikolay Goldobin (Vancouver Canucks, 1/27, 2014 (Drafted by San Jose) – LW/RW, Utica (AHL))
The main return to the Canucks for the services of Jannik Hansen, Goldobin would be one of the better prospects dealt at any deadline, much less a slowish one such as this. Goldobin is one of the more electrifying puck players outside of the NHL. When he is on his game, he can make good defenders look silly. The knock on him in his draft year and his rookie AHL season was his unwillingness to play hard in his own end. This year, he finally looks to have taken that criticism to heart, showing commitment even when his team did not have the puck. He will never be rugged, but he can be responsible. He has had cameos with the Sharks in each of his past two seasons and will likely receive the call up to Vancouver sooner than later. He is exactly the type of player that Vancouver needed in the fast approaching post-Sedin era.
Jonathan Dahlen (Vancouver Canucks, 2/42, 2016 (drafted by Ottawa) – C/LW, Timra (Allsvenskan))
Between Goldobin and Dahlen, stolen by the Canucks from Ottawa for the aging Alexandre Burrows, the Canucks have finally admitted that they are a rebuilding team. While bottom dwelling Colorado sat on their heels, limiting themselves to a few minor AHL swaps, the Canucks reeled in the two best prospects who were moved this month. Dahlen, scoring at a near point-per-game pace in the Swedish Allsvenskan, the number two league in the country is fourth in league scoring. IF we limit that to players under 20 (he is 19), no one is within six points of him. He also scored five goals in Sweden's run to the semifinals at this year's WJC. Ulf Dahlen's son is a constant threat to defenders with his plus vision, agility, puck skills and strong shot. His contract with Timra is set to expire after this season, and the Canucks should be doing everything possible to ensure that the high scoring teenager crosses the pond this summer. He and Goldobin should be one third of the team's future top six.