Combine Experience
I had the distinct pleasure of attending the annual NHL Scouting Combine in Buffalo, NY on the weekend. It was great to be in the company of fellow NHL scouts that were there to see the prospects they had been scouting for the last year, maybe two years to get to this point. The combine was held in the side Harbor Center rink where the Buffalo Sabres take their practices. Throughout the combine players were asked to complete various physical tests not to examine and determine their overall health, but to see how well they could perform physically. Test stations included were:
Long jump
Straight jump
Height/weight measurements
Bench press
Small suicides
Speed Biking
Pull ups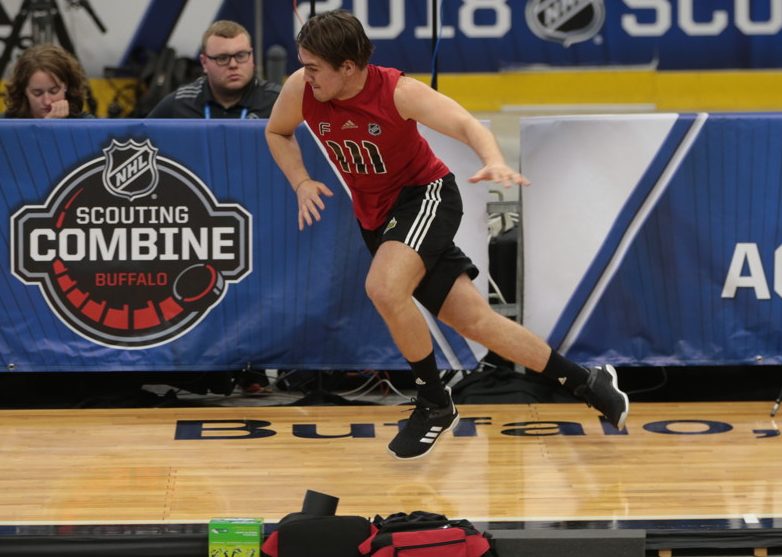 Easily the hardest and most intense station was the speed bike as players are pushed to go their hardest. The other daunting station was pulls up as many players (not just Sam Bennett) were struggling just to do one. Notable names that participated in the combine were Rasmus Dahlin, Filip Zadina and Evan Bouchard, to name a few. Dahlin did not really show enthusiasm for the testing as it looked like in my eyes he was only giving 50-75% effort. For instance, he was not going hard on the bike and did not break a sweat before he was finished. On the short suicides he was clumsy running back and forth and did not explode at the start. Filip Zadina, on the other hand, showed that he was one of the hardest working athletes at the combine who wanted to show what he is all about. From what I was seeing he was one of the faster runners doing the small suicides test and was working his butt off on the speed cycling. Many NCAA eligible prospects were participating at the combine including Mattias Samuelson, Jay O'Brien and Jake Wise to name a few. From someone who watched mostly OHL games this season it was interesting to match up the NCAA prospects to the OHL prospects and see the comparisons and differences between the two groups.
Another part of the NHL Scouting Combine that took place was the interviews that follow a prospect once he was finished with his testing. In the main concourse there was four podiums set up, two for large audiences and cameras and two more for one-on-one interviews. Based on the popularity of a prospect it was hard to get one-on-one interviews with the likes of Filip Zadina or Rasmus Dahlin. However, prospects ranked lower were easier to request time with and for many this would be one last chance to showcase their personality. I spoke to Jake Wise who was entering the NCAA this year on a scholarship and is supposed to go high in the draft. He showed a humble, yet confident tone of voice when speaking to me. Asked about the growth in his game, he said, "My goal is obviously to make the NHL. I've worked extremely hard to be where I am now, that I have to continue focusing on my development and that includes skating faster and playing smarter as progress to the next level."
Other prospects that I spoke to, such as Jett Woo from the WHL, were more straight forward and serious. Woo noted that, "I am going to make the NHL. That's always been the plan since I was young. It's good to see some of the other prospects here and knowing what type of draft class I will be a part of, but I am only focused on where I get drafted and how I will make an impact with that team. The overall goal for me in life is to win the Stanley Cup".
Then there were prospects like Ryan Merkley, a high draft pick who has carried a bad reputation for this attitude leading up to the draft. He showed a different side when he was asked about his attitude, stating "I'll admit that at least 25 teams asked me about my attitude and that is something I need to work on for next season because I am not that type of person. If 25 teams are asking you that specific question it speaks to me that my game is fine, but I need to be a better teammate and a better person off the ice."
The Hockey Fan Experience
For hockey sports fans this type of event was the perfect last showcase before the draft for the fans to see their potential new players. Being a huge hockey fan myself I was curiously looking at which player would fit the bill for the Toronto Maple Leaf's 25th overall pick and the combine allowed me to see more players up front and to understand better which prospect could fill their system. The combine allowed fans to see players coming from Europe, Canada and the US to see what the hype about these players was, and if they are the type of player that could jump to the NHL. In other cases, the combine allowed fans to see prospects from unknown areas in the hockey world such as Liam Kirk from Great Britain. A prospect developed entirely in the Great Britain Hockey Development Program, he was a bit of an unknown to many North American hockey fans, but the combine allowed me to see his athletic side and a bit of his character. He said, "Being from a non-hockey market I would like to be able to make a difference for British hockey players and give them the idea that Great Britain's program is good at developing players".
Here are the complete results of the NHL Combine. Two notable standouts were Liam Foudy - finished in the top 25 in 11 of 20 tests, led four and was second in three. Jack Gorniak appeared in the top 25 results in 12 of 20 tests and led in one.
| Fitness Tests: Aerobic Fitness: Test Duration  | Fitness Tests: Aerobic Fitness: VO2max (ml/kg/min)  |
| --- | --- |
| 1 BOUCHARD, XAVIER 16:45 | 1 HILLIS, CAMERON 65 |
| 2 DOUGLAS, CURTIS 16:35 | 2 DUDAS, AIDAN 63 |
| 3 SAMUELSSON, MATTIAS 16:30 | 3 BOUCHARD, XAVIER 62 |
| 4 BAHL, KEVIN 16:10 | 4 DRURY, JACK 61 |
| 5 BACK, OSKAR 16:08 | 5 DELLANDREA, TY 60 |
| 6 DAHLIN, RASMUS 16:01 | 6 FORTIER, GABRIEL 59 |
| 7 MCBAIN, JACK 16:00 | 7 LUNDESTROM, ISAC 58 |
| 8 PIVONKA, JACOB 15:30 | 8 O'BRIEN, JAY 58 |
| 9 GINNING, ADAM 15:30 | 9 RODRIGUE, OLIVIER 58 |
| 10 RANTA, SAMPO 15:29 | 10 MCBAIN, JACK 57 |
| 11 KUPARI, RASMUS 15:15 | 11 TKACHUK, BRADY 57 |
| 12 FORTIER, GABRIEL 15:10 | 12 INGHAM, JACOB 57 |
| 13 OLOFSSON, JACOB 15:00 | 13 PIVONKA, JACOB 56 |
| 14 DEMIN, STANISLAV 15:00 | 14 TYCHONICK, JONATHAN 56 |
| 15 TYCHONICK, JONATHAN 15:00 | 15 KOTKANIEMI, JESPERI 56 |
| 16 HALL, CURTIS 15:00 | 16 MCISAAC, JARED 56 |
| 17 REICHEL, KRISTIAN 15:00 | 17 JOHANSSON, FILIP 56 |
| 18 KOTKANIEMI, JESPERI 14:55 | 18 FLORCHUK, ERIC 56 |
| 19 WOO, JETT 14:45 | 19 HAYTON, BARRETT 56 |
| 20 ROMAN, MILOS 14:45 | 20 GROSS, NICO 56 |
| 21 TKACHUK, BRADY 14:41 | 21 PEKAR, MATEJ 56 |
| 22 DELLANDREA, TY 14:35 | 22 LAUKO, JAKUB 56 |
| 23 KURASHEV, PHILIPP 14:35 | 23 WEISS, TYLER 56 |
| 24 MCISAAC, JARED 14:31 | 24 JENIK, JAN 56 |
| 25 CALLAHAN, MICHAEL 14:30 | 25 FOUDY, LIAM 56 |
| | |
| Fitness Tests: Agility & Valance: Pro Agility - Left time (sec)  | Fitness Tests: Agility & Valance: Pro Agility - Right time (sec)  |
| 1 TYCHONICK, JONATHAN 4.2 | 1 TYCHONICK, JONATHAN 4.2 |
| 2 FOUDY, LIAM 4.2 | 2 FOUDY, LIAM 4.3 |
| 3 DUDAS, AIDAN 4.3 | 3 GORNIAK, JACK 4.3 |
| 4 GORNIAK, JACK 4.3 | 4 SVECHNIKOV, ANDREI 4.3 |
| 5 BERNARD-DOCKER, JACOB 4.3 | 5 DUDAS, AIDAN 4.4 |
| 6 BOUCHARD, XAVIER 4.4 | 6 BERNARD-DOCKER, JACOB 4.4 |
| 7 MCBAIN, JACK 4.4 | 7 BOUCHARD, XAVIER 4.4 |
| 8 INGHAM, JACOB 4.4 | 8 RANTA, SAMPO 4.4 |
| 9 DOBSON, NOAH 4.4 | 9 WISE, JAKE 4.4 |
| 10 FEHERVARY, MARTIN 4.4 | 10 FORTIER, GABRIEL 4.4 |
| 11 RANTA, SAMPO 4.4 | 11 HAYTON, BARRETT 4.4 |
| 12 EMBERSON, TY 4.4 | 12 MCBAIN, JACK 4.5 |
| 13 WISE, JAKE 4.4 | 13 EMBERSON, TY 4.5 |
| 14 WAHLSTROM, OLIVER 4.4 | 14 WAHLSTROM, OLIVER 4.5 |
| 15 HILLIS, CAMERON 4.5 | 15 O'BRIEN, JAY 4.5 |
| 16 FORTIER, GABRIEL 4.5 | 16 LAUKO, JAKUB 4.5 |
| 17 O'BRIEN, JAY 4.5 | 17 CALLAHAN, MICHAEL 4.5 |
| 18 HAYTON, BARRETT 4.5 | 18 DRURY, JACK 4.5 |
| 19 LAUKO, JAKUB 4.5 | 19 TKACHUK, BRADY 4.5 |
| 20 SMITH, TY 4.5 | 20 KUPARI, RASMUS 4.58 |
| 21 CALLAHAN, MICHAEL 4.5 | 21 INGHAM, JACOB 4.6 |
| 22 HALL, CURTIS 4.5 | 22 DOBSON, NOAH 4.6 |
| 23 SVECHNIKOV, ANDREI 4.5 | 23 FEHERVARY, MARTIN 4.6 |
| 24 LUNDKVIST, NILS 4.5 | 24 HILLIS, CAMERON 4.6 |
| 25 MILLER, K'ANDRE 4.5 | 25 SMITH, TY 4.6 |
| | |
| Fitness Tests: Agility & Valance: Pro Agility - Left Max speed (mph)  | Fitness Tests: Agility & Valance: Pro Agility - Right Max speed (mph)  |
| 1 GORNIAK, JACK 13.5 | 1 HALL, CURTIS 13.2 |
| 2 ROBERTSON, CARTER 13.4 | 2 ROBERTSON, CARTER 13 |
| 3 O'BRIEN, JAY 13.1 | 3 MADDEN, TYLER 13 |
| 4 SMITH, TY 13 | 4 FORTIER, GABRIEL 12.9 |
| 5 GROSS, NICO 13 | 5 BOKK, DOMINIK 12.8 |
| 6 FORTIER, GABRIEL 12.9 | 6 LAUKO, JAKUB 12.7 |
| 7 MADDEN, TYLER 12.9 | 7 WAHLSTROM, OLIVER 12.6 |
| 8 HALL, CURTIS 12.8 | 8 DELLANDREA, TY 12.6 |
| 9 WOO, JETT 12.8 | 9 CALLAHAN, MICHAEL 12.6 |
| 10 DRURY, JACK 12.7 | 10 RODRIGUE, OLIVIER 12.5 |
| 11 WEISS, TYLER 12.7 | 11 GROSS, NICO 12.4 |
| 12 MCBAIN, JACK 12.6 | 12 DRURY, JACK 12.4 |
| 13 LAUKO, JAKUB 12.6 | 13 WEISS, TYLER 12.4 |
| 14 ZADINA, FILIP 12.5 | 14 LUNDKVIST, NILS 12.4 |
| 15 HILLIS, CAMERON 12.4 | 15 FEHERVARY, MARTIN 12.4 |
| 16 LUNDKVIST, NILS 12.4 | 16 WOO, JETT 12.2 |
| 17 RODRIGUE, OLIVIER 12.4 | 17 HILLIS, CAMERON 12.2 |
| 18 BACK, OSKAR 12.37 | 18 TYCHONICK, JONATHAN 12.2 |
| 19 TYCHONICK, JONATHAN 12.3 | 19 GILES, PATRICK 12.2 |
| 20 WAHLSTROM, OLIVER 12.3 | 20 DOSTAL, LUKAS 12.2 |
| 21 REICHEL, KRISTIAN 12.3 | 21 GORNIAK, JACK 12.1 |
| 22 GILES, PATRICK 12.3 | 22 TKACHUK, BRADY 12.1 |
| 23 FOUDY, LIAM 12.2 | 23 GROULX, BENOIT-OLIVIER 12 |
| 24 DOBSON, NOAH 12.2 | 24 BARTON, SETH 12 |
| 25 MILLER, K'ANDRE 12.2 | 25 DENISENKO, GRIGORI 11.9 |
| | |
| Fitness Tests: Anaerobic: Fitness: Max Effort #1 - Mean Power Output (watts/kg)  | Fitness Tests: Anaerobic: Fitness: Max Effort #1 - Peak Power Output (watts/kg)  |
| 1 FORTIER, GABRIEL 17.2 | 1 FOUDY, LIAM 19.8 |
| 2 BOQVIST, ADAM 16.8 | 2 REICHEL, KRISTIAN 19.6 |
| 3 REICHEL, KRISTIAN 16.7 | 3 BOQVIST, ADAM 19.6 |
| 4 KHOVANOV, ALEXANDER 16.7 | 4 KHOVANOV, ALEXANDER 19.2 |
| 5 GRUDEN, JONATHAN 16.2 | 5 HENMAN, LUKE 19.1 |
| 6 FLORCHUK, ERIC 16.1 | 6 FORTIER, GABRIEL 19 |
| 7 HILLIS, CAMERON 15.9 | 7 GORNIAK, JACK 18.6 |
| 8 GORNIAK, JACK 15.9 | 8 TYCHONICK, JONATHAN 18.4 |
| 9 DOBSON, NOAH 15.8 | 9 LUNDESTROM, ISAC 18.4 |
| 10 CLARK, KODY 15.8 | 10 GRUDEN, JONATHAN 18.1 |
| 11 FEHERVARY, MARTIN 15.6 | 11 FEHERVARY, MARTIN 18.1 |
| 12 SVECHNIKOV, ANDREI 15.5 | 12 HAYTON, BARRETT 18.1 |
| 13 HENMAN, LUKE 15.4 | 13 HILLIS, CAMERON 18 |
| 14 HAYTON, BARRETT 15.4 | 14 O'BRIEN, JAY 18 |
| 15 GROULX, BENOIT-OLIVIER 15.3 | 15 SANDIN, RASMUS 17.9 |
| 16 INGHAM, JACOB 15.2 | 16 DOBSON, NOAH 17.8 |
| 17 GINNING, ADAM 15.2 | 17 STOTTS, RILEY 17.8 |
| 18 LAUKO, JAKUB 15.1 | 18 FLORCHUK, ERIC 17.8 |
| 19 WAHLSTROM, OLIVER 15.1 | 19 CLARK, KODY 17.7 |
| 20 MERKLEY, RYAN 15.1 | 20 INGHAM, JACOB 17.7 |
| 21 KOTKANIEMI, JESPERI 15.1 | 21 BOUCHARD, XAVIER 17.7 |
| 22 JOHANSSON, FILIP 15 | 22 EMBERSON, TY 17.6 |
| 23 RANTA, SAMPO 15 | 23 SVECHNIKOV, ANDREI 17.6 |
| 24 KUPARI, RASMUS 15 | 24 MERKLEY, RYAN 17.6 |
| 25 SANDIN, RASMUS 15 | 25 BARTON, SETH 17.5 |
| | |
| Fitness Tests: Anaerobic: Fitness:: Fatigue Index  | Fitness Tests: Anthropometry: Wing Span (inches)  |
| 1 VELENO, JOSEPH 13.4 | 1 BAHL, KEVIN 81.75 |
| 2 MADDEN, TYLER 14 | 2 DOUGLAS, CURTIS 81.25 |
| 3 HARRIS, JORDAN 15.6 | 3 MCBAIN, JACK 81.25 |
| 4 BAHL, KEVIN 17.1 | 4 SAMUELSSON, MATTIAS 80.75 |
| 5 DENISENKO, GRIGORI 17.7 | 5 MANDOLESE, KEVIN 80.25 |
| 6 GINNING, ADAM 17.8 | 6 MILLER, K'ANDRE 79.75 |
| 7 PEKAR, MATEJ 18.3 | 7 SKAREK, JAKUB 79 |
| 8 FLORCHUK, ERIC 18.3 | 8 INGHAM, JACOB 79 |
| 9 BOUCHARD, EVAN 18.6 | 9 KARKI, KEEGAN 78.75 |
| 10 ROMAN, MILOS 18.9 | 10 BERNARD, XAVIER 78.5 |
| 11 TKACHUK, BRADY 19 | 11 GINNING, ADAM 78 |
| 12 SMITH, TY 19.3 | 12 SUTTER, RILEY 77.75 |
| 13 MCISAAC, JARED 19.6 | 13 DAHLIN, RASMUS 77.5 |
| 14 DEMIN, STANISLAV 19.9 | 14 BOUCHARD, XAVIER 77.5 |
| 15 FARABEE, JOEL 20.3 | 15 REGULA, ALEC 77.25 |
| 16 DOSTAL, LUKAS 21.3 | 16 NOEL, SERRON 77.25 |
| 17 JENKINS, BLADE 21.9 | 17 GILES, PATRICK 77 |
| 18 ALEXEYEV, ALEXANDER 22.3 | 18 WILDE, BODE 76.75 |
| 19 MCSHANE, ALLAN 22.5 | 19 MCLEOD, RYAN 76.75 |
| 20 BOKK, DOMINIK 22.6 | 20 GRAVEL, ALEXIS 76.75 |
| 21 WILDE, BODE 22.6 | 21 BACK, OSKAR 76.25 |
| 22 MANDOLESE, KEVIN 22.7 | 22 ROBERTSON, CARTER 76.25 |
| 23 BERNARD-DOCKER, JACOB 23.1 | 23 DEMIN, STANISLAV 76 |
| 24 LUNDKVIST, NILS 23.3 | 24 BARTON, SETH 76 |
| 25 BEAUDIN, NICOLAS 23.4 | 25 KOTKANIEMI, JESPERI 75.75 |
| | |
| Fitness Tests: Body Composition: Juhasz % Body Fat  | Fitness Tests: FMS: Total FMS Score  |
| 1 BOUCHARD, XAVIER 6.96 | 1 REICHEL, KRISTIAN 19 |
| 2 FARABEE, JOEL 7.28 | 2 BOUCHARD, XAVIER 18 |
| 3 MADDEN, TYLER 7.28 | 3 ROBERTSON, CARTER 18 |
| 4 ROBERTSON, CARTER 7.52 | 4 SVECHNIKOV, ANDREI 18 |
| 5 HENMAN, LUKE 7.64 | 5 HAYTON, BARRETT 18 |
| 6 SVECHNIKOV, ANDREI 7.71 | 6 HILLIS, CAMERON 18 |
| 7 FOUDY, LIAM 7.87 | 7 GROULX, BENOIT-OLIVIER 18 |
| 8 BERNARD-DOCKER, JACOB 7.96 | 8 BACK, OSKAR 18 |
| 9 RANTA, SAMPO 8.08 | 9 FEHERVARY, MARTIN 18 |
| 10 O'BRIEN, JAY 8.14 | 10 EMBERSON, TY 18 |
| 11 HARRIS, JORDAN 8.15 | 11 DEMIN, STANISLAV 18 |
| 12 HAYTON, BARRETT 8.17 | 12 BERNARD-DOCKER, JACOB 17 |
| 13 MCBAIN, JACK 8.22 | 13 LUNDESTROM, ISAC 17 |
| 14 LUNDESTROM, ISAC 8.22 | 14 FONSTAD, COLE 17 |
| 15 GRUDEN, JONATHAN 8.34 | 15 LUNDKVIST, NILS 17 |
| 16 HILLIS, CAMERON 8.41 | 16 PIVONKA, JACOB 17 |
| 17 TKACHUK, BRADY 8.44 | 17 KRAVTSOV, VITALI 17 |
| 18 FORTIER, GABRIEL 8.54 | 18 INGHAM, JACOB 17 |
| 19 DAHLIN, RASMUS 8.56 | 19 MCISAAC, JARED 17 |
| 20 BOKK, DOMINIK 8.59 | 20 BARTON, SETH 17 |
| 21 FONSTAD, COLE 8.66 | 21 ROMAN, MILOS 17 |
| 22 PEKAR, MATEJ 8.69 | 22 BOQVIST, ADAM 17 |
| 23 LUNDKVIST, NILS 8.72 | 23 ALEXEYEV, ALEXANDER 17 |
| 24 SAMUELSSON, MATTIAS 8.74 | 24 MADDEN, TYLER 16 |
| 25 REICHEL, KRISTIAN 8.8 | 25 HENMAN, LUKE 16 |
| | |
| Fitness Tests: Force Plate: Vertical Jump (inches)  | Fitness Tests: Force Plate: Squat Jump (inches)  |
| 1 FOUDY, LIAM 27.65 | 1 FEHERVARY, MARTIN 23.1 |
| 2 LUNDKVIST, NILS 26.7 | 2 FOUDY, LIAM 21.87 |
| 3 FEHERVARY, MARTIN 24.1 | 3 FLORCHUK, ERIC 21.32 |
| 4 MILLER, K'ANDRE 23.98 | 4 FORTIER, GABRIEL 21.29 |
| 5 FORTIER, GABRIEL 23.82 | 5 GORNIAK, JACK 20.77 |
| 6 GORNIAK, JACK 23.71 | 6 LAUKO, JAKUB 20.48 |
| 7 LAUKO, JAKUB 23.56 | 7 LUNDKVIST, NILS 20.24 |
| 8 HAYTON, BARRETT 23.31 | 8 STOTTS, RILEY 19.71 |
| 9 HARRIS, JORDAN 22.78 | 9 EMBERSON, TY 19.17 |
| 10 INGHAM, JACOB 22.63 | 10 SVECHNIKOV, ANDREI 18.65 |
| 11 EMBERSON, TY 22.32 | 11 DOBSON, NOAH 18.44 |
| 12 RANTA, SAMPO 22.19 | 12 WAHLSTROM, OLIVER 18.2 |
| 13 FLORCHUK, ERIC 22 | 13 RODRIGUE, OLIVIER 18.16 |
| 14 WAHLSTROM, OLIVER 21.95 | 14 NOEL, SERRON 18.08 |
| 15 KUPARI, RASMUS 21.45 | 15 HARRIS, JORDAN 17.76 |
| 16 O'BRIEN, JAY 21.44 | 16 DENISENKO, GRIGORI 17.69 |
| 17 MCISAAC, JARED 21.16 | 17 BERNARD-DOCKER, JACOB 17.65 |
| 18 STOTTS, RILEY 21.12 | 18 CLARK, KODY 17.59 |
| 19 RODRIGUE, OLIVIER 20.87 | 19 KUPARI, RASMUS 17.55 |
| 20 GRUDEN, JONATHAN 20.84 | 20 MCISAAC, JARED 17.47 |
| 21 WOO, JETT 20.65 | 21 O'BRIEN, JAY 17.38 |
| 22 BERNARD-DOCKER, JACOB 20.6 | 22 BOQVIST, ADAM 17.18 |
| 23 GINNING, ADAM 20.59 | 23 HENMAN, LUKE 17.12 |
| 24 MERKLEY, RYAN 20.45 | 24 PEKAR, MATEJ 17.07 |
| 25 WEISS, TYLER 20.44 | 25 RANTA, SAMPO 16.94 |
| | |
| Fitness Tests: Force Plate: No Arm Jump (inches)  | Fitness Tests: Musculoskeletal: Bench Press: 50% of Body Weight - Power (wats/kg)  |
| 1 FOUDY, LIAM 27.81 | 1 KUPARI, RASMUS 8.25 |
| 2 FEHERVARY, MARTIN 24.07 | 2 EMBERSON, TY 8.03 |
| 3 FORTIER, GABRIEL 20.92 | 3 GORNIAK, JACK 7.74 |
| 4 LUNDKVIST, NILS 20.69 | 4 FOUDY, LIAM 7.72 |
| 5 GORNIAK, JACK 20.51 | 5 FEHERVARY, MARTIN 7.59 |
| 6 LAUKO, JAKUB 20.45 | 6 BAHL, KEVIN 7.3 |
| 7 FLORCHUK, ERIC 20.42 | 7 SVECHNIKOV, ANDREI 7.25 |
| 8 SVECHNIKOV, ANDREI 20.13 | 8 WAHLSTROM, OLIVER 7.25 |
| 9 DOBSON, NOAH 19.67 | 9 O'BRIEN, JAY 7.21 |
| 10 EMBERSON, TY 19.53 | 10 HOELSCHER, MITCHELL 7.11 |
| 11 MILLER, K'ANDRE 19.19 | 11 BOQVIST, ADAM 6.98 |
| 12 BACK, OSKAR 18.89 | 12 STOTTS, RILEY 6.91 |
| 13 RODRIGUE, OLIVIER 18.73 | 13 BERNARD, XAVIER 6.78 |
| 14 WAHLSTROM, OLIVER 18.65 | 14 TYCHONICK, JONATHAN 6.76 |
| 15 HARRIS, JORDAN 18.44 | 15 PIVONKA, JACOB 6.74 |
| 16 O'BRIEN, JAY 18.35 | 16 BOUCHARD, EVAN 6.73 |
| 17 MCISAAC, JARED 18.33 | 17 HARRIS, JORDAN 6.67 |
| 18 KUPARI, RASMUS 18.27 | 18 MACDONALD, ANDERSON 6.67 |
| 19 BERNARD, XAVIER 18.26 | 19 MERKLEY, RYAN 6.6 |
| 20 BERNARD-DOCKER, JACOB 18.23 | 20 GRUDEN, JONATHAN 6.59 |
| 21 TYCHONICK, JONATHAN 18.02 | 21 DUDAS, AIDAN 6.59 |
| 22 WOO, JETT 18.01 | 22 MILLER, K'ANDRE 6.57 |
| 23 KOTKANIEMI, JESPERI 17.97 | 23 DURZI, SEAN 6.57 |
| 24 LUNDESTROM, ISAC 17.94 | 24 ROBERTSON, CARTER 6.52 |
| 25 MERKLEY, RYAN 17.93 | 25 KOTKANIEMI, JESPERI 6.5 |
| | |
| Fitness Tests: Musculoskeletal: Left Hand Grip (lb)  | Fitness Tests: Musculoskeletal: Right Hand Grip (lb)  |
| 1 MILLER, K'ANDRE 170 | 1 MILLER, K'ANDRE 180 |
| 2 DOUGLAS, CURTIS 166 | 2 DOUGLAS, CURTIS 179 |
| 3 MCLEOD, RYAN 159 | 3 FORTIER, GABRIEL 160 |
| 4 BARTON, SETH 156 | 4 PIVONKA, JACOB 160 |
| 5 TKACHUK, BRADY 155 | 5 MCLEOD, RYAN 157 |
| 6 SUTTER, RILEY 155 | 6 BERNARD, XAVIER 157 |
| 7 KURASHEV, PHILIPP 152 | 7 GILES, PATRICK 156 |
| 8 SVECHNIKOV, ANDREI 151 | 8 SAMUELSSON, MATTIAS 155 |
| 9 BERNARD, XAVIER 150 | 9 GINNING, ADAM 155 |
| 10 GILES, PATRICK 150 | 10 STOTTS, RILEY 155 |
| 11 MCISAAC, JARED 150 | 11 ROBERTSON, CARTER 155 |
| 12 SAMUELSSON, MATTIAS 150 | 12 BARTON, SETH 154 |
| 13 GINNING, ADAM 149 | 13 BOUCHARD, XAVIER 154 |
| 14 STOTTS, RILEY 148 | 14 HALL, CURTIS 153 |
| 15 FORTIER, GABRIEL 148 | 15 DURZI, SEAN 151 |
| 16 JENIK, JAN 148 | 16 LAUKO, JAKUB 151 |
| 17 BACK, OSKAR 148 | 17 SUTTER, RILEY 150 |
| 18 BERNARD-DOCKER, JACOB 147 | 18 KOTKANIEMI, JESPERI 150 |
| 19 FEHERVARY, MARTIN 146 | 19 RANTA, SAMPO 149 |
| 20 BOUCHARD, XAVIER 146 | 20 WOO, JETT 149 |
| 21 MCBAIN, JACK 146 | 21 KARKI, KEEGAN 147 |
| 22 WAHLSTROM, OLIVER 145 | 22 KHOVANOV, ALEXANDER 147 |
| 23 BOUCHARD, EVAN 145 | 23 MCISAAC, JARED 146 |
| 24 RANTA, SAMPO 145 | 24 INGHAM, JACOB 146 |
| 25 HAYTON, BARRETT 144 | 25 ALEXEYEV, ALEXANDER 146 |
| | |
| Fitness Tests: Musculoskeletal: Pull-Ups Consecutive (max #)  | Fitness Tests: Musculoskeletal: Standing Long Jump (inches)  |
| 1 BERNARD-DOCKER, JACOB 15 | 1 FOUDY, LIAM 118.8 |
| 2 BOUCHARD, EVAN 14 | 2 INGHAM, JACOB 115 |
| 3 HARRIS, JORDAN 14 | 3 LUNDKVIST, NILS 114.5 |
| 4 FORTIER, GABRIEL 13 | 4 FEHERVARY, MARTIN 113.5 |
| 5 FEHERVARY, MARTIN 13 | 5 MILLER, K'ANDRE 113.5 |
| 6 O'BRIEN, JAY 13 | 6 GORNIAK, JACK 111.8 |
| 7 HOELSCHER, MITCHELL 13 | 7 ROBERTSON, CARTER 111.5 |
| 8 PEKAR, MATEJ 13 | 8 RODRIGUE, OLIVIER 111.5 |
| 9 GROULX, BENOIT-OLIVIER 13 | 9 LAUKO, JAKUB 111.3 |
| 10 MCLAUGHLIN, BLAKE 13 | 10 LUNDESTROM, ISAC 110.3 |
| 11 ROBERTSON, CARTER 12 | 11 DOBSON, NOAH 110.3 |
| 12 LAUKO, JAKUB 12 | 12 HAYTON, BARRETT 110 |
| 13 KIRK, LIAM 12 | 13 MCBAIN, JACK 109.5 |
| 14 WEISS, TYLER 12 | 14 PEKAR, MATEJ 109 |
| 15 GORNIAK, JACK 12 | 15 SVECHNIKOV, ANDREI 108.5 |
| 16 GILES, PATRICK 11 | 16 SAMUELSSON, MATTIAS 108 |
| 17 TKACHUK, BRADY 11 | 17 DEMIN, STANISLAV 107.8 |
| 18 HAYTON, BARRETT 11 | 18 KUPARI, RASMUS 107.8 |
| 19 ADDISON, CALEN 11 | 19 BAHL, KEVIN 107.5 |
| 20 DENISENKO, GRIGORI 11 | 20 FORTIER, GABRIEL 107.3 |
| 21 DUDAS, AIDAN 11 | 21 RANTA, SAMPO 107.3 |
| 22 BEAUDIN, NICOLAS 11 | 22 EMBERSON, TY 107 |
| 23 MILLER, K'ANDRE 10 | 23 BERNARD-DOCKER, JACOB 106.8 |
| 24 KOTKANIEMI, JESPERI 10 | 24 WEISS, TYLER 106.8 |
| 25 INGHAM, JACOB 10 | 25 GINNING, ADAM 106.8 |