The trade deadline always brings out some interesting team philosophies. Sometimes it's as simple as getting the best player available like the Devils getting Timo Meier or Toronto adding Ryan O'Reilly with the Blues falling out of the playoff race early. Then there's those moves around the margins that look like depth adds at first glance but can really payoff in the post-season. Vegas adding Ivan Barbashev to bolster their forward depth being a good example of that.
It's always interesting to see which players teams target at the deadline and what skillsets they value heading into a playoff run. This is especially true with defensemen, which is probably the biggest game of "choose your own adventure" in hockey. Good team defense is more about having all five players dialed in and understanding their assignments, but the two blue liners are always going to shoulder more of the burden even if it's not always their fault. This is where teams run into problems at the deadline.
Everyone wants to add defensemen, but there's a bigger risk of not getting what you bargained for when you're taking someone from a different system and making him play 20+ minutes a night in high leverage situations. Sometimes you get situations like Ben Chiarot on the Florida Panthers last year, where a defenseman who is more suited to patrol the front of the net and deliver hits is playing in a system where most of the game is played off the rush. It becomes fitting a square peg into a round hole and becomes a part of a roster you have to work around instead of playing to your strengths. Compare that to Tampa Bay getting David Savard two years ago, who was mostly asked to kill penalties and play lower in the lineup with Mikhail Sergachev as his safety valve, and it's a much more natural situation where a player with a specific skillset is filling a certain role.
It's tough to avoid these pitfalls because everyone looks for different skillsets in defensemen and it becomes more difficult the fill gaps higher in the lineup. A guy who can make a beautiful stretch pass and put up points on the power play might not be suited to play over 20 minutes a night against top lines while the defender who hits hard but struggles to move the puck might hinder your team's offense. A defender who might be good at defending zone entries could be benefitting from a system that has a tight neutral zone forecheck or help from forwards. It becomes a complicated puzzle that can either win or cost you a playoff series.
Something that most defensemen eventually have to do, though is retrieve the puck. Whether it's chasing a dump-in, getting it off the wall or freeing the puck for a teammate, clean puck retrievals are how most games are decided. In this study looking at every goal scored in the 2021-22 season, about 65% of five-on-five goals scored off the rush started in the defensive zone, with 32.5% coming off a retrieval against a forecheck. In addition to that, 42% of all five-on-five goals last year were scored off an offensive zone turnover or a retrieval, which shows the importance in this part of the game. Even if you're not starting a rush, negating a forecheck or flipping possession can be just as important, especially with defending the lead.
Defensemen are always going to be heavily involved in this part of the game regardless of their skillset and it's where chemistry and complementary skillsets can really make a difference. One defenseman can take the hit while the other makes the play, or one can stand up at the blue line while the other goes back to clear the puck. We can start to see the value of things like "making a good first pass" or "making the forwards job easier." Few players demonstrate this better than Edmonton Oilers deadline pickup Matthias Ekholm: 
A mainstay in Nashville for years, he's had a pretty thankless role of soaking up some of the tougher minutes so that Roman Josi can spend as much time as possible way from forecheck pressure and in the offensive zone. He's part of the newer wave of shutdown defensemen who use their skating, their reach and their agility to kill plays before they start (although he will block a lot of shots if he has to). He is one of the few that's the complete package, because he could put up zero points and still bring you some value with how strong he is along the wall with killing plays.
The first clip shows what the Oilers are probably going to see the most reward from. Ekholm's very good at taking the puck from a dead stop and making long, quick passes out of the zone to either lead the rush or flip possession. It might have more of a reward in Edmonton with McDavid on the receiving end of those passes than Nashville's forward corps, so it's easy to see the potential upside here. The other side of this is how good he is at drawing defenders to him and getting rid of the puck right as they're about to check him. Using that strong upper-body to absorb contact and bait defenders into being over-aggressive on the forecheck.
The puck skill, however, is where the Oilers can reap the most value out of him. Their blue line isn't bad but doesn't have a lot of great passers out of the zone. This is where Ekholm might be able to add a dimension to the Oilers offense. Everyone knows how good McDavid is, but Ekholm getting him the puck could make it less of a one-man show and more of a quick-strike. Whether it can work in the playoffs remains to be seen, but Ekholm should be able to help Edmonton's top guns catch other teams off line changes and work together in the offensive zone a little more than they do now. Tyson Barrie gave them some of that but was limited to a power play specialist after a while because he's best as the second player in the rush rather than the one starting it.
Here we see both sides of what Ekholm can do for Edmonton's transition game. He's aggressive with how he defends the blue line, using his skates and his reach to kill plays and he's very good at getting back to retrieve the puck himself to start the rush. This is a skill the Oilers don't really have on their blue line right now and it's not particularly easy to find either. The other thing is how he can cover for his partner struggling to get the puck out of the zone, in this case he rescues a botched exit from young Phillip Broberg to help the Oilers get out of the zone cleanly. He's capable of playing both sides and making plays from awkward positions, so you can see how this was a perfect fit for Edmonton. Ekholm is going to be asked to stay back more times than not, but he's such a good passer and a smart player that it shouldn't negate his skillset.
With Ekholm, the fit with the Oilers is clear. It's not as easy with some other teams, namely the Toronto Maple Leafs who completely shuffled the deck on their blue line. Out goes Rasmus Sandin, in comes Luke Schenn, Jake McCabe and Erik Gustafsson. Toronto has been trying to find a winning formula in the playoffs for ages and they are no short of options with nine defensemen currently on the roster. The big move is essentially replacing Sandin with McCabe, as Schenn and Gustafsson are likely just role players for now (although it's nice to have NHLers waiting in the wings if injuries strike).
Players like McCabe are probably the toughest to get a read on if you don't watch them every night. He has the reputation as a minute-eater, spending most of his career playing a top-four role on bad Buffalo and Chicago teams but he's one of those players that's more like a Rorschach Test for hockey fans because he spends so much time in his own zone. Some appreciate his skill while others focus on the mistakes. What is interesting is Leafs GM Kyle Dubas mentioned his puck-moving as a skill they valued in addition to his competitiveness. Basically, filling the Jake Muzzin role of a sizeable defenseman who isn't a butcher with the puck.
Every team could use a player like that in theory, but what do the puck retrieval stats say and how does it work in the context of the Leaf's defense?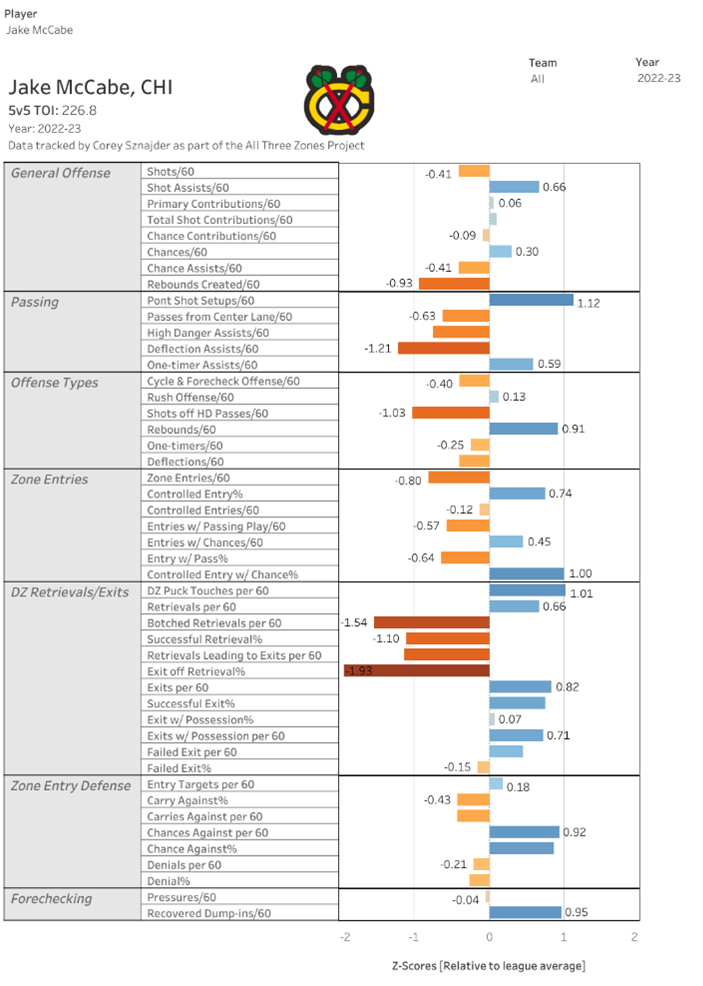 So, this kind of backs up what Dubas is saying. McCabe's very capable with the puck, he just struggled when he had to be the one going back to retrieve it. He was also pretty good at mitigating damage off the rush on a bad Chicago team, so that should bode well. This is also where he's stood out the most in his first couple of games with the Leafs and you can see some of the qualities Dubas talked about.
McCabe isn't going to totally kill the play when the rush is happening at full speed, but he's engaging enough to disrupt Grade A scoring chances. The puck has to go through a couple of layers before it gets to the net and the Toronto goalies are only going to have to square up to one shot if he plays everything perfectly. You can also see him going for contact whenever a forward touches the puck and always looking for something to do to make the cycle harder instead of just patrolling the front of the net. The only downside is that Brodie might have to shoulder the burden with getting to pucks if McCabe is always going to be chasing the play, but it's only been a few games so he should have time to adapt.
It's an interesting playstyle for a defenseman more known for blocking shots because he's more of the secondary/support mold than someone who's going to be the first one back to take a hit. How he fits into Toronto's depth chart is a little more encouraging.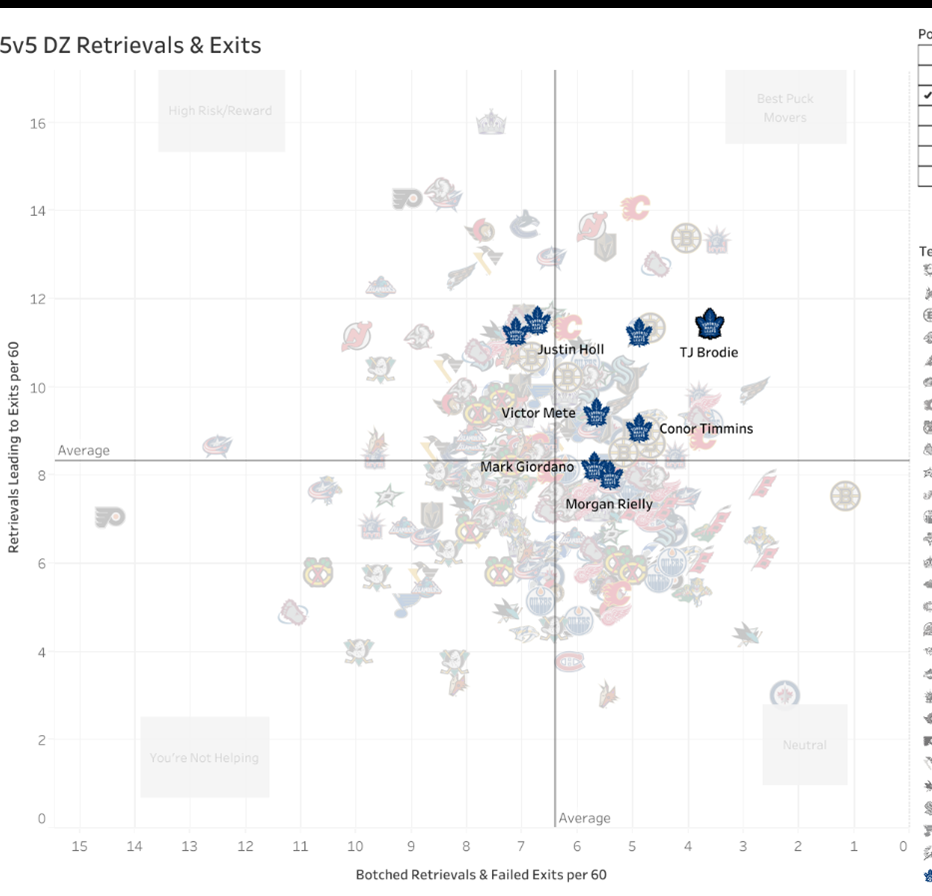 If there's a positive here, it's that Toronto isn't short on defenseman who can retrieve the puck. Brodie has been one of the better players in the league at this for most of his career and this is probably where McCabe ends up slotting long-term. Whether it's a true shutdown pair or a duo that's just soaking up defensive minutes remains to be seen, but the complementary skillsets appear to be there on paper. The rest of the lineup might be a bit of trial and error for Toronto. It seems like they're putting a lot of faith in Justin Holl to continue being Morgan Rielly's safety valve as Timothy Liljegren and Mark Giordano give them some decent puck-moving on the third pair. McCabe-Brodie could end up playing more of a factor than they pictured in another month.
What's interesting is that Sandin brought some of the same qualities to the Leafs, but Toronto might value McCabe's size and tenacity more in the playoffs. Teams are looking for whatever edge they can in the playoffs and the Leafs top priority seemed to be focused around building a pure shutdown pair with some puck-moving capabilities. They lose some passing skill with Sandin leaving, but maybe they saw that as a luxury and wanted more of an aggressive defender who can make a quick 10–15-foot pass instead than someone who is going to skate his way out of trouble. Whether or not this pays off depends if McCabe's struggles in retrieving pucks is more from playing on a bad Chicago team than his own skill deteriorating. There's also some value in minimizing damage when you can't get to pucks or are up against a tough forecheck. That seems to be where McCabe will have the most value.
Retrievals are one area of the game you can't really hide from, so it will be interesting to see how this works in action come April. Toronto is putting a lot of faith in blending complementary skillsets together without one star and their postseason fate is going to heavily depend on how their defense holds up in this area.
Stats are from allthreezones.com