Hello, all! I'm Jeff Veillette. You may have previously seen some of my contributions in this year's McKeen's Hockey Yearbook, checked out my articles on my blog, The Faceoff Circle, or found my shorter thoughts on Twitter. If not, it's nice to meet you! Every week, I'll be taking a look at a storyline I find interesting in the most microscopically watched land in the National Hockey League. Of course, I mean the Canadian-only North Division. Let's get to it!
Calgary Flames - A Changing of the Guard
Perhaps the biggest story north of the border this past week was a coaching change in Calgary, as the Flames announced the firing of Geoff Ward and the appointment of Darryl Sutter as head coach. The news came as a bit of a multi-layered surprise.
The first layer was how quick Ward had been appointed and replaced. Though his original appointment was one of sudden circumstance to begin with, Calgary's 24-15-3 run last season seemed to secure him the role more permanently, losing his interim tag at the end of the year. Just 24 games later, he was gone as well. Many had expected more from the Flames this season, so that made him a target, but to go from interim to full-time to fired in just 76 regular season and playoff games is pretty special.
The second is the return of Sutter. A veteran of over 1400 regular season and playoff games as a coach (not to mention 451 as a player), Sutter had actually announced his retirement from the role in June 2018. The rush is hard to quit, though, as he returns for what he called "unfinished business". Prior to winning two Stanley Cups with the Kings, Sutter came within a game of winning his first with the Flames in 2004, and as a native of Viking, Alberta, I'm sure there's something special to the idea of winning close to home.
Sutter has been preaching a brand of hard nosed, tough hockey as the way to move forward with the team, which is on brand for him. It also worries some as the game moves to a faster, more possession-based style, but it is worth keeping in mind that his Kings teams dominated the shot shares as well as the bruise shares. It's also a wise thing to pitch while a team debates a rebuild - you can achieve a visible identity of grit with just about any level of talent on the roster if you have buy-in from the players, while more specific skill-based identities require a baseline to succeed. If a push back up the standings doesn't happen by the trade deadline and a rebuild is opted for instead, Sutter's identity works in a caretaker's role as much as it does a winner's one.
For now, he'll take the wins - the Flames defeated the Canadiens 2-1 in his first game back behind the bench on Thursday.
Edmonton Oilers - The Pool Party
Underdog story arcs come in many forms, and my absolute favourites are the ones of redemption. Jesse Puljujarvi has been an excellent example of a redemption arc with the Oilers this season.
The 22-year-old, who was once in the 2016 Draft's first overall conversation and eventually landed in the 4th slot, has returned to Edmonton after a season-and-change sabbatical with Karpat of the Finnish SM-liiga, and the result is a player who may not be quite at his peak pedigree, but looks vastly improved from the one who played his first three seasons split between the NHL and AHL.
Through 27 games, Puljujarvi has seven goals and 10 points - respectable complementary numbers. He's throwing more hits, taking more shots, and producing great play-driving results. Only Connor McDavid and Ryan Nugent-Hopkins have a higher shot attempt share among Edmonton forwards, and only #97 has a higher expected goal share, with both of them sitting in the high 58% range. Nugent-Hopkins, McDavid, and reigning MVP Leon Draisaitl have all seen their underlying numbers improve when Puljujarvi is on the ice with them, which is an incredible feat for a player who seemed to be playing himself out of the league a year and a half ago.
Most importantly, he had the quote of the week on Sunday, when asked about improvements in using his 6'4 frame: "I can be stronger in the corners and at the net. I can be more confident there and use my big butt". With lines like that and a nickname like Pool Party, it might be time for his agent to seek out a Speedo endorsement deal.
Montreal Canadiens - Danault Snaps The Donut
Heading into this season, a lot of people around the sport were picking Habs forward Phil Danault as a dark horse candidate to win this year's Selke Trophy. His exceptional two-way skill and incredible play-driving numbers to match have caught a lot of eyes in recent years and helped push the 28-year-old to back-to-back Top 10 finishes in voting in 2019 and 2020.
The reality of the award though is that it often requires offensive output just as much as defensive acumen, despite its official description as being for the best defensive forward. One can argue that not being a top-end offensive forward was what kept him from being a finalist in these last two years, as his totals hovered around the 50-per-82 mark. This year, he's continued to control about 59% of the shot attempts despite leaning towards defensive zone usage, which puts him in an elite class, but to say his puck luck has been lacking this year would be an understatement. Heading into Wednesday's game against Vancouver, Danault had 10 assists and, more shockingly, zero goals in 25 games and 32 shots.
With six minutes remaining in Montreal's 5-1 win, however, he finally re-opened his account. "There was more than one monkey," he told reporters of his goal after the game. "I threw a bunch of monkeys off my back." It's going to be a long road to catch up to if he wishes to get back into the award conversation, but with his full season shooting percentage still sitting at about a third of his career average, he might be a player to keep an eye on for an upcoming hot streak.
Ottawa Senators - Searching For Brannstrom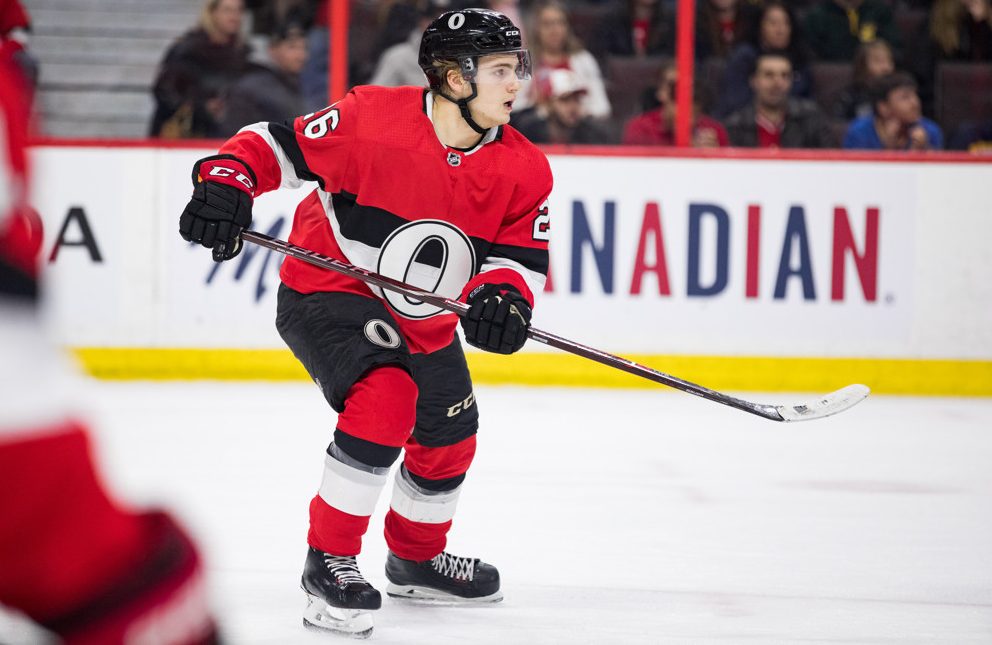 When you're a team in the midst of a clear, publicly outlined rebuild like the Ottawa Senators, a great benefit that comes with that is that you can put your young players in positions that they might not necessarily pull from contending organizations. This is especially important for your top, pre-prime aged prospects, as it lets them get a feel for roles that you'll need them to play down the line when they're at their optimal age for growth.
It seems like DJ Smith and his coaching staff haven't quite gotten that memo with Erik Brannstrom, who was acquired as the prime acquisition in the Mark Stone trade of 2019. The 15th overall pick in 2017 has found himself back on the big club after splitting time between Ottawa and Belleville last year, and he's made some big strides - already driving eclipsing his point totals from the previous year while putting up impressive underlying shot metrics for his age. His 51.4% score-adjusted shot attempt share ranks first among all Ottawa defencemen, and his most common partner in Erik Gudbranson has significantly more success in that department with him than without him.
Despite this, Brannstrom has played in just 14 of Ottawa's 29 games, averaged just one second more nightly ice time than the year prior (14:52), and on Sunday, played just 5:19 in a Senators win against the Flames. Two games above the 18-minute mark have balanced that out to an extent this week, but these should be the rule rather than the exception. There is little point in using stop-gap veterans to fill out your lineup when the players you want to build around are starting to show their NHL potential.
Toronto Maple Leafs - Fred's Future
As the first-place Maple Leafs begin to figure out what needs to be improved upon if they'd like to make the proverbial next step, a lot of focus has been placed on their goaltending and, specifically, Frederik Andersen. The 31-year-old boasts an impressive 13-5-2 record through his first 20 games but has matched that with a save percentage of just 0.902 on 562 shots.
While the league average save percentage has seen a dip to 0.907 this year, he's still below it, and was below last year's average as well. This is of some concern to a team that looks to use him as a clear-cut starter, and of special concern given his age and need for a contract extension after next year. Frustration has been particularly high after his past three games, in which he allowed 11 goals and lost a pair.
It's a tough situation for Toronto to navigate, particularly with the recency bias behind those last few games, in which he was neither a cause for outright blame nor a shining light. "Unimpressive" might be a better term for him than "bad", not giving up meatballs but not stealing prime opportunities either. Teams that want to go on deep runs need to catch lightning in a bottle, and he's not providing that. A significant shakeup is unlikely before the deadline, but it would not surprise me if Jack Campbell started getting a larger workload once he returns in full from his leg injury.
Vancouver Canucks - The Press Conference
Last Friday, Canucks GM Jim Benning gave a roughly half-hour long media availability to address the team's disappointing start to their season and the road ahead, and one couldn't help but feel unaddressed by the end of it.
The best way to put it? It was a whole lot of punting. Suggesting that a team that was lauded internally and externally as a potential contender this year was now about two years away from contention, noting that they're not focused on contract extensions for their two best players (Elias Pettersson and Quinn Hughes) right now, using a question about Loui Eriksson's contract not as an opportunity to either accept blame or back his player, but to go the "every team has bad deals route".
These were just a few of the "highlights", but the whole thing reeked of someone who didn't have certainty what his own vision even was, let alone a plan to execute it. The description of the trade deadline gave an aura of "we'll see what happens" with the moment just weeks away, and a long grocery list of moves to be sorted out whether they decide to either bottom out or push upward.
Non-commitment and vague promises would be one thing if Benning was new to the dance, but at the seven-year mark, with little to show for his work, it's a major point of concern.
Winnipeg Jets - Overwriting History
My favourite stat of the week comes out of Winnipeg. Their Tuesday night win against the Maple Leafs provided them the points they needed to officially surpass the all-time total of their previous incarnation, the Atlanta Thrashers. Atlanta finished their run with a 342-437-45-78 record, good for 807 standings points in 902 games between 1999/00 and 2010/11. Meanwhile, the Jets got points 808 and 809 in 184 fewer games, posting a record of 368-277-73 since their debut in 2011/12.
One could make the argument that the Thrashers lost some potential ground with no extra-time shootout in the first five years of their existence, but even if all 45 ties turned into shootout wins for them, it seems likely that the Jets would still skate by their total sooner than later.
Perhaps the most impressive part? The Jets still have a Thrasher on their roster - Blake Wheeler was a deadline acquisition for Atlanta in their final season, posting 17 points in 23 games to really begin his ascension to stardom.