On Wednesday, March 11, 2020 Robert Calisti of the Soo Greyhounds scored into an empty net to secure a 4-1 victory against the Flint Firebirds. Who knew that Calisti's goal would be the last one scored in the Ontario Hockey League before an over 18 month layoff due to the COVID pandemic.
However, thanks to vaccines and safety precautions, the OHL is back! We are a quarter of the way through the 2021/22 season now and that means it is time to take stock in individual and team performances. The London Knights have dominated early on the back of balanced scoring and tremendous goaltending from Brett Brochu. The Eastern Conference is a log jam of teams fighting consistency. And the league's double rookie crop (those selected in the 2020 and 2021 Priority, Import, and U18 drafts) is becoming more comfortable with each passing week.
A good portion of that rookie crop makes up the talented OHL players eligible for the 2022 NHL Draft in Montreal next summer. While it may be too early to make sweeping generalizations or concrete projections, considering many of those eligible are trying to find consistency after their first two months in the league, we can identify some players who have caught our eye.
Hello my name is...Owen Beck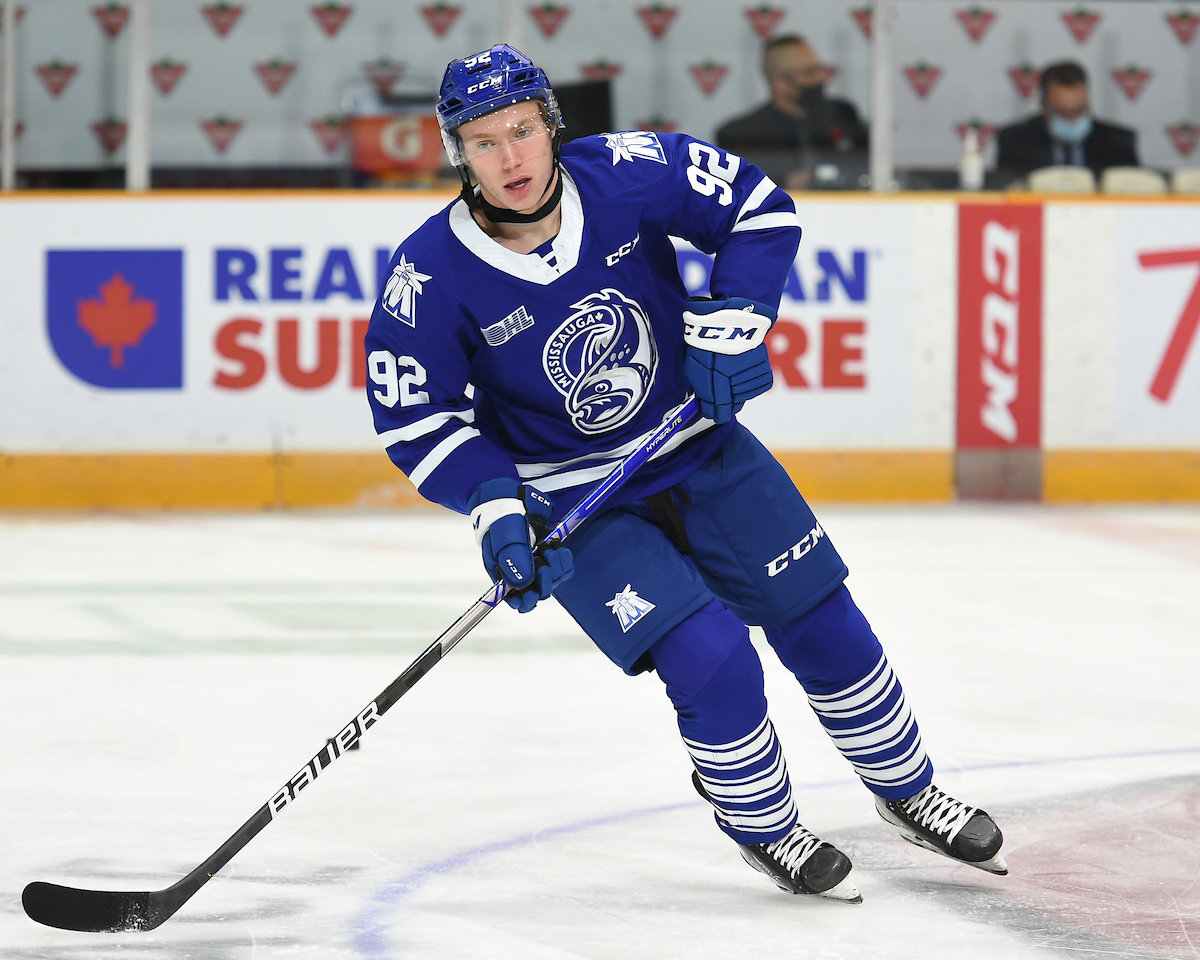 | Background Information | |
| --- | --- |
| Team: Mississauga Steelheads | Position: C |
| Height/Weight: 6'0, 190lbs | Birthdate: 2004-02-03 |
| Season to Date Stats | GP-19 G -7 A-9 PTS-16 |
Attributes to Like
Skating
Beck has been able to use his speed to consistently generate scoring chances and to push the pace of play thus far this year. Here he starts even with Bulldogs captain Colton Kammerer, but catches him flat footed at center ice and blows by him to create the two on one and subsequently scores on a nice finish off a feed from fellow 2022 eligible forward Zak Lavoie.
Here Beck circles back on the powerplay to start the breakout and goes end to end, nearly forcing Ethan Ritchie to take a penalty (but he instead makes a last second poke check). Beck gets to top speed in only a few strides, but also uses a few linear strides to alter his pace and direction, creating the successful entry and nearly a clear look all alone behind Kingston's defense.
Later in the game he does get Ritchie to take the penalty in a similar type of play. Again, he maintains top speed through a few linear crossovers, successfully gains the zone and forces Ritchie to make the hook to prevent another clean look. In every game I have seen of Beck's this year, he seems to draw a penalty in the offensive zone because of his quickness.
Two-Way Sense/Effort
Really great sequence here from Beck in the offensive end. A 67's player jumps the pass to the slot and looks to start the breakout, but Beck hustles and strips him off the puck before he can exit the zone. Then he makes a good (albeit weak) pass to a teammate near the faceoff circle. After that play is negated, Beck finishes a heavy check on the forecheck.
Great play on the backcheck here by Beck with the stick check to force the turnover, then he quickly turns it around and starts the breakout to create a near odd man opportunity for the Steelheads.
Beck follows the play all the way and supports his defenders by sliding down to cover the net front. He reads the Kingston attackers' eyes and intercepts the pass into the slot. But the puck is not on his stick long as he dishes off to help start a clean exit.
Playmaking Vision
A terrific set-up by Beck here to Ty Anselmini. He sells the shot and draws the defender in, only to dish off to the streaking Anselmini who is cutting backdoor. It is this patience and poise with the puck that makes Beck such an impressive playmaker.
A similar play here by Beck as he operates down low on the powerplay. He received the pass at the side of the net and could have easily put a lower percentage shot on net. Instead, he draws in the defender with a couple subtle fakes and finds Luca Del Bel Belluz wide open in the slot for the tap in goal.
Rest of the Season Outlook
Thus far, Beck has been operating as the Steelheads' second line center behind Luca Del Bel Belluz. However, he is seeing significant special teams' responsibility including secondary powerplay and primary penalty killing duties. He seems to be getting better with each passing week and he is consistently making those around him better. An intelligent two-way center with offensive upside, Beck has a chance to really rise up draft rankings if he can continue to make an impact at both ends of the ice. A first round grade is not inconceivable, but this level of play needs to be sustained.
Hello my name is...Matthew Poitras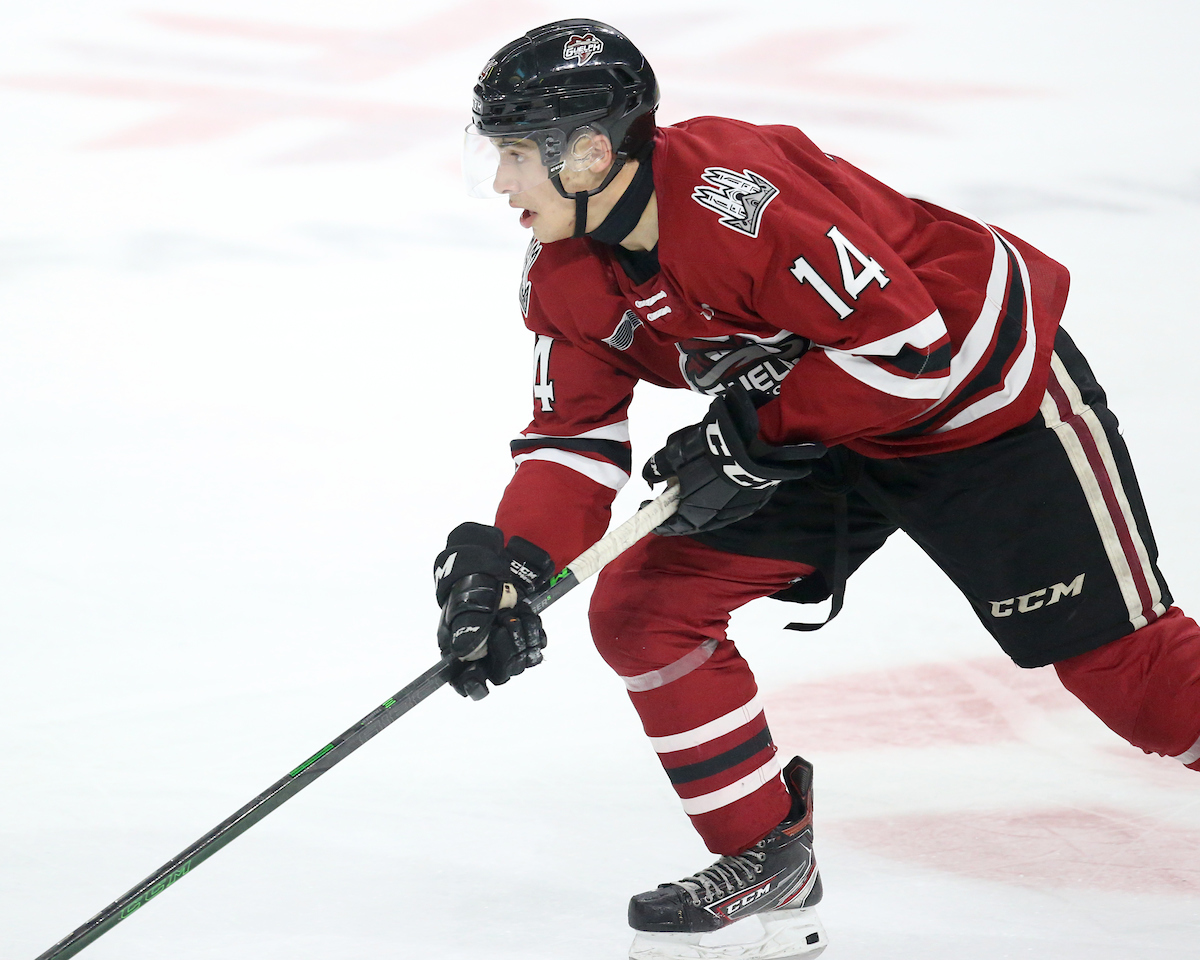 | Background Information | |
| --- | --- |
| Team: Guelph Storm | Position: C |
| Height/Weight: 5'11, 170lbs | Birthdate: 2004-03-10 |
| Season to Date Stats | GP-21 G -7 A-12 PTS-19 |
Attributes to Like
Tenaciousness
A really nice play on the forecheck here by Poitras. He catches the Windsor defender from behind and executes the stick lift to force the turnover. Then he gets a great scoring chance on the wrap-around but can't beat fellow 2022 draft eligible player Kyle Downey.
Poitras' tenaciousness in the offensive end is much more consistent than his compete in the defensive end, but it is plays like this that make you believe that he has the potential to be a strong and determined two-way player. He takes out one Windsor after he escapes the scrum and then finishes his check hard at the point to try to put pressure on the Spitfires defender. He has a good stick too because of his high IQ, but it is about finding more consistency in his own end of the ice.
Vision/IQ
Poitras leads the breakout with his head up and makes a nice move in the neutral zone to gain the offensive zone with numbers. He then spots the trailer in Matt Papais to create a terrific scoring chance from the home plate area.
Really nice play here by Poitras as he leads the attack into the Sarnia zone and sets up a great scoring chance by Jake Karabela. He holds off on making the pass until the Sarnia defender commits to him, knowing that he has Karabela in the slot. He gets the pass through the stick check and he also clearly understands that his patience is going to result in him taking a hit here to make this set-up.
Poitras leads a successful entry into the Soo's zone, but is not able to make anything happen initially and is forced to the wall. He eventually comes away from the scrum with the puck and fights off a check from a Soo defender to maintain possession, allowing him to circle behind the net and make a great pass on the backhand to Luka Profaca for the goal (even if it is a bit of a weak one).
Working down low, Poitras and Jake Karabela are competing hard to keep possession below the goal line. Then Poitras makes an amazing feed to Braeden Bowman in the slot for the goal. When you combine Poitras' compete level in the offensive zone with his skill and vision, it makes him someone capable of being a consistent threat with the puck.
Shot
This is a great opportunistic goal by Poitras that really showcases both his awareness on the ice and his quick release. Jumps up to collect the turnover and then roofs a quick wrister top shelf (short side) on the Kitchener netminder.
Poitras finds a gap in coverage and uses a screen to roof one short side over Samuel Ivanov's glove. Again, his release is deceptive and he generates pretty significant velocity on his wrister. As Poitras becomes more confident, he should develop into a pretty high end goal scorer to go with his high end passing ability and vision.
Rest of the Season Outlook
Given a first round grade in our preliminary draft rankings at McKeen's Hockey, Poitras will need to improve his consistency at both ends of the ice in order to sustain this high ranking. The competition for that second spot behind Shane Wright from the OHL is extremely fierce and competitive, but Poitras does have a chance to be that guy. He projects to be a very versatile forward at the pro level because of his combination of mobility, vision, skill, and tenaciousness.
Hello my name is...Pavel Mintyukov
| Background Information | |
| --- | --- |
| Team: Saginaw Spirit | Position: D |
| Height/Weight: 6'2, 195lbs | Birthdate: 2003-11-25 |
| Season to Date Stats | GP-18 G -3 A-11 PTS-14 |
Attributes to Like
Four Way Mobility
Poor Colby Saganiuk. He bears the brunt of Mintyukov's wrath in two of the three clips in this montage. The thing is, Colby Saganiuk is a very high end skater (even if he can be physically overmatched) and Mintyukov stuck with him rather effortlessly. Then he closed off Daniel D'Amato quickly, swallowing up ice with his long powerful strides. His quickness in all four directions is a real asset defensively.
In this montage, we see Mintyukov's ability to escape pressure in the defensive zone with his feet. His first step quickness is impressive and he can pick up speed while changing direction. This makes him such an asset in transition and someone with a lot of offensive potential as he continues to gain confidence.
Puck Skill and Offensive Potential
Here Mintyukov scores his only goal of the OHL season thus far. It is a bit of a broken play in the Erie zone and he slips behind coverage to get himself a clean look and he makes no mistake, rifling a wrist shot top shelf. Mintyukov really generates a lot of velocity with his array of different shots and it is only a matter of time before he scores more, especially on the powerplay.
Here we get a glimpse of Mintyukov's offensive potential as he finds a loose puck in the defensive zone and makes a skilled play to create an odd man rush. Then he draws the Sarnia defender in before making a great pass to set up a Spirit goal. Mintyukov seems to be creating offensive chances pretty consistently with his feet and skill, but the points have not been piling up quite yet.
Another incredibly skilled play by Mintyukov as he pounces on a loose puck in the slot and makes a defender miss, which in turn causes a complete defensive breakdown by the Erie Otters. This leads to a tic-tac-toe tap in goal for the Spirit.
Two-Way Awareness
An absolutely fantastic defensive play by Mintyukov here as he covers for his D-partner Olivier Savard on a bad pinch, forced to defend a three on one. Mintyukov quickly takes away the middle of the ice and removes all options from the Sarnia puck carrier, intercepting the pass attempt and starting a four on two the other way.
A great example of how Mintyukov can control the point using his plus mobility and his poise/awareness with the puck. He uses the whole arsenal here and I love that he did not force a shot through in either instance, opting to work it down low, which eventually leads to a Saginaw goal.
What a terrific read by Mintyukov as he jumps up to intercept a weak backhand exit pass deep in the Flint zone and then nearly scores with a nice move in tight. His anticipation and awareness in both zones is definitely above average.
Another great defensive read by Mintyukov as he stops a potential odd man opportunity dead in its tracks. He stays ahead of the play, reads the pass all the way, and steps up early to take away time and space to force the turnover.
Rest of the Season Outlook
As of writing this, Mintyukov is not inside the Top 30 of defensive scoring in the OHL this year despite seeing significant powerplay time for the Spirit. I would expect that to change as the year goes on. This is a player who is consistently creating chances with his high-end mobility and puck skill and it is only a matter of time before his production matches his talent level. Additionally, his suffocating defensive approach makes him an extremely valuable player in his own end and someone that the Saginaw coaching staff can rely on for tough matchups and assignments. There is a reason why NHL Central Scouting just increased Mintyukov's grade to an "A" for 2022 and it is because he is the potential full package as a two-way, modern-day defender.
Hello my name is...Vinzenz Rohrer
| Background Information | |
| --- | --- |
| Team: Ottawa 67's | Position: C/RW |
| Height/Weight: 5'11, 168lbs | Birthdate: 2004-09-09 |
| Season to Date Stats | GP-22 G-6 A-11 PTS-17 |
Attributes to Like 
Puck Skill and Creativity
Rohrer intercepts a back pass at the blueline and makes OHL rookie Quinton Burns look a little foolish, turning him inside/out to create a great scoring chance. He does not finish on the play, but it does show off his quick hands
Not a great look for Kingston defender Jake Murray, but Rohrer shows off his hands and edgework to make a nice move for the goal in tight. Very Pavel Datsyukian.
Again, Rohrer is such a threat in transition because of his ability to blend quickness, skill, and vision. He keeps himself open with some quick footwork to receive a tough pass and finds Jack Beck with a great pass for the 67's goal.
Rohrer shows off some terrific hand-eye coordination here as he bats the deflected pass forward intentionally to try to get behind the Petes defender. With the puck still bouncing, he takes it out of the air again and gets it on net for a quality scoring chance.
Two-way Tenaciousness
Rohrer is a terrific penalty killer when you combine his quickness, tenaciousness, small area skill, and his anticipation/awareness. Here he makes a great read to intercept a pass in the neutral zone and breaks in alone but can't finish.
I included this clip to really demonstrate that Rohrer is more than just a soft, creative playmaker. His compete level is consistently high. Here he closes off two Oshawa Generals from entering the zone consecutively and single handedly stops Oshawa's zone entry attempt. He is on the ice in all situations for the 67's and Rohrer is someone that new Ottawa head coach Dave Cameron has quickly learned to lean on.
Skating Ability
Rohrer explodes into the offensive zone and forces Riley Pitt to take a tripping penalty with a quick push to the right while maintaining speed. His ability to use his edges, use linear crossovers, and alter his pace and direction makes him a difficult cover for many OHL defenders when he is attacking in transition.
Love this play by Rohrer as he initiates a two on one shorthanded. He keeps the Hamilton defender on his back and alters his pace before a quick push off laterally to create space at the last second to get himself open for the shot attempt.
Rohrer's overall agility is on display here as he avoids the hip check while never breaking stride and gets behind the Kingston defense. However, he waits too long to make the decision to shoot or pass and he gets stripped of the puck. His indecisiveness is something that gets him in trouble at times, but over the course of the year it has improved as he has gained confidence.
Rest of the Season Outlook
I believe Rohrer is deserving of more attention that he is currently getting for a number of reasons. The first is that he is one of the youngest players available this year and playing in a new country/league, all while finding considerable success. There is more physical maturation possible and it points to a high ceiling as he gains strength. The second is that Rohrer blends his skill and skating ability very well, showing an ability to consistently create at a high pace. The third is that even though his skill level gives him a high ceiling, his tenaciousness, penalty killing prowess, and two-way awareness also gives him a high floor. It is hard to find players like that. Many expected the 67's to be in rebuilding mode this year but players like Rohrer have them in competition for the Eastern Conference crown early on and as the season goes on, I only expect his game to continue to blossom.
Hello my name is...Matyas Sapovaliv
| Background Information | |
| --- | --- |
| Team: Saginaw Spirit | Position: C |
| Height/Weight: 6'4, 190lbs | Birthdate: 2004-02-12 |
| Season to Date Stats | GP-18 G-6 A-10 PTS-16 |
Attributes to Like
Puck Protection Ability
Following a neutral zone turnover, Sapovaliv leads a successful entry, using his length to his advantage, then he makes a great pass under the pressure of the help defender. His teammate turns it over, but it was an impressive display of Sapovaliv's ability to use his size to his advantage to prevent defenders from stripping him of the puck.
Sapovaliv gets to the dump in first and puts a defender on his back as he circles and spins into the slot for a great scoring chance. Notice again how his size and reach advantage aids him in protecting the puck from the stick check of the help defender too.
Part of what makes Sapovaliv a difficult cover deep in the offensive zone is certainly his size and skill combination. But he is also pretty agile for a big guy. His ability to stop, start, pivot, and change directions while maintaining possession gives him an advantage, as you can see from this clip. He picks up a loose puck behind the net and manages to shed two defenders. Unfortunately his pass to the slot clips the net and does not connect, but as he gains strength, he has the potential to be a real load to handle down low.
Playmaking Vision
Impressive jaunt through the offensive zone by Sapovaliv as he shows off his quickness and poise with the puck by circling the zone. He eventually sets up Dean Loukus for a great chance but Loukus fans on the shot
Great decision making and vision from Sapovaliv here as throws on the breaks and pivots to create time and space and spots Nick Wong in the slot to set up a great scoring chance, which Wong is not able to finish on.
Solid job on the forecheck here by Sapovaliv as he forces the turnover and then finds a streaking Josh Bloom who can't bury the goal. The common element to each of these three clips in this category is that Sapovaliv is making some terrific set-ups but players just aren't finishing them. His assist totals (especially when you factor in his heavy shot and rebound generation) could be much higher than they are.
Two-way Awareness and Active Stick
This is a montage of some Sapovaliv defensive highlights. He has a terrific stick in the neutral zone and defensive end, where he forces a lot of turnovers with his placement, awareness, and length. His mobility, in combination with his size, makes him a high end penalty killer too and he is used very frequently in that role by the Spirit. I believe that as he gets stronger and fills out, he could be a very high level defensive forward to go with his talents offensively.
Rest of the Season Outlook
A projectable two-way center, Sapovaliv has impressed in his first North American season with the Saginaw Spirit. He is playing in a variety of different situations for the Spirit and has shown to be extremely versatile already. He is a better skater than your average 6'4 center and has strong instincts in all three zones. He will continue to operate as a focal point of the Saginaw attack and he should get more comfortable and confident as the season goes on.