Mitch Marner didn't have far to travel for his first Maple Leafs' rookie camp - held at his home rink, London's Budweiser Gardens.
Nerves seemed to get the best of him though as he had a sub-par camp - however the fourth-overall pick in the 2015 draft picked up where he left off scoring at a torrid pace upon his return to the OHL. Currently sitting fifth in league scoring through 19 games, the Thornhill, Ontario native has registered a point in all but two contests this season including back-to-back five point games against the Guelph Storm.
Flanking center Christian Dvorak and Matthew Tkachuk on the left side, their line is arguably the most dangerous in the OHL and possibly the entire CHL. Named co-captain to start the season, Marner flashes his elite skill every time he touches the puck. His ability to create offence out of seemingly innocent plays is uncanny. His hand and puck skills are off the charts - and he constantly pushes the envelope to get the puck into better scoring positions picking apart defences in the process.
Prior to taking a run at the NHL next fall, his primary focus this season will be on improving his strength levels and learning to fight through checks along the wall. His defensive game rarely comes into question as he constantly has possession of the puck when on the ice. Rotating between his wing position and center has given his game more versatility as well.
Marner recently participated in the Canada/Russia Challenge notching the game-winning assist in Game 4 of the series. A virtual shoe-in to make the U20 World Junior Championships; he formed good chemistry at the summer evaluation camps with Erie star Dylan Strome, the third-overall pick from 2015. The duo should be a lethal force as Canada looks to defend its gold medal title.
The pair battled for last season's OHL scoring crown right down to the wire, with Strome producing a six-point effort in the regular-season finale to take the title. They appear headed for another clash next spring.
Marner could very likely take another deep run in the playoffs as the Knights are a favourite to come out of the OHL and return to the Memorial Cup; which would be his second appearance on the main stage having competed there in his rookie campaign.
Here are notes and observations on some other OHL prospects on the McKeens watch list.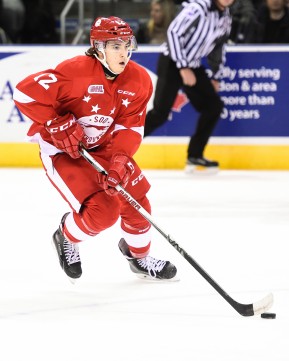 Boris Katchouk (2016), LW, Sault Ste. Marie (OHL)
Katchouk was a driving force behind the Soo Thunderbirds' Dudley Hewitt Championship last season - averaging over a point per game in the regular season and playoffs - along the Dudley Hewitt Championship series. Equipped with above-average skills and a non-stop motor that both complements his team's style of play while also frustrating opponents. A gutsy competitor who always finishes checks and gets involved in scrums which has resulted in promotions to the top two lines. Gives the Hounds a dimension they are lacking and NHL scouts are starting to take notice due to his early offensive success through 20 games (20-7-9-16).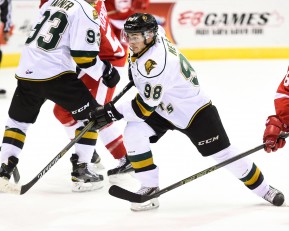 Victor Mete (2016), D, London (OHL)
Acquired last season for six draft picks after failing to come to terms with the Owen Sound Attack, who selected him eighth overall in last season's OHL draft. A slick-skating defenseman who sees second unit power play time, Mete creates with his speed even though not being particularly explosive. He can enter the zone as he is able to keep a steady pace and handle the puck efficiently, albeit his offensive forays are easily diffused. Lacks 'pop' to his game as he can fizzle out and be a non-factor. Coupled with the fact that he is under-sized and struggles to dislodge guys in front of the net or defend well due to his lack of range, Mete faces an uphill battle and will need to bring more dimensions.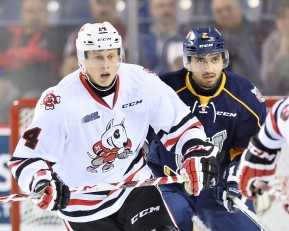 Christopher Paquette  (2016), C/W, Niagara (OHL)
A large-bodied center who has gained the confidence of Coach Williamson as he flirts with him on the wing on the top line with Brendan Perlini. Paquette keeps the game simple as he dishes off quickly and does not play outside of his limitations; although at times he could stand to handle the puck more but he understands his role on the line. His skating has an awkward hitch as he has difficulty turning but he goes after guys hard and is not afraid to engage and do the dirty work to make the line go. Relentless in his pursuit of the puck as he is a dogged fore checker; what he lacks in natural skill he makes up with in determination and hustle.
Connor Bunnaman (2016), C/LW Kitchener (OHL)
One of the biggest players available in the next draft at 6-foot-3 and 210 pounds - and still growing. Bunnaman takes up a lot of space on the ice and surprises with solid abilities as he can create in transition. Despite lacking a creative element to his game, Bunnaman finds his outlets quickly and also passes with authority. Better suited on the wing where he can neglect some defensive duties therefore allowing him to chase after pucks down low and along the wall without fear of losing his position. Confidence continues to soar as he is thrust into more situations and earns top six minutes.