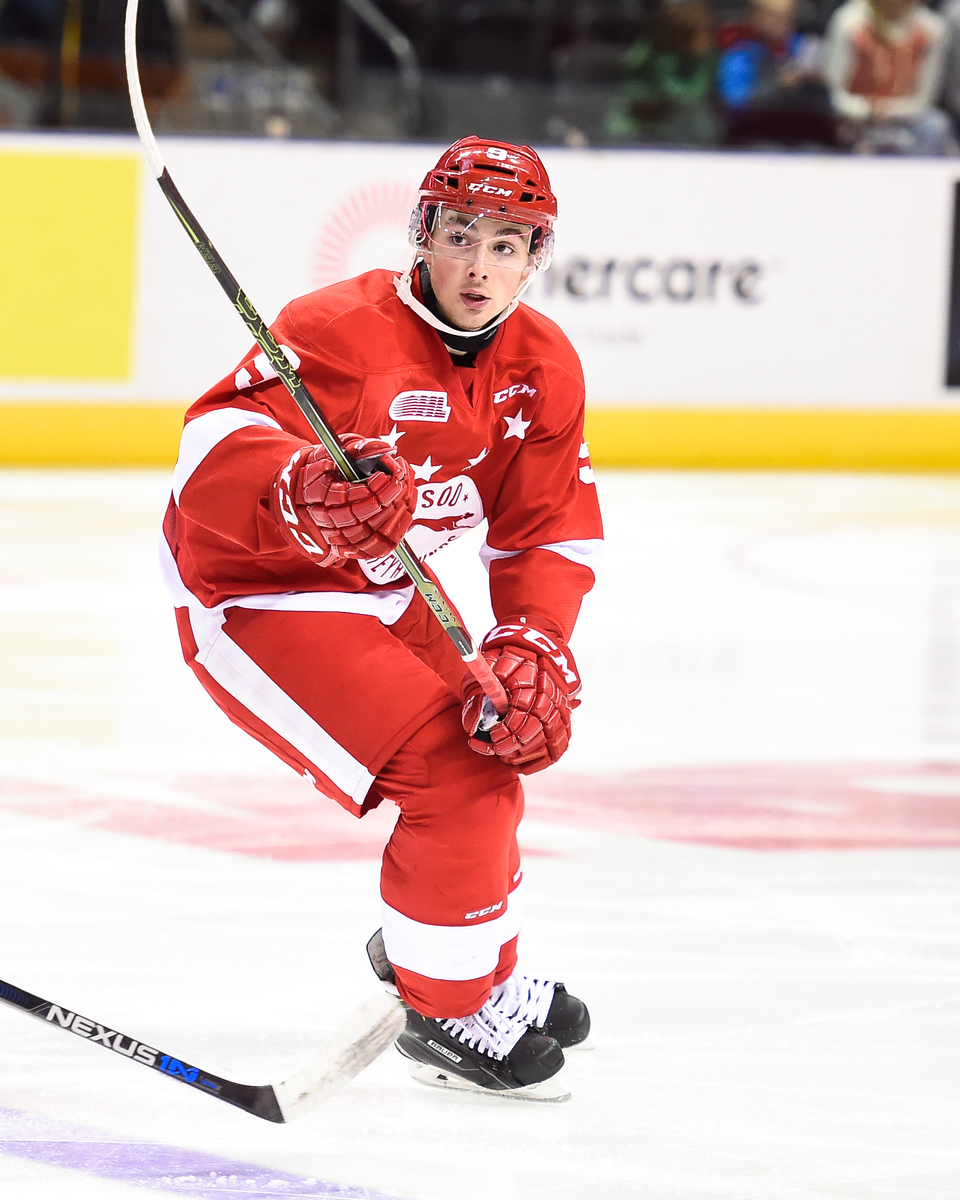 Zach Senyshyn suddenly lit it up in December with two hat tricks and a four-goal effort, yet was held off the goal-sheet in 11 of his other 13 games dating back to the start of November.
A surprise first-round pick by the Boston Bruins in the 2015 NHL draft (15th overall), Senyshyn returned for his third OHL season and, as newly-appointed assistant captain, was expected to carry the offense with the departures of Sergey Tolchinsky, Justin Bailey, and Nick Ritchie.
However Senyshyn and the Soo struggled out of the gate.
He has seen both Blake Speers and Gabe Guertler inter-change as his centerman in an effort to get him going.
Last season, Senyshyn thrived offensively playing for the top team in the CHL, and benefitting from match-ups while playing in the bottom six. This year, with many key graduations, Senyshyn has graduated to the top line of a Soo team that now happens to be the youngest team in the OHL.
Senyshyn possesses a size and speed combination that can be intoxicating as he blows by players at a stand still and can flat-out embarrass defenders if they try to play the puck.
He is capable of taking fans out of their seats with his deft stickhandling and the high rate of speed in which he executes.
Also a dimensional skater in every facet including acceleration, edge work, stops-starts, and overall mechanics, Senyshyn is at his best when he drives the net and creates with speed.
Oddly, however, those shifts have been fewer and farther between this season.
His shift-to-shift consistency often comes into question as does his overall physical game.  He needs to play with more jump and work harder away from the puck.
Given his speed and ability to create, he could have been a valuable addition on the third line for this year's WJC Team Canada squad. However, due to his lack of defensive game shown this year, he was overlooked for the selection camp.
Senyshyn is still learning the nuances of what it takes to be a game-in-game-out player. Addressing his strength - or lack there of - will assist him in getting to the NHL faster.
He needs to show the Bruins that he can shoulder the offensive workload and lead by example by being the best player on the ice each night to quantify their investment in him.
Here are notes and observations on some other OHL prospects on the McKeens watch list.
Olli Juolevi (2016), D, London
Juolevi has had no problem whatsoever adjusting to the North American style of play as he already anchors London's offensively-charged power play. The Helsinki, Finland native adopts a cool and calm approach to all facets of his play; never panics and is always in astute positions to lead a charge up ice or make a staunch defensive play. Due to his calming style of play, he gives his forwards a considerable amount of confidence as they know he will address the defensive duties allowing them to push up more offensively. A terrific skater with deceptive speed, Juolevi spearheads rushes and is just as prone to carry the puck as he is to deliver a tape-to-tape first pass. Stock continues to soar as his team keeps winning.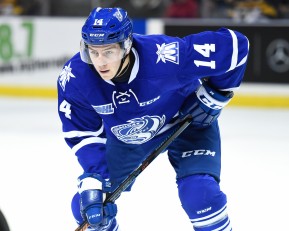 Nathan Bastien (2016), RW, Mississauga
The former 7th round selection in the 2013 OHL draft, Bastian has grown a whopping five inches in the past two seasons. Thrust into a scoring role this season and has rewarded Coach Boyd with a point-per-game production - and not looked out of place playing with the Steelheads most talented players in Alexander Nylander and Matthew McLeod. Skating has cleaned up which has allowed him to get to pucks quicker. His hands operate very quickly and he has good patience with the puck to make a play. Has a habit of slowing down with the puck and will need to work on the pace and playmaking tempo. Bastien continues to play a skilled game and marries it with size that NHL teams covet.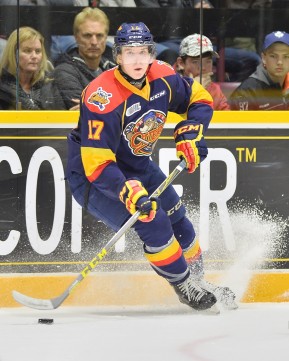 Alex Debrincat (2016), RW, Erie
Last year's OHL Rookie of the Year, Debrincat is proving that he can produce on his own without the assistance of Connor McDavid. The current goal-scoring leader with 33, he exploded out of the gate with 17 goals by Halloween; poised to challenge Ernie Gooden's single season OHL record of 87 goals. A sniper by trade who sets up extremely well and gets everything behind his shot, Debrincat has sharp offensive instincts and anticipates the play much better than his peer group. Yet, surprisingly, has below-average passing skills. A shifty and agile skater, not blessed with explosiveness but is quick and difficult to check. Forms a lethal combination with Dylan Strome on the power play as the duo have ripped apart the league.
Keaton Middleton (2016), D, Saginaw
An absolute rock on the backend, Middleton has improved upon his second season in a defensive landscape. Never going to be confused as an offensive threat with 3 goals through 95 OHL games, Middleton is a massive body and uses it advantageously to block shots, clog up lanes, and smother the opposition along the glass. Does an admirable job of tying up his man in front and has good range to defend forcing many forwards to the outside before they gain the zone. Skating is a work in progress; he is still a tad uncoordinated and he lacks explosiveness moving laterally and especially backwards. Middleton plays well within the team systems and gives NHL teams a healthy depth option on the backend given his size (6-6, 235) and ability to keep things simple.