The Q's leading point-getter among blueliners, William Villeneuve has been a bit overshadowed by his free-wheeling partner Jérémie Poirier in his junior career so far. Villeneuve allowed Poirier to take much of the reins in terms of handling the puck on the pairing and Poirier's confidence with the puck is what allowed him to wow in the eyes of scouts. Villeneuve was the top defenceman picked in the 2018 QMJHL Draft, ahead of Poirier, for his two-way potential and his acumen on the blueline.
One would like to see him have more confidence, in particular from the point, to shoot more and to be more assertive both with and without the puck. A common desire for Villeneuve is to add bulk, because his style of play would be better suited at 190 pounds or more, rather than the 163 he currently plays at. A bigger body would allow him to win more battles along the boards and off the rush, allow him to protect the puck more effectively with his body, and fuel more confidence in his overall game.
Villeneuve could be a solid finesse blueliner at the pro level, using his skating and his size, with some bulk added, to be a good positional defender with a great stick who can contribute strong offensive numbers from the back end.
| William Villeneuve | Eligible 2020 Draft |
| --- | --- |
| Position: D, Shoots R | H/W: 6-1", 163 lbs |
| Stats to date (GP-G-A-PTS-PIM) | Saint John Sea Dogs, QMJHL (64-9-49-58-50) |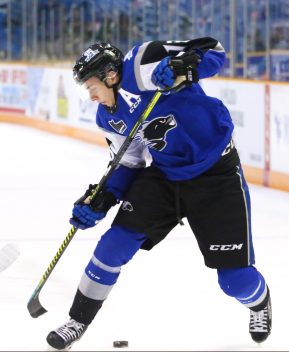 Skating: Villeneuve is a plus-skater with great mobility, and it is a testament to his hockey sense that he does not need to use it as much as others. While his stride is not the prettiest, it gets him where he needs to go with speed. He is equally strong skating backwards as forwards, and is able to keep the play in front of him with good gaps. With some more meat on the bones, Villeneuve will become an even better skater as that will improve his raw stride power. Grade: 55
Shot: Villeneuve is deceptively one of the better shooters from the blueline, and it forces the defending forwards to defend him honestly. He has both a very good slapper and a very good wrister that can cut through traffic. Even with 162 shots last season, one might want to see Villeneuve use his shot a bit more and open up rebound and screening opportunities. Grade: 55
Skills: Villeneuve has a solid first pass and likes to move the puck up ice. He does not handle the puck much until the offensive zone, and prefers to dish off in stride rather than rush the puck, but he can hit teammates outside the defensive zone on a breakout with ease. On the point, Villeneuve can rely on his shot to keep defenders honest and can draw a defender in with a quick move to change angles and open up lanes for him. He protects the puck very well in his handling and rarely gives the puck away from his stickhandling. His stick defensively is very solid and he can stick check strongly from a defensive position. Grade: 55
Smarts: Villeneuve reads the offensive zone very well and can change the outlook of a play with a quick move to keep a defender off-balance. He would be better served with more confidence on the blue line in particular, as he could filter and control more of the offence if he wanted to. He prefers to move the puck quickly rather than hold it for too long, but he has the puck handling skills. He is smart enough to know when to pinch and swift enough to cover for mistakes. He is more aggressive in maintaining a close gap rather than collapsing to the net defensively, which will better serve him when he gets bigger. Grade: 50
Physicality: This area of Villeneuve's game will improve as he gets bigger and stronger, but right now, physical play is not in Villeneuve's toolbox. With his frame right now, it is unlikely he will become a bruiser at any point in his career. He does not shy away from physical contact however, and does play in high-traffic areas, but he struggles against bigger players right now. Grade: 45
Overall Future Projection (OFP): 52
A note on the 20-80 scale used above. We look at five attributes (skating, shooting, puck skills, hockey IQ and physicality) for skaters and six for goalies (athleticism/quickness, compete/temperament, vision/play reading, technique/style, rebound control and puck handling). Each individual attribute is graded along the 20-80 scales, which includes half-grades. The idea is that a projection of 50 in a given attribute meant that our observer believed that the player could get to roughly NHL average at that attribute at maturity.