The WHL has been a joy to cover this year with so many highly touted draft prospects honing their craft across the league this season.  Amongst the many names that will be called from the WHL this year there has been a well-established "big three" forwards that have led the charge for the league.  This article isn't saying these three are better than the top ranked draft eligible defensemen out of Vancouver in Bowen Byram.
He has performed at every step along the way, from the Hlinka/Gretzky, to the regular season, to now leading the WHL Playoff in points at the time of me writing this.  He has led his team back to force a game seven and would be well worth the third overall pick behind Jack Hughes and Kaapo Kakko who both have showed their dominance in their respective leagues this season.
This article will instead focus on Peyton Krebs, Dylan Cozens and Kirby Dach.  Each of these three players has some elite qualities that could make them a top line center in the NHL a couple of years down the road.  I have had a variety of viewings on each player this season.  Being based in Alberta has enabled me to catch these three live at the Hlinka/Gretzky, live throughout the last two WHL seasons, and live at the Sherwin-Williams CHL top prospects game this season.
Krebs on an island in Kootenay roster deconstruction
For some, viewing them outside of regular league play has been very helpful, particularly with Peyton Krebs who has been playing this season with a raincloud over his entire organization.  Kootenay has been trying to get out of Cranbrook for a few years and have finally pulled the trigger on a move to Winnipeg at the end of the season.  The build up to this move has been a roster deconstruction that has left Krebs on an island.  His team only had a single 20-goal scorer all year (Krebs was 2nd with 19) and only scored 181 goals as a team overall.  Kreb's had little to no 20-year-old scoring support, never got a single favorable match up, and still managed to produce at over one point per game.
The first thing that stands out with Peyton Krebs is his ability to do it with speed.  He can carry the puck with speed, he can back check with speed, he exits/enters the zone with speed, and he joins the rush with speed.  He is pushing the pace in all facets of the game when he is on the ice.  Often players with this kind of speed are rushed when making plays but Krebs' elite hockey sense keeps him in control.
He doesn't slow down the game as much as a player like Dach, because his movement and pace create lanes and opportunities.  Krebs can put his head down and drive the net but where he excels is starting that drive, making the defense collapse towards him, and quickly identifying where the open ice is and getting the puck there.
His 49 assists are impressive but in the context of his team they are even better.  His 30 primary assists tied him with Kirby Dach for the lead for all first time WHL draft eligible scorers.  Dach's team however scored 259 goals versus Kreb's 181 - over a full goal per game.  In terms of primary assist percentage Krebs is setting up nearly 17% of all his teams goals compared to Dachs' 11.5% and Cozens' 10.5%.
Krebs' 19 goals might seem low for a top line forward, but he didn't play with any caliber of playmaker getting him the puck.  He has nearly twice as many assists as the next player on his team (Brad Finnell 25A).  Again, looking at production as a percentage of team offense let's look at the big three; Cozen's 34 goals make up an impressive 12.7% of his team's goals, Dach's 25 goals is at 9.7% and Krebs' 19 goals comes in at 10.5%.  This is all an elaborate way of saying no team relied a rookie pivot more than Kootenay and Krebs delivered as a legitimate scoring threat with elite playmaking skills.
Krebs' hasn't been sheltered at all this season and his defensive game has evolved because of it.  His vision and speed able him to read other players movement and then to get to a point on the ice before them.   He breaks up passes, lifts sticks and strips pucks as well as anyone in his age group.  I wrote about Krebs first because much of the season has been Dach vs Cozens for the WHL top forward and he deserves to be in that same conversation.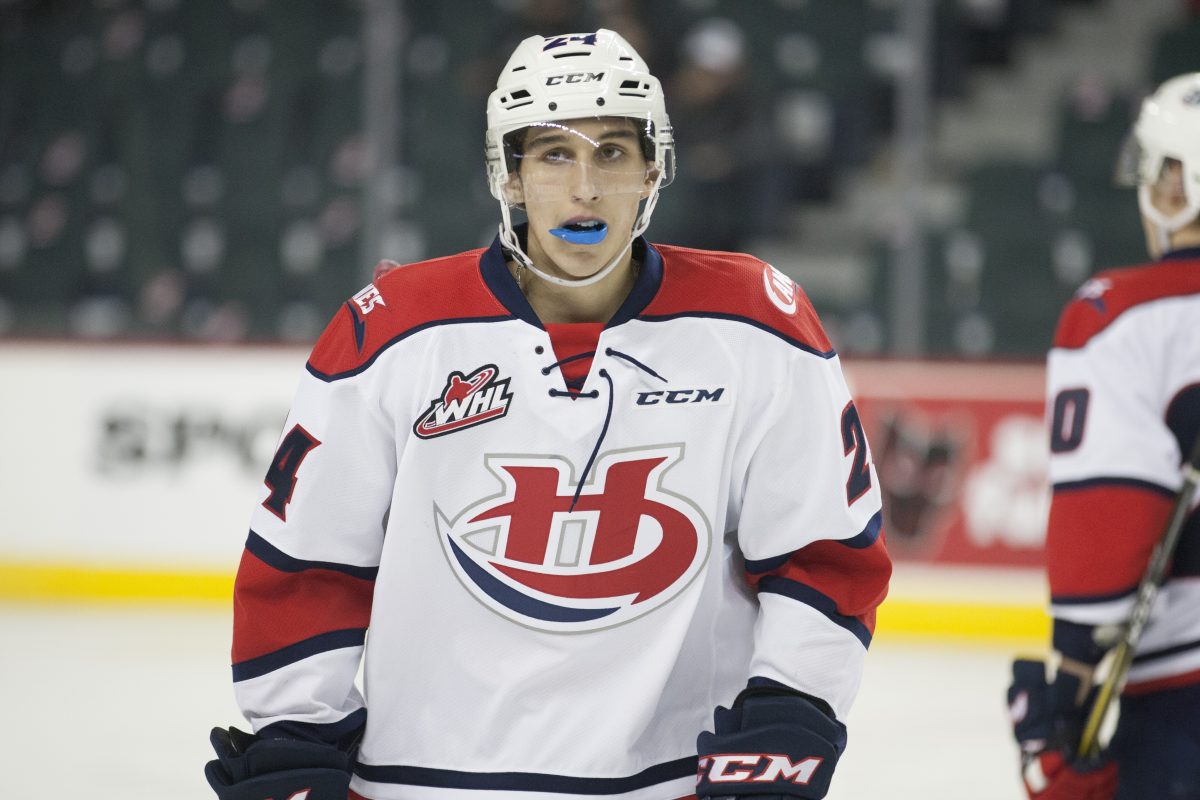 Cozens is Mr. Consistency
Dylan Cozens has been Mr. Consistency for the past two seasons in Lethbridge.  His first full season in the WHL he averaged nearly a point-per-game as a 16-year-old which is impressive enough in its own right but he has backed that up with the top production season of first time draft eligible players in the WHL this year.  He was second in goals and first in overall points (84), and tops in point per game (1.24 PPG).  When you look at the game by game production you see only one three game set where he went pointless all season.  When compared to Dach who had a seven-game pointless slump and Krebs who had a similar three-game slump it really solidifies him as one of the top players in this draft.
Cozens has all of the skills you want to see in a top line center.  He skates very well, he can make plays from the half wall, has a great release and drives the net very well.  He can play as a net front presence and does not shy away from the home plate area in the offensive zone.  He excels in the rush game and as a dual threat as a shooter and passer which makes him lethal.
When the game turns to a possession and cycle game he can hold the puck along the wall and uses his body incredibly well to shield the puck.  His vision from along the wall is impressive and he is able to make plays in and through traffic that generate offensive looks.  When he gets close to the net he aggressively drives to the front with the puck.  His release is quick and his accuracy is noticeable, even amongst the high end players in the draft.  Where his shot stands out even more is in traffic where he can adjust his arm angles or just use his strength to get good shots off in close around the net.  He has a good sense for rebounds and chases his shot to the net for second chance opportunities.
Defensively he is not relied on as much as Krebs or even Dach as Lethbridge had three highly productive 20-year-olds forwards.  It enabled him to be in situations where his offensive skills can shine through.  He did not kill penalties, but he was a responsible center and started in his own zone enough that his coach trusted him.
He uses his body well to separate his man from the puck, although he was not a big open ice hitter, his physical presence was a factor in a number of games.  He leans on players and makes playing against him physically taxing for opponents.  He uses his frame well within his hockey sense and skill set to block lanes, turnover pucks and create rush opportunities.
Intriguing Dach physically dominant with high-end vision
Dach has been the most intriguing prospect for me to watch as the season unfolded.  He started on the wing at the Hlinka/Gretzky this year and showed some added versatility ending up fourth in points in the entire tournament for Team Canada.  He was a dominant retrieval guy on the forecheck and forced opposing defenders to rush plays and make mistakes. Either by chasing them down with his speed, or by physically putting them into the wall, Dach was able to make opponents feel duress.  It added a side to his game that wasn't there as a 16-year-old in the WHL.  Against his peers he was physically able to overmatch them.
Dach flirted with a point-per-game during the regular season of his 16-year-old season but faded a bit towards the end.  The same thing happened again this year which has created this enigma around him dropping him down draft boards as the season progressed.  His seven-game pointless streak was a noticeable blip and led to concerns about his consistency.  However his playoff performances, particularly against a power house Prince Albert team reestablished him as a top draft eligible player.  With his team over matched he consistently was able to create rush opportunities with his excellent skating and puck handling abilities.  In games where the shots were 40-20 against Saskatoon, he was still able to consistently generate opportunities and create his own space.
Obviously at 6'3.5 Dach has wide wing span and frame that hockey covets for the center position.  Where he varies from many of his ilk is the dynamic way he can handle the puck at speed within that frame.  He creates turnovers by using his body and reach to turn the puck loose and then can bear down on defenders quickly.  His head is always up surveying what the defense gives him.  By moving his arms around he is able to create angles for successful passes even with guys all over him.  His shot is very good, but his mind is pass first and it shows in his numbers, over the past two seasons he is a 32 goal, 87 assist player.  He is able to slow the game down as he enters the offensive zone as his frame makes him all but impossible to knockoff the puck.  His vision is as good as any big man I have seen and he has to tools to make sure his passes are received.
Making comparables
Comparables are often overstated and provide misguided expectations for players as they develop within their own skill set but these three have some reasonably recent and useable parallels from the 2013 Draft, so I will mention them.
In Krebs you are getting a smart smooth skating player who has carried a team for two seasons.  He reminds me of an 'Elias Lindholm type' player where he is very responsible takes top penalty killing duties, plays a bit of center and wing, and contributes every minute he is on the ice.
For the second comparable we go back to the Flames, Sean Monahan is a good comparable for Dylan Cozens.  He does a lot of things well but what he does best is consistently get in position to score goals.  He plays with a bit more of an edge than Monahan, and can do more on the cycle game, but he will be that consistent productive center that teams search for at the top of the draft.
Dach is a hard comparable to find, not many players exist with a tremendous skill set, blessed with size and speed, but Evgeni Malkin when he is "on" is not overstating it.  The last player regarded in that same rarified air was Valeri Nichushkin and he has been plagued by consistency issues and has yet to live up to expectations at the NHL level.  Dach doesn't have the same flight risk to an NHL team that Nichuskin did but some of the concerns about consistency are valid.
After last season's quiet WHL contributions to the draft's first day, this year it seems like the doors could be blown off by the WHL on Friday night.   Four prospects expected to go in the top 15 next month with the possibility of a couple more defenseman in the back half of the first round, the WHL is once again at the top of the developmental leagues.  Only the US National Development Program has a chance to oust the WHL as the best league for producing top end talent for this year's draft.
Which order these three forwards go is hard to predict but I suspect team need, and existing pipeline will play a larger role in picks 3-10, rather than the usual mantra of best player available.  Some teams like the Kings and Ducks have coveted size in the past and seem likely landing spots for Cozens or Dach whereas Buffalo and Edmonton are looking for depth and wing options which might be the ideal landing spots for Krebs.  Regardless of the order it has been a great season to follow the WHL with so many highly touted prospects taking the ice every night.
All Stats from prospect-stats.com