Anton Johannesson has been under the radar for this draft due to injury issues. He played only 11 regular season games last season and didn't play until November this season. After he came back though, he has impressed me more than every time I have seen him. He earned the spot on the first power play in the last U18 national team tournament and has been dominating in the SuperElit, scoring over a point-per-game so far.
Johannesson is rising on my personal rankings and is the most skilled Swedish defenseman in this year's draft. For the draft he could sneak his way into the bottom of the first round or early second round. He has elite puck skills and is very smart with the puck. He skates with ease and can move around coast-to-coast with the puck. He is also a strong first pass defenseman and plays with confidence in tight situations. He processes the game well and has strong awareness.
This season, he looks both more mobile on his skates and his shot has seen improvements. He is scoring goals at a good rate as well. He has some obvious weaknesses in his game as well. He lacks physical tools and is quite soft in his own end. He is a weak player when his team is under pressure in his own end where his awareness and strength will need to improve for him to be able to play at higher levels.
Overall, I will always bet on a skilled smart player and Johannesson is that. I see the potential of him being a good top four puck-moving defenseman with calm, poise, mobility, strong passing, and power play assets.
| Anton Johannesson | 2020 NHL Draft Eligible |
| --- | --- |
| Position: D, Shoots L | H/W: 5-9", 154 lbs |
| Stats to date (GP-G-A-PTS-PIMS) | HV71 J20, SuperElit (18-7-15-22-8) |
| | HV71 J18, J18 Elit (5-3-3-6-25) |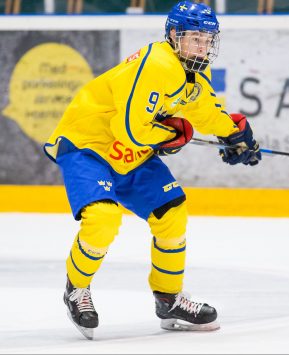 Skating: Johannesson is a very smooth skater. He walks up the ice with ease. He can travel seemingly effortlessly with the puck. He has an economical skating style which means that he remains at high speed without using much energy. His acceleration isn't great, but his technique compensates that well. Johannesson also has tremendous agility which makes him a dangerous in the offensive zone where he can walk around opponents similar to Rasmus Dahlin before shooting or making a nice play. He lacks a bit in lower-body strength and isn't strong enough to skate away with opponents on his back but that also gets well compensated by his agility in the way that he is hard to catch. Grade: 60
Shot: Johannesson has a dangerous wrist shot. He likes to move around in the offensive zone seeking a good opportunity to shoot. He shoots both hard and with precision with excellent technique. On the power play he is a very dangerous weapon even though he doesn't have a big one-time bomb to use because of his skilled wrist shots. He has also scored 8 goals in the 20 games he has played this season. Grade: 55
Skills: Fantastic first passer. He can use both a long or a short pass to get out of his own end. He sees the ice very well and delivers precise passes at the right time to start an attack. He is also a very skilled in deking with the puck and is a great offensive weapon and a playmaker. He can walk around opponents in the offensive zone and deliver a crucial pass or a quick shot. He has tremendous split vision and always has his head up when playing the puck. Grade: 60
Smarts: When his team has the puck, Johannesson has excellent vision and awareness. He is offensive-minded and plays with calm and poise. The game looks easy for him. He is also good at getting open for a pass and finding open spaces when he joins an attack. He can control the pace with the puck and vary both a simple play with a more creative one. He rarely makes silly mistakes either, even if he is stressed, he will usually makes a good play with the puck. When his team is without the puck, he needs to learn to play with better awareness in his own end. He tends to get passive in front of his own net rather than reading and pushing to win over the puck when the game is cycled in his own end. He rarely makes a bad pinch, but he can miss a threat in front of the net. All in all, a strong power play and even strength offensive defenseman but on the PK, you would want to use someone else than Johannesson. Grade: 55
Physicality: Johannesson is a small defenseman that plays a soft game. He isn't strong in front of the net or along the boards. He will need to get much stronger to be able to play in those areas. He is still thinly built and will probably be able to add around 30 lbs when he is fully grown which of course would help. He has been injury prone early in his career and has shown tenacity in coming back strong from those injuries. Grade: 35
Overall Future Projection (OFP): 54
A note on the 20-80 scale used above. We look at five attributes (skating, shooting, puck skills, hockey IQ and physicality) for skaters and six for goalies (athleticism/quickness, compete/temperament, vision/play reading, technique/style, rebound control and puck handling). Each individual attribute is graded along the 20-80 scales, which includes half-grades. The idea is that a projection of 50 in a given attribute meant that our observer believed that the player could get to roughly NHL average at that attribute at maturity.