1. Connor McDavid, LC, Erie (OHL)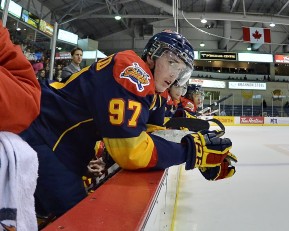 Sitting alone comfortably at the top of the draft class is recently injured phenom Connor McDavid. Playing under the critical eye of everyone, Connor McDavid has somehow exceeded the impossible expectations created by the hoopla of the draft. Racking up 51 points in just 18 games launching his Erie Otters to the top of the CHL standings (before getting hurt in a fight), McDavid has the hockey world drooling over his pro future. Poised, professional and humble throughout the process, McDavid somehow maintains his focus and just plays his game fending off all of the craziness surrounding his name and future. Elite in every skill, McDavid has proved to be not only "exceptional" but extraordinary in the face of adversity.
2. Pavel Zacha, LC, Sarnia (OHL)
It took the big Czech a few games to get comfortable but Pavel Zacha's pro upside is extremely high. The left-shooting pivot owns an intelligent processor and outstanding vision, displaying advanced creativity and the ability to play as a shooter as well. He is capable of playing a power game, shaking off of pressure easily with his first few powerful strides and as he steps into a scoring area, he can unleash an array of deceptive shots. Zacha reaches top speed with a few powerful bursts and attacks head on displaying high-end one-on-one elusiveness and puck skills. He's a powerful attacker who uses his lengthy reach well making him a dominant possession player. He's got offensive star written all over him and with his elite level snapshot, he will rack up his fair share of goals. The scary part – Zacha is still finding his way in the OHL and we have yet to see him play the buzzer-to-buzzer dominant game that he's capable of.
3. Lawson Crouse, LW, Kingston (OHL)
Crouse is a player I absolutely love. Don't get wrapped up by his mediocre offensive production because you need to watch this kid to really appreciate what he brings to the game. He's the type of player that every coach wants on his team because you can throw him out in every situation and know he's going to make an impact. One of the smartest two-way forwards in the draft, Crouse has the size and strength that makes him a low-risk selection as he can play up and down in the lineup. He's shown impressive gains in his offensive game and there's no reason to think he won't be a top-six winger at the next level. Every time he hits the ice, he does something – whether it's dominating the cycle game or stripping an attacking player of possession – that makes you go, "wow, he's going to be good".
4. Mitch Marner, RW, London (OHL)
Slow out of the gates, Mitch Marner is the hottest player in the OHL and we all knew he'd find his way eventually. Confident in possession and blessed with some silky mitts, Marner combines the creativeness, assurance and vision to make opponents look silly and his playmaking style will be a tremendous asset at the next level. He's the type of forward who is thinking one-two-three steps ahead of his peers and it shows with his ability to create offensive chances almost at will. He's not overly big and doesn't own ideal strength but it's progressing and his skating certainly helps him overcome those elements. I tried to find a way to move Marner even higher in these ranks but for now, the players ahead of him project to be better pro players and that's certainly not a knock against Marner, who is primed for big things in the future.
5.Dylan Strome, LC, Erie (OHL)
McDavid's teammate in Erie, Dylan Strome could've easily been ranked second on this list and come draft day, it will come down to personal preference. Seeing him ranked 5th on my list is a bit troubling considering the stellar offensive production he's provided this season but let me state that it's basically a 2a, 2b, 2c and 2d situation with Crouse, Marner, Zacha and Strome. They are that close and this early in the season, the group is fairly interchangeable.. Strome plays the game at a high-pace and is always pushing the pace of the game. He is a creative passer with elite vision and his crafty puck skills allow him to play a strong possession game. His skating is improving from what used to be somewhat gangly and heavy footed. Now, with an elongated stride, Strome propels himself up the ice with ease erasing any of those previous concerns. Strome is a confident offensive player but at times he tries to do too much and it leads to some unnecessary turnovers but it's those ballsy plays that actually make him a special talent with great pro upside.
6.Travis Konecny, RC, Ottawa (OHL)
Every year a player struggles in his draft season and this year, Travis Konecny hasn't quite had the start that he's probably envisioned. Battling through a concussion and taking on more responsibility as captain, Konecny may be putting too much pressure on himself. Eventually, the 2014 OHL Rookie of the Year will find his way out of it. Konecny continues to show an unmatched work ethic and owns the drive to succeed. His elite level shooting ability continues to shine but the pucks aren't finding their way as frequent as last year.  Travis started slowly in the goal department during his freshman season so let's see if he can replicate his strong second half showing from last year.
7. Mitchell Vande Sompel, LD, Oshawa (OHL)
Oshawa Generals sophomore defender, Mitchell Vande Sompel, continues to log impressive minutes and he's earned every second of them. Here's one of the most intelligent defenders in the draft and with his skating ability and instinctual ability to read the ice, he projects as a high-end puck-moving defender. He can escape pressure with his advanced skating ability but also displays smart decision making, choosing when to pick his offensive rushes. In my opinion, he hasn't been getting the recognition he deserves in this draft class but after coming off a strong offensive month where he earned OHL Top Defenseman honours, I am sure the tides will turn in the scouting world.
8. Matthew Spencer, RD, Peterborough (OHL)
Projected as a two-way minute munching defenseman, Matt Spencer owns the size, defensive awareness and projectable skills to attract suitors looking for a defender who can play a low-maintenance game. Spencer plays a relatively safe and reliable game, skates extremely well  and has the smarts to maintain poise under high pressure situations. He's not immune to making mistakes and that's been evident at times this season but as he matures, he's going to be even tougher to play against. Throw him out in any situation and let him eat up a tonne of minutes. At the next level, Spencer likely projects as a #3 or 4 puck-moving defenseman.
9. Nikita Korostelev, RW, Sarnia (OHL)
As a sniper, Nikita Korostelev needed to bury the puck this season in order to receive first round consideration for the NHL Draft and he's done that (and more) with 11 goals on the season. He is an opportunistic scorer who has a knack for sliding into scoring areas and unleashing an extremely quick shot. The puck comes off his blade extremely quickly and he can make opponents pay before they realize he's slipped past their coverage. His skating (a bit heavy in acceleration and lacks a breakaway speed) remains a work in progress and might scare away some teams from using a first round selection but his ability to find the net is rare. Korostelev shows flashes of good puck skills but because he isn't the swiftest skater, his ability to maintain possession is short-lived once pressure closes in on him. As a result, he's best employing give-and-go plays rather than attempting individual rushes and follows up by getting himself into position to score. Playing to his strength (shooting) and improving his top-end speed will help him solidify a first round selection moving forward.
10. Rasmus Andersson, RD, Barrie (OHL)
The highly touted Swede was slow out of the gates in his first OHL season but has since found his groove registering seven assists in all five November games bumping him up to 8th in OHL defensive scoring. An elite skater who shows no hesitation in jumping into the rush, Andersson's entries are clean and effective. He is a reactionary puck rusher using his vision, quick puck skills and lateral agility to evade attackers at the last second under pressure. Prone to defensive lapses and he can get outmuscled at times, Andersson will need to continue to work on his defensive commitment, specifically positioning himself and sealing off his assignments. Andersson is one of several mobile offensive defenseman who will push for a top round selection but based on his upside, he will hold down at Top 10 OHL spot …for now.
11. Thomas Schemitsch,  LD, Owen Sound (OHL)
Arguably, the OHL's biggest riser in draft rankings over the first few months and it doesn't appear that he's going to slow down. His ability to quarterback the Attack's powerplay has been solid and he's only improving with each passing game. His game isn't polished quite yet but that's exactly the reason he's considered a worthy investment as he does possess some untapped upside.
12. Graham Knott, LW, Niagara (OHL)
Good size allows Knott to play as a possession forward but he doesn't use his size to bang, rather, he employs it in combination with his puck skills to dominate down low. Knott also packs an impressive shooting arsenal.
13. Blake Speers, RW, Sault Ste. Marie (OHL)
The Soo native was red hot to start the season picking up 12 points in his opening seven games and he's been one of the most improved sophomores in the league. Speers is a highly intelligent finesse forward and his playmaking ability radiates throughout the lineup, making his teammates around him better.
14. Mackenzie Blackwood, G, Barrie (OHL)
Top ranked OHL goaltender is coming off an impressive showing with Team OHL at the Subway Super Series getting the CHL representatives the league's first win. The Thunder Bay native owns great NHL size and he carries himself with an aura of confidence – an element that certainly won't hurt his long-term chances. Tall and athletic, Blackwood's style is a hybrid of a throwback stand-up goaltender and a blocker. He challenges shooters aggressively and owns the mobility and lateral quickness to provide all-around coverage. Mackenzie will pop up-and-down quickly into the butterfly and he shows to be very aggressive with his stick clearing out unwanted traffic from the blue paint. The goaltending draft class is very much wide open with several suitors battling to be the top 'tender selected but so far, there hasn't been anyone elevated themselves above the rest.
15. Travis Dermott, RD, Erie (OHL)
A 2012 9th round selection of the Otters, Travis Dermott has risen quickly to become a great defensive prospect and a real shrewd pick of Erie. The undersized swift skating defenseman has a real knack for spearheading the Otters breakouts and has proven to be a capable quarterback on the powerplay as well. He missed some time due to a foot injury so views have been limited but look for him to gain momentum as he gets back into the swing of things.
16. Dante Salituro, RC, Ottawa (OHL)
To the surprise of many, Dante Salituro has been Ottawa's offensive leader with an impressive 14 goal and 20 point effort through 18 games. Salituro has always been one of the best finishers in his age group dating back to his minor midget days with the Don Mills Flyers. He is an intense competitor and the only thing keeping this highly energetic dynamic forward from a high selection is that he's skating at only 5-foot-8. Whether you agree with it or not, NHL teams value size. Regardless of where he is ranked, you can bet on Salituro maintaining a strong offensive pace and bringing an admirable work ethic each time he hits the ice.
17. Mitchell Stephens, RW, Saginaw (OHL)
Born to shoot the puck, Mitchell Stephens combines a high-level release with explosive skating giving him the tools to cash in on scoring chances often. The sophomore forward has only found the back of the net a handful of times but with increased opportunity in the future, look for Stephens to climb the scoring charts. The Saginaw forward projects as a Top 90 selection but I wouldn`t be surprised to see an NHL roll the dice on his package of pro tools as early as the second round. Opportunity will be key moving forward for Stephens.
18. Vince Dunn, LD, Niagara (OHL)
Few defensemen can skate and elude pressure like Peterborough native Vince Dunn. He's been part of a Niagara blue line that was porous to start the season, one of the reasons the team only captured two wins in its opening 15 games. The turnaround is on in Niagara and Dunn should have plenty of time to show that his offensive creativity is draft-worthy but he will have to do so while improving his defensive commitments.
19. Kyle Capobianco, LD, Sudbury (OHL)
Joining the bevy of talented smooth skating offensive defensemen is Sudbury's sophomore Kyle Capobianco. He is a calculated attacker who has the ability to make fore checkers miss with his strong four-way mobility. Elusive under pressure and a defender with natural anticipation skills, Capobianco is built to play as a puck-moving blueliner. He's playing on a very poor Sudbury team so he will certainly experience growing pains but if he can continue to add to his wiry frame then he could be a Top 100 pick.
20. Zachary Senyshyn, RW, Sault Ste. Marie (OHL)
Playing in his first full OHL season, Ottawa native Zachary Senyshyn is a prospect all about pro potential. It was a toss-up between him and Addison for this spot but Senyshyn holds this position for now based solely on his future potential. He`s playing depth minutes in Sault Ste Marie and has been nicked up at times but I have really liked what I`ve seen. Senyshyn is a rangy winger who shows strong possession skills and some deceiving puck handling talents. He isn`t on many people`s radars yet but keep an eye on this intriguing forward as he may even push Speers as the best pro draft-eligible prospect from the Greyhounds.
21. Jeremiah Addison, RW, Ottawa (OHL)
22. Marcus Crawford, RD, Saginaw (OHL)
23. Justin Lemcke, RD, Belleville (OHL)
24. Gustaf Franzén, RC, Kitchener (OHL)
25. Artem Artemov, RW, Saginaw (OHL)
26. Roy Radke, RW, Barrie (OHL)
27. David Miller, RC, Sault Ste. Marie (OHL)
28. Gustav Bouramman, RD, Sault Ste. Marie (OHL)
29. Hayden McCool, LW, Windsor (OHL)
30. Colton White, LD, Sault Ste. Marie (OHL)
The Next Best (Alphabetical Order)
Andrew Burns, LD, Windsor (OHL)
Noah Bushnell, RW, Sarnia (OHL)
Doug Blaisdell, LD, Kitchener (OHL)
Anthony Cirelli, LC, Oshawa (OHL)
Adam Craievich, RW, Guelph (OHL)
Ben Fanjoy, RW, Ottawa (OHL)
Justin Fazio, G, Sarnia (OHL)
TJ Fergus, LD, Erie (OHL)
Sam Harding, RC, Oshawa (OHL)
Ivan Kashtanov, LW, Sudbury (OHL)
Vladislav Kodola, LC, Sarnia (OHL)
Adam Laishram, RC Belleville (OHL)
Brandon Lindberg, LC/W, Sarnia (OHL)
Matt Luff, RW, Belleville (OHL)
Tyler MacArthur, RD, Owen Sound (OHL)
Garrett McFadden, LD, Guelph (OHL)
Brett McKenzie, LC, North Bay (OHL)
Michael McNiven, G, Owen Sound (OHL)
Medric Mercier, LD, Sault Ste. Marie (OHL)
Ryan Moore, LC, Windsor (OHL)
Petrus Palmu, RW, Owen Sound (OHL)
Jesse Saban, LD, Erie (OHL)
Ethan Syzpula, RC, Owen Sound (OHL)
Artem Vladimirov, LD, Peterborough (OHL)
Zach Wilkie, LD, Niagara (OHL)
Bryce Yetman, RW, Plymouth (OHL)
5 Sleepers to Watch
Noah Bushnell (Sarnia) – Tough as nails but only averaged sized, Noah Bushnell has shown his gritty side this season but to be drafted, he will need to show that he can play with the puck as well and he has the talent to do so.
Gustaf Franzén (Kitchener) – Kitchener's 4th overall selection in the 2014 import draft, Franzén has stepped in to provide secondary scoring depth (20GP-5G-14P)  and it's been a main reason that the Kitchener Rangers are rocking an 11-3-2-4 record midway through November. He doesn't own blazing speed but the Swedish import certainly thinks the game at a high level, offering up good playmaking ability. Strength and size could be an issue Gustaf.
Hayden McCool (Windsor) – McCool has the coolest name in the draft and most recently, was dealt to Windsor from Niagara as the key return in the Josh Ho-Sang trade. He owns some slick puck skills and skating ability to be a factor offensively but he will need to bear down and shed his passive approach to the game to be considered a legit pro prospect. 
Ryan Moore (Windsor) – Pint-sized centerman who is both creative and dynamic on the attack. Every time he hits the slab of ice, he creates scoring chances but his stature will be the concerning point for scouts. 
Roy Radke (Barrie) – OHL freshman who arrived from Illinois, Roy Radke possesses the mean streak, physicality and possession game to be considered a potential Top 100 pick. As he gets his feet wet, highlight Radke as a potential riser in the draft rankings.
Look for @RossyYoungblood's updated 2015 NHL Draft rankings next month which will include