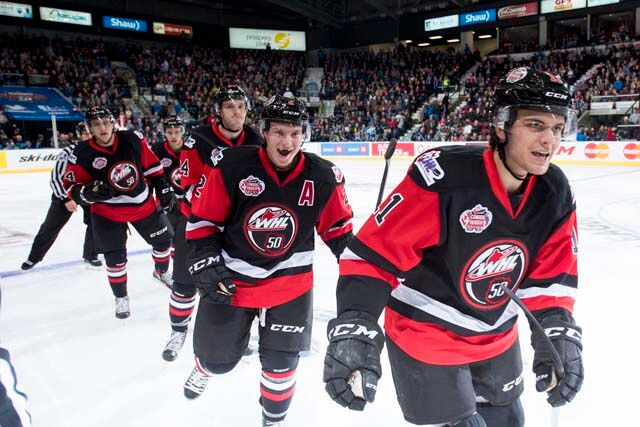 Team WHL started game one like they were shot from a cannon. Their speed was evident and their puck pursuit was tenacious. They were virtually uncontested in transition and through the neutral ice, making for easy entries and lots of offensive zone time for the WHL. It looked for two periods as though Russia didn't have an answer, showing very little push back.
The way they were playing no one could tell that Russia had been on Canadian soil almost a week already, to combat there expected jet lag. After two periods and a goalie change, Russia had staked Team WHL a six goal lead, as the Dub looked to have game one under control. However, the Russian's outscored Canada three to one in the third period and began laying the groundwork for a far more competitive game two.
As head coach Dave Lowry said:
"They played the third period how we expect them to start (the next) game… Let's not take anything away from the way they started the third… At the end of the day you can't not like the effort and the result"
The head coach was right, a win is a win, and pretty dominant one at that, but game two was a different story and the coach's speculation for Kamloops was correct. Lowry shuffles his lines and rewarded two of his standout forwards from game 1 sliding Collin Shirley and Deven Sideroff on either side of Matthew Barzal on the "top line" for team WHL. Feeding off their home crowd they were one of the best lines in game two.
Skating to a relatively even first period Russia went toe to toe, keeping Team WHL to the outside, and making life much easier for Maxim Tretiak in goal. Proving to be far more stable in game two, Russia looked more confident from the crease out. Canada opened the scoring on a scramble around the crease that was banged home by some good hand-eye co-ordination from Jansen Harkins (#47 WPG 2015).
Two back-to-back defensive breakdowns right in front of the WHL net led to quick goals by Russia. Sideroff had a great individual effort to even up the score 2-2 by the end of the second. Team WHL would not be denied, outshooting Russia 12-5 and taking the lead with 3:13 left, on a great individual effort by an otherwise quiet Jayce Hawryluk (#32 FLA 2014). Choosing a great time step up and seal the game.  Coach Lowry called it the day before, and echoed the sentiment after game two.
"We saw what we expected to see (from Russia), we stuck with it and got better as the game went on"  
Goalies:
Some were surprised to see two draft eligible goalies out of the three chosen for the WHL leg of this series. Experienced or not, the selection was deserve given their WHL performance this season. Goaltending is wide open for the upcoming World Junior Tournament and the WHL contingent should strongly be considered.
Zach Sawchenko (2016):
Locked in from the get go with very few Russian chances occurring in the first half, handling most everything that was thrown his way with ease… Looks big in the net, challenges shooters well... A big reason for Moose Jaw's resurgence.
Carter Hart (2016):
Coming in in relief is never easy when your team is rolling, and would likely want another chance at the 9 shots he faced, surrendering three goals… His season to date boasts a 1.93 GAA and .933 SV%, which are tops among non-over-age goalies in the WHL.
Adin Hill (ARI 2014 #76):
Lowry clearly showed confidence in Hill, and despite his teams struggles this year he boasts a more than respectable .926 SV% with three shutouts... His big frame fills the net, relying on position to block pucks… Covers the bottom of net well and doesn't give up big holes…
Lowry liked what he saw:
"he was in a zone tonight and we didn't want to get him out of rhythm… We left the door open(for a switch) but we had talked about through the evaluation process there was chance one guy was going to get a game, that was the case tonight."  
Defense:
Joe Hicketts (Signed DET):
Returning from last years team, his ice time and situational play (EV,PP,PK) at the WHL leg of the Super Series, proves he will be depended on this holiday season by his Victoria Royals head coach... Small in stature but plays an impressive physical game matching up against bigger opponents with a strong lower body… Sound positioning with good agility and four-way movement. A complete player with and without the puck… His Coach knows his game well, entrusting him to mentor the younger D on Team WHL in both games.         
Brandon Guhle (#51 BUF 2015):
Makes a strong case for himself with slick skating. Displays less flash, but plays a really solid all around/two-way game. A dependable player any coach would love to have. Makes a good first pass and defends really well on the wall and down low… provides a shutdown presence, but questions arise about his ability to contribute in all areas of play.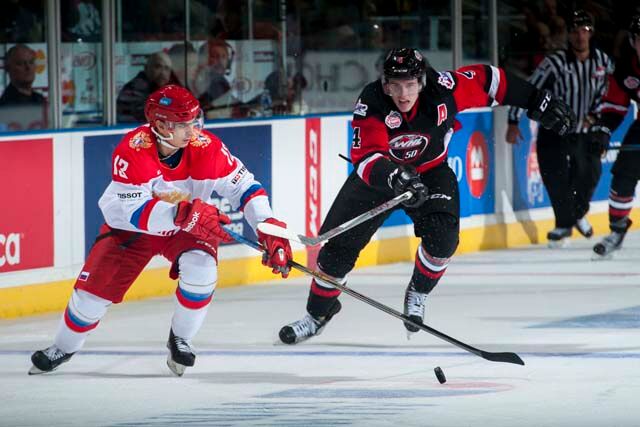 Haydn Fleury (#7 CAR 2014):
Could be considered the best defender over the two games, skates well and imposes his physical will on others… Keeps opposing offences to the perimeter and possesses a long and effective reach breaking up plays… Fires a quick and powerful point shot, working the line with good instincts and improving agility…. 
Noah Juulsen (#26 MTL 2015):
Brings a lot of the same qualities as Guhle, with some offensive upside… A quick and much improved decision maker who quells trouble with a few efficient skating strides… Thinks well in unison with his feet, stays fluid and creates play-making options… He sees the ice with above average IQ, plays quickly in transition starting the rush and leading sustained zone time… Could certainly be an asset on the hybrid international ice in Finland with some extra room to push the pace.
______________
There were a lot of options from a defensively strong WHL, an intriguing inclusion were some highly touted NHL draft prospects, Jake Bean & Kale Clague. These defensemen both split time with Hicketts and were thrust into important roles against a big Russian team with some varying results. With so many valuable options it would seem Hockey Canada was challenging these young men; look for them at the U18 in April. 
Jake Bean (2016):
Showed offensive upside, an ability to break out on the rush and a knack for jumping into the play. Bean's skating was a big asset, however at times he looked over-matched defending and had some issues with positioning and physical play down low... He should get his shot one-day, but in World Junior tournament full of 19-year-olds he looks to be a year or two away, until he rounds out defensively.
Kale Clague (2016):
Shows some really strong offensive instincts and releases pucks off his stick as fast and he receives them. Opened the scoring in game one by taking a cross ice pass, waiting a split second for his screen to line up, and snapping it. Defensively, Clague appeared well rounded and turned the puck over less than Bean. Strong two-way game and ability to rely on a system and less on individual play is an asset. He plays on a strong Brandon team, so showing success within a highly skilled lineup is not a surprise. 
Forwards:
Brayden Point (#79 TBL 2014)
If there was any doubt about the lone returning forward from the WHL, he made an impression, elevating himself from the 13th forward spot he occupied last year… Undersized as forwards go, his acceleration has improved… in this series he exhibited a separation gear and high speed instincts that gave him time and space to exhibit his crafty stick handling. Looked assertive on offence, driving down the wall and making timely cuts to the middle, opening space and turning defenders. Leaned on for leadership by wearing the C for the WHL. He has been tearing up the league this season, and should be a lock in a skilled top six on the World Junior team. 
Matthew Barzal (#16 NYI 2015)
Flashed his usual crafty skills - lining up at the top centre spot for both games. The distributor is a strong candidate for an offensive role in December. His ability to find open wingers and tiny passing lanes can be invaluable as an offensive catalyst. High skill and offensive IQ could be especially valuable with more room to work with on the wider Finnish ice .. brings a good history of rising to the occasion when playing for Hockey Canada.  
Collin Shirley (undrafted):
Lowry referenced injury replacements and their chance to make an impression to Team Canada brass. Shirley certainly gave scouts something to think about with a strong showing over two games, with one goal and four assists. He complemented the creativity of Barzal & Point really well. Although he's a long shot to make the team, the ability to play with highly skilled players isn't always easy (see Crosby and Kunitz in Sochi).  
Deven Sideroff (#83 ANA 2015):
Shirley's running mate in both games was none other than his Kamloops teammate. He hasn't been blessed with the greatest teams throughout his WHL career, but he looks intelligent on the ice, a trait that bodes well on a team of highly skilled player. He fit in well in this structure and attacked the net with strong drive .. possesses a good shot and plays determined, especially in front of the net.
With a strong OHL crop, and some serious size and skill turning heads in the QMJHL I don't expect a massive showing of WHL forwards on the upcoming World Junior team. While the WHL is historically known for its quality defenders, you could see names at all positions making this team. Not to mention the players who were selected for this team and had to withdraw due to injury (Rourke Chartier, Travis Sanheim, Dillon Dube, John Quenneville & Jake DeBrusk).  If they are all healthy, it makes the Scouts and Coaches from Hockey Canada's job that much more difficult. Looking forward to the coming weeks of hockey and finding out which players become household names when the puck drops in December in Finland.