After a pretty disappointing season for their AHL team, the Calgary Flames can rest more easily knowing that three of the top prospects in the system were not yet at the minor pro level. We won't spend too much time discussing Andrew Mangiapane, a steal of a sixth rounder last summer. While undersized, Mangiapane plays a big game, coupling puck skills, a high hockey IQ and tenacity that should leave Flames' execs satisfied that he will not shy from the tighter game in the pros. As he was drafted in his second year of eligibility, Mangiapane is already 20 years old and is signed to his ELC. He will join Stockton next year coming off two straight 100 point seasons for Barrie.
Mark Jankowksi, C, Providence (NCAA) (21st overall, 2012)
A surprise first rounder when drafted in 2012, Jankowski spent the full four years playing for Providence, a period of time which included an NCAA championship in his junior season. Never an elite scorer, Jankowski nevertheless shows a robust tool set that suggests an ability to produce as a professional. He has filled out his frame during his collegiate career and while still lean, there is enough strength to remain effective. That said, he will not be a physical player.
The Hamilton native is comfortable on the cycle and has strong hands which allow him to maintain puck control even when the opposing defenders are keyed on him and pressuring him. Beyond strength, his hands are also rather quick and soft. He can corral misplaced passes that would be giveaways when given to inferior players and quickly turn those pucks towards the net with some zip. Speaking of zip, Jankowski's top attribute is his shot. He has a high end release, able to get elevation, power and placement from a single touch. He sees shooting lanes well, excelling at getting the puck through screens and on the net. He is also a plus skater with good edge work and strong top speed. While his hands are soft, he is not the type to dazzle with creative puck wizardry, but he does handle it well, and as alluded to before, he is trustworthy as a puck carrier. Jankowski turned pro shortly after the conclusion of his senior year and gave the Flames brass hope for the future with six points in his first eight AHL games at the tail end of the Stockton season. While Jankowski is a natural center, he has plenty of experience at left wing and that is his clearest path to the NHL. He would benefit from a full (or near full) season in the AHL to ensure his pace has acclimated, but profiles as a potential second line winger sooner than later.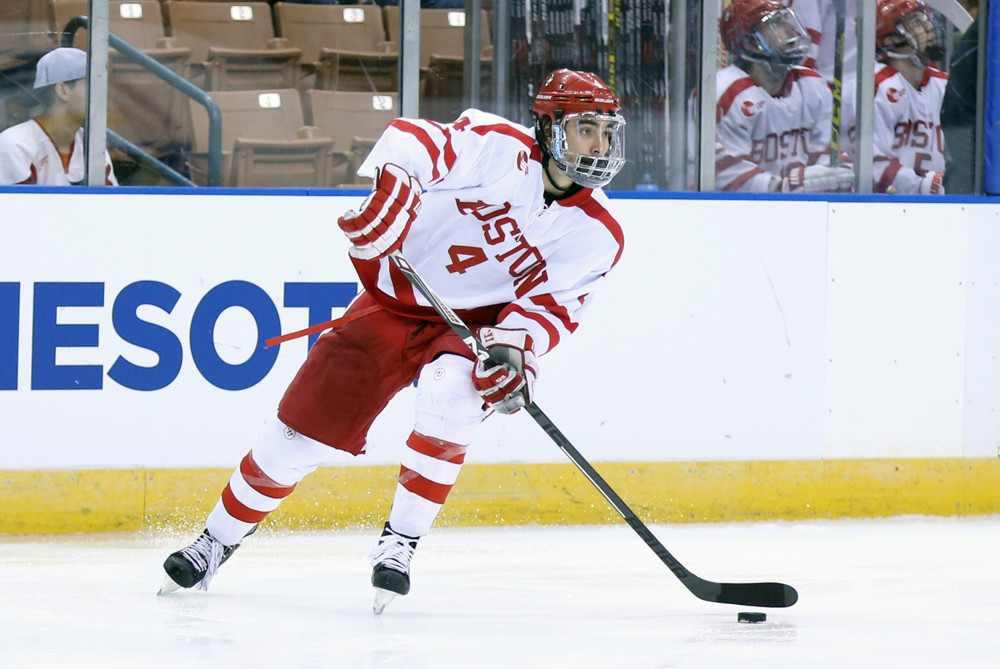 Brandon Hickey, D, Boston University (NCAA) (64th overall, 2014)
A disappointing sophomore season for the BU Terriers aside, Brandon Hickey remains a mobile rearguard who should be firmly in the Flames plans for the near future. From the Edmonton suburb of Leduc, Hickey was scouted out of the Spruce Grove program in the AJHL. His freshman season with BU was tremendous with 17 points in 41 games, lining up with another elite prospect in Jack Eichel. With the Terriers unable to replace Eichel (no collegiate program could) Hickey's offensive numbers suffered, dropping to eight points in 36 games. On the bright side, he gained some attention from Hockey Canada – a relative rarity among collegians – and was selected to represent his country during the WJC. 
Hickey's best attribute is his ability to lead a rush. A plus skater, he can pick a lane to exit his own zone and eat up ice on his way to the other side. His passes are crisp and he is not averse to letting one of his teammates make the zone entry when a better lane exists. His slap shot is great and his wrist shot is strong enough to suggest a solid point man down the line. Unlike many teenaged offensive blueliners, Hickey is also an asset off the puck. He keeps tight gaps on his opponents and maintains an active stick, both to strip pucks as well as to serve as an outlet for teammates who have already won the puck. He can be physical as well, although he is short of punishing. He would need to pack on 15-20 more pounds to reach that level. As of this writing, Hickey has not signed an ELC, and it is likely that he will return to BU for a third season. If his production can return to the levels of his freshman campaign, he will likely turn pro next summer. It says here that he will exceed those figures and compete for a spot on the Calgary blueline for the 2017-18 season. A number two defender is not out of the question, but it is more likely that he settles in as a solid option for the second pairing, contributing on both ends of the ice.
Adam Ollas Mattsson, D, Djurgarden (SHL) (175th overall, 2014)
Unfortunately for AOM and the Flames, the young blueliner missed a good chunk of the season with injury, masking what had otherwise been a year of steps forward for the hulking teenager. A prominent member of Sweden's entry at the World Juniors until the aforementioned injury hit him early in the medal round. Very much a defensive defenseman, he can nonetheless move the puck well and showed during the big tournament that he can join the rush as a puck carrier.
For the most part, though, this will not be a D-man who will ever earn much if any time on the power play. He will earn penalty killing shifts and appeal to his coaches through his willingness to step in front of slap shots. He spent most of his healthy days this year playing in the SHL, but his role in the men's league was relatively minor, indicating that he would have been better off developing for one more year in the SuperElit (Sweden's top junior league). At year's end, he was healthy for the junior playoffs and was at times a dominating force, according to Hockey Prospectus author Jimmy Hamrin. Although rather far from being NHL-ready, Ollas Mattsson has the upside of a shutdown defender with a good first pass.
Oliver Kylington, D, Stockton (AHL) (60th overall, 2015)
Another Swedish blueliner in the system, the slight Kylington may be the single highest upside player of any position in the Calgary organization. Like Ollas Mattsson profiled above, Kylington played with men as a teenager, in Kylington's case, with Stockton of the AHL. Playing with adults is nothing new for the blazing skater, as he has appeared in SHL games at the age of 16. As can be expected with any teenager in the AHL, Kylington underwent significant growing pains this year, as partially seen in his meagre total of 12 points in 47 games.
Somewhat undersized at 6-0", 183, Kylington does not look to have the frame to get much broader. That said, according to Hockey Prospectus Jason Lewis (who assisted with the reports of many of the AHL players in this system), he does not play down to his size and will happily engage with opposing forwards in front of his own net. He is not very effective yet in that regards, but he has not yet been a pushover. In fact, he has generally shown positive traits in his own end, with good positioning, and an understanding of how to use his stick to defend. He can also keep very tight gap control, as his skating prowess means that he will rarely be beaten with speed alone. He can be an offensive asset, and I would expect far greater numbers in the AHL next year (he is definitely not yet ready for a full-time NHL gig), as he can handle the puck and is electric when leading the rush, but he needs to show more creativity and better vision for lines of attack before he will have earned the type of trust that comes with top four minutes. Another area in need of improvement is in transition. While his hockey sense is good enough at times, he needs to do a better job of anticipating occasions of the puck going back the other way and prepare to defend, instead of chasing after lost causes or poorly considered pinches. Considering his age and his natural skating ability, along with the league's move towards mobility over brawn, and it is easy to see why the Flames braintrust would be excited about his future. As long as they are patient, they should be rewarded.
Patrick Sieloff, D, Stockton (AHL) (42nd overall, 2012)
Originally drafted out of the USNTDP with a reputation as a bruiser, Sieloff finished his junior career with the Windsor Spitfires before joining the Flames organization. Unfortunately, the Ann Arbor native missed most of his rookie pro season, and a good chunk of his follow up attempt to injury. Finally relatively healthy, Sieloff took big strides forward this year, cutting back on his penalty minutes significantly and even earned a late-season, one game call-up to Calgary, scoring his first goal in the process.
Although less reckless, Sieloff is still a very aggressive defenseman, always on the lookout for a big hit. He is a plus skater who lacks in puck skills, but will join the rush thanks more to his strong first step quickness and acceleration than to his offensive ability. His shot is decent from closer distances, but is not much of a weapon from the point. Like Ollas Mattsson, Sieloff will not be an offensive defenseman going forward, but unlike the other blueliners profiled above, he is close to ready for an NHL job and should tempt the new Flames bench boss – whoever that is – to push one of Dennis Wideman or Ladislav Smid out of the lineup. He does need to hone his instincts a bit more, like more young defensemen, learning when to channel his aggressiveness and when to make a more conservative decision, but there is reason to believe that Sieloff is ready to break into the regular six.
Emile Poirier, LW/RW, Stockton (AHL) (22nd overall, 2013)
When I referred to a disappointing season in Stockton in the introduction, Poirier was one of the main culprits leading to that assessment. A former first round pick, Poirier's production dropped nearly fifty percent form his rookie AHL season to his follow-up, going from 42 points in 55 games, to 29 points in 60 games this year. He was good enough last year to rank in Hockey Prospectus' top 100 prospect list (#90), he is now at risk of falling out of the top ten for Calgary.
Oddly enough, in spite of diminished offensive returns, the part of the game wherein Poirier struggled most this year was in his own zone, as he would fall into the trap of puck watching and simply floating aimlessly. He still showed good offensive sense, anticipating openings well and is a plus stickhandler with a decent wrist shot up his sleeve. Thankfully for his future prospects, the Montreal native is still a tough customer who has a bit of nasty to his game. If his offensive acumen does not return, that truculence (don't forget that the Flames' president is Brian Burke) will earn him some chances to win an energy role. He would be above average in that role, but it would be a disappointment, as he had shown much more in the past.
Hunter Shinkaruk, LW, Stockton (AHL) (24th overall, 2013, acquired in a trade with Vancouver for Markus Granlund)
Acquired by Calgary in an under-the-radar trade from Vancouver, for whom he had fallen out of favor as a first rounder from a previous regime, Shinkaruk has the potential to emerge as a bright spot from an otherwise dismal season. A former high-end scorer in the WHL, he took big strides forward in his second full AHL season, raising his offensive production from 34 points in 71 games with Utica last year to a combined 51 points in 62 games this year between Utica and Stockton as well as three points in eight NHL games between Vancouver and Calgary.
Fitting an underlying theme of the prospects profiled here, Shinkaruk has some chip to his game, which enhances his underlying skill. He is a good skater with solid first step quickness and a nose for the puck. He can be elusive when skating with the puck and is comfortable carrying the mail from his own zone to the other end. The Calgary native is a weapon on the rush whether passing to an open teammate or taking the shot himself. Although still undersized (5-11", 181), he is unlikely to get much bigger, so the decision on his immediate future should be based on his hockey readiness, instead of physical preparedness. Barring a big offseason acquisition, he could find himself with an opportunity to win a second line job in the Fall.