The apple doesn't fall far from the tree for former NHLer Michael Nylander's sons, William and Alexander Nylander-Altelius.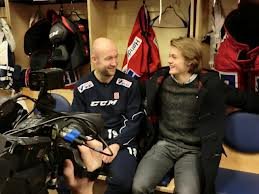 Older son William enjoys the guidance and mentorship of not only having his father on his team in Sodertalje, but as his line-mate. William is a confident and skilled player who excels in one-on-one situations. He will play on Sweden's top line at the under-18 tournament alongside Lucas Wallmark and Jacob de la Rose.
The 2014 NHL draft-eligible is a projected top-3 pick given his blend of top-notch skill and skating abilities. William Nylander-Altelius' game revolves around his offensive creativity and imagination. With added strength and weight, he could be the cornerstone of an NHL team's future.
Younger brother Alexander lacks some size but inherited the athletic and skilled genes. Like his brother, Alexander is an exceptional skater blessed with offensive imagination and the ability to dominate a game with his puck skills. He's a game-breaking talent with the ability to blow the top off a defence and turn the game wide-open.
Although not eligible for the draft until 2016, Alexander Nylander-Altelius projects as a top-5 or 10 pick in his class.
Date: March 26, 2013
Venue: Behrn Arena
League: Swedish Elite League. Qualifying Playoffs
Game: Orebro HC vs Sodertalje SK
Result: 3-0
The Game
This is a tough road game against Orebro in the sixth round of the Swedish Elite League Qualification Playoffs. Sodertalje has nothing to play for as they do not have a theoretical chance of reaching first or second place – needed to qualify to the Swedish Elite League. For Orebro the game is one of the most important games in recent memory – as they need a win to stay at the number one spot in the standings.  Consequently Orebro is more motivated and is clearly the better team in this game. Sodertalje is able to stay in the game in the first period but when Orebro scores their second goal midway through the second period then the game is all but over. Orebro outshoots Sodertalje 38 - 20 in the end and registers a 3-0 win in front of a packed home building.
William Nylander-Altelius (W/C, 2014), Sodertalje (May 1-96)
William plays a solid game .. starts the game at right wing on the second line together with his father, Michael Nylander, on the left wing .. the chemistry between father and son is noticeable .. they're constantly communicating with each other after whistles, and are able to create a couple scoring chances early in the game .. exudes confidence in his abilities .. exhibits excellent vision and offensive imagination and is exceptionally-skilled with the puck on his stick .. equipped with very quick hands and feet, can easily pivot away from opponents to get a step and make a play.. crafty and slippery to defend against one-on-one .. by far the most skilled one-on-one player on the ice in this viewing and he virtually always gets a step on a defender when challenging him .. so quick laterally and controls the puck in an excellent way at top speed and in tight areas ..  good skater .. skates with his legs far apart and generates good speed up ice from a well-developed stride .. wants to come down deep, receive the puck in speed and skate his way up the ice .. tends to cheat defensively though .. doesn't play his position strict and is soft on the puck at times, which was evident on the second Orebro goal where he tries to make a play just inside the offensive blue line, but instead turns the puck over which creates an odd man rush the other way .. back-checked hard on the play but wasn't able to get back in time .. hesitates going in to the boards and seems like he doesn't trust his strength going in to the corners with players bigger and stronger than him .. an argument could be made that he's doing so with self-preservation in mind .. going forward, he has to continue adding weight and strength to his thin frame which would make him even quicker and tougher to contain, in addition to making him confident handling the physical play at the pro level .. a tremendous talent with an uncanny ability to make plays offensively.
The Game
A report from a evaluation camp - part of the preparation for the annual national tournament, TV-Pucken.  Players born 98' and later will participate in the tournament in 2013. Alexander plays on Team Stockholm North (Nord) and the scouting report is from one of the intra squad games that were played during the camp.
Alexander Nylander-Altelius (W, 2016), SDE (March 2 -98)
A thin right-shooting forward listed at 5'7" and 134 pounds .. what he loses in size, he makes up for in talent .. a threat offensively on almost every shift .. has the puck on a string and only surrenders it at will .. an accomplished skater with a smooth, comfortable stride .. does lack some power and explosiveness at this stage in his development but he's very agile and strong on his skates .. he possesses quick feet, can pivot, turn and change direction without losing momentum .. displays impressive skills offensively throughout the game as he tears the opposing defense wide-open several times with his quick stick, razor-sharp instincts and ability to create plays .. so crafty and skilled with the puck and his vision and offensive imagination is top of the chart in this age group .. excellent hands and control of the puck both in tight and at top speed .. very slippery and tough to contain .. weasels his way through traffic and holds onto the puck for long stretches of a shift while stick-handling and spinning away from pressure to make plays .. almost impossible to get a hold on.. very shifty and hard to get a read on as he is a threat both with his shot and playmaking skills .. scores an impressive goal during the game when he cleanly beats a defender with a beautiful toe-drag move before deking the goalie to the ice and roofing the puck .. a very young kid that oozes raw skill and talent .. it will be imperative for him to add strength and muscle to his slight frame while continuing developing his offensive skill set, which will, above all things, improve his skating and ability to handle the physical play while taking the next steps in his career.