The summer of 2014 was anything but an off season for elite prospect Nick Ritchie. It all started in Toronto with the NHL draft combine and heading into the 2014 NHL entry draft where Ritchie was selected with the tenth overall pick by the Anaheim Ducks. The Ducks acquired the pick last summer from the Ottawa Senators in a trade that sent star winger Bobby Ryan to Canada's capital.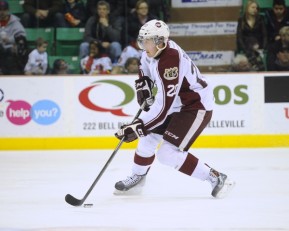 From the draft it was off to the rookie camp where the Ducks Coach's and Management got their first look at Ritchie as one of their own where he was a standout. So much so that he quickly signed his first pro contract with Anaheim.
After the Ducks Rookie camp, Ritchie went to team Canada's development camp in hopes of making an impression for the World Junior team if he did not make the NHL right away.
Making the Anaheim Ducks roster is no easy task for an 18 year old. Ritchie went back to Anaheim for training camp and got his first taste of NHL games in some exhibition action but was eventually returned to his OHL team the Peterborough Petes.
In 14 games with the Petes, Ritchie has seven goals and ten assists for 17 points and 41 penalty minutes.  Since returning to Junior, he has been a dominant player, using his size and skill to either go around or through opponents. Ritchie uses his size well to protect the puck, keeping one hand on the stick and controlling the puck while using his free arm to push opponents away. He has underrated playmaking skills making sublime no look passes that at times even catch his teammate by surprise. But perhaps his most impressive asset is his shot; he has a pro level shot. The release is very quick, and it is a hard and accurate shot.
With the pressure of his draft year behind him and in his senior year in the OHL, Ritchie is a force to be reckoned with. "The Pressure isn't as great this year, but there is pressure. There are things I want to do this year that take playing some good hockey so I have to make sure I'm playing to my capability and bringing it all the time."  The Ducks prospect said.
Ritchie has been named to team OHL for the Subway Super series taking place in November. It is an excellent opportunity for him to solidify a role on team Canada for the World Junior tournament.
"That's a goal of mine this year. Since I was sent back from Anaheim it was a goal of mine to make the world junior team. I think the first step of being in the Subway series games is a good start. I have to show what I got in those games at home in Peterborough and hopefully I have a chance to make the World Junior team" Ritchie said.
Ritchie has played for Canada previously in the U-17 and U-18 teams as well as in the Ivan Hlinka tournament. "We had a pretty good team, Nathan MacKinnon and Jonathan Drouin were on that team, and I don't even think we lost a game. Everyone played a different role and we played four lines. It was a good experience and I just took away it was hard work winning that tournament and it was good to play with a lot of great players"
While team Canada roster has not been announced for the World junior team expect Nick Ritchie to be on the team as the highlight of his junior career. This will be his last season in junior as next year he will turn pro; either in the NHL with the Anaheim Ducks, or like his brother Brett Ritchie, continue to develop in the AHL.