Ryan Wagman profiles four potential second rounders from the USNTDP, the USHL, the NCAA and US High School. Shane Bowers and Grant Mismash have the potential to go in the first round with towering goaltender Jake Oettinger and defenseman Max Gildon strong candidates for the first half of the second round.
A note on the 20-80 scale used below. We look at five attributes (skating, shooting, puck skills, hockey IQ and physicality) for skaters and six for goalies (athleticism/quickness, compete/temperament, vision/play reading, technique/style, rebound control and puck handling). Each individual attribute is graded along the 20-80 scales, which includes half-grades. The idea is that a projection of 50 in a given attribute meant that our observer believed that the player could get to roughly NHL average at that attribute at maturity.
| Shane Bowers | 2017 Draft Eligible |
| --- | --- |
| Position: C, Shoots L | H/W: 6-1", 185 lbs |
| Stats to date (GP-G-A-PTS-PIMS) | Waterloo Black Hawks, USHL (60-22-29-51-20) |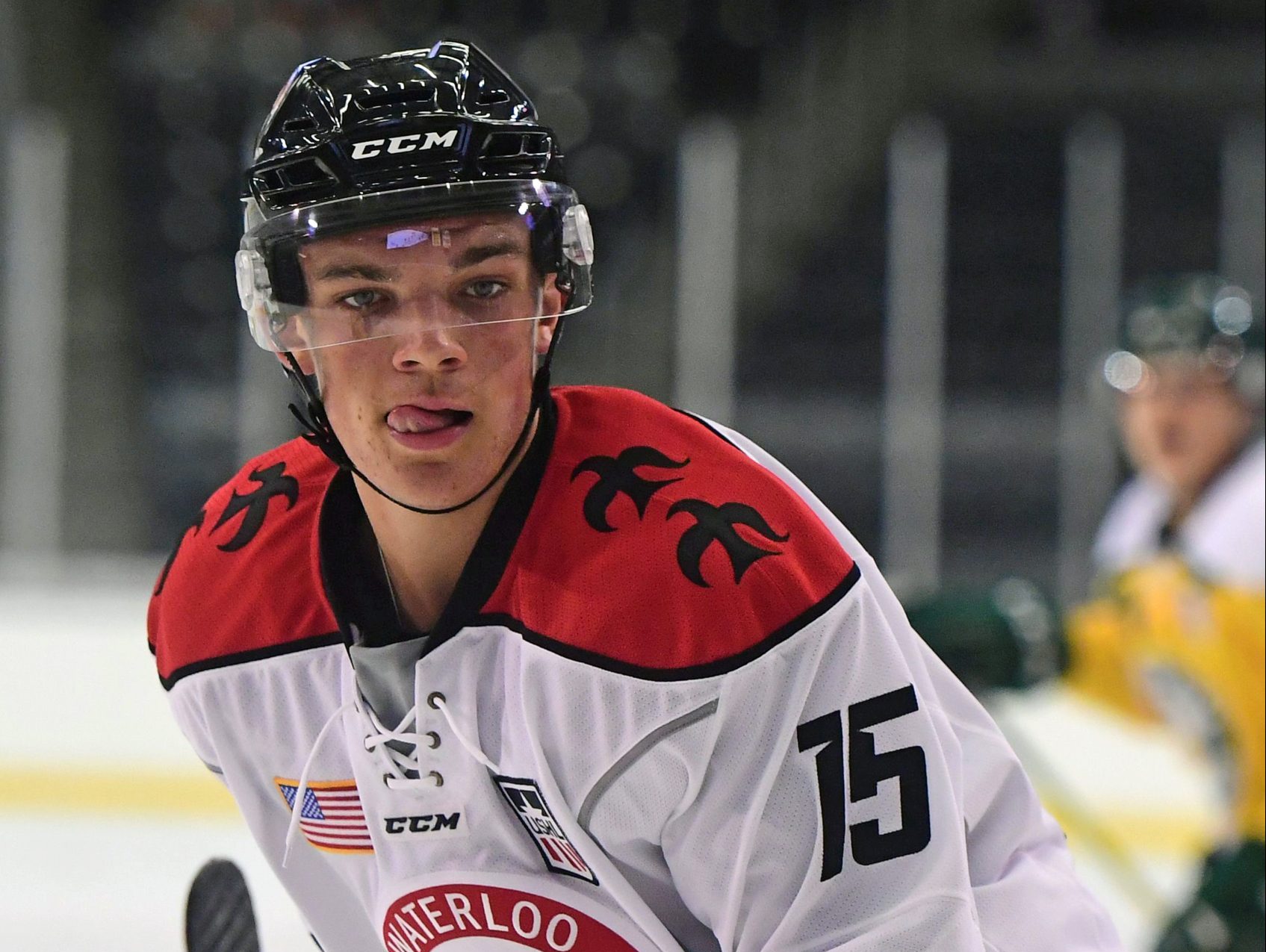 Skating: A powerful skater who is as dangerous on the rush as he is in the cycle. He does not leave the impression that he is exerting too much, as his strides are very smooth. When rushing up the ice, he shows impressive edge work, allowing him to adjust to driving lanes provided to him by the backtracking defenders. When cycling the puck in the offensive zone, Bowers demonstrates plus balance, making him a handful for opponents and very hard to knock off the puck or off his stride. Grade: 60
Shot: Although 22 goals is nothing to sneeze at in the USHL, it loses some luster when noting that his Waterloo Black Hawks were a very successful offensive team and he only ranked third on his own team in goals. He has a decent shot, but I would not accuse Bowers of being a sniper. While I expect him to be able to score his share of goals in college and later as a pro, it will be due more to positioning and vision than due to his shooting ability. Grade: 50
Skills: While not a puck wizard, Bowers does have an above average puck game. As mentioned above, he has plus vision and he will sometimes demonstrate intriguing creativity with the rubber. His puck drives show off his puck possession ability as well as the occasional dangle. He also has the knack of finding tiny seams in coverage that he can exploit with incisive passes. Has enough playmaking instinct to project higher point totals when playing alongside a more talented set of linemates.  Grade: 55
Smarts: Used in all situations, Bowers has impressive hockey IQ. He plays a confident game, with calculated risks that generally pay off and do not put his team at a disadvantage when they do not. His ability to read the opposing coverage will help him to continue generating offense at higher levels. A good puck possession player, he is the type of player who is almost always on the right side of the puck. Grade: 60
Physicality: Bowers plays a clean game (witness the 20 penalty minutes), but he is not soft. He plays with high energy and forechecks vigorously. Owns a strong frame and uses it to lean on opponents, or box a defender out with his back shoulder. I do not see a player who will use physicality for disruptive purposes, but who will never shy away from the dirty areas and will not be cowed by playing against more physically imposing players. Grade: 50
Summary: Watching Shane Bowers enter the offensive zone with the puck on his stick, is to watch a first round pick. Confoundingly, he can be absent from the scoresheet for long, painful stretches. His production in the USHL is that of a second or third rounder. Thankfully, for his sake, there is more to his game than points. Dependable in his own end, capable of playing in all manpower situations. I also get the impression that he did not receive the ice time in Waterloo that many other prospects of his ilk would receive in the USHL. His point scoring, when we isolate even strength scoring, is more impressive. He finished 12th in league-scoring, but was sixth at even strength. As mentioned above, I suspect that Bowers will put up more eye-popping numbers in the NCAA with Boston University. In another year, Bowers would be assured to have to wait until the second round to hear his name called on draft day. This year, he has a good chance to be selected in the back third of the first and projects as a strong middle six forward at the highest level.
| Grant Mismash | 2017 Draft Eligible |
| --- | --- |
| Position: C, Shoots L | H/W: 6-0", 185 lbs |
| Stats to date (GP-G-A-PTS-PIMS) | USNTDP Juniors, USHL (26-8-16-24-44) |
| | U.S. National U18 Team, USDP (65-26-35-61-104) |
| | USA U18, WU18 (7-3-5-8-10) |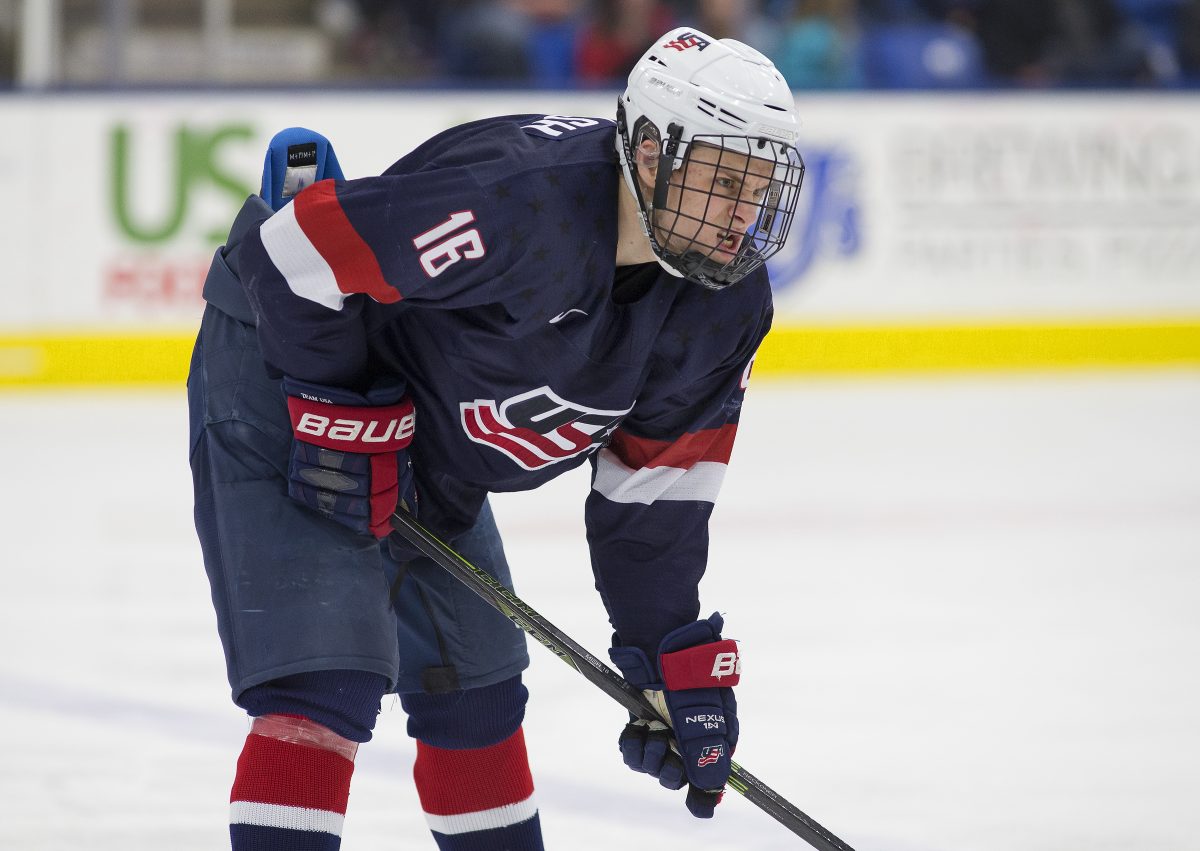 Skating: A very fast skater, he can impress with his movement over long distances or with his close-range bursts of speed. Mismash has a high work rate and it is most visible in his skating. He can be dangerous when entering the zone with the puck as his speed and purposeful drive tend to push defenders back on their heels. His motor seems to be always revving high, so while there might not be an extra gear he can attain, he is always going at full speed. Grade: 55
Shot: This here is why Mismash has a pretty good chance of being drafted in the first round. He has a pro shot that is as deadly from middle range as it is from in tight. He can snipe on a wrister from the high slot, or dig in for a rebound to flip it over a sprawled netminder. His 26 goals for the US National U18 team (non-USHL play) was second on the squad to Josh Norris. This attribute is also helped by his knack for finding open spaces in the offensive zone from which to strike. To summarize, he will score goals. Grade: 60
Skills: Proficient with the puck, Mishmash is not so much a crafty playmaker as he is a player with soft hands that can maintain possession under pressure. As far as moving the puck goes, he performs the basic duties and executes on all simple passes. Neither overly creative nor mistake prone. Grade: 55
Smarts: Although he was not a primary PK option for the USNTDP, Mismash tends to demonstrate that he has a high hockey IQ. He is a diligent backchecker, and positions himself well in all three zones. The reason he cannot receive a higher grade here, and the likely reason US coaches prefer other forwards to play the critical defensive shifts (including PK) is that Mismash plays a game that lives up the second syllable in his last name. Mash. He plays very tough and gritty and racks up a very high total of penalty minutes. Putting your team at a manpower disadvantage too often can go a long way to eliminating the positive contributions he makes otherwise on the ice.  Grade: 55
Physicality: Not too big, but very rough. Most often, a player with this many penalty minutes would receive a high physicality score. In Mismash's case, the grade is tempered by a style of game that, while gritty, is not punishing. He does not shy away from playing in the tough areas of the ice, and is generally effective, too, but does not leave the impression that he makes life miserable in this regards for opponents.  Grade: 55
Summary: Between his NHL shot, strong skating and hockey smarts, Grant Mismash will play a good middle six role. He played in a similar style to USNTDP teammate Brady Tkachuk, although a half-notch below the youngest Tkachuk brother, making it easy for him to be overshadowed. If you are unfamiliar with Brady Tkachuk, the last name should tell you everything you need to know. Generally listed as a center, Mismash might profile better as a goal scoring winger at higher levels. They biggest key for his continued development is for him to cut down on his penalties without losing his natural aggressiveness. In other words, he needs to learn to channel it all better. With Brock Boeser having left North Dakota for the NHL, Mismash has a chance to stake a key role with Fighting Hawks as a freshman. He should be selected anywhere from pick 23-38 at the draft. I believe he will provide good value as a first round pick, and should be ready to do so as soon as the 2020-21 season.
| Max Gildon | 2017 Draft Eligible |
| --- | --- |
| Position: D, Shoots L | H/W: 6-3", 190 lbs |
| Stats to date (GP-G-A-PTS-PIMS) | USNTDP Juniors, USHL (26-5-9-14-28) |
| | US National U18 Team, USDP (62-11-22-33-57) |
| | USA U18, WU18 (7-4-2-6-4) |
Skating: A tall defenseman with a muscular frame that should continue to fill out, Gildon skates well. While not a blazer like some of the smaller blueliners considered near the top of this draft class, he can keep pace with all but the fastest opponents. His skating ability is impressive at his size. It allows him to pinch in as threat to receive back passes in the offensive zone, knowing that he can get back in time to cover his own end. Grade: 55
Shot: While his shot is not the most consistent in terms of power or accuracy, Gildon does have a plus shot. Whether snapping one from a pinched position or rearing back for a slap shot from the blueline, he will force the defense and opposing netminders to respect his presence on the ice. The slapshot has good power without being too wild. His shot got a high-profile workout in the U18 game against the Czech Republic, when he found the back of the net three times. He does a fine job in recognizing prime opportunities to step up from the blueline to receive a pass in a favorable spot. Grade: 60
Skills: While not the modern prototype of the nimble puck-moving defenseman, Gildon is a strong puck mover with plus vision. He can execute the first pass out of his own zone, or help keep the puck moving from the point during the power play. He was often teamed up with the more offensively dangerous Quinn Hughes (2018 eligible), which meant that Gildon was called on to keep things steady along the blueline, prevent pucks from escaping the zone and find seams to push the puck back in deep. That said, he is proficient at carrying the puck through neutral ice and into the offensive zone and can execute sharp cross-ice passes through coverage thanks to his vision and quick wrists. Grade: 55
Smarts: In general, Gildon has a high enough hockey IQ to be trusted in most situations, whether it is the aforementioned blueline coverage on the power play, killing penalties or defending the tight leads in the dying minutes of a game. While he shows good understanding of game situations and tends to respond accordingly, he is prone to visible brain farts. He will sometimes whether blowing coverage, or dropping his intensity in his own zone, misread what his opponent is trying to do. Some players grow out of these lapses with experience, while others carry that lack of focus with them. The jury is still out on how Gildon will develop in this sense. Grade: 50
Physicality: This year's USNTDP blueline crew was mostly split between smaller puck rushers and bigger, lumbering old-school types. Gildon was the only one who did not fit firmly in either camp. He has ideal size at 6-3" and a firm 190, and he could play the physical game, but that was not his ideal purpose. He is just as likely to use his plus reach to separate skater from puck as he is to try for the hit. When he does lay on the body, however, he can be very effective. I expect him to continue to play with more emphasis on the physical game as he develops. Grade: 60
Summary: A product of the Texas youth hockey scene that emerged with the movement of the Minnesota North Stars to Dallas, Max Gildon has a lot of the tools necessary in today's faster game. A plus skater with a big booming slap shot and a gift for stepping up at the right time to give the goalie a more challenging look, he can in some ways resemble Justin Faulk, himself a USNTDP alumnus. Then again, there is a long way to go for Gildon to get to that level. Committed to the University of New Hampshire, he will receive every opportunity to play a big role for the Wildcats. The key to his development and to maximizing his potential will be to increase his consistency. If he plays a committed game on every shift, he will be a steal of a second rounder. If he falls into lackadaisical habits in his own zone, he will have a hard time graduating from the AHL. We have a few years before we can fairly judge the success here, but the upside is worth a gamble in the first half of the second round.
| Jake Oettinger | 2017 Draft Eligible |
| --- | --- |
| Position: G, Catches L | H/W: 6-4", 210 lbs |
| Stats to date (GP-GAA-Save %) | Boston University, Hockey East (35-2.11-.927) |
Athleticism/Quickness/Speed: For a very big netminder, Oettinger makes very nice quick reactions, particularly notable with his lower half. His hands are also very quick. Although generally impressive in this area, the team that selects Oettinger in the draft is doing so due to his size and his resultant ability to fill up the crease. The above average athleticism that he demonstrates is more of a bonus. Grade: 55
Compete/Temperament: Over the past few years playing with high profile programs, including two seasons with the National Development program and one season already under his belt with NCAA powerhouse Boston University, Oettinger has earned a reputation as a calm, unflappable netminder, who takes pride in his mental preparation. He remains fully composed when playing behind heavy traffic. He was outstanding in the spotlight of the U18 tournament as a late birthday last year helping earn a bronze medal for the Red, White and Blue.  Grade: 55
Vision/Play Reading: Oettinger is definitely helped by his plus size when it comes to his ability to see the play develop in front of him. Not content to rely on his natural gifts, he keeps his head moving in the crease, and his ability to follow the action helps his reaction times play up. He does not miss much.  Grade: 60
Technique/Style: A butterfly-leaning shot blocker, Oettinger does get into trouble once in a while by the suddenness of his transition to the butterfly, as that leads to occasionally too much bounce on pucks that catch him in the shin pads, leading to unsightly rebounds. That said, he covers both the bottom and top halves of the net very well and his positioning in the crease is generally pretty sharp. You rarely see him leave gaps that can be exploited by sharp shooting forwards, like many other young forwards do when the puck is in the corners.  Grade: 55
Rebound Control: As mentioned above, Oettinger can be prone to rebounds when he is late dropping into the butterfly. This is most apparent with low shots. He is, on the other hand, skilled at deadening pucks that hit him in the upper body. Higher shots do not lead to second chances. Grade: 50
Puck Handling: Not really much of a puck handler, Oettinger mostly uses his stick to settle pucks for backchecking teammates. He has not shown much comfort in being the type of goalie who can push the puck up to his teammates to give the transition a kickstart. Grade: 45
Summary: Born and bred in the hockey mad state of Minnesota, Oettinger would be the top goaltender available in many years, but this year he is challenged for that spot by netminders like Ukko-Pekka Luukkonen and Keith Petruzzelli. In any event, Oettinger will be highly sought after on draft day. Those who like him see his as the second coming of Thatcher Demko, who similarly excelled with the USNTDP and took the Boston area by storm as a true freshman, in Demko's case, with Boston College. Both netminders are similarly sized, and Oettinger's numbers were actually a bit better than Demko managed as a freshman as his 0.927 save percentage compares favorably with Demko's 0.919 in 2013-14. He needs two more years in college and will likely get a better chance to be the starter on next year's American WJC entry. Look for Oettninger to go off the boards around the middle of the second round.
| Dylan Samberg | 2017 Draft Eligible |
| --- | --- |
| Position: D, Shoots L | H/W: 6-3", 190 lbs |
| Stats to date (GP-G-A-PTS-PIMS) | Hermantown High, USHS-MN (25-10-18-28-43) |
| | Waterloo Blackhawks, USHL (6-1-1-2-0) |
Skating: Samberg is a big young man who moves really well for his size. This is especially notable when he is carrying the puck as he has an extra gear that allows him to stick out. This trait was more in evident in high school, but he moved around pretty well in his late season cameo for Waterloo of the USHL as well. Skates with confidence, as can be seen in his willingness to pinch in deep when the opportunity arises. He is generally able to get back in time if need be. Grade: 55
Shot: He does not need to step into the puck to take a strong shot. Samberg gets respectable heft on his wrist shot, even from at the edge of the point. I am hesitant to use his 10 high school goals as proof of a strong shot, but the shot looked promising even with Waterloo. The fact that the Waterloo coaching staff immediately put him in the power play rotation indicates the level of faith they have in his blast from the blueline. Grade: 55
Skills: Samberg can unleash crisp, sharp lead passes. There is raw ability in this area, but he will need to prove that he can do it at pace. Even with Hermantown, he was somewhat prone to rushing his puck movements, chipping it off the wall when under the early stages of pressure. Patience with the puck can be both a testament to puck handling ability as well as hockey IQ. Based on his level of competition for most of his budding career, it is impossible to determine the cause just yet. Grade: 50
Smarts: As with his puck skills, there are justifiable questions about the presence and likelihood of continued development of Samberg's hockey IQ. He has clear offensive instincts and comfort in the offensive zone, yet is prone to inexplicable lapses of judgement. He likes to pinch when his team is in possession, and that can be a good thing, but he can also go on a mindless one against five rush for no discernable reason. A full season with the Black Hawks will help us understand more. His instincts need to be honed over time against better competition. Grade: 50
Physicality: Samberg has a great, projectible frame and seeming functional strength. He has yet to demonstrate that he has a physical side to his game, though. He should be able to withstand the physical rigors of the game at higher levels, but I cannot say that he will ever force the issue with his bulk. I feel he will, but this is more speculation than something that has been empirically observed. Grade: 50
Summary: With the improvements seen across the board in the USHL and similar Tier I leagues like the BCHL and AJHL, true high school players are becoming more and more scarce. His six regular season games with Waterloo notwithstanding, Dylan Samberg is a high school prospect. More accurately, he is a project. The pure physical tools are there for him to develop into a two-way, top four defenseman down the road. Well down the road. The minimal exposure to high level play conversely inflates his bust potential. His size, skating and shot suggest that a selection in the third round would not be crazy, but a spot in the fifth or sixth round would also be unsurprising. Samberg is expected to join the University of Minnesota-Duluth Bulldogs for the 2018-19 season, so we will be watching him for a full season in the USHL next year.