After losing a number of key personnel on a team that reached the USHL Clark Cup Finals last spring - losing in the final game - the Waterloo Black Hawks haven't missed a beat so far this season.
A pair of major contributors to last spring's playoff run, blueliner Ian McCoshen (Hudson, WI) and forward Taylor Cammarata (Plymouth, MN), have led the early charge.
However, the team took a big hit when McCoshen was recently diagnosed with mono and is out indefinitely. He has missed the last two games yet is still leading the league with an impressive plus-13 rating in just eight games.
The Hawks participated this past summer in the 2012 World Jr Cup in Russia, reaching the finals and falling 2-0 to the OHL Sudbury Wolves. The successful trip helped factor into Waterloo's blazing 9-1 start to the 2012-13 campaign, good for first place in the USHL's Western Conference.
In September, four members of the team were selected for the inaugural USA Hockey All-American Top Prospects Game in Buffalo, New York. McCoshen and Cammarata were joined at the event by both Waterloo goalies - Eamon McAdam and Cal Petersen.
Having the luxury of arguably the league's best 1-2 goalie tandem, long-time Waterloo coach P.K. O'Handley has been alternating starts between McAdam and Petersen, each looking to impress in their draft years.
We caught up with McCoshen and company as they rolled into Ann Arbor to play the U.S. National Under-17 squad - seeking a sixth straight win - after a shutout 3-0 performance the previous night against Eastern Conference leaders Muskegon.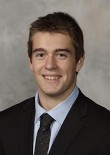 Ian McCoshen (D, 2013), Waterloo - long-term potential is what excites about a player already a three-year vet of the league - and just turned 17 .. a steady defenseman who adds stability on the back end plus a rugged physical dimension - backed by a pro-type body at 6-foot-2, 205 pounds and still growing .. high compete level .. recorded eight goals and 20 points in 55 games last season (8-12-20) - half via the power play (4-6-10) .. plays primarily a north-south game, making the most of his puck-possession time .. seems to dictate the play quite often when he is on the ice .. provides a hard, quality first pass for quick exits .. supports his partner well and consistently leads passes into safe lanes .. quick to identify opportunities to join the attack - and won't hesitate to lead an offensive rush .. however he does not display overly impressive offensive ability, especially pertaining to power-play instincts .. does possess a heavy shot though, and a smooth release .. his shot velocity creates rebounds, even if he could be much more effective getting pucks through traffic and to the net .. propelled by a powerful stride - and good agility and speed - however still lacking a smooth overall quality and refinement to his skating .. his footwork need polish, a deficiency most noticeable on plays that force him to pivot and defend a fast rush .. displays a slight hitch when moving laterally .. could do a better job of keeping his feet moving at the offensive blue line .. mostly a sound defender .. casts a presence on the penalty kill with his ability to control the spaces with solid puck pressure and a good stick .. demonstrates sound gap control, exploiting his stick and reach to discourage east-west puck movement .. loves to hit, especially in the corners, along the walls, and standing up at his own blue line .. a consistent physical presence, albeit could develop into a dominant one by focusing his game more on this particular aspect .. can get into some defensive-recovery issues on broken plays .. yet to find his true identity and run with it - which makes scouts wonder about what type of defenseman he will develop into, and ultimately what he can provide at the NHL table .. classify him as a player that will be regarded more for his physical prowess and defending ability - than his offensive contributions .. could be a late first-round selection, depending on his progress, though is more likely to go in the second round.
Taylor Cammarata (C, 2013), Waterloo - listed at a mere five-foot-seven, but is a force to be reckoned with coming off USHL Rookie of the Year honours in `11-12 .. finished sixth in league scoring (60-27-42-69) .. the University of Minnesota recruit, who centered Nathan MacKinnon while attending Shattuck St. Mary's, is off to another great start and was leading the USHL in scoring at the time of this report (9-7-10-17) .. extremely intelligent - outthinks opponents all over the ice, exploiting his vision to consistently make plays in all three zones .. deceptive and cunning - displays a natural feel for the game .. always has the puck - and is a scoring threat every time he is on the ice .. primarily an east-west playmaker who slows things down on entries using delays or sudden stops in order to open up ice and find trailing teammates .. operates well along the wall and in the corners .. finds ways to get the puck and make plays - in spite of his limited size routinely being his own worst enemy .. would benefit from showing more intensity at times, even if willing to dig for loose pucks in the corners or in front of the net .. still takes shortcuts at times to retrieve pucks .. skating needs work .. lacks explosiveness and agility which limits his ability to win loose-puck races, as well as physical battles in open ice - at least those that are more than a few feet away .. will have to focus on improving his overall footwork, especially in terms of lateral agility and acceleration .. moves the puck extremely well - really snaps his passes, rarely missing the mark .. efficient puck management - protects it well and is always getting into good positions around the net both with and without the puck .. given his talent and hockey sense, there's no reason that he won't enter into top-90 consideration - in spite of his diminutive stature.
Cal Petersen (G, 2013), Waterloo - a Waterloo native and rare homegrown commodity on the Hawks' roster, recently committed to the University of Notre Dame for 2014 .. an athletic goalie with good lateral mobility and explosiveness .. possesses quick feet and strong overall footwork - strong pushes from his butterfly .. could be more consistent in tracking the play, as he tends to over-pursue whenever losing sight of the puck .. needs to make himself bigger in the net to utilize every inch of a sizeable frame listed at 6-foot-2 and 175 pounds .. prone to retreating back into his crease prematurely as offensive rushes enter the zone .. this tendency can impact rebound control, and forces him to rely on his athleticism to re-position for second or third-shot chances .. overall though his rebound control is generally solid, however could use further refinement, most specifically in terms of directing pucks into the corners .. must continue to improve on sealing off openings in his butterfly .. his athleticism affords him excellent recovery abilities which in turn allows him to get a piece of the puck .. consistently makes good decisions on where he moves pucks to - even under intense offensive pressure .. still a 'work in progress', with some natural attributes (athleticism, explosiveness) that should make him a draft next summer, likely later rounds.