It seemed easy to project Blake Clarke at first.
A first round pick of the Brampton Battalion in the 2012 Ontario Hockey League priority selection (15th overall), the native of Wildwood, Mo. appeared on the fast track to success as a rookie. Clarke played a big role on the Battalion as a rookie, scoring 19 times and adding 32 assists for 51 points in 68 games.
Whether one wants to attribute his second season as a sophomore jinx or the signs of a once highly-touted prospect who lost his touch, no prospect saw their production fall off quite so dramatically as Clarke's. After suffering an injury early in the year, Clarke then asked the Battalion, who moved to North Bay in the summer, for a trade.
A change in scenery only brought more of the same for Clarke, who couldn't tap back into his offensive prowess once dealt to the Saginaw Spirit. A disappointing two goals, 10 assists in 54 games may have taken him out of draft consideration altogether.
In some ways, Clarke could have learned from teammate and fellow draft eligible prospect Dylan Sadowy. Although not considered an offensive force, Sadowy did the dirty work Clarke was unwilling to do and as a result, found himself in the Spirit's top six, where he flourished with his north-south style.
Blake Clarke (2014), LW 
Few players' stock dropped more than Clarke's, whose production dropped by a stunning 39 points, including 17 fewer goals than he scored as a rookie .. a shoulder injury sustained during the All American Prospect Game derailed his season (missed 14 games) and subsequently resulted in him requesting a trade from North Bay .. an offensive-minded player with good instincts for the game, he can create with the puck in his possession and put it into good positions .. a bow-legged skater with a deceptive quality, he has good short-term quickness but only exhibits it below the offensive blue line .. does not play with any type of aggression in either zone and looked apprehensive to engage -- always kept plays to the outside, refusing to attack the dirty areas of the ice .. an easy player to play against on the defensive side of the puck as he doesn't engage in open ice and loses board battles quite regularly .. coasts back into plays and far too often separated himself from the action .. Clarke has potential due to his impressive first year totals and untapped offensive ability .. he needs to find a return to his 2012-13 form and should get plenty more ice time next season with Saginaw to develop.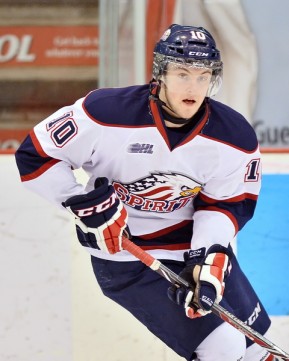 Dylan Sadowy (2014), LW
Sadowy registered a 25 goal improvement from his rookie season largely in part to a promotion in January into the top six playing alongside Kea and Moutrey .. the sum of his parts, Sadowy plays a simple yet effective game as he habitually drives and heads to the net as soon as his line-mates have possession of the puck .. his goals come as a direct result of his hard work -- he stays with plays, has better than average hand/eye coordination and is not afraid to sacrifice his body to score dirty tallies in the crease .. does a very good job of positioning himself well inside the offensive zone and has a knack for getting his stick on pucks .. competes at both ends of the rink but can be guilty of not moving his feet at times in the neutral zone as he gets caught behind the play .. Sadowy is an average skater with no explosiveness in his stride or prevailing gear .. also lacks balance as he tends to fall down too much .. although not a physical force, he can play a pestering style that gets under the opposition's skin .. Sadowy put up Cy Young numbers with his goal to assist ratio (27-9).