Back in September the big NHL Draft discussion was focused along the 'Jack vs. Mac' debate. Who goes first, the big, mobile powerful US skater or the exceptionally smart, generational OHL pivot? That debate hit a fever pitch at the 2015 World Junior Championships, where the two skaters faced off against each other. While both fairly well overall, McDavid cemented his status as the age group's top prospect. While 'Jack vs. Mac' may still have life, a more interesting debating point has taken shape; Dylan Strome or Mitchell Marner?
While both players have proven to be elite offensive players to this point of their OHL careers, there are differences in the way that they play that separates them from both themselves and their peers.
Pro Strome: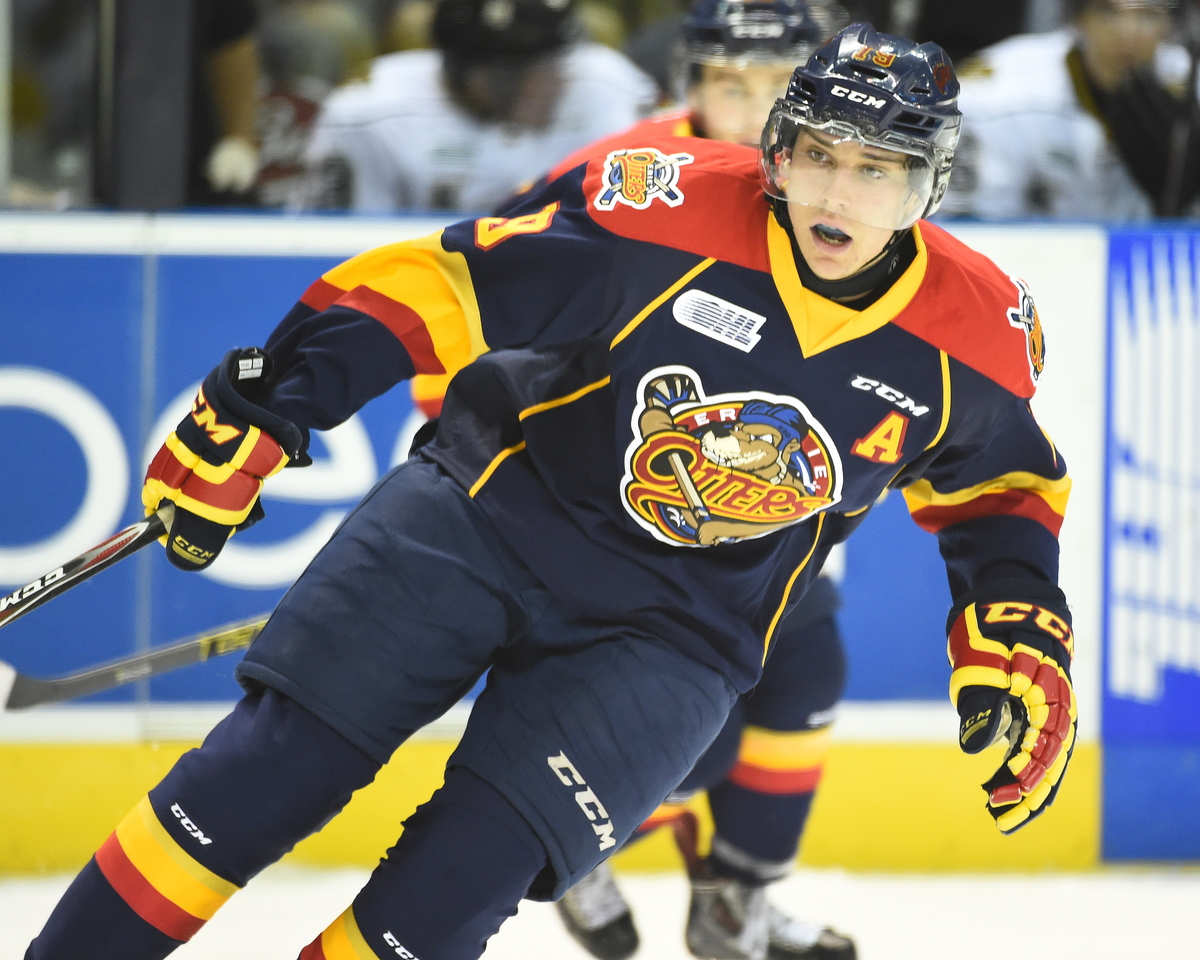 There's something to be said for a cerebral, poised playmaker who possesses pro size, strength and the ability to create offense. From the first time I saw Dylan Strome, there was no doubt in my mind that he had pro potential. Brother of Ryan and a graduate of the famed Toronto Marlboros program, Strome has lit the OHL on fire this year, producing 1.89 points a game while elevating those around him to higher levels of performance. The skills are impressive, a Joe Thornton type of offensive talent, one who has high end instincts and creativity. He's at his best when slowing the game down, surveying the ice and patiently waiting for things to develop. Has that innate ability to pull defenders out of position before firing a clean tape to tape pass. In other years there wouldn't be a debating point, Strome would be the top skater in Ontario, but this is a pretty special year at the top of the draft. Strome has development needs, he lacks explosiveness and agility, he doesn't have that elite secondary level of speed, but if you had the opportunity to see his skating a few years ago, you'd see he's already made significant gains. Plus, as players such as John Tavares and Boone Jenner have proven, you can teach skating, you can't teach the instincts, hockey IQ and offensive ability that Strome brings to the table.
Pro Marner:
Mitch Marner has had an absolutely incredible year, one that has the potential to be among the top offensive years for any player in their draft year. Dating back to his time with the Don Mills Flyers, no one has questioned Marner's offensive tools, his intelligence, speed and puck skills have always been among the top of his age group. What limited him was his size and strength, but in two short years he's added 5 inches and gained 30lbs. While he still is somewhat slight, his size is hardly an issue. What has become an 'issue' for other OHL teams is Marner's elite offensive skills. A dynamic offensive player, Marner has been averaging over 2 points a game in just his second season in the OHL, which is substantial by any measure. A quick, possession type with elite creativity, his one-on-one elusiveness is elite, as he routinely has made defenders bite this year with a quick move, pulling the puck in tight and utilizing his feet to get to open ice. He sees plays develop well ahead of time and seems to have a 360 degree view of the ice, he always is aware of his options and more times than not finds ways to deliver the puck. Add in the fact that he shows incredible poise and control around the net, he's proving to not only be a pure playmaker, and he can also finish plays as well.
Verdict:
Full disclosure; for the first 3 months of the year I had Dylan Strome ahead of Mitch Marner. I felt that the tools that he had, the strength, poise, pro-style game that be brought to the table was more transferable. But the way that Marner's game has grown, and continues to grow, is too much to ignore. His offensive tools and abilities are rare and the strength and size issues that some may hold against him are somewhat muted when you look at the success that other skaters his size have had in the NHL. That's not taking anything away from Strome, he too has impressive transferable skills, it's just at this point Marner has surpassed him in my eyes. That said I think it's more than fair to suggest that both skaters will be top 5 picks if they continue on their pace.