Jake Virtanen always met the bar no matter how high it was placed.
The product of Abbotsford, B.C. has a compelling story to which he continues to add. A dual Canadian-Finnish citizen, Virtanen joined the Calgary Hitmen two years ago with a lot of fanfare and high expectations. Those expectations mounted entering his sophomore season and the burly winger didn't disappoint.
During his bantam season, Virtanen hoped he would be drafted in the first or second round by a Western Hockey League team. In this instance, his expectations were lower than that of the Hitmen, who made him the first player chosen in 2011. A childhood friend of his, Matthew Barzal, followed in his footsteps as the first pick in the 2012 draft by Seattle.
Virtanen is that special breed of forward that mixes a sniper's touch with a physical game. He compares his playing style to Rick Nash's.
Although Virtanen holds a Canadian and Finnish passport, he grew up in Canada and has never been to Finland and hopes to represent Canada in future international tournaments. He feels he plays a Canadian style.
"I play a gritty game," he said in January. "I think Finnish players are more skilled. It's a different game. (The Finnish style is) completely different from the Canadian and American game. I think they play an East-West game and we play a North-South game. They have all the crazy breakouts. We just go down and we try to take pucks to the net."
That style is commendable but may have caught up to Virtanen. He underwent successful shoulder surgery in late May, which will sideline him anywhere from late September to late November.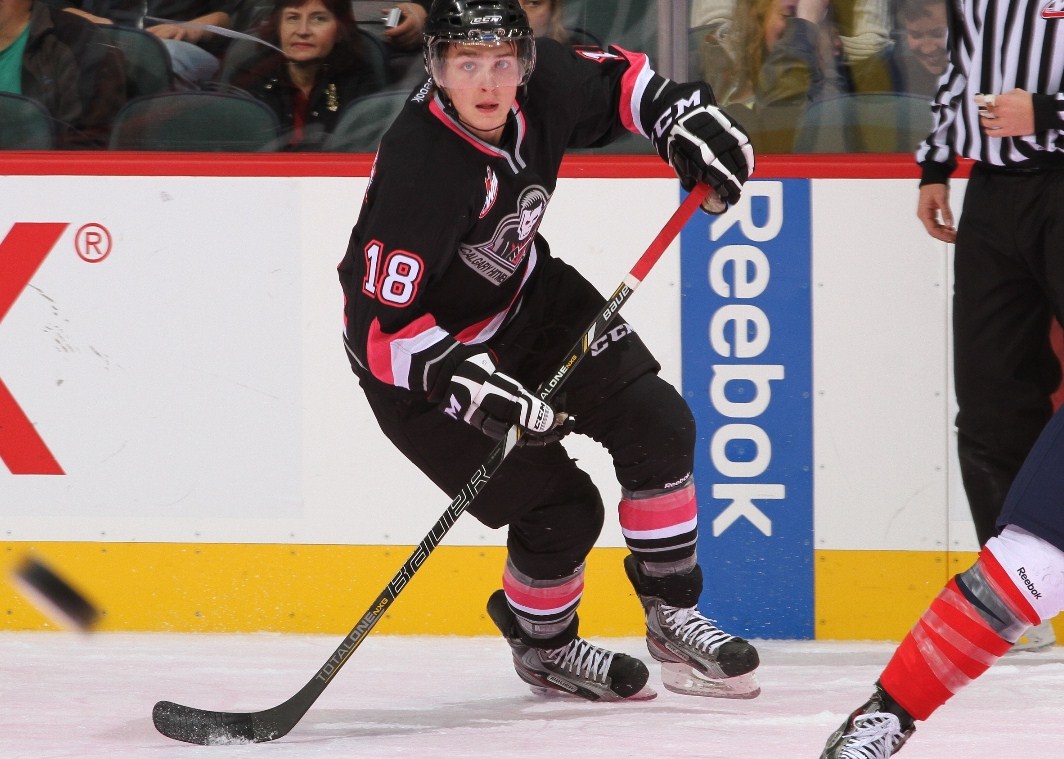 Jake Virtanen (2014), RW
Budding power forward exploded with 45 goals this year marking a 29 goal improvement over his rookie season of 2012-13 .. former 2011 1st overall WHL bantam pick is a dynamic and lighting quick skater .. won both the forward and backwards 30 metre sprint at the Top Prospect Game testing .. sensational ability to create time and space for himself with deceiving change of pace and bursts of acceleration .. seems to do more with his skating ability .. despite quick hands his effectiveness is diminished by his passing efficiency and play selection .. very reactive player that doesn't seem to anticipate the game, rather responds to it .. hockey sense routinely comes into question .. wicked release and can shoot on the fly without breaking stride .. at his best when he intimidates with his speed, driving defenders on their heels and engaging in 1 on 1 situations .. still needs to adopt better structure, playing a scattered game while gravitating to and over-fixating on the puck .. improved this year defensively playing with more determination, blocking shots and being involved physically .. Virtanen has the size and skating ability to satisfy a role in the NHL however he will infuriate top players as he does not always distribute the puck in a timely manner.