It isn't hard to picture Aaron Ekblad with a letter on his jersey in the National Hockey League.
The stories that circulated before he made his Ontario Hockey League debut told of a young man with an above average maturity for his age. When Ekblad became the second player to be granted "exceptional player" status by the OHL, granting him the privilege of playing in the league at 15, Ekblad chose not to pick his destination.
The Barrie Colts, runners up to the national champion Windsor Spitfires in 2010, were in a deep rebuild a year later when they held the top pick. Ekblad made it known his desire was to play for whichever team wanted him most.
It was an easy choice for the Colts taking Ekblad first in 2011, and thanks to some shrewd moves – convincing Mark Scheifele to come to the OHL, and adding Tanner Pearson, among them – the Colts' renaissance came so rapidly they were within a goal of winning the OHL in 2013.
Ekblad brings that special blend of size, smarts and skills to a package that will be hard for the Florida Panthers to pass up this Friday. He readily admits his skating is an area needing improvement, but success has followed Ekblad everywhere he went. The draft's top defenceman is a true competitor for the first pick (ranked 3rd at McKeen's) and should have a long, distinguished career.
Should he be chosen first overall, Ekblad will restore the OHL's place atop the draft board. Recent first overall picks from the OHL are: Nail Yakupov (2012), Taylor Hall (2010), John Tavares (2009), Steven Stamkos (2008) and Patrick Kane (2007).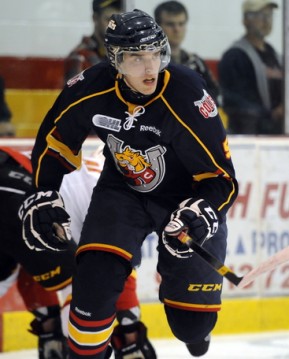 Aaron Ekblad (2014), D
Highly touted workhorse defender played in more tournaments and key games this season than any of his peers .. an absolute standout performance capturing a gold medal at the 2013 Ivan Hlinka Memorial resulted in his inclusion to the WJC as the only NHL draft eligible Team Canada defenseman .. participated in the Top Prospects game and in the CHL Subway Super Series Challenge .. returned from the WJC with a completely different focus and his game offered more structure, especially in the defensive zone .. learnt to allow the play to come to him and let his size work to his advantage .. a chunky skater with a deep knock knee, he does possess elite skating ability but can navigate well in all areas of the ice .. led the OHL in defenseman goal scoring as his booming point shot was a primary weapon for the Colts' powerplay .. can physically punish a player yet displaying a good understanding of when to apply physical pressure or use a timely poke check to avoid losing his positioning .. hampered by an injury during the playoffs that limited his effectiveness .. standing at 6'4 and 225 lbs, Ekblad is a man amongst boys and is a highly coveted right-handed defenseman .. presents the most physically ready player for the NHL next season.