In some cases, the apple falls close to the tree.
Take William Nylander and Kasperi Kapanen as prime examples. Each plays a style reminiscent of their father's and in both cases, father and son had a chance to play together in their homeland.
Michal Nylander made a career in the National Hockey League as a playmaking, setup man, not unlike the role young William will have once his career begins. Those who remember Sami Kapanen will undoubtedly speak about his blazing speed first and foremost, which is generally the first mention in Kasperi's game.
There's something to be said for genetics and how these strong attributes can be passed down from generation to generation. Couple the natural ability these two prospects share with their father and the examples they see on a day-to-day basis from their biggest role models and it's becoming even more frequently common in today's game to see former players having sons pick up the family business.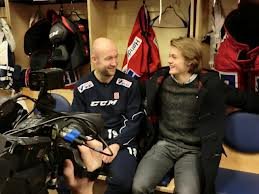 William Nylander (2014), C
Committed to Modo next season in the SHL, Nylander spent time with four different teams this year including a brief audition with Modo J20 team, multiple stints in the Allsvenskan and a call-up to the SHL .. a dominant force in international play leading the 2014 World U18 Championships in points (7-6-10-16) and finished tied for second in tournament points at the 2013 World U17 Challenge capturing a gold medal (6-2-8-10) .. talented solo act who can gain the zone and brings energy and intensity to each shift .. innovative, ideas occur naturally as a by-product of his vision and awareness .. always looking for the perfect play which can cripple his game appearing to hold onto the puck too long or trying to do too much .. creates separation via an explosive short cross-over stride and superb lateral agility .. Nylander's omission from Team Sweden entry into the WJC humbled him as he bore down in the second half playing a more mature game .. can play harder in defensive situations but he does possess Patrick Kane like skill in his ability to control and dangle with the puck needing minimal space to unleash a quick and accurate wrist shot.
Kasperi Kapanen (2014), RW
The son of former NHL'er Sami Kapanen, Kasperi returned for a second consecutive season in the Liiga having an opportunity this year to skate along side his father .. showed little difficulty adjusting due to his compact, explosive skating ability that allowed him to intimidate defenders with speed .. possesses a steady cadence to his stride pattern which he can quicken and shorten to suit the purpose .. 'lurk in the weeds' type of player once he has gained the zone - sets up well as a shooter with a wicked release on his snapshot and wrist shot, maintaining a strong center of balance while shooting .. tends to keep plays to the outside on account of his physical frame, easily over powered and man handled – he relies more on his finesse and 1 on 1 offensive skills .. shows enthusiasm to finish hits and play physical only in the offensive zone while his efforts wane on the back check .. can be selfish and individualistic when playing with his peer group as was the case at the 2014 World U18 Championships .. after winning a bronze medal at the tournament last year where he finished second in tournament goal scoring (7-5-3-8) Kapanen appeared overwhelmed and fatigued in a 10-0 QF thrashing by Sweden.