Let's face facts, things are not great for the Sudbury Wolves right now, there are some 'silver lining' aspects to their current plight. Kyle Capobianco, the 7th overall selection in the 2013 OHL Draft, is starting to gain headway in Draft circles.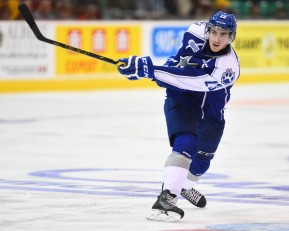 Smart, quick, agile and offensive minded, he's more confident, more poised, working the powerplay while more importantly, gaining strength. He's never going to be extremely hard to play against, but strength has allowed him start the process of being better in his own zone. I think you can lock him in as a top 90 draft candidate...Matt Schmaltz has had himself a heck of a year. A big, powerful winger who has found his niche with the Wolves this year. Despite the upside, he saw very little ice time last year, limited to 4th line duty on a Wolves team that was attempting to take a run. Receiving more ice time this year, and playing with more confidence, Schmaltz has thrived, showing some of the reasons why many had him as a mid-round draft pick last year. He's tough, with good north to south feet along with a pretty impressive snap shot. While he may never be a 30 goal scorer at the NHL level, there's value in him as a mid-round pick this year, one who can play honest minutes. He's probably the top draft re-entry guy this year, and should expect to hear his name called between the 4th and 5th rounds....
Congrats to  the Ontario 99 age group who took home the Gold Medal at the 2015 Canada Games. Led by Gable Vilardi, Owen Tippett and Ryan McLeod, the group was dominant, leading for all but 30 minutes. Expect those aforementioned names to go highly in April's OHL Draft….
A lot of buzz about undrafted Boston University goalie Matt O'Connor. The Toronto native has impressive raw tools that everyone looks for in new-age goaltenders, he's big (6'6) and athletic. He's not a puck blocker, but his lateral mobility and agility are impressive. I had the opportunity to see him play twice in Boston this year, and while I can see the intrigue, patience will be required, he's got a while to go. Very raw from a positional standpoint, he's almost too mobile, losing his crease and reacting. It's a cliche, but he needs to learn to allow the game to come to him, as opposed to getting uber aggressive and reactive. That said, a free lunch is a free lunch...Speaking of goaltenders, how good has Jake Patterson been for the Kitchener Rangers? Some in the media questioned the acquisition after trading away Justin Bailey, but it wasn't that complicated. A team with a young core needed protection from the mistakes that they are expected to make. In the past those mistakes would end up in the back of the net, but now they are stifled thanks to the abilities of Patterson. Add in the fact that the Rangers should now make the playoffs (something they were not guaranteed pre-trade) and give those young players more experience for next year, it's turned out to be a very, very smart move. Trade in a prime trade chip at a high return, bring in a goaltender at a lesser cost, and still make the playoffs. Heck, they may even win a round…
Said it last month, will say it again, Zachary Senyshyn is the most under rated skater in this draft...Calgary Flames prospect Sam Bennett is back with the Kingston Frontencas for the remainder of their season, and already is having an offensive impact. While we expected this would have a big impact on Draft eligible Lawson Crouse, the Frontenacs have chosen to spread the offense out and reunite Bennett and Spencer Watson while keeping the Crouse/Lammikko/McGlynn line together. Those who complain about Crouse's offensive output need to keep that in mind, had Crouse played with Watson and Bennett all year (mirroring the talent that Marner, Strome and McDavid have played with) it's fair to suggest that Crouse would probably be averaging well above a point a game, if not more...
There's a lot of love for Jakob Chychrun, and for good reason, he's one of the, if not the most, impactful 16 year old defenders in recent memory, and could push for 1st overall status next year. With all that said, don't sleep on Logan Brown.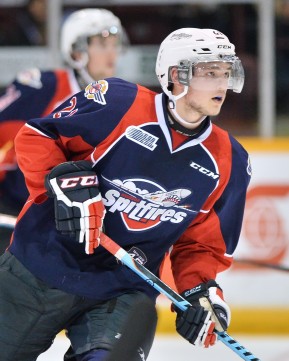 Brown, a player who we had as a top OHL Draft pick last year at TheScout.ca, has all the tools that you look for in a pro. Quick, agile with good possession skills, he has a long, powerful stride, good in close skills and impressive 4 way mobility. Did I mention that he's 6'5 and continuing to grow into his game? He's truly yet to  scratch the surface on his long term potential, and it's fair to suggest that he has top 10 NHL Draft abilities. He still has areas to grow, he's inconsistent and struggles with focus from game to game, however that's not uncommon for 16 year olds making the transition to the OHL. I'd also add Soo Greyhounds winger Tim Gettinger to that group of top 2016 NHL Draft eligible skaters from Ontario. He has a lot of the same aspects to his game that Brown has - mobile, skilled, big and powerful. He's not your typical 'big man', he's a bigger player who thrives when playing with skill. Anyone who expects a north to south banger will be disappointed, but if you enjoy 6'5 wingers with active feet and creativity, who can play give and go, make smart touch passes and drive the net when needed, you'll like him. Expect him to be projected as a top 30 skater early next year....
The Guelph Storm signed former Waterloo Wolves defender Brock Phillips, he's not flashy, but has size, strength, is tough and blessed with good quickness. He's got a while to go before we talk NHL draft status, he's hardly played in the OHL, but keep his name in the back of your head. If he adjusts quickly to the league, look out, he's got all the tools….While I've said before that Evan Cormier projects as one of the top goaltenders in the OHL, and should be projected as a top goaltender for next year's draft... one player who hasn't gotten a ton of attention yet has thrived has been Keaton Middleton.
A raw rookie who many expected would be skating with the Jr B Cullitons this year, Middleton has made a fairly seamless transition this year, playing a calm, calculated style. He's never going to wow you with his impressive offensive tools or his ability to run a powerplay, but his reach, aggression and awareness allow him to take over a game in his own zone. He's hardly hit the surface, he needs to add weight, work on his outlets while continuing to improve his feet, but again, he's a name that I would keep an eye on...had the opportunity to see US-NTDP Chad Krys in an Arbour recently, he's the real deal. An active defender, one who can push the pace in possession, stretch the ice with a pass or make a simple outlet, he's a new breed of intelligent 'puck managers' - ones who play a read and react possession style. He's already been called up to play with the U18 squad and has thrived. He's another strong option for the first round next year, especially if he accelerates and joins an NCAA program much like Zach Werenski and Noah Hanifin have done this year.