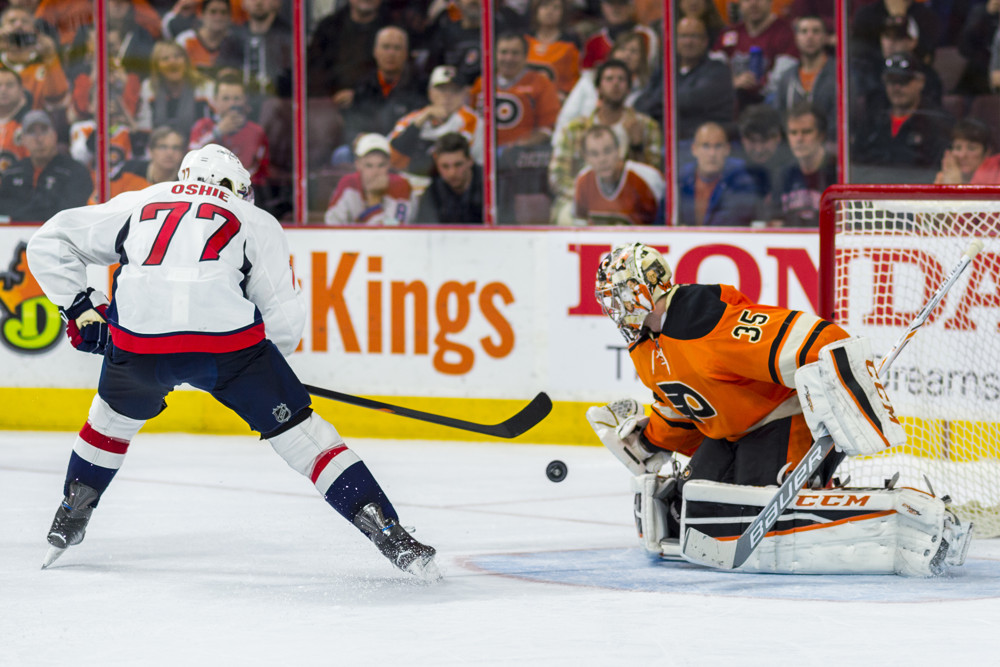 Summary: Not that any team in the East can match Washington's offensive firepower, but the Flyers pack quite a wallop themselves when their top two lines are clicking.
Unfortunately, they're facing a Capitals squad that is as good defensively and in net as it is on the attack. We think the Caps are better than Philly in every aspect of the game, and we don't anticipate this series will be a long one. 
Washington will take its first step towards a Stanley Cup run that is well overdue. 
PREDICTION: Capitals in 5
Critical Factors: The Flyers have nothing to prove, or lose, with the Capitals as the overall favourites. Rookie coach Hakstol has earned some buy-in from his squad, and finished the season with a flourish (15-5-3). Trotz will bring a disciplined team, but first round jitters, and everything to prove, could bring some early surprises for the Caps - who have lost five of its last seven games. Braden Holtby delivered a Vezina-worthy season and if he is in form from the outset, Philly's odds are slim. The only chance they will have is if Steve Mason has the Caps number and continues his strong play from the second half - outperforming Holtby statistically after the all-star break (Holtby – 18-4-4, 2.40 GAA, 0.911 SV%, Mason – 13-7-4, 2.28 GAA, 0.921 SV%) ..Coach Trotz will ensure they are poised, and ready – and past playoff demons are at rest. Over seven games, Philly's defense will not be able to manage the four strong lines of the Caps for long.
Potential Breakout Players: Two strong lines for Washington will deliver plenty of scoring this playoff. The first unit of Ovechkin, Backstrom and Oshie will draw attention allowing team scoring leader, Evgeny Kuznetsov to perform some magic. Be aware he is a cold as ice, having not scored a goal since March 1st (20 games) and has only scored four times in the last 11 games (11-0-4-4). Regardless, he could be a handful if they key on checking the first line and his linemates, Andre Burakovsky and Justin Williams will be the benefactors. Williams with his well-established playoff reputation (Mr. Game 7) for big goals and performances could be a hidden weapon. Wayne Simmonds brings his exceptional drive, and could be a playoff standout after another good season with 32 goals and 60 points. He fired 20 goals in his final 37 games (a 44-goal pro-rated pace) (37-20-15-35) and is on a roll heading into the playoffs. Breakout defenseman Shayne Ghostibehere will be under pressure to deliver a strong performance, and that may be asking a lot. Brayden Schenn's enjoyed a breakout season, providing excellent production from January 1st on (46-19-25-44). He, Simmonds and Giroux played together effectively as the first line for the last twenty games.
Series Matchup: Capitals winning 2-0-2 with Flyers winning their last game in a shootout. Three of the games were decided by one goal.
Key Stats
CF% 5v5 (war-on-ice.com): WSH 51.0% (14th) PHI 50.6% (16th)
PDO (war-on-ice.com): WSH 101.2 (3rd) PHI 100.4 (11th)
Power Play (NHL.com): WSH 21.9% (5th) PHI 18.9% (11th)
Penalty Kill (NHL.com): WSH 85.2% (2nd) PHI 80.5% (20th)
Goals For per-game (NHL.com): WSH 3.02 (2nd) PHI 2.57 (22nd)
Goals Against per-game (NHL.com): WSH 2.33 (2nd) PHI 2.56 (12th)
Notes: Washington's dominance is clear in the stats - the second best offense and defense in the league simply overmatches the Flyers. Washington does not rank in the top 5 in possession, and Stanley Cup champs over the past decade have primarily been leaders in this area.